What Is the SayberX Device?
The SayberX isn't some new, unheard of invention that's making hedonism headlines around the world.

It is, however, an attempt to improve upon a popular product that exists in a very limited industry. While the women have isles upon isles of sex toy options, us men have to buy a hooker, use our hand, or settle for whatever sex toys are out there. The makers of SayberX are simply trying to change that by broadening the horizons of the male sex toy industry while refining the overall design of the competition. This review will reveal whether they've succeeded at that or not.
Put simply, the SayberX Handheld Sex Simulator is exactly what its name suggests. It's meant to be held in your hand, although once it gets going your hands aren't really needed at all. It simulates sex using an internally gyrating motor, skin-like material, and a human-like ribbing that runs throughout the entire chamber. The makers of this toy obviously like to keep things simple, as long as it doesn't pertain to the science involved in its production and design.
SAYBERX INTRODUCTIONAL VIDEO
CLICK HERE TO VISIT THE OFFICIAL SAYBERX WEBSITE
The Main Features Of The Sayber X Automatic Handjob Masturbation Device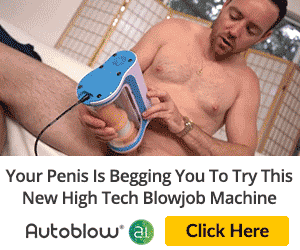 The newly invented SayberX makes us think that the downtrodden masturbators of the world became rebellious against the existing Gods of Good Sex and decided to try things out for themselves.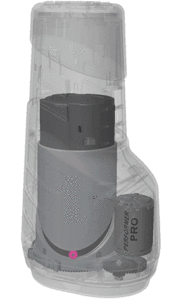 Surprisingly, the newbie snags and initial kinks have been worked out nicely prior to the product's market release, so that was certainly a relief when we got the news that our next job was to give it an honest review. Frankly, we were ready to give the manufacturers hell for having such lofty ambitions.
At the end of the day, we wound up appreciating the overall design of the SayberX. It features this sturdy, plastic casing that feels durable yet lightweight – almost like it was invented by NASA for something less perverted. This toy also features an automatic drive system that keeps the motion going without manual assistance and customer can even buy a sexy ring for their partners, which is actually just a silicone Bluetooth-compatible finger loop that reacts to the wearer's spontaneous motions.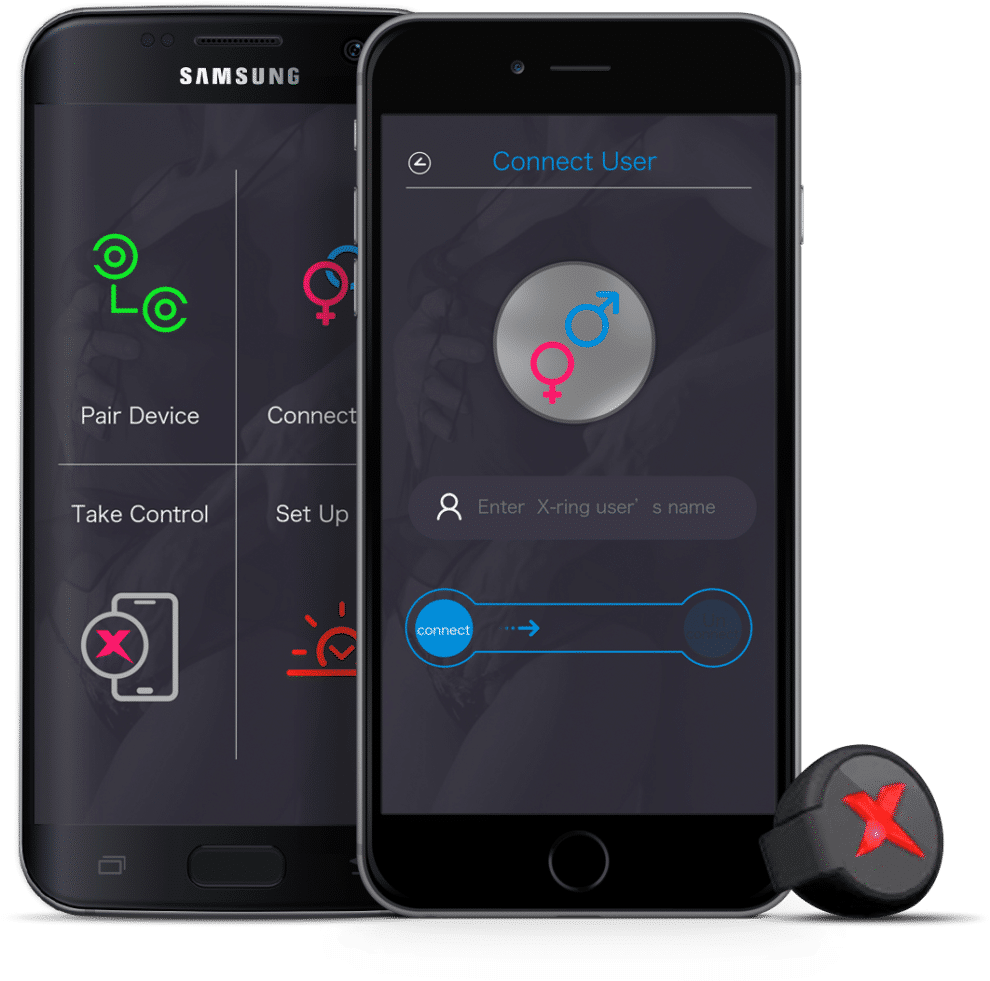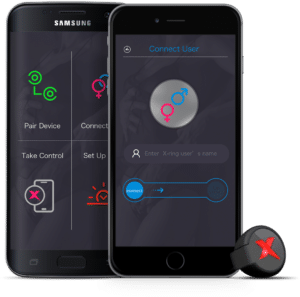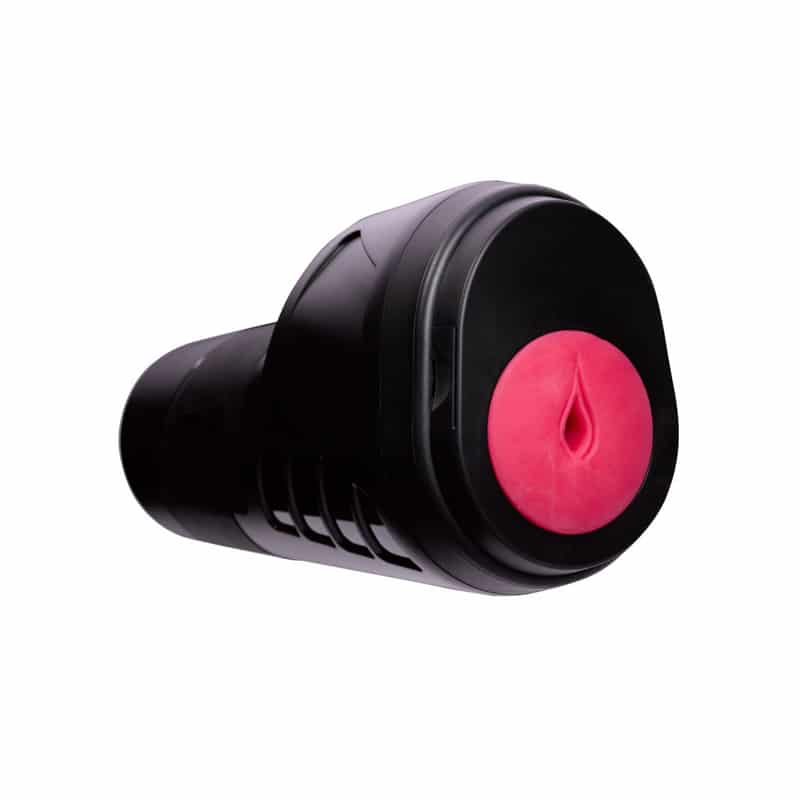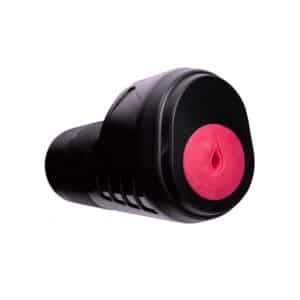 Either way, the SayberX has a lot more going for it than that though. As one of the many hands-free fuck machines on today's market, it had to bring its A-game to get our attention. So, while the ring gives a long-distance, customizable sensation, the device itself allows for solo play with up to 5 different speed functions. Between all that shit and the patented SayberSkin material, the 7-inch max/ 2-inch minimum insert length is more than enough to please most dudes. And did we mention that the brand's super unique material works with any type of lube you've got in stock? Who the hell are these people and why aren't we best friends with them? Hey Sayber X, do you guys want to go do karate in the garage?
What Comes in the Box?
Our newfound besties didn't have much money left over after their funding campaign to spend extra cash on packaging and/or accessories, but we can respect the grind. Still, the box didn't look too shabby and we even got a couple of treats tucked deep inside that we didn't expect. Here is what we got for our money: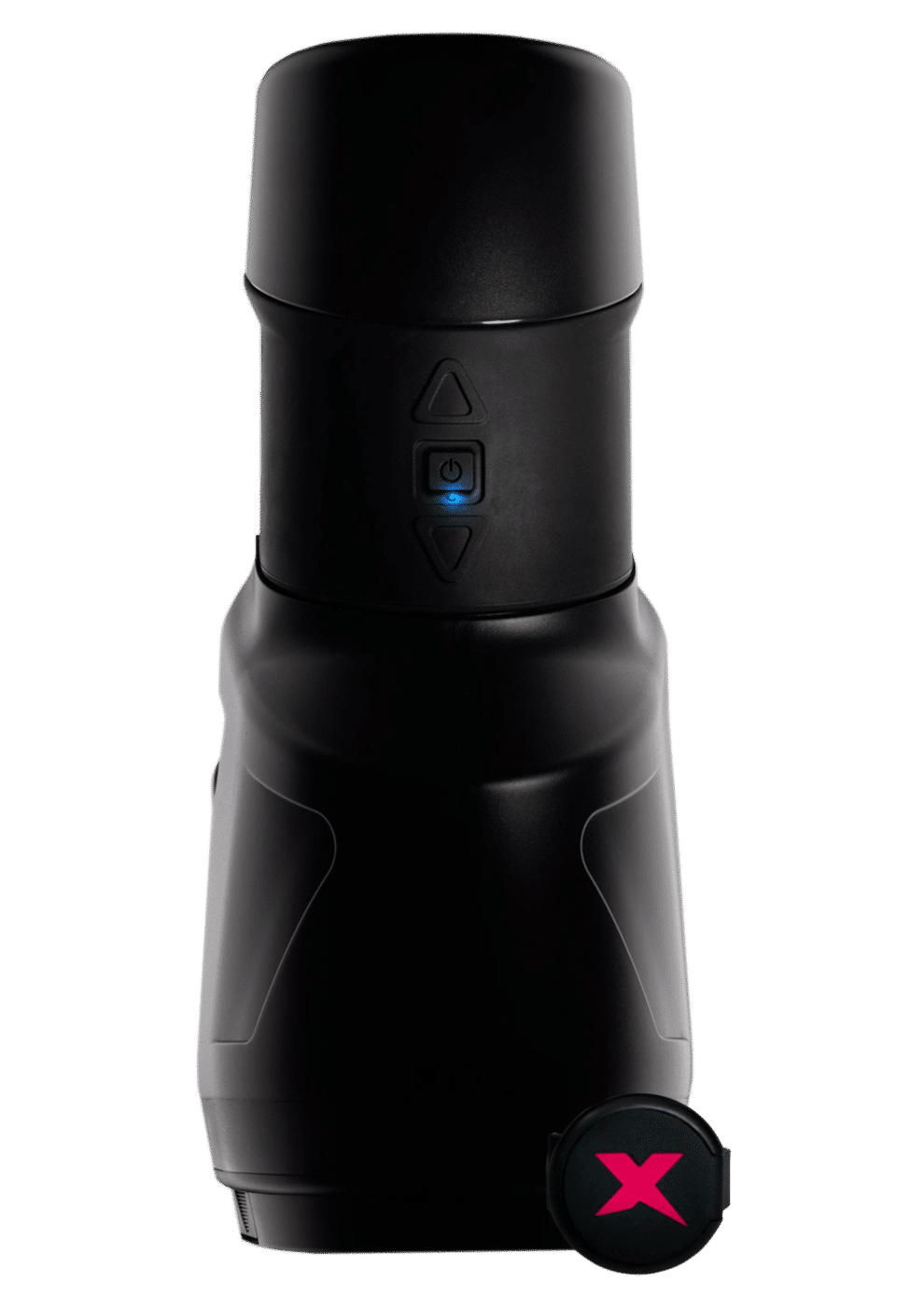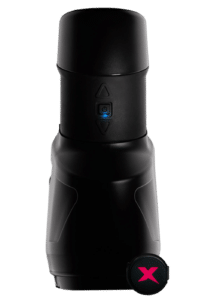 The Sayber X Handheld Automatic Handjob Machine (of course)
A standard electrical outlet power cable
A small packet of the brand's patented lube
An instruction manual
NOTE: The motion-activated ring costs extra, and replacement SyberSkin sleeves can be purchased separately as well. None of the shit is expensive either, so you could realistically buy the entire shebang for less than the cost of dinner and a movie with a real pussy. No storage container either, so now's the time to designate a room in your house for all this kinky shit you like to buy.
CLICK HERE TO CHECK THE UP TO DATE PRICE
What It Feels Like
We noticed that this thing is lot like the Fleshlight/Kiiroo Launch contraption we've tried out before, but the SayberX has just a tad less mechanical smoothness (which we thought was justified by its high-powered strokes and intense orgasm-giving abilities).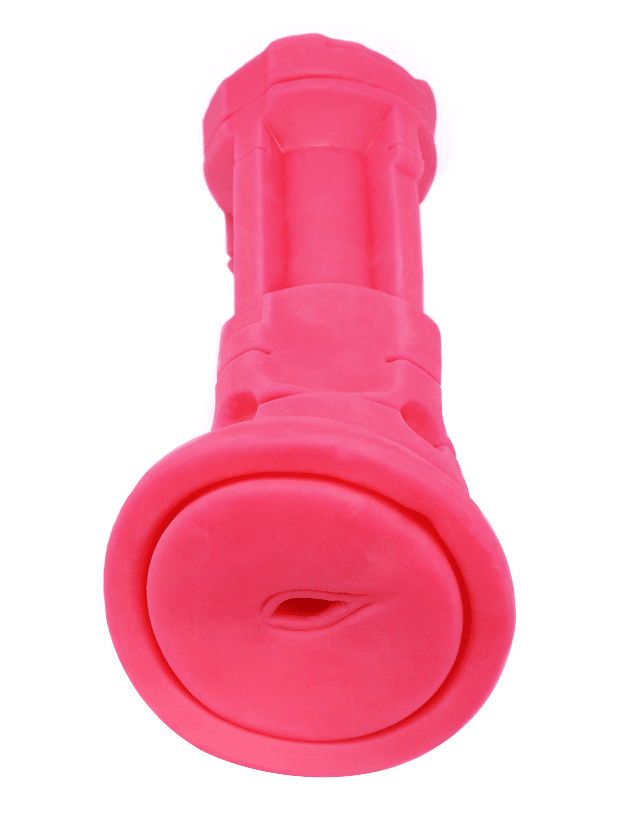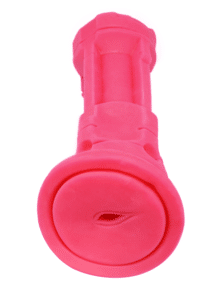 The internal SayberSkin material made it feel very similar to real sex, given your partner knows how to wiggle on the dick. We thought the SayberX was a close comparision to its competition, albeit not exactly the same by any means. The sensations provided by the Sayber X are just as mind-blowing as other top-of-the-line manual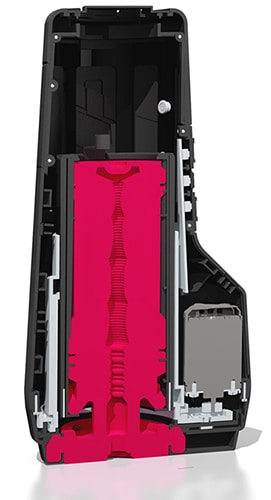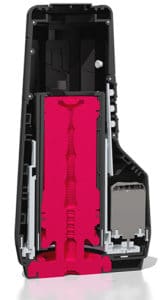 masturbators, it's just that this one has more bells and whistles than we're used to.
Keep in mind that most handheld sex simulators require both routine maintenance AND a little technique to get the most bang for your buck. We enjoyed the fact that the Sayber X jack off machine did most the work for us, giving our dicks a chance to reap the benefits of a good fucking without so much as a leg cramp. The element of surprise provided by the ring was exceptional as well. Truly though, the smooth, twisting motion inside the mechanical chamber is where all the magic happens – remote, ring, rogue, or otherwise.
Participate In a Virtual Sex Orgy!
CLICK HERE TO FIND OUT MORE INFORMATION
Our Cheers and Jeers
There's not a damn thing on this planet that leaves us speechless anymore, not even the Sayber X Handheld Sex Simulator.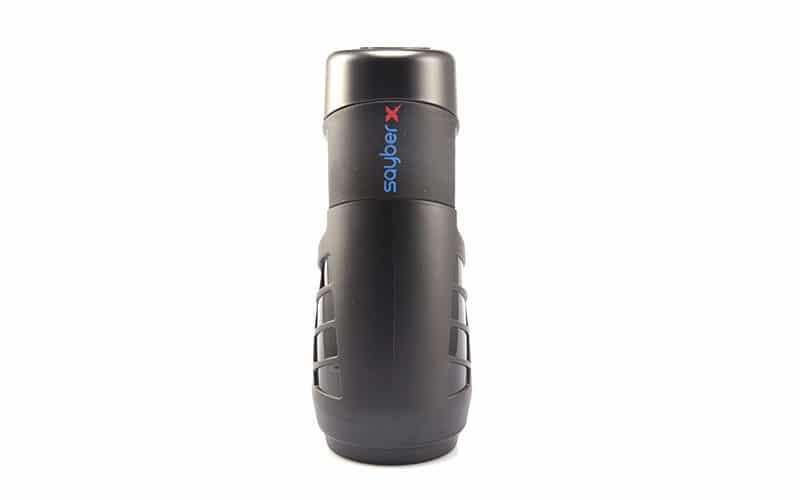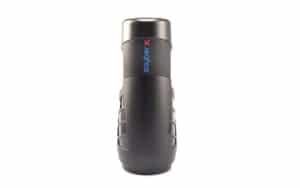 Marketed as a sex toy that's ahead of its time, this quasi-high-tech fuck wand is, to put it nicely, nothing short of ordinary. It's only redeeming qualities are the little extras like the remote-controlled motion sensor ring. Other than that, this shit is more standard that the SATs.
Let's stop being dicks to these people for one minute and talk about the good shit. After all, this Indiegogo Crowdfund project raised 108% of its required production and marketing proceeds based solely on the anonymous donations of excitedly horny fuckfaces just like you and me. That's got to be worth something, right?
EXPERIENCE INTERACTIVE ENTERTAINMENT WITH YOUR FAVORITE ADULT STARS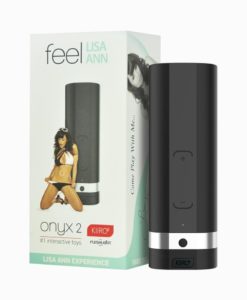 Fleshlight/Kiiroo Onyx 2 Lisa Ann Experience

Experience Lisa Ann's tantric titillating tender touch!

Lisa Ann personalized box with her autograph and her signature encoded content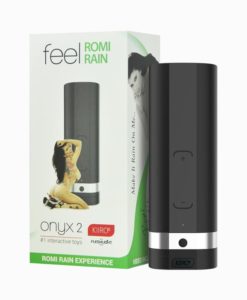 Fleshlight/Kiiroo Onyx 2 Romi Rain Experience

Make it rain on Romi Rain…

Romi Rain personalized box with her autograph and her signature encoded content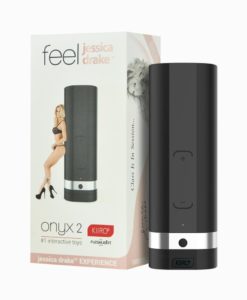 Fleshlight/Kiiroo Onyx 2 Jessica Drake™ Experience

Get nudged you over the edge into a maelstrom of orgasmic ecstasy

jessica drake™ personalized box with her autograph and her signature encoded content
PROS
Get Ahold of Yourself – As one of the most high-tech self-pleasure machines on the market, this toy features the type of impressive German Engineering that could make someone second-guess their hatred for Nazis.
Give It All Away – The motion-activated ring is a unique take on the traditional remote control used for long-distance couple's play. It works using a free app and can be activated anywhere on the planet.
Stroke It, Don't Poke It – The masturbatory movements inside the Sayber X might not be as smooth as some of the other shit we've tried, but we still had to remind ourselves that we were fucking a toy and not really being ridden by a hot, limber hottie with a PhD in orgasm-giving.
Reality Check – We were more than impressed by the obvious amount of time taken by the manufacturers to create such a realistic-feeling material for the opening and internal chamber.
App of My Eye – There's a cost-free app that is connected to the toy and the wireless Bluetooth ring (or smart device), and it responds to the speed of the motions of the person wearing it – fast, slow, whatever's clever. In other words: Kink is in the eye of the beholder.
If You Like It Put a Ring on It – The motion-sensor ring adjusts to two different sizes for various types of fingers – no need to get it professionally sized. It also comes with an extra-large band that straps to your favorite toys. Shit just got real.
Good for the Skin – Sayber X uses hypoallergenic, non-toxic, phthalate free materials that are guaranteed not to break out the skin (unless you have a latex allergy; then you're on your own).

CONS
Motion in the Ocean – Although the Sayber X can be used in solo mode and still feel amazing, long-distance couple's play requires the motion-sensor ring and the toy doesn't come with one. New rings can be sort of expensive (if you're a cheap ass), and since this company is a start-up, they may be difficult to attain as well (especially if you drag your feet).
Size Matters – The makers boast that their product is a one-size-fits-most model, but some of our more endowed staff members had a hard time getting in there (even with lube).
Chained to the Wall – No, you don't have to charge this bastard after every use, and no, you won't have to buy a gagglefuck of batteries. You will, however, be forced to do your business within a few feet of the closest electrical outlet like a prisoner of love. An extension cord might be a good investment here.(If that bothers you, we strongly suggest you to check a great alternative made by Kiiroo.
Don't Push My Buttons – Although the 5-speed button control on the actual device makes solo play a lot of fun, it's really hard not to accidently push one of those bastards and fuck up the whole program.
Fun Sold Separately – The app is free and the orgasm doesn't cost anything, but you'll need a few extra bucks if you're wanting an invitation to that long-distance cyber play party because the ring is sold separately.( Kiiroo's or Fleshlight's offers are around 60$ cheaper)
TOP HIGH TECH MASTURBATION OPTIONS FOR 2019: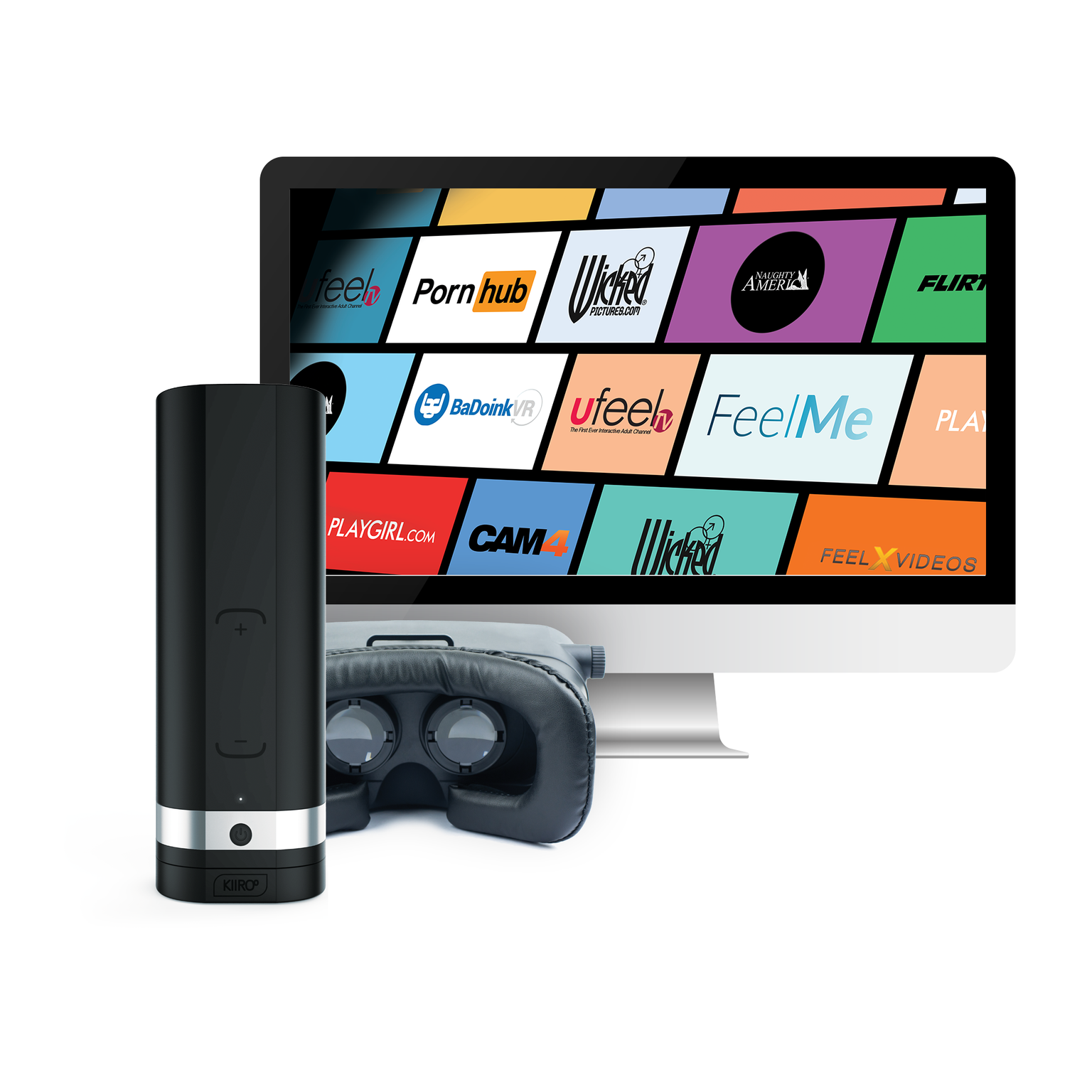 Fleshlight/Kiiroo Onyx 2

Handsfree Electric Device

Enhanced by a Video Chat platform and Virtual Reality Porn

Fleshlight™ Superskin™ material (Feels great)

Discreet and wireless design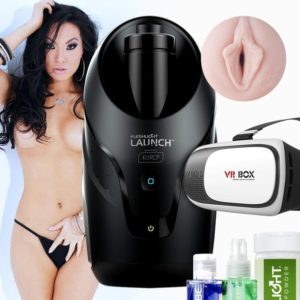 Fleshlight/Kiiroo Launch

Compatible with standard size Fleshlight toys

Automatic, handsfree, portable device

Sleek, discreet design

Mind melting, close to real, virtual reality sex simulation content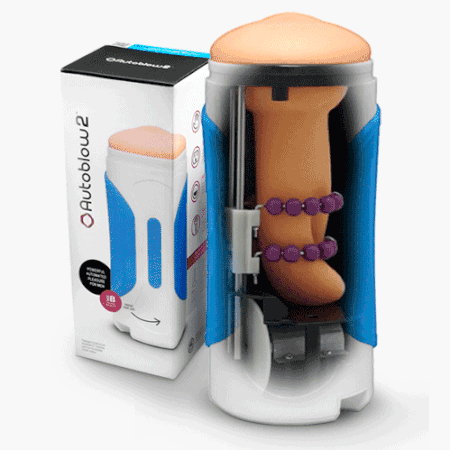 Autoblow 2

Hands Free Robotic Blowjob Toy

Does not need batteries

Uses interchangeable sleeves

Robust construction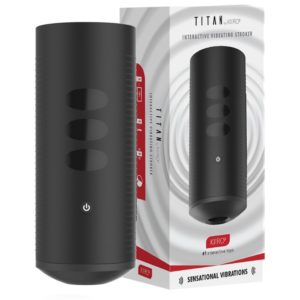 Kiiroo Titan

Designed to boost your stamina and maximize your endurance in the bedroom.(Explosive orgasms!)

9 vibrating motors

Super-quiet, for when discretion is needed

Connects to interactive content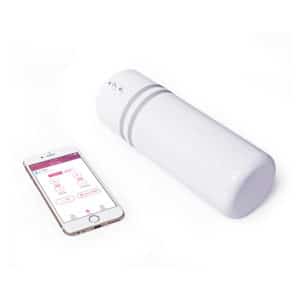 Lovense Max

Hands Free Automatic Male Masturbator

Discreet Appearance

Vibrates and contracts

Rechargeable
The Final Verdict
Handheld fuck machines are among our favorite toys to review, and it's mostly because we are lazy assholes whose main concern in life is attaining the most intense orgasm. Toys like the Sayber X give us hope for the future, and satisfying orgasms for the present. On our scale of 1 to 10, we're giving this bad boy a 7.5 because we're impressed by the manufacturer's ingenuity, and we can respect the shit out of anyone who can willingly go toe-to-toe with the guys in the Big Leagues. You can get more information or buy the Sayberx at their official website.
Despite the fact that John James is quite the character, there is one thing he has in common with everyone else: he likes a high quality sex toy just as much as the next guy.
Noticing that there were no legitimate websites out there reviewing all the amazing synthetic vaginas on the market, John James set out to do something about it.
After all, it is painfully obvious that today's men really need to know more about their options.