By now, you've probably heard stories about our love affair with cock rings, especially the high-tech vibrating kind.


After all, a good cock ring is made to enhance an erection, delay ejaculation, and ultimately increase the length of the love-making session. Why the hell wouldn't we be obsessed with these things?
In an effort to find a high-end cock ring that best suited our finicky tastes, we have tried out almost everything the market has to offer. Along the way, we discovered the We-Vibe Pivot, an app controlled vibrating cock ring that seems to have the average consumer all hot and bothered. Because we are horny, nosey little fucks, we had to see what all the fuss was about for ourselves. And since we're loudmouth blowhards, we had to spread the gossip with our readers. You're welcome.
What Is the We-Vibe Pivot App Controlled Vibrating Cock Ring?
The We-Vibe Pivot is part of a luxury lineup of silicone cock rings that work alongside any iPhone or Android device using the brand-affiliated app.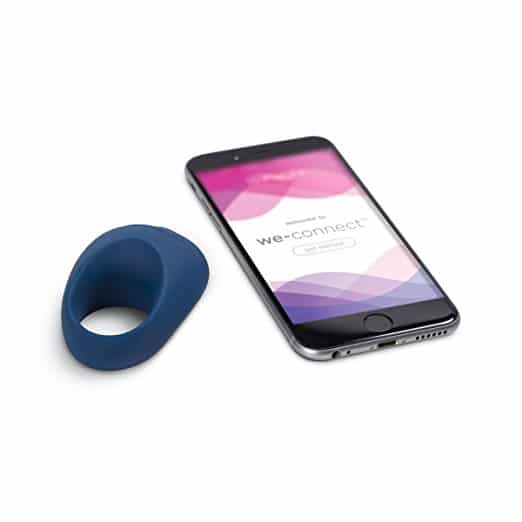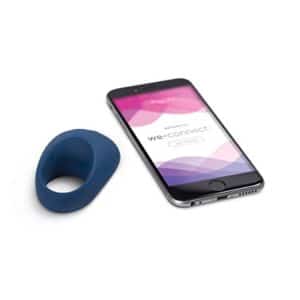 The makers of the We-Vibe Pivot also have the Verge in their inventory, a similar device that's shaped specifically to stimulate a man's sensitive perineum. The Pivot, however, is designed for male/female couples play due to the clitoral massager on the tip. Both toys have an uncanny ability to make sex feel brand new again.
The We-Vibe Pivot uses a variety of vibratory functions to get the job done, each of which can be controlled remotely via the app. The app, which is free to download, can be utilized anywhere in the world. So basically, giving someone an orgasm from the other side of the world is totally possible with this thing. Oh, what a time to be alive!
Just as all cock rings function, the Pivot simply slips over the shaft of the penis and rests at the base. Unlike its brother, the Verge, this model does nothing for the perineum. Instead, it slaps the vag with a shot of pulsating pleasure every time you thrust. No wonder the makers of this lineup claim that their toys improve relations between couples. How could they not?
The Main Features
Most people who have used the We-Vibe Pivot have given it high ratings, so we wanted to know what made this toy so fucking remarkable.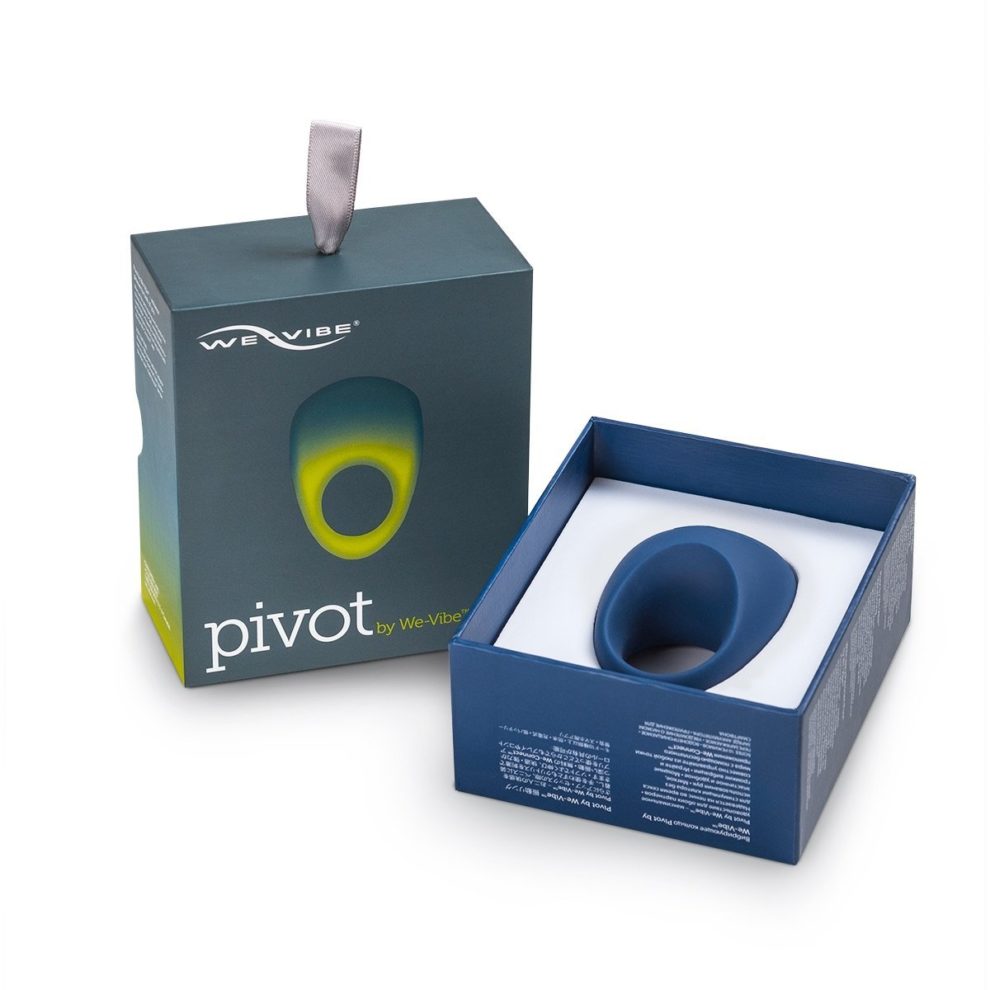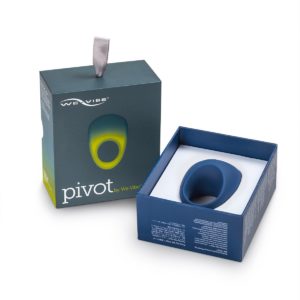 After looking it over, we found that it has numerous features that professional perverts like us can appreciate. For starters, it is compact enough to fit into a pocket in a pair of jeans, so you know that wearing it for long periods of time will never be a problem.
Secondly, the We-Vibe Pivot features 10 different vibe modes for you and your partner to scroll through. Each has its own strength and pattern, so customizing the fuck fest is super easy. It also features a convenient button on the top of the device that can be set to override the commands from the app, giving individuals the option to "go fuck themselves" – literally.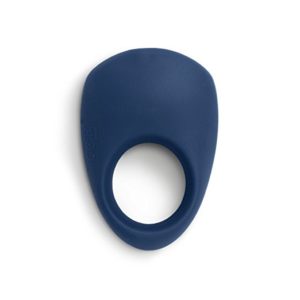 Costing just $10 less than its perineum-loving brother, the Pivot has a price tag of just $110, but that doesn't include lube, toy cleaner, or your phone's data plan. In other words, fucking yourself may get a little expensive if you're not careful.
The We-Vibe Pivot has a body that's made from stretchy silicone material too, which means it fits onto various sized penises without a problem. In our experience, however, trying to slide this bitch on over a rock-hard cock is damn near impossible. It may feature skin-safe silicone, but that shit is still a bitch to move if you don't have any lubrication. Please keep that in mind for the sake of your dick skin.
What Comes in the Box?
The manufacturer of the We-Vibe cock ring lineup must have concentrated their best efforts on the product itself, because no extra effort was spent on designing the box that contained it. If the world of sex toys is judged like a book by its cover, readers are going to pass up the We-Vibe Pivot simply because the packaging is boring as fuck. What's lacking in the marketing department obviously leaked into the box, because that shit was lacking too. Here is all you get for $110: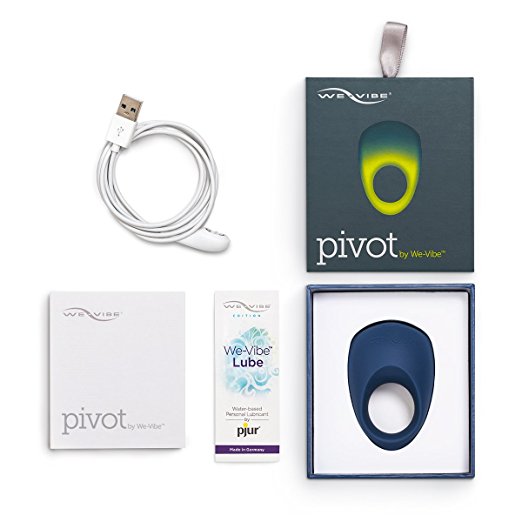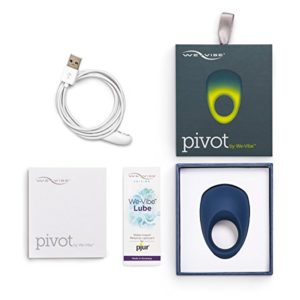 The We-Vibe Pivot App Controlled Vibrating Cock Ring (of course)

A magnetic USB charger and cable

An instruction manual
That's it. We're not even kidding. It would have been nice to get a little lube sample so we didn't have to spit on it. And a small packet of toy cleaner never hurt anybody. But maybe we're just being needy little jackasses and don't know what the fuck we're talking about. You decide.
What It Feels Like
First of all, the silicone on the We-Vibe Pivot is as smooth and sexy as the silicone on the Verge. By that we mean: there are no seams whatsoever and the material is as soft as a baby's ass.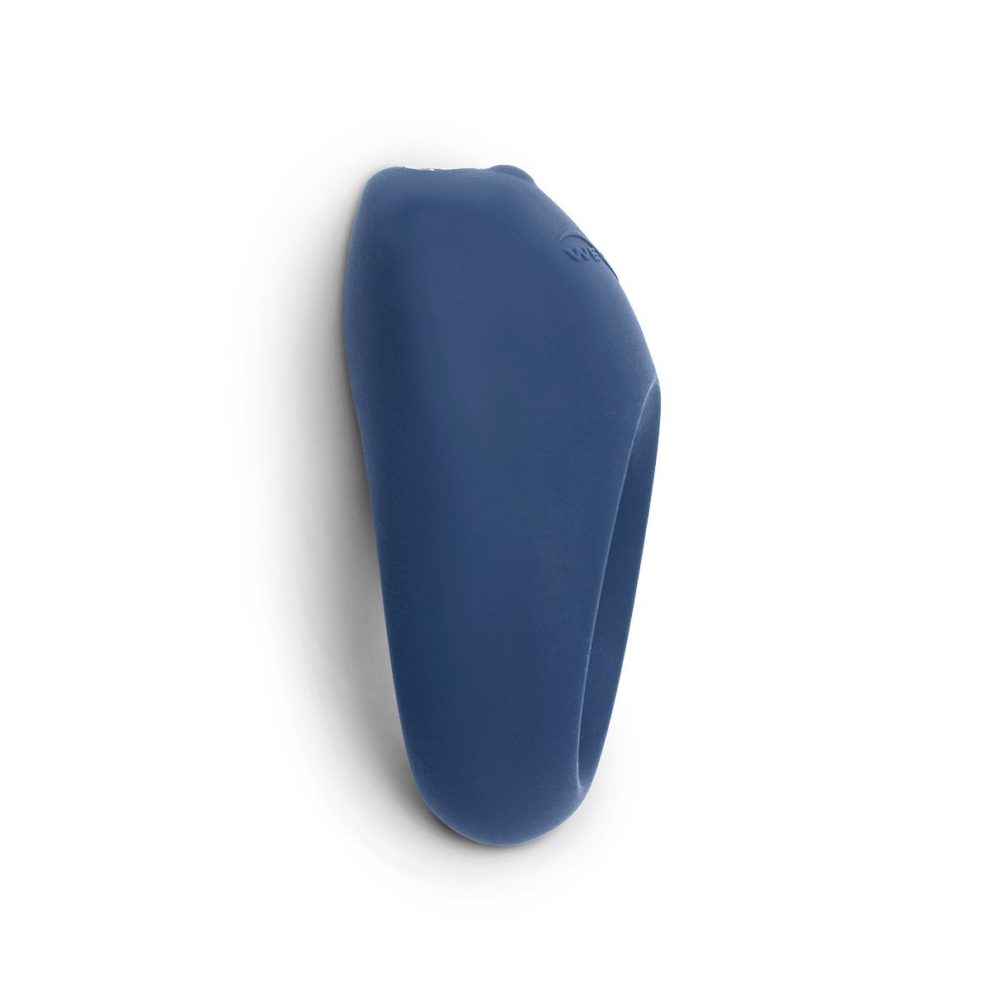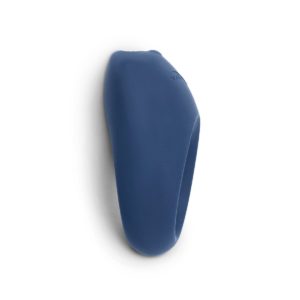 Combine that with the buzzing sensations provided by the powerful motor inside and you get the feeling that your dick is about to lift off like a shuttle at the Kennedy Space Station. The only this is that the tightness of the ring is so superb that you'll have to earn an engineering degree to cum.
As for the clitoral stimulator on the tip, our lady partners didn't seem to have any complaints. The pulses are strong enough to be felt on the shaft of the penis, meaning the vibes become internal when the dick is inserted into the vagina. Between that and the various vibe functions, the options are virtually endless and so is the endurance of your cock.
Our Cheers and Jeers
You know us; there isn't a sex toy on the market that has passed our inspection with an A+ rating. Maybe it's because we're assholes, or maybe it's because nobody knows how to make a sex toy without some sort of design flaw. We'll take door number 2 and let you be the judge, but first you must consider the pros and cons:
PROS
What's Up, Girls? –

This cock ring has a clitoral stimulator on the end of it, so both parties can get down like James Brown in Funky Town.

Don't Make Rash Decisions –

The Pivot is made of high-grade body-safe silicone that contains no latex or phthalates, so get nasty without worrying about a nasty rash.

Vibe It Out –

It has 10 different vibe functions, and each one of them has its own unique strength and pattern.

Don't You Go Dying on Me –

Thanks to the convenient magnetic USB charger, the Pivot can be taken on trip and recharged continuously for a truly interesting vacation.

The Proof Is in the Pudding –

The app makes long distance relationships a whole lot more satisfying, and that's putting it mildly.

Water It Down –

If dry fucking is too intense for you, try taking it to the shower. We bet you'll never be the same.

CONS
Go Big or Go Home –

The minimum diameter is just 1.2 inches, and it stretches to measure 2 inches in girth – not exactly user-friendly for our big dicked friends.

Storage Borage –

We had to pay an extra $4 for a modestly made drawstring storage bag, as if the manufacturer's cheap ass couldn't afford to just throw it in the box.

I'm Gonna Kick Your App –

The toy's affiliated app is nice and it's even easy to use, if you can get it to function properly that is.

Plan Ahead –

Don't try to slip the Pivot on or off when your dick is hard or else you'll be sorry. Smooth silicone or not, use lube and save the pain for later.
WHERE TO BUY WE-VIBE PIVOT ONLINE:
LOVEHONEY (BEST PRICE & FASTEST DELIVERY)
CLICK THE BUTTON TO REVEAL A SPECIAL 10% WE-VIBE PIVOT DISCOUNT CODE:
The Final Verdict
We are not liars, so we won't sit here and say we loved everything about the We-Vibe Pivot or that you should rush out and buy one right away.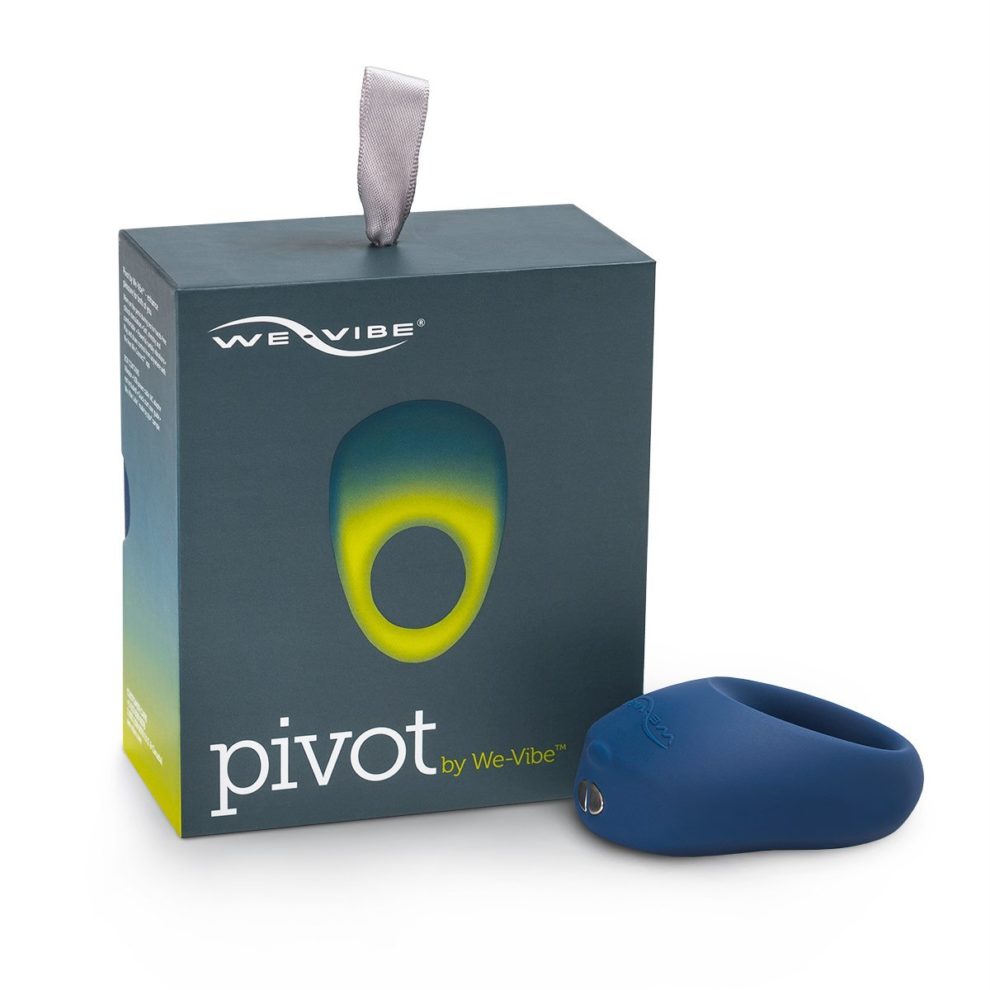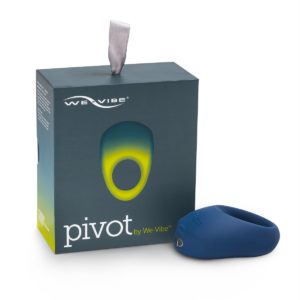 We will say, however, that it's a cock ring worthy of your time, attention, and money. Overall, we couldn't be more satisfied with our experience, minus a few technological hiccups.
Okay, so we had a little trouble putting it on our dicks too, but that could very well be our own fault. After all, we were admittedly a little eager to try out the We-Vibe Pivot after trying out the Verge, and with shaky hands and half-staffed dicks we attempted the impossible. Again, it would have been nice to get a little bit of water-based lube in the box, but as professional pervs we should have plenty of that shit laying around (and we do).
On our coveted scale of 1 to 10, the We-Vibe Pivot App Controlled Vibrating Cock Ring gets an impressive 8 just like it's brother because, honestly, we can't give out a perfect score or I'll fans will riot. Additionally, this toy could use a little technological troubleshooting and some help in the marketing department, but we assume that will work itself out in time.You can get more information or buy we-vibe pivot at lovehoney.com

Despite the fact that John James is quite the character, there is one thing he has in common with everyone else: he likes a high quality sex toy just as much as the next guy.
Noticing that there were no legitimate websites out there reviewing all the amazing synthetic vaginas on the market, John James set out to do something about it.
After all, it is painfully obvious that today's men really need to know more about their options.