Nothing spells success like a strappy contraption dangling from your dick.


At least that's what the penis enhancement manufacturers of the world want us all to believe. While the results rendered by most modern-day dick stretchers are a lot better than they used to be, the methods used to achieve those improved results have become more complicated than our last relationships.
Single and independent, we wanted to increase the size of our wang and improve our performance in bed while we hunted down our next fuck buddy. So, we stopped messing around with amateur penis enlargers and began reviewing shit with a little more to bring to the table. Enter: The PeniMaster. We should go ahead and warn you that this thing does not fuck around.
It looks like something out of a science fiction movie to us, but we learned from the Fleshlight Freaks masturbators series that sex with aliens can be fun.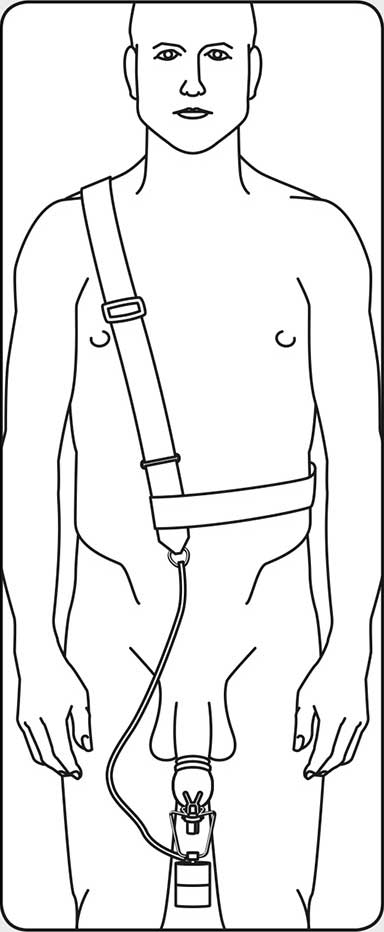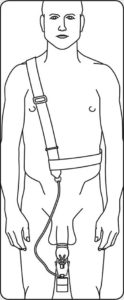 So, despite our initial reservations upon unpackaging the complicated PeniMaster, we decided to give this review a valiant effort because we give a damn. Also, we want irresponsibly enormous dicks and this is obviously the only way we're gonna get that.
The PeniMaster deserves our attention because, quite frankly, it can do what other penis enlargers on the market can't do. Hold your horses; we will get to that soon enough. All you need to know for now is that this thing comes highly recommended by us, regardless of how overwhelmed we were in the beginning by the various straps, knobs, and buttons. What can we say? We've been turned into lab monkeys.
What Is the PeniMaster Pro?
Not that you would ever get the impression by looking at it that the PeniMaster is your ordinary penis enlarger, but we still thought we should tell you it's rather a unique tool.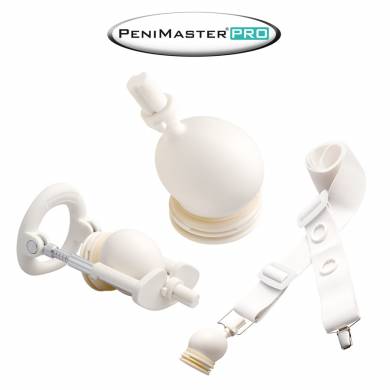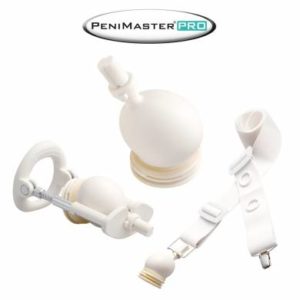 What makes it even more extraordinary is that it is designed to accomplish what other products on the market cannot. The PeniMaster lineup features four different models/attachments as well, just in case your needs are more specific than the basic model can accommodate.
Made to assist men of all sizes, this thing is officially considered a "medical expander" because of its wide range of abilities. It can elongate your dick, make it thicker, straighten it out, and even (gasp) recover your foreskin. We looked everywhere and we couldn't find anything that could do that. In fact, the PeniMaster series can also serve as a plastic surgery substitute for some men, which we thought was pretty damn cool.
The Main Features Of The PeniMaster Pro

Understanding the main features of this futuristic device is difficult if you can't understand the fact that it has various add-ons and accessories, each of which is designed to accomplish a different and distinguished goal. Let's break it down now, shall we:
The Original PeniMaster Chrome (about $175) – a penis enlargement mechanism that allows the penis to self-adapt via positive-locking connections to the penile glands, all without those uncomfortable pulling force generators that feel like your dick is being ripped off.
The Pro (about $200) – a succinct, threaded rod system that attaches to the Pro Basic mechanism for the purposes of expanding penile tissues using a gentle pulling force secured by a holding belt, safety clip, or adhesive fastener.
The Pro Rod Expander System (about $300) – an attachment system that gives you the best of both worlds: the vacuum power of the Pro Basis with the gentle pulling force of the Rod Extender System.
The Pro Belt Expander System (about $275) – another attachment system that lets users wear their favorite PeniMaster system as a hip, shoulder, or knee belt for comfortable use around the clock.
At first, we weren't sure what to get or how to use it.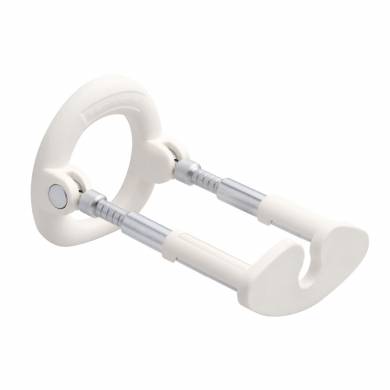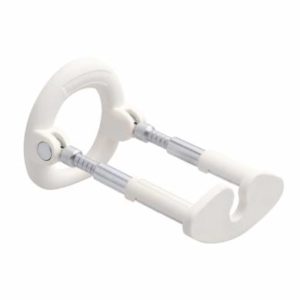 But once we got the hang of things, the PeniMaster all snapped together easily and wasn't too off-putting to wear under loose-fitting clothes. We will say this, however: the unique lineup we just reviewed helped us achieve the kind of results you only hear about on TV.
Overall, the PeniMaster brand is made from medical grade materials and backed by tons of scientific research. The manufacturer boasts quick results as well, and they've certainly got bragging rights. Some of us experienced growth and/or straightening within the first few days, and none of us had any complaints about the increase in sexual arousal either. And as major supporters of cancer research, we appreciated how, according to a recent clinical study, the PeniMaster Pro is often used by men who have had their prostate removed after cancer, which causes penile shrinkage.

What Comes in the Box
What we didn't appreciate was the lackluster packaging.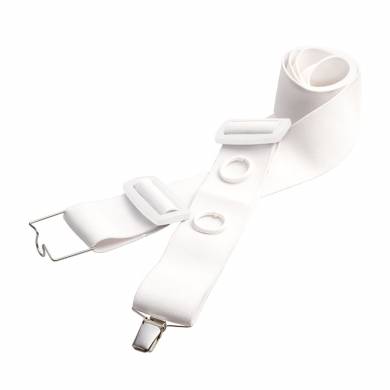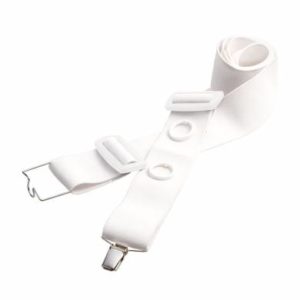 We think that just because you're selling a medical-grade product doesn't mean you have to pack it up in a boring, overly commercialized, and very obviously "decorated" box. Had it not been for the shipping company's commitment to privacy, everyone in the neighborhood would have seen the huge PENIMASTER words emblazoned on the size of the package as it glistened in broad daylight on our porches. This right here is why we always give a P.O. Box number.
Inside were the redeeming qualities of the PeniMaster penis enlargement system. Mind you, a complete set that contains all four of the products in the lineup can be purchased at any time for about $335. Meanwhile, the Original (with its $175 price tag) comes with: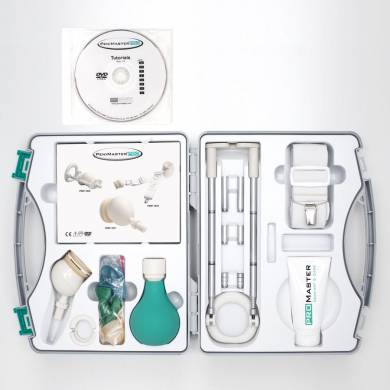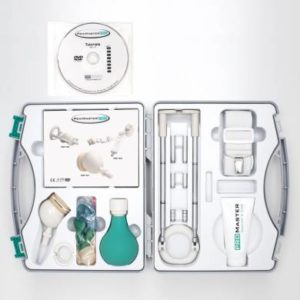 The PeniMaster (of course)
4 holding belts
3 silicone comfort bands
An instructional DVD and manual (in 8 languages)
A carrying case
The PeniMaster Chrome is mounted by the way, with what the manufacturer is calling "next generation support" that uses sturdy fasteners and fiberglass enforced materials – not a good idea for people with sensitive skin though. As for the other three products, they come with the following items:
The Pro
A sluice ring
2 split adapters
A standard rotary valve
A pump ball application system
A diaphragm and sluice starter set
A comfort and care kit
An instructional DVD and manual
A carrying case
The Pro Rod Expander
All that shit from up above
A basic ring with a spring balance
A coupling socket
A set of extension rods
The Pro Belt Expander only comes with the belt, and they all have to be purchased alongside the Original system to function as intended. We don't suggest rigging this shit to save money any time soon. It's expensive but it's durable, and yet it still has a fuck ton of tiny moving parts. Use your carrying case, guys. Yes, each product comes with a 3-year warranty registration card, but that's no reason to abuse it. Save the rough stuff for the after party.
How It Measures Up
In terms of penis enlargement and correction tools, the PeniMaster is truly deserving of its commanding name.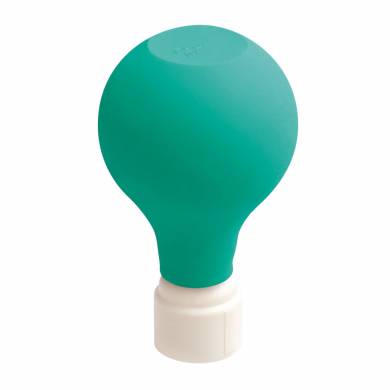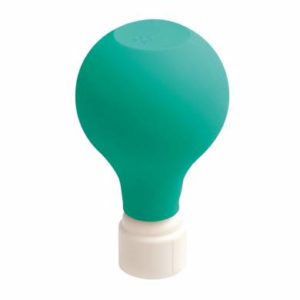 While other dick improvement mechanisms concentrate solely on simplicity and user-friendliness, the makers of PeniMaster keep it real. Making your cock swell and stand at attention requires systematic finesse. These things don't happen overnight, and PeniMaster doesn't go handing out guarantees like some of the other folks out there.
Apparently, the manufacturer of this thing also endeavor to weed out the faint of heart. Compared to other products like it, including high-end penis pumps, the PeniMaster leaves no stone unturned and no step allowed to be missed with potentially damaging results. Additionally, many people (including us) really didn't appreciate the fact that so much of an investment had to be made to use it. We're ballin' on a budget over here, do ya mind?
Our Experience with It
We discovered that the medically-inspired PeniMaster is relatively easy to use; go figure. And since the PeniMaster has numerous "fields of application," just about every dude on the staff took one home. None of us made eye contact with one another for a month or so. Then slowly, we would begin emerging one-by-one from our perverted cock-oons with "swollen pride."
Our Cheers and Jeers
We sort of had to eat crow on this one because we talked so much shit before trying it out. Put simply: it works, but you have to know what the fuck you're doing or else it won't. That's pretty much the bottom-line. There's definitely a learning curve with the PeniMaster series, so bring your smarty pants.
PROS
Handyman Special – This little doohickey can accomplish all kinds of things, from elongating your junk to improving your erection.
Doctor's Orders – The PeniMaster lineup is suitable for therapeutic applications, meaning your insurance might pay for it if you have a pre-existing condition.
Give It to Me Straight – Unlike penis pumps, this complicated contraption is designed that way because it can quickly correct Peyronie's disease, not to mention its effectiveness on induration penis plastica, ejaculation praecox, general erectile function, and even post-op urological issues.
We've Got Big Balls – This bitch can even make your balls bigger. Are you fucking kitten me right meow?!
Long-Term Relationship – The systems, which have to be worn for hours, are super comfortable despite their otherwise cumbersome appearance.
No Commitment Required – There is no workout plan associated with the PeniMaster lineup. Just put the shit on and go about your day.
Through Thick and Thin – The lineup doesn't just elongate your dick, it makes the thing thicker as well. You will not hear us complain about that one bit.
Like a Virgin – The medical research that helped to develop the PeniMaster system has revealed a way to recover the foreskin your parents stole from you as an unwitting baby. Look at us now, Mom!
Hidden in Plain Sight – The manufacturers have made sure that each of the products in the PeniMaster series can be worn comfortably under clothing, which means you can be pimping out your dick while picking up the next chick.
CONS
An Arm and a Leg – Unless you have a stack of cash to throw at improving your penis, this thing is way out of your league. After all, anything that compares to plastic surgery is going to be expensive.
Back to the Future – The PeniMaster series is a combination of high-tech methodology and traditional tooling, so we didn't know what category to put it in let alone who to recommend it to.
Commitment Issues – Although there's not a stringent workout plan required, this thing has to be worn for several hours each and every day (sometimes for months).
Blatant Disregard – Each of the products in this series are designed to promote penile growth and health, not to make you look cool or hip. Nobody gives a damn about your rep around here.
Some Assembly Required – Listen, when you have to read a manual or watch an instructional DVD just to attempt to use a product for the first time, there might be a problem.
Splitting Hairs – Is it an extender, an expander, a pump, a puller, a vacuum? How many different moving parts do we have to manage to use this bitch? Stop calling it "science" and start calling it "simplified" please.
Nothing in Return – Although there's a warranty on the integrity of the product, there is no effectiveness guarantee whatsoever. You're on your own after you spend the money, and that shit ain't cool.
The Final Verdict
We aren't known to brag about products, especially since we are here to be as objective as possible, but we can't help but sing the praises of the PeniMaster lineup.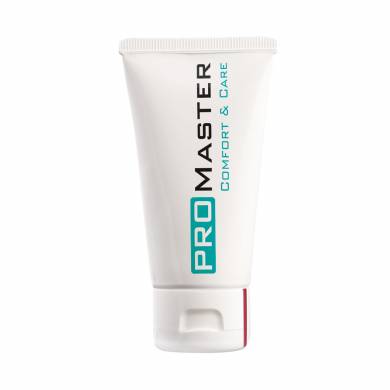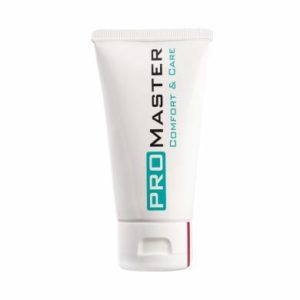 Although it has a number of obvious design flaws, our impressions of it were positive nonetheless. We can't necessarily compare it to anything, but what we do have in terms of competition seems to fall short of the PeniMaster's restorative power. Not trendy or attractive in any way, this bad boy is designed for guys who want to take shit to the next level without getting a prescription. On our infamous scale of 1 to 10, this bitch gets a solid 9 and that's only because we'd like to see what else the manufacturer has up their sleeve.
Despite the fact that John James is quite the character, there is one thing he has in common with everyone else: he likes a high quality sex toy just as much as the next guy.
Noticing that there were no legitimate websites out there reviewing all the amazing synthetic vaginas on the market, John James set out to do something about it.
After all, it is painfully obvious that today's men really need to know more about their options.