It appears our boss likes to tie us to our desk and force feed us fuck toys until we're blue in the face. What can we say? He must know we like bondage. Perhaps that's why he assigned us the ElectraStim EM60 Flick Electrosex Stimulator Multipack Set. Apparently, he wanted to keep us busy for a long time.
We will be the first to admit that we had no idea what in the hell he handed us when we caught our initial glimpse. This thing looks like a jumbled mess of wires, remotes, control interfaces, and plugs. Upon closer examination, though, we discovered that it was a whole lot more.
What Is the ElectraStim EM60 Flick Electrosex Stimulator Multipack Set?
Obviously, we had to fumble around with it for quite some time to figure out how each of its components were used.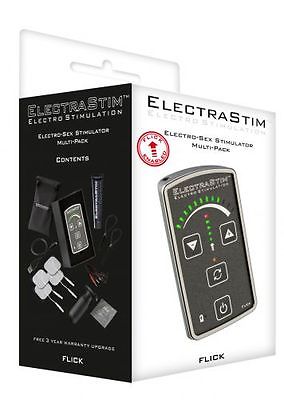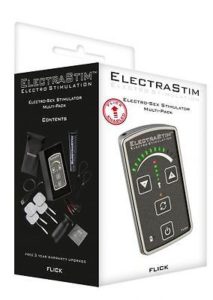 The ElectraStim Flick Multipack Set is sort of confusing at first, but that doesn't last long. Soon, it's easy to see that this thing is simply a rechargeable power unit that's developed for the sole intention of making you jizz whether you like it or not, using the thrills and chills of electrostimulation of course.
The ElectraStim Flick is basically a remote control with interchangeable fuck toy attachments. In other words, it's like having three sex toys for the price of one. Its various accessories vibrate per the settings on the control interface, which is motion-sensitive when activated. It's probably ideal for couples play, but we can totally see ourselves using it on solo missions.
ElectraStim Promotional Video
CLICK HERE FOR THE BEST PRICE ON THE INTERNET
The Main Features
It is difficult to describe the main features of a sex toy that has so many of them. So, we broke it down based on each of the main components, because even we got confused.
The Remote Control: It has "up" and "down" buttons which obviously control the 7 vibration settings, but it also has a single button used to scroll through the 24 intensity levels that are produced by the powerful motor within.
The ElectroLoops: These bad boys wrap around your dick at the tip or the shaft then attach to the remote to receive power. You get to choose where you put it and how you use it because it's fully adjustable just like a necktie.
The T-Bar Vaginal/Anal Probe: This component it's for anyone in particular, just someone who loves a little internal action from time to time. It measures 3 inches in insertable length and 3.5 inches in girth, so it's perfect for beginners as well as pros.
The Unipolar ElectroPads: These self-adhesive pads can be uses again and again, and are designed to be placed anywhere on the body for a special tingle. Just be sure to keep it below the waist.
The Conductor Gel: This is just a specialized formula created to intensify the electrostimulation provided by the various attachments of the toy.
So basically, you plug up your favorite attachment and secure it to your body as intended. Then, you plug it into the remote (which has to be charged for about 3 hours before you use it) and adjust the settings to your preference. See? Didn't we tell you it was simple once you got past the jumbled mess?
What Comes in the Box?
We aren't too concerned with the appearance of the box, which is a good thing for the ElectraStim Set. It looked pretty basic, but the contents inside redeemed the toy almost instantly. Here is what we found:
The ElectraStim rechargeable remote control
(2) Two Silicone ElectroLoops
A silicone T-Bar Vaginal/Anal Probe
(4) Four ElectroPads
A 60ml bottle of brand-name conductor gel
A sample of water-based lubricant
USB charging cable
An instruction manual
A sturdy storage box
A satin storage pouch
A 3-year extended warranty registration card
Hell, it seemed like the box contained everything but the kitchen sink. We kept looking inside for a fuck buddy, but we couldn't find one. Maybe next time.
What It Feels Like
It feels like a good spanking, and we think that's exactly what it's designed for. The Flick feature allows the user to set a maximum dose and then flick their wrist to instill pain or pleasure on their partner. We found out this works best with the self-adhesive pads, but we digress. The point is that the sensations delivered by this toy are so varied and so intense that we can't even begin to describe them with mere words.
Our Cheers and Jeers
We have been thinking our lucky stars for technology ever since we tried the ElectroStim Flick. Had it not been for the development of this toy we would have had nothing to do all week, and we sure as hell wouldn't have anything to complain about (you know how much we love that).
PROS
The Price is Right – For less than $200 you can get three different sex toys and what's better than bargain fucking?
Vibe It Out – The fact that there are 168 different pleasure settings is beyond our comprehension.
Internal Affairs – We dig the probe, because what's electrostimulation if you can't feel it in your ass?
Getting Attached – The three separate attachments are why half of us think we're kings of the bedroom now.
What the Flick? – That hands-free spanking action from the Flick feature though!

READ CUSTOMER FEEDBACK ON LOVEHONEY.COM
CONS
Fumble on the Field – The plethora of wires and attachments is sort of difficult to manage at first. . . and at second and third.
Stick to It – We noticed that the self-adhesive pads lose their stickiness after 6 – 8 uses. Thank fuck for that warranty, eh?
Flick It Off – Flicking too hard may result in the cords to the accessories becoming detached, so you can't get carried away (and that blows).
SIMILAIR HIGH TECH MASTURBATION OPTIONS: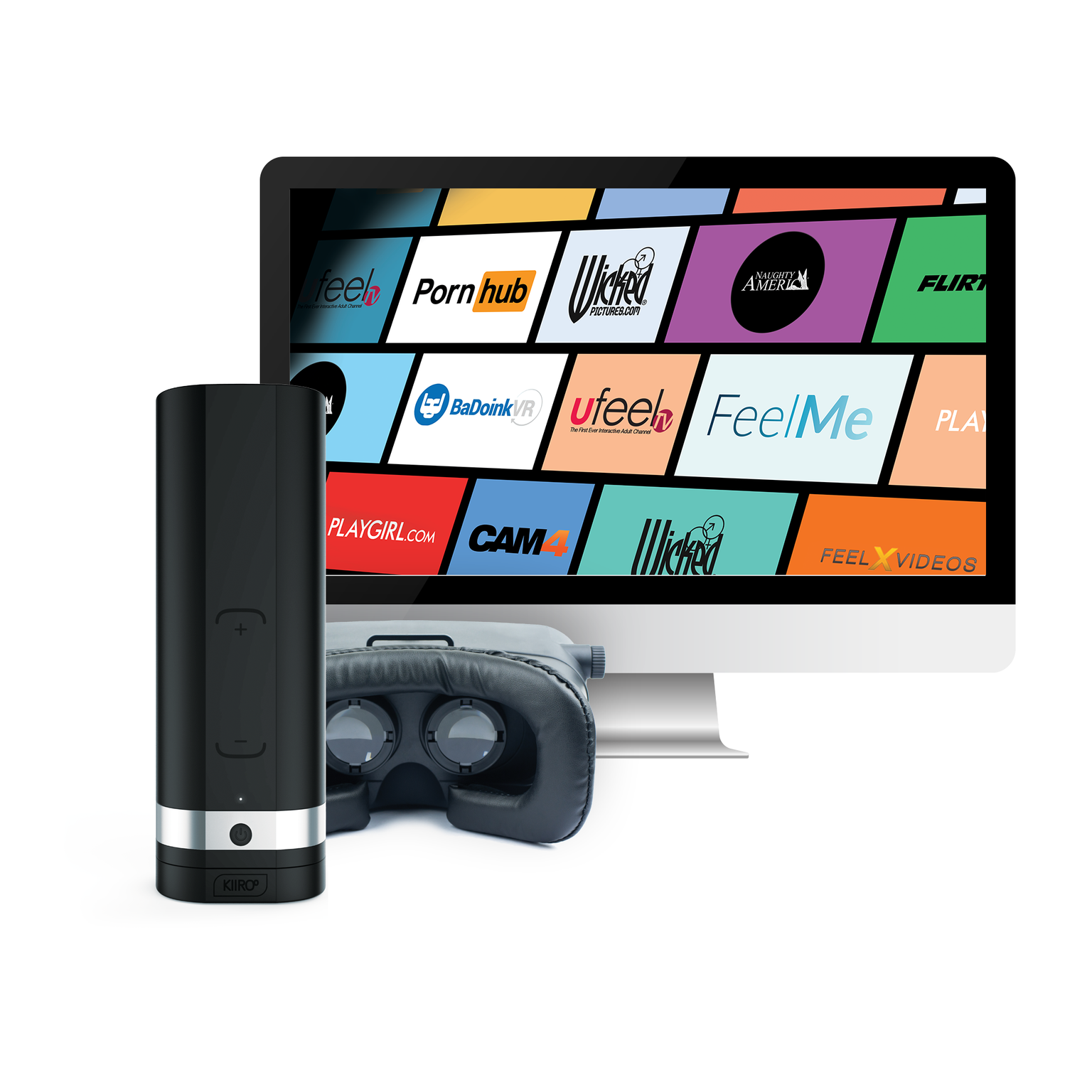 Fleshlight/Kiiroo Onyx 2

Handsfree Electric Device

Enhanced by a Video Chat platform and Virtual Reality Porn

Fleshlight™ Superskin™ material (Feels great)

Discreet and wireless design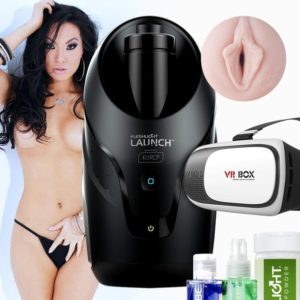 Fleshlight/Kiiroo Launch

Compatible with standard size Fleshlight toys

Automatic, handsfree, portable device

Sleek, discreet design

Mind melting, close to real, virtual reality sex simulation content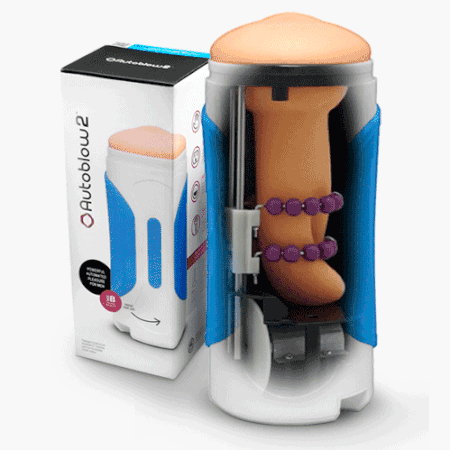 Autoblow 2

Hands Free Robotic Blowjob Toy

Does not need batteries

Uses interchangeable sleeves

Robust construction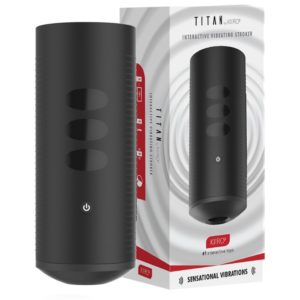 Kiiroo Titan

Designed to boost your stamina and maximize your endurance in the bedroom.(Explosive orgasms!)

9 vibrating motors

Super-quiet, for when discretion is needed

Connects to interactive content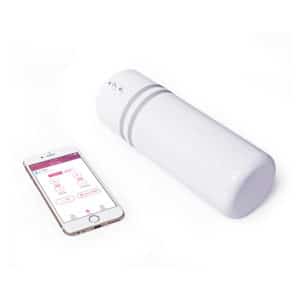 Lovense Max

Hands Free Automatic Male Masturbator

Discreet Appearance

Vibrates and contracts

Rechargeable
The Final Verdict
Overall, we became quick fans of the ElectraStim Flick Multipack Set. It has just about everything you need to enjoy a little bondage without taking things too far. On a scale of 1 to 10, we will give it a 9 in hopes that the manufacturer will come out with a wireless version sometime in the near future.
Despite the fact that John James is quite the character, there is one thing he has in common with everyone else: he likes a high quality sex toy just as much as the next guy.
Noticing that there were no legitimate websites out there reviewing all the amazing synthetic vaginas on the market, John James set out to do something about it.
After all, it is painfully obvious that today's men really need to know more about their options.