We have had a lot of things up in our asses, including our dickhead boss who thinks it's funny to switch back and forth between masturbators and prostate massagers without telling us.

Never knowing quite what we will get, our team was recently surprised with the Lovehoney Desire and we immediately got to work reviewing it like good little boys (because if we don't, our boss will fire us and we'll have to get real jobs).
What Is the Lovehoney Desire?
The Lovehoney Desire is a prostate massager, and if you don't know what one of those are then you should probably find out before proceeding. The Desire is a remote controlled tush tickler and it's designed exclusively for men based on the body-specific ergonomic shape of the toy. We lovingly removed it from the box to investigate its main features before experiencing them for ourselves.
The Main Features
When you first look at the Lovehoney Desire, it doesn't appear to be much different than other prostate massagers on the market today.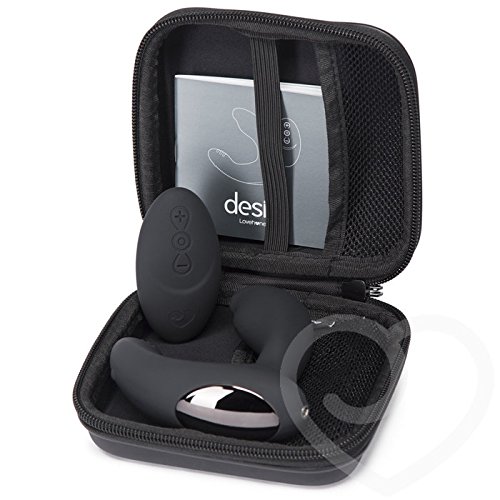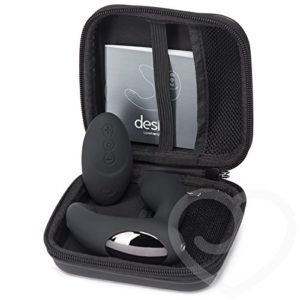 However, it features a unique L-shape design that stimulates the p-spot and perineum at the same time – something we found sort of unusual. We were big fans of vibratory variety of this toy too: 8 different modes and 12 distinct intensity levels. That's impressive in our book. And while it wasn't the most powerful thing we've ever felt, the silk-spun silicone had a nice skin-like feel to it and that increased our pleasure (marginally).
It's probably important to note the dimensions of this thing as well. Despite what any of your former lovers have told you, size matters. The Lovehoney Desire measures 4 inches in circumferences and 3.75 inches in insertable length. In other words, it's in the goldilocks zone between being too large and too small. We thought that was thoughtful of the brand, since assholes come in all shapes and sizes (i.e.: our boss is 6'3").
What Comes in the Box?
Opening the boxes to these things is one of our favorite parts of the job because it's like having a birthday party for our prostates. What comes inside the Lovehoney Desire box was a little disappointing though if we're being honest (and we are). This is all we got: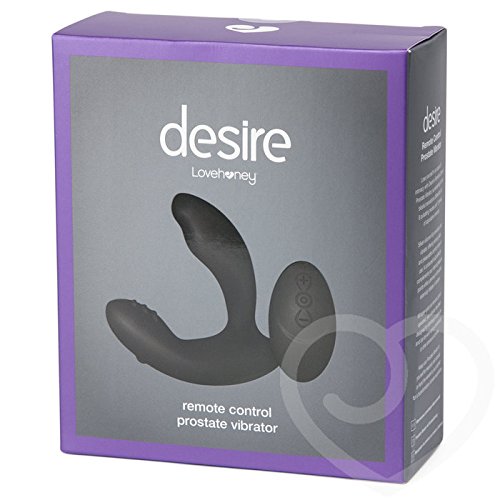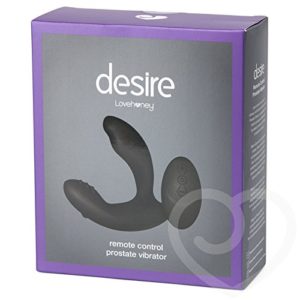 The Lovehoney Desire Remote Controlled Prostate Massager (of course)
A storage bag with the brand's insignia
An instruction manual
A USB charger with cord

The box has a nifty compartment for the charger and opening to feed it through, which allowed us to charge our toy discretely.

A remote control (with batteries included)
NOTE: We had to remove a small bit of plastic between from the remote to get it to turn on; we learned that the hard way. Maybe we didn't notice that right away because there was no lube sample in the box, so we had to scramble to locate what we needed to get started. We're docking you points, Lovehoney.
What It Feels Like
The Lovehoney Desire has this firm and dented tip on one of the arms, which is supposed to hug the prostate for intense and continual sensations.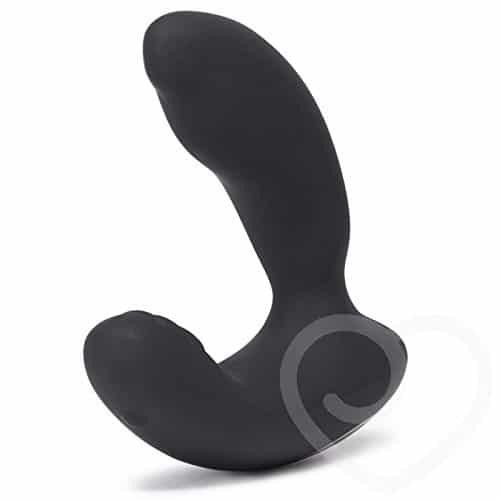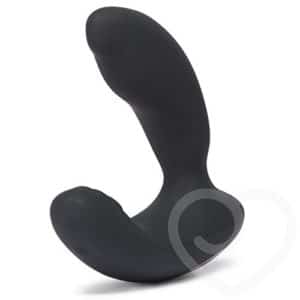 We can't disagree. It felt like our junk was being cupped by the nicest hands on the planet – hands with fingers that knew exactly where to touch. For a sex toy that costs under a hundred bucks, we really can't complain (but you know we will).
Our Cheers and Jeers
That brings us to the pros and cons – the good, the bad, and the ugly of the Lovehoney Desire Remote Control Vibrating Prostate Massager (whew, that was a mouthful). Here is our expert opinion:
PROS
Get Wet – The toy is completely submersible in baths, showers, pools, and hot tubs (just not the public kind).
Planetary Pleasure – The USB charger works anywhere in the world and is totally eco-friendly.
Go the Distance – The remote control has an impressive 8-meter (24 ft.) range to make things interesting.
Lock It Down – It has a handy travel lock so you don't start fucking your suitcase by accident.
No-Rash Included – The toy is latex and phthalate free, but that doesn't mean you can skip the lube.
Pliable Perfection – This thing is impressively firm but still flexible enough to move around while inserted. Nice.
Safety First – The L-shaped design helps keep the toy in place when you're wiggling with pleasure.

CHECK CUSTOMER FEEDBACK ON LOVEHONEY.COM
CONS
Two for One – It takes two hours (or 120 minutes) to charge this thing enough to play with it for one hour (or 60 minutes). Shouldn't it be the other way around?
Keep 'em Separated – While the toy is 100% waterproof, the remote is not.
Home on the Range – The remote only works when it's in a direct line with the toy, so you won't be doing as much mystery fucking as you'd expect.
Cute as a Button – It makes this adorable buzzing noise that's so loud it can be heard across the house and possibly by the neighbors. Isn't that cute? No? We didn't think so either.
There aren't many more things we can say about the Lovehoney Desire, good or bad. We did notice how it is advertised as being a hands-free device, and we suppose if you count the remote control then they're not wrong. However, we did experience some slippage when things got hot and heavy, so many the manufacturers can work on that detail next. After all, there's nothing worse than losing an organism sensation just as you're getting ready to cum.
The Final Verdict
We never know quite how to finish these things, kind of like how we don't ever know the best way to tell our one night stand it's time to leave. Awkward! Lovehoney, we like you but your taxi has arrived. On a scale of 1 to 10, we give your Desire toy a 6.5 because it had too many flaws in the most major areas. It slipped, it was noisy, it didn't have the best range, and it took forever to charge. Go back to the drawing board guys. Better luck next time.
Despite the fact that John James is quite the character, there is one thing he has in common with everyone else: he likes a high quality sex toy just as much as the next guy.
Noticing that there were no legitimate websites out there reviewing all the amazing synthetic vaginas on the market, John James set out to do something about it.
After all, it is painfully obvious that today's men really need to know more about their options.