Penis pumps are a dime a dozen and they always have been.


Ever since the first pump was introduced to the market, manufacturers have been doing their damnedest to create something that works and is generally painless. Unfortunately, many of my brothers have become guinea pigs for those eager companies, only to come out with flaccid dicks and empty wallets.
While there is no one-size-fits-all penis pump in existence, I think we can all agree that some are way better than others. After all, a $20 contraption from your local sex shop doesn't hold a candle to a penis pump that's made by medical professionals. In short, if you want real results you'll have to pay for it, but therein lies the problem.
There are too many penis pumps out there, so choosing the best one is a mind-numbing exercise that leaves most men saying, "Fuck it." On the other hand, a little bit of research can lead you in the right direction. After having tried several dozen penis pumps myself, I've finally made up my mind. The Androvacuum is, by far, the best thing since sliced bread.
What Is the Androvacuum?
The Androvacuum is the second model to come out of the well-respected Andromedical brand lineup.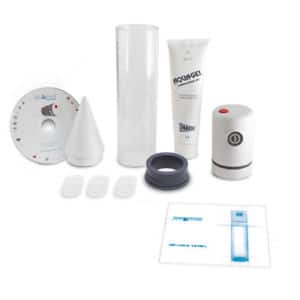 Considered to be the number one penis pump in the world, this bad boy was designed for the sole purposes of giving men like us the erections we deserve.

In fact, it uses a proprietary blend of techniques and materials to instantly improve erectile dysfunction and sexual impotence.
Interestingly enough, the Androvacuum uses lowered air pressure to achieve its noticeable results, as opposed to those less effective penis pumps that brag about having extreme suction power. As such, this thing can also be used for mood buildup, general sexual fitness, improved stamina, and erection enhancement as well. This hefty piece of machinery is especially ideal for men with Peyronie's disease (you know, curvature of the dick). In my experience, the Androvacuum induced a little penis growth too, but those kind of results always vary.
This product is said to be over 90% effective, meaning you might spend a little bit initially but you won't have to replace it for a long time. Furthermore, you can rest assured that your penis is about to get a rude awakening without you having to huff and puff your way to satisfaction. Did I mention that the Androvacuum is fully automated? Oh yeah, there's that too.
The Main Features
Anything that promises better hard-ons without pills better have some amazing features. Luckily, the Androvacuum got the memo.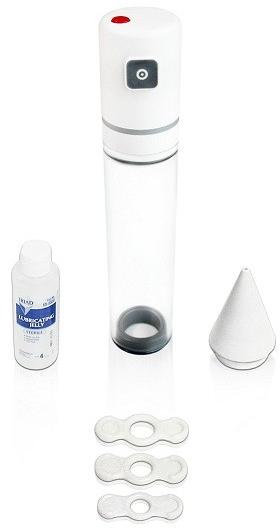 While there are two different versions: the manual and the premium, they both offer the same results. For the purposes of this review, however, I'll be talking mainly about the premium version because, let's be honest, I like it when things require little to no effort on my part.
This device features a transparent tube into which your flaccid penis is placed. With a single button on/off interface and a conveniently located safety switch, the Androvacuum is the safest and most durable penis pump I've ever used. It even has some handy-dandy constriction rings that are designed to help maintain the achieved erection for as long as possible. Still, I wouldn't suggest wearing it for more than 30-45 minutes if you know what's good for. If you like it then you should've put a ring on it, but if it goes away then just use the pump again.
In fact, the Androvacuum is one of the only penis pumps I've ever seen that's safe to use repeatedly in the same day. Because it's made to slowly draw the air in the tube out and gently induce lowered pressure, it prevents pain completely and offers tremendous results quickly. Best yet, all the materials are medical grade, meaning they're skin-safe, virtually unbreakable, and of the highest quality.
What Comes in the Box?
I wasn't surprised to see that the Androvacuum box looked like something straight out of a hospital. I also expected to receive a fully illustrated instruction manual to help me figure out how to use this bad boy, and I got exactly that. One of the most enjoyable things about this thing is the fact that you don't have to go out and buy a bunch of extra shit to use it. Everything you need comes stuffed inside the box, including the following items: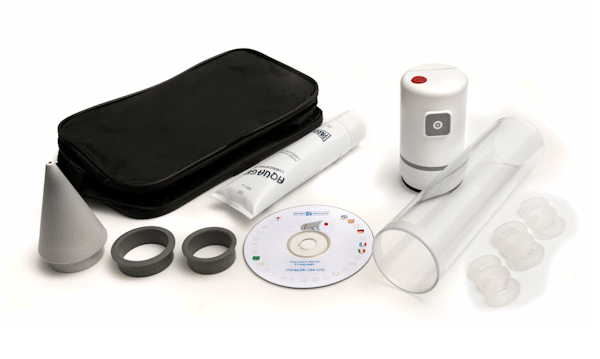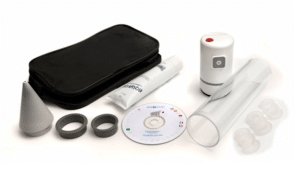 The Androvacuum power portal
The clear tube (it gets screwed onto the power portal when you're ready to go)
A rubber cover/connector for the opening
A set of 3 various sized constriction rings
A container of aqua gel (a.k.a. lube)
An instructional DVD
A written care and maintenance manual
Andromedical and their Androvacuum are both certified by medical professionals and urologists around the world. Since vacuum-based penile therapies tend to be the most consistent long-term option for men with chronic or occasional impotence, it makes sense that the best vacuum-based penis pump would be endorsed by those in the know.
How It Feels
I, for one, am used to shoving my limp dick into powerful penis pumps that make me wonder whether my crotch is being ripped from my body or not. While I believed for a long time that the pain meant more gain, I've since been proven wrong. Actually, it's not the strength of the pressure that makes the most difference; it's the way in which that pressure is created.
Having said that, the Androvacuum creates pressure by slowly removing the air from the tube. This technique makes the entire process virtually pain-free yet more effective than anything else available right now. It's so gentle and operative that it's being used by doctors for patients' penis rehab after accidents and surgeries. So, to tell you how it feels would require me to mention that it feels like a gradual squeeze instead of a rough tug. I hope that makes sense.
The Cheers and Jeers
I understand that I've been singing the praises of the Androvacuum since this whole thing started, but I honestly can't help it. There are only a few things I could find wrong with it, and basically, those things have more to do with my own preferences than with the quality or functionality of the device itself. I know that nothing is perfect, but this thing is about as close as humanly possible in my opinion. Here's why I think that:
PROS
On the Regular –

The Androvacuum can be used as often as you deem necessary, and regular use leads to an improvement in the natural state of your penis plus an increase in your overall erectile capacity.

Me Love You Long Time –

The battery life of this thing is nothing to scoff at. I got about 10 uses out of just one set of mid-grade batteries.

Comfy and Cozy –

This thing has no sharp edges whatsoever, plus its general operating principle helps keep it in place while reducing pain.

Look Ma, No Hands –

The manual Androvacuum is effective, but the Premium version provides a hands-free experience that's equally as powerful.

Watch Me Move –

I liked the clear tube design because it helped me keep track of my progress along the way.

Breaking the Curve –

Since it's medically endorsed and completely safe, the Androvacuum is an ideal tool for men with Peyronie's disease.

Ring Around the Rosey –

The extra constriction rings (a.k.a. cock rings) are super stretchy, highly durable, transparent, and therefore make a terrific addition to an already great product.

Easy, Breezy, Beautiful –

The Androvacuum is one of the easiest penis pumps to clean because it comes apart easily and dries quickly.

Built to Last –

There's just something about a product with the perfect weight that screams quality. I've had mine for a few months now and there's not even a scratch on it (meanwhile, I haven't exactly been responsible in how I store it).
CONS
Wet and Wild –

Unfortunately, the Androvacuum cannot come near water unless you want to electrocute your dick. I'll venture a guess and say you don't.

If you're looking for a good penis pump that's not afraid of getting wet, check out the Bathmate Hydromax X20, X30, or X40.

Big Things, Small Packages –

The Androvacuum won't be able to accommodate extra-large penises (9 inches or longer and/or 3.5 inches in girth or fatter).

Buy in Bulk –

Since this product isn't rechargeable, you'll be forced to buy some batteries. But don't worry, you probably have a few lying around the house already.

Nowhere to Go –

The reason I haven't been as careful with my Androvacuum as I should've been is because it doesn't come with a storage case and that sucks harder than the device does.
The Final Verdict
The Androvacuum is, hands down, the most remarkable penis pump I've ever had the pleasure of trying.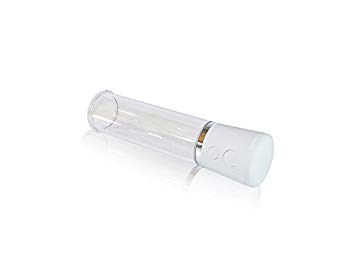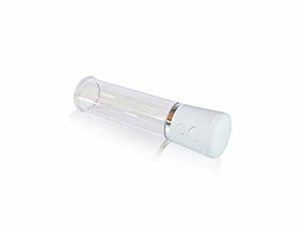 With a safe, user-friendly design and an effective technique, it's likely to be the last one I ever use unless the Andromedical brand introduces a third generation version.
Despite the fact that John James is quite the character, there is one thing he has in common with everyone else: he likes a high quality sex toy just as much as the next guy.
Noticing that there were no legitimate websites out there reviewing all the amazing synthetic vaginas on the market, John James set out to do something about it.
After all, it is painfully obvious that today's men really need to know more about their options.