OUR TOP 3 RECOMMENDED BATHMATE HYDROMAX WATERPUMPS: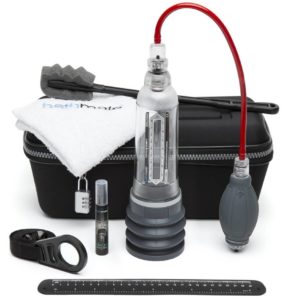 Bathmate HydroXtreme7

Perfect either for beginner or advanced users

Advanced Handball Pump

2 year waranty

Guaranteed results, or full refund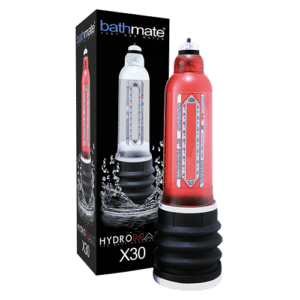 Hydromax X-Series

Increases length & girth of your penis

Harder, stronger erections

Completely safe to use

Guaranteed results, or full refund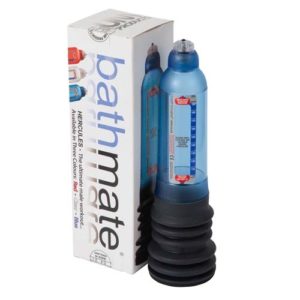 Bathmate Hydropump Series

Great for beginner users

Increases length & girth

2 year waranty

Guaranteed results, or full refund
Penis pumps are a dime a dozen these days, so impressing our team isn't an easy task.


We've seen nearly everything under the sun, and our cocks have been unabashedly shoved into anything with a hole since 1982. Additionally, we know that the HydroMax Xtreme series is coming up soon, so we're saving some of our best adjectives for that gnarly son of a bitch. We've learned self-control the hard way.
Once upon a time, we said the the BathMate series would hurt your twig and berries if you didn't use it correctly, so please heed our warning about the X-Series. It is advertised as having 35% more power than the original, so it's definitely not for beginners. Being as it's the series which lies smack-dab in the middle of the BathMate and Xtreme lineups, we think it's a safe assumption that the X-Series is for mid-sized users with a moderate amount of penis pump experience.
If all that mumbo-jumbo sounds a little vanilla to you, please believe it does to us as well. We're goddamn professionals here. Go big or go home, right? Wrong. There's something to be said about mid-line products. Items like that are like the Goldilocks of modern merchandising; we've learned that the hard way too. So, just to be safe, we ignored all of our prejudices and tried it out for ourselves.
What Is the HydroMax X-Series(Bathmate X20, X30 & X40) Penis Pump Lineup?
The obvious name of this dick enlarger should explain everything, but just in case: The X-Series is a group of distinct penis pumps that are each designed to increase the length and girth of various sized dicks.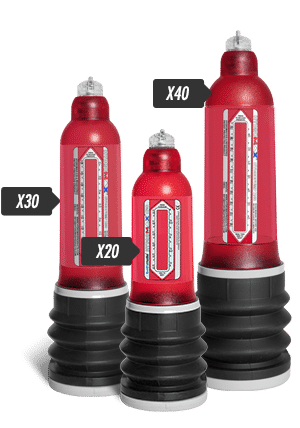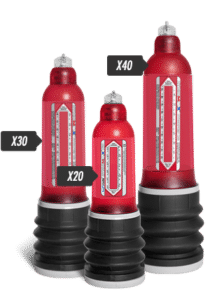 This middle man lineup has three separate devices, discernable only by their slightly different sizes. The Bathmate X20 is the smallest and the X40 is the biggest. And if you're truly in the mood to be middle-of-the-road on your penis pump, you can always go with the X30.
Each device, regardless of its size, looks and functions the exact same way. However, this so-called "vanilla" penis pump has some serious sucking power. No, it doesn't give you an amazing blowjob. We wish it did. What it does it something much better. The HydroMax X-Series is scientifically designed to elongate and enlarge the penis using a penis exercise routine, and the same can be said about the other models in the brand's extensive lineup. Whether this thing works any better or any worse than its cousins is our job to figure out. You're welcome.
CLICK HERE TO VISIT THE OFFICIAL HYDROMAX WEBSITE
The Main Features Of The Bathmate Hydromax X-Series Penis Pumps For Intermediate Users

Straight away, we could tell that the X-Series had a significant amount of power when compared to the original (BathMate).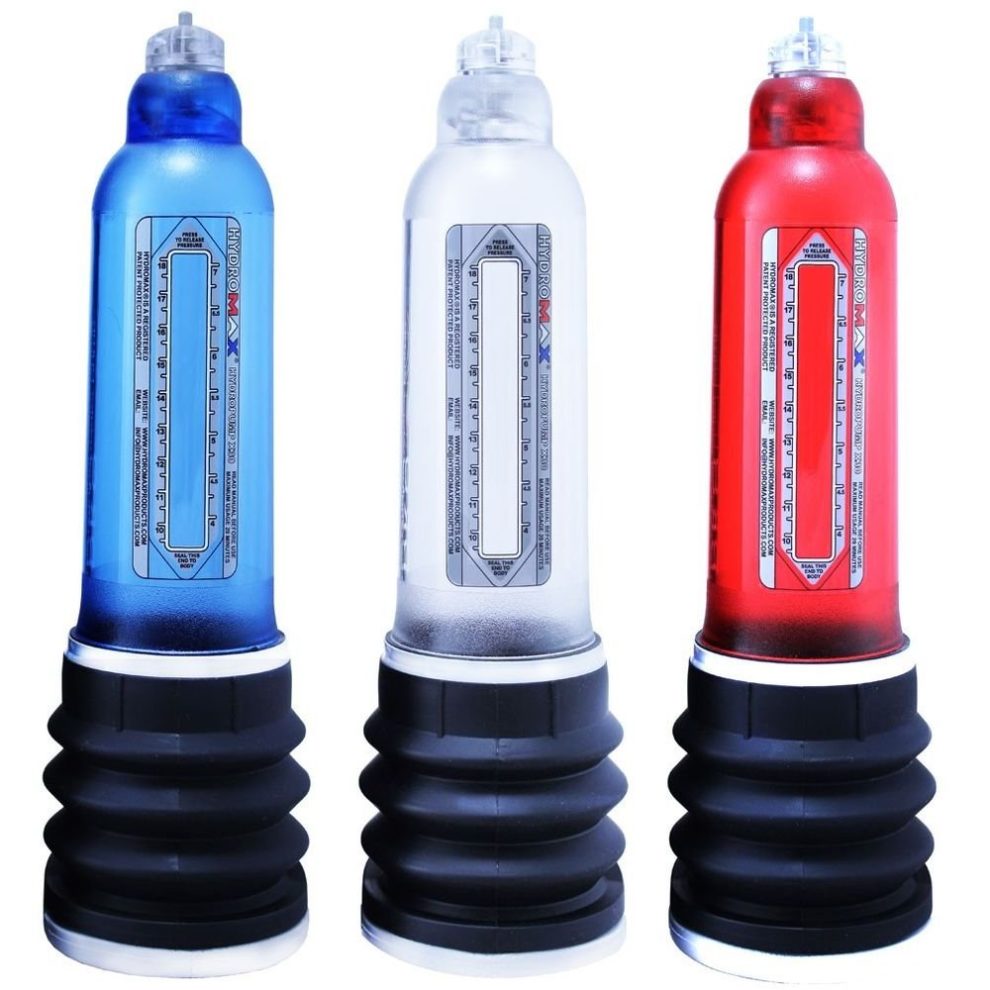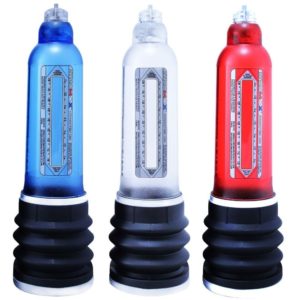 That may or may not be good news for everybody. Like the BathMate, it features an open/close flap on the top which accommodates and controls the suction within the see-through chamber. This time, the chamber can be ordered in the colors red, white, or blue, because, apparently, big dicks are patriotic.
Also like the other products in the HydroMax lineup, the X-Series features an optional gauge measurer along the side of the chamber. It has the same gator design as well – this tube sock-looking mechanism on the bottom that takes up way too much space if you ask us. We've seen penis pumps constructed better, but then again, those fancy-looking bastards didn't do what they were supposed to do either. If we've learned anything from all the shit we've fucked it's that you can't judge a book by its cover.
That's one thing we can say about the X-Series: It damn sure works even if it looks like a kid's bike pump from the '80s. However, we'll admit that the results come on somewhat slowly compared to the FleshPump or the medical-grade Penomet, but what do you expect? One is the top dog and the other is used by doctors. Once again, even with the new Bellows system, the HydroMax lineup fits snugly in the middle like a swollen hotdog in a toasted bun. Yum!
What Comes in the Bathmate Hydromax Box?
Speaking of things stuffed into tight spots, the box containing the HydroMax X-Series penis pump was chalk full of . . . nothing but the bare essentials. We kind of liked that. Enough with the overselling and oversupplying already! We have more "free samples" than we know what to do with. Inside the box was just the following items; no more, no less: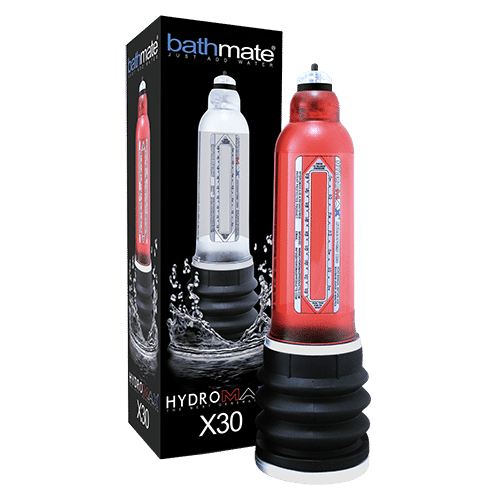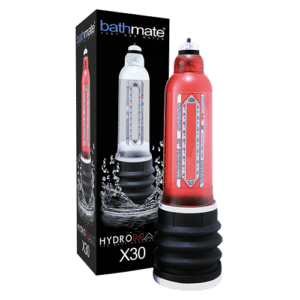 The HydroMax X-Series penis pump (in the size and color of your choosing)
A removable soft-touch comfort pad
A brand flyer advertising the other products in their lineup
A simple instruction manual for bath and/or shower use
Needless to say, the HydroMax manufacturing team spent little time on trying to impress you with looks and worked hard on their personality instead. If this were a pageant, the X-Series would win Miss Congeniality by a landslide. Searching the nooks and crannies of the commercial-looking box rendered nothing else besides lint and cardboard shavings, making it totally easy to dispose of the evidence. If you're a fan of discretion, this vanilla vacuum might be just what you need. *NOTE: All HydroMax products are packaged and shipped the same way – in unmarked boxes like a sexy drug deal.
How It Measures Up
Compared to other penis pumps which use water pressure to stimulate cellular growth, the HydroMax is rather standard, although the quality of the manufacturing is definitely higher than what we're used to. It is durable and rigid in construction, providing a strong and sturdy shield around your junk. The comfort pads are legit as well and, when used correctly, offer a tighter seal against the body which further increases the power of the suction.
Compared to the other penis pumps in the HydroMax lineup, the X-Series pales in comparison to the Xtreme series. However, the promise to deliver as much as 35% more suction power than the original BathMate series was certainly kept. If you were scared of the BathMate, stay far away from this sucky bitch. (We mean that in the best way possible.)
Our Experience with It
When we first opened the box, we thought using the X-Series would be complicated, but we were pleasantly surprised. Maybe our success was because we already had experience with the BathMate, but perhaps our luck was due to the relatively simple new design of the entire lineup. We became quick fans of the improvements, which were evident on all models.
The removable comfort pads were nice, but the increased bellow size really caught our attention. Meanwhile, the size of the internal convolutes was reduced, so there was a lot of spare room for penile expansion. Using the device was relatively simple, and the newly designed Superflow valve, which is featured on all HydroMax models, made controlling the pressure within the chamber super safe and easy.
Our Cheers and Jeers
Since we ended up trying all three series in the HydroMax lineup, we felt justified to give our not-so humble opinion about the X. After all, we love talking smack about exes. As such, we had some happy memories and a few nightmarish recollections, but nothing a little counseling couldn't fix.
PROS
Big and Bad – The X-Series gives men a variety of sizes to choose from, with extra room inside to accommodate growth.
Open Sesame – The improved valve helps keep you from busting a blood vessel while using the increased suction power.
Promises, Promises – All HydroMax products come with a 2-year limited warranty.
Measure Once, Pump Twice – The clear measuring guide on the front of the chamber features both imperial metric measurements (inches and centimeters), which comes in handy when you're trying to track your progress.
No Bullshit – The X-Series is guaranteed to work or the company will give you all your money back. Fuck yeah!
Safety First – The entire contraption is made out of skin-safe materials that are 100% phthalate free.
Dick Tested, Doctor Approved – The grown ass professionals at the Aspen Clinical Research Facility helped develop this bastard if that tells you anything.
Works Like a Charm – The manufacturer had at least one thing right: this son of a gun does deliver a fatter dick.
Physical Trainer – The workout routine, which is featured on the HydroMax website, is easy to follow and memorize with minimal brain power.

CONS
High Quality, Low Standards – The X-Series might be made with high-quality materials, but that doesn't seem to make it work any better (or faster).
Gator Aid – You'll need some help adjusting the gators, which are very large, somewhat flexible, and attached SECURELY to the base.
Don't Try This at Home – Unless you plan on reading and following the directions closely, don't even try using this thing. It will rip your dick off.
Dorky as Fuck – Other penis pumps might look somewhat clinical, but at least they don't look like a piece of shit plunger had a one night stand with a broken tire pump.
Break the Bank – More expensive than the BathMate but not quite as costly as the Xtreme series, the price tag on the X might inspire you to move on up to the East side (aka: buy the Xtreme version and be done with it).
Invest Your Time – The strenuous 15-minute daily penis workout routine is kind of a pain in the ass, especially if you work for a living.
WHERE TO BUY BATHMATE HYDROMAX XTREME SERIES: X20, X30 & X40 ONLINE:
CLICK THE BUTTON TO REVEAL A SPECIAL 15% HYDROMAX XTREME SERIES: BATHMATE X20, X30 & X40 DISCOUNT CODE:
The Final Verdict
We won't lie, there are plenty of things we liked about one of the best-selling penis pumps on today's market. It had a lot of redeeming qualities, although we hope the Xtreme model seals the deal and gives us less to complain about. Either way, the HydroMax X-Series commands from us a solid 8 out of 10 rating, and that's as high as we'll go or else the manufacturer won't ever get off their asses and make improvements. Overall, if you want a decent penis pump that doesn't cost an arm and leg, comes with a guarantee, and is made from high-end materials, this one ain't too shabby. Find more information or buy hydromax penis pumps at their official website.
Despite the fact that John James is quite the character, there is one thing he has in common with everyone else: he likes a high quality sex toy just as much as the next guy.
Noticing that there were no legitimate websites out there reviewing all the amazing synthetic vaginas on the market, John James set out to do something about it.
After all, it is painfully obvious that today's men really need to know more about their options.