These days, penis pumps are a dime a dozen. After their invention, it seemed like everyone jumped on the "make my dick bigger" bandwagon regardless of how much scientific research went into the finished product.


In other words, it's not hard to waste your money on a penis pump that ends up doing nothing but making you look like a sucker. To combat that, we have been put in charge of researching these things so that you don't have to.
Recently, we came across the Penomet penis pump. Actually, we dug deep into what was available in the market and, just as we were about to give up on our dreams of finding something worthy of our time and attention, we discovered this bad boy. It was expected to be just like all the rest, but it turned out to be quite impressive. Don't worry; we plan to explain.
What Is the Penomet Penis Pump?
Before we get into all the nitty gritty details, we should probably explain what the Penomet penis pump is (and what it isn't).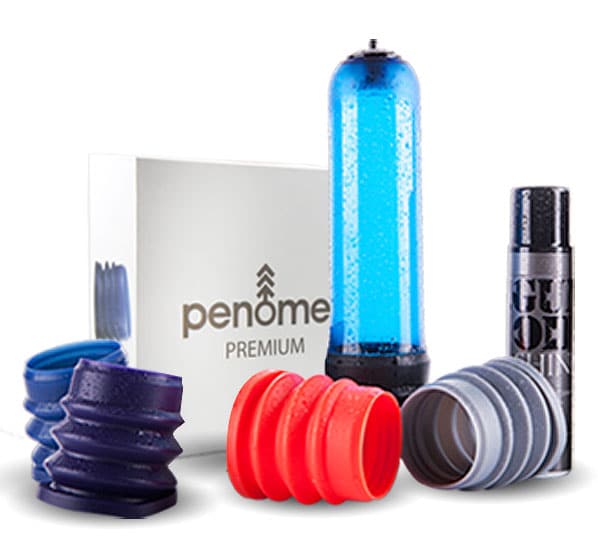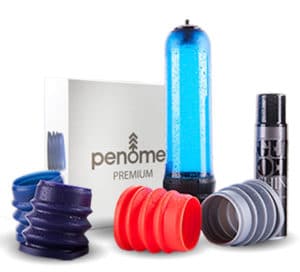 Although it looks like a high-tech manual masturbator, it's simply a tool used to help stimulate penile growth over time. When used as directed, we found that it produced significant results. Half of us were skeptical, but we were all surprised by the speed at which this thing cranked up our cock power. We'll explain that too. Have some patience for fuck sakes!
The Main Features Of The Penomet Vacuum Pump

At first, we thought that Penomet penis pump was a miniature light saber, but we learned quickly just how wrong we were. On our way to the dark side, we got to know the main features and here are the top 10 things we observed:
It has an interchangeable Gaiter System, which meant we could gradually increase the chamber's pressure to achieve safe and comfortable results.
It has over two years of scientific research to back up its loft claims, one of which is that it can produce results in as little as 15 minutes.
Its gentle mechanisms are supposed to increase penis length by 3 inches and girth by as much as 30%.
It uses a two-part design that makes it easy to scale the pressure up or down for the most effective results.
Its main cylinder is made from polycarbonate plastic, so we dare you try to break it.
The gaiters are made from medical grade silicon, so they're at least tolerable on your shaft.
There's a precision measurement scale imprinted directly on the plastic cylinder.
It has a 360-pressure release valve for quickness and safety.
The pump comes standard with a lifetime gaiter replacement guarantee. No registration required.
This product also features an includes a 60-day money back guarantee, which translates to some serious confidence if you ask us.
The manufacturer might have huge balls because, at the moment, there's nothing on the market like it. We certainly don't have a basis of comparison. But, we can tell you this: Penomet has won a handful of awards since the company's inception, including Best New Male Enhancement Device back in 2013. That's got to count for something.
PENOMET PROMOTIONAL VIDEO
CLICK HERE TO VISIT THE OFFICIAL PENOMET WEBSITE
How Does The Penomet  Pump Work?
The way in which the Penomet works is pretty simple to explain, so we were relieved by that. The most complicated part is choosing which of the three different packages you want to use. The pump works by employing an AquaPressure system that provides optimized vacuum pressure all over the penis, and each package uses it.
PACKAGE 1 – Standard
This version uses the 3.0 pump and Force 70 Gaiter. You'll have to visit the website to figure out exactly what it means because we don't have time for all that.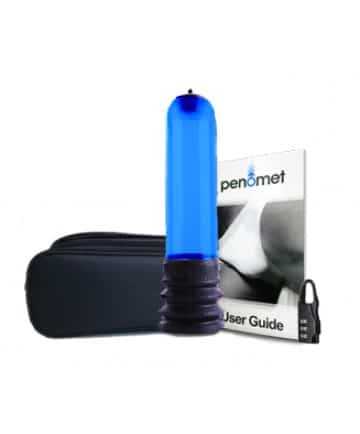 We can tell you that it comes with an instructional booklet and a digital exercise handbook, so you should be alright on your own, big boy. For $127, that ain't bad.
PACKAGE 2 – Extra
This version costs a little more ($197), but it comes with 3 different gaiters – the 65, the 70, and the 75.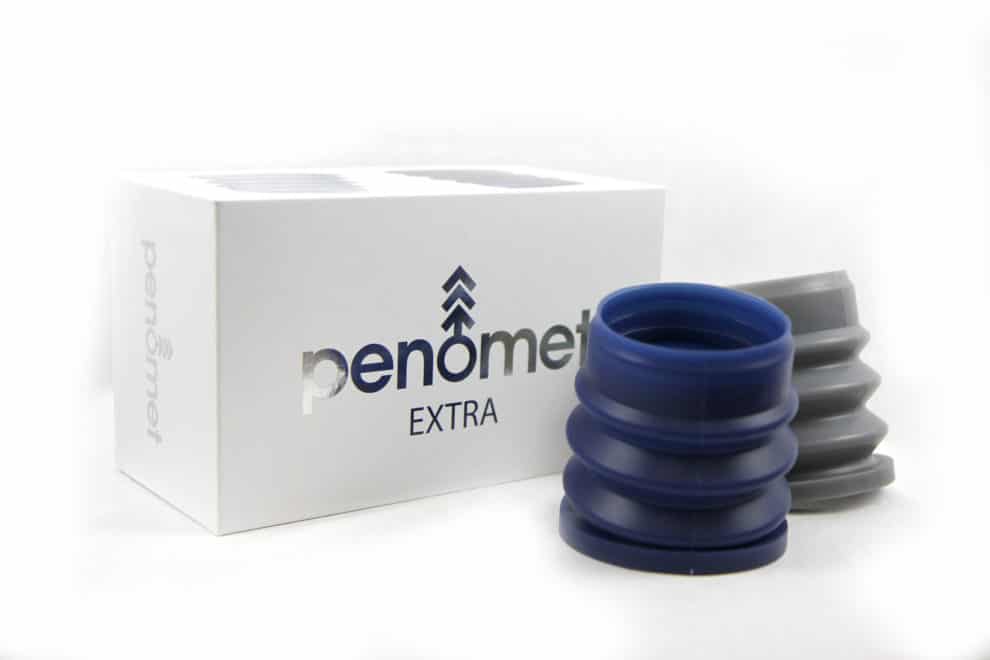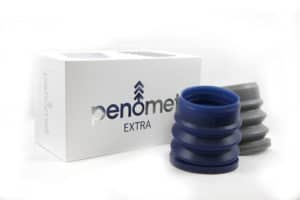 In our opinion, it's totally worth the extra for the additional gaiter, especially since they all come with an automatic lifetime replacement guarantee. You gotta invest in your dick, man.
PACKAGE 3 – Premium
This package, albeit the most expensive one costing $297, comes with the standard 3.0 pump but has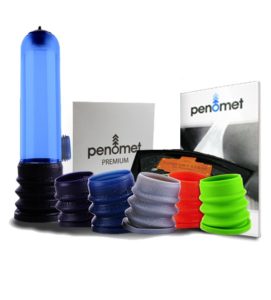 some important extras that justify the lofty cost, like the included Force 60, 65, 70, and 75 gaiters as well as an Extreme Force 80 gaiter for the pros. It even comes with a shower comfort strap, you spoiled bitches.
NOTE: All three of those packages have different cylinder colors available if you're into that kind of thing. The colors available are as follows:
Clear
Blue
Violet
Green
Orange
Pink
Red
Also, the various gaiters come in different colors as well, so you can imagine how trendy and attractive this thing is as it stands on the table.
Our Cheers and Jeers
We have already admitted that we like the Penomet pump, so we suppose we should tell you why that is, and also go over the things we didn't appreciate (because you know we've got some).
PROS
Pump Up the Jam – The Penomet promises a nearly instant girth increase of as much as 30% and can stretch your dick another 3 inches in the meantime.
Impotence Is Not a Virtue – Apparently, this thing also helps men prevent the onset of age or health-related impotence.
Go Long – It can help stop you from blowing your load after "two pumps and a mash-down."
Straighten Up – The Penomet is scientifically proven to reverse Peyronie's disease, which boosts confidence and helps make sex a more satisfying experience.
The Little Engine that Could – With regular use, this tool can boost sexual stamina over time which could improve your bedroom reputation.
Dip and Dive – Ideal for use in the bathtub, shower, or pool, the Penomet contains no electrical components and is 100% waterproof.
Three's Company – With three different packages, it's pretty easy to find a pump that will pimp out your privates.

CONS
Some Assembly Required – The Penomet requires users to snap together various custom-sized pieces to create a penis pump that fits snugly over the shaft. No degree in engineering needed though.
Not Your Average Bear – This thing is designed to be used with water unlike conventional air vacuum devices, which means you'll have to come prepared.
Later Gaiter – The various gaiters are somewhat difficult to navigate. In other words, finding the right sized gaiter for your Penomet may require some research.
Work It Out – For optimal results with this sexy saber, the makers of the Penomet suggest adhering to the predetermined cock exercise routines listed on the website. Put simpler: using this penis pump is a commitment.
Is Penomet Legit?
It was brought to our attention while reviewing the Penomet that some of our readers might not even pay attention to the pros and cons listed above because they sincerely believe that penis pumps don't work in the first place.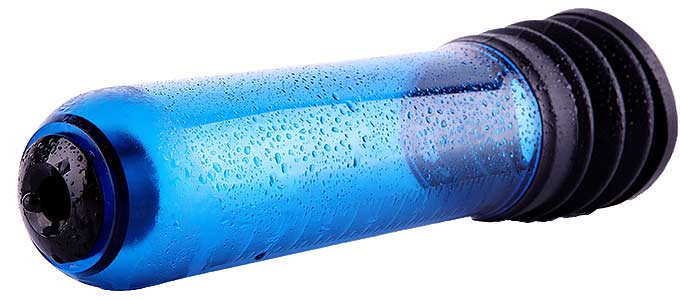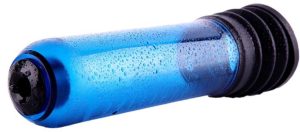 While that might have been true for many of the first pumps to be invented, the Penomet has real-life testing and scientific research to back up its claims. Building upon what science has already discovered about the average male member, the makers of this pump have dedicated years to perfecting the art of the ideal boner.
Over time, Penomet has become the only penis pump manufacturer in the world to don a CE Marking, which is basically a stamp of approval from the compliance department that gives Penomet free reign to be sold all over the world without being seen as a potential weapon at customs. Seems pretty legit to us.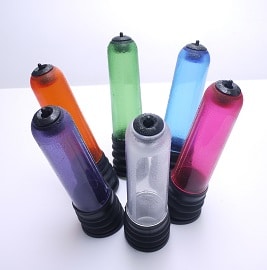 Additionally, all Penomet products have been awarded a RoHS Class 1 certification. What does that mean? It means the pump has been inspected, verified, tested, and certified before it ever touches your jewels. It also means the materials used to make the pump are completely harmless, with 9% trace amounts of forbidden or limited chemicals.
We're just trying to say: Penomet is legit and your dick is completely safe crammed inside it. We don't know why you're so worried about all this anyway. We've seen the nasty shit you stick your dick in. You're not fooling anybody.
The Final Verdict
Today's top penis pumps are legit, but only if you get it from a manufacturer whose interest is more focused on quality than quantity. We think the polycarbonate plastic, medical grade silicon, and lifetime warranty are good indications of just how serious Penomet is about helping men love their mighty members. It's not every day you come across a company so dedicated, and you certainly can't get your hands on one of their products without paying an arm and a leg. We are now big fans of Penomet because they changed all that and set the bar for future penis pump manufacturers. We feel sorry for the competition, but not enough to do anything about it. You can find more information or buy Penomet at their official website.
Despite the fact that John James is quite the character, there is one thing he has in common with everyone else: he likes a high quality sex toy just as much as the next guy.
Noticing that there were no legitimate websites out there reviewing all the amazing synthetic vaginas on the market, John James set out to do something about it.
After all, it is painfully obvious that today's men really need to know more about their options.