On this review, we want to make a confession: we didn't like the idea of testing out penis enlargers at first.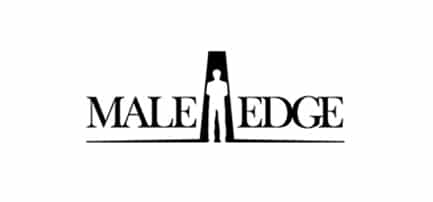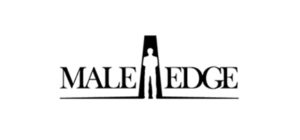 After all, no man wants to even think about his dick being less than amazing. However, once we started seeing results we became a little more interested in what was out there and lot less embarrassed to admit we could use some help downstairs.
Recently, we got our paws on the new Male Edge Pro Advanced Penis Enlargement System. The makers of this robotic-looking contraption are the ones responsible for the world's very first penis enlarger, and having created numerous models they know what they're doing. This high-tech 13-piece kit doesn't play around, and neither do the lesser models that comprise the brand's impressive lineup.
Apparently, the Male Edge Pro promises growth in both length and girth – an average of 29% and 19% respectively. A strict training routine must be followed for at least six months though, unless you enjoy wasting your hard-earned money. We are not big fans of that, so we acted responsibly and this is what we discovered in the process.
CLICK HERE TO VISIT THE OFFICIAL MALE EDGE WEBSITE
What Is the Male Edge Extender?
It took us a while to figure out how we would explain this thing in simple terms because, by no means, is it a simple tool.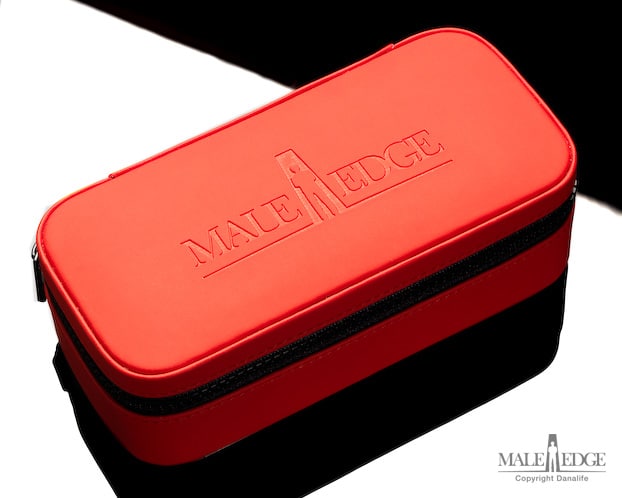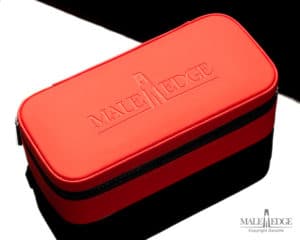 The manufacturer claims that it is high quality but low maintenance, but that's only if you define "maintenance" as the cleaning and storing process. Getting this contraption on your dick is another story, but we will leave that to the upcoming sections.
Basically, the Male Edge Pro uses scientifically-proven traction to give a gentle but effective tug on your penis for several hours a time. It works by stimulating the division and growth of penile tissue cells, which thereby makes your cock long and thick (or something like that). Penis enlargers are also useful for the treatment of Peyronie's disease, but in the interest of this review we will write for the gluttonous pervs only.
CLICK HERE TO VISIT THE OFFICIAL MALE EDGE WEBSITE
The Main Features Of The Male Edge
Other than costing $225, the Male Edge Pro has a lot of other features that should be considered before you turn the other cheek in favor of something less expensive.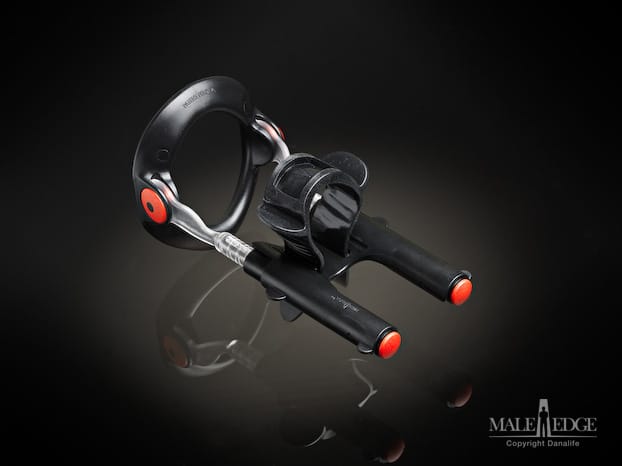 It has numerous settings to accommodate penises measuring between 2 inches and 11 inches – an impressive range we have never seen in the market. The Pro also features ergonomic straps, medical-grade materials, and the confidence of a company that offers a double money-back guarantee if the training program doesn't deliver as promised. That's got to be worth something, right? Use it, and if it doesn't work, make a quick $200 for your time. Score!
What Comes in the Box?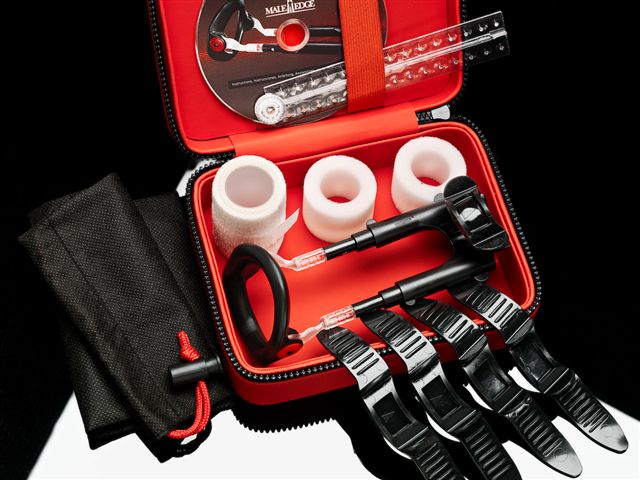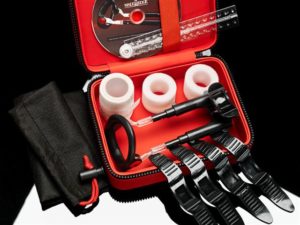 We will be the first to admit that we are suckers for some sexy packaging, and the sleek red box of the Male Edge Pro has curves in all the right places. It deserves its own review, but for now we will just concentrate on what's inside the box:
The Male Edge Pro (of course)
A handy-dandy ruler
A travel bag with the brand insignia (so no discretion there)
The Official Male Edge Penis Training Program
(4) Four spare rubber straps
(2) Two protective pads
Some cohesive gauze
An instructional DVD
A "My Male Edge" Training Diary
Access to the Male Edge Online Forum and Community
Access to an online instructional video for members only
We figured we should tell you that registering for the online platform is 100% free. Also, there is an automatic one-year warranty placed on all Male Edge brand products.

How It Measures Up
As mentioned, Male Edge has three different penis extender models to choose from: The Pro (reviewed here), the Extra, and the Basic.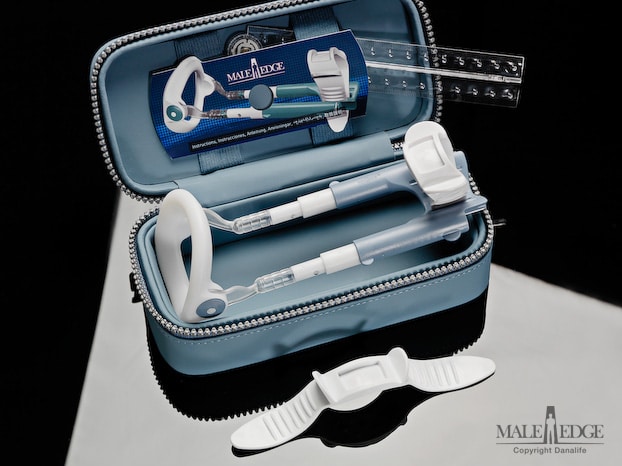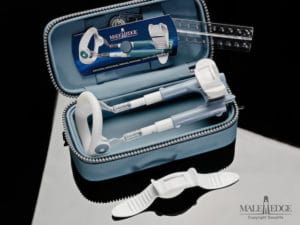 The comparisons can't really be made on the quality of each because they all function the same. The main differences are in the availability of accessories, with the Basic version being the one with the least bells and whistles, naturally.
For example, the Male Edge Basic (blue and white) only comes with one extra rubber strap, while the Pro (black and red) has four of them plus some gauze and protective pads.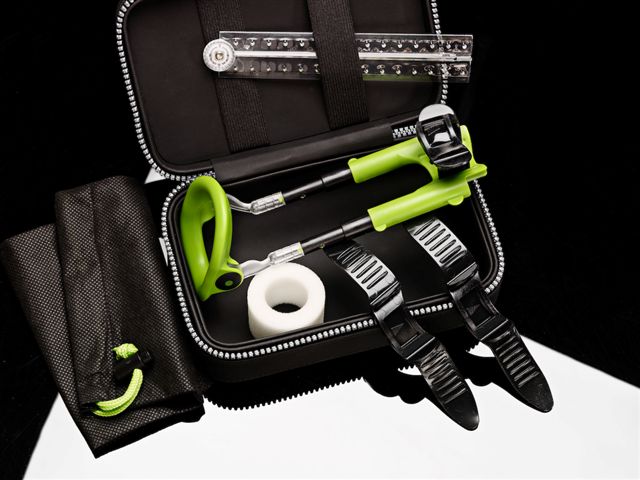 The Extra (neon green and black) comes with two rubber straps and one protective pad (plus that super-secret storage bag), so obviously, you're paying more for spare parts and that's about it. As far as how the Pro measures up against the Basic and Extra, we'd say spring for the Pro and we're about to tell you why.
Our Experience with Male Edge
We need to start this out with a warning: Once you use this thing and your dick begins to grow, you will most likely become addicted. Because of that, we suggest opting for the top-of-the-line Male Edge model so you don't have to go back and upgrade later. HINT: It saves you money in the long-run.
Our experience with the Male Edge Pro has been notably rewarding, and this review has been 6 months in the making. While it took our team nearly a week to get successfully registered into the online community, the rest of our time was spent enjoying the results that came slowly but surely. Along the way, we thought the flexible device was rather comfortable to wear and we liked how it could be worn during the day under loose-fitting clothes.
Our Cheers and Jeers
Don't assume we love everything about the Male Edge Pro just because we experienced results and didn't hate the way it felt to wear it. Obviously, the penis enlargement market has a long way to go before any of the products available are perfectly comfortable, but awkward discomfort is the name of the game when it comes with body modification. With all that said, we still have a few unfavorable opinions about the golden child of the Male Edge lineup. Are you surprised?
PROS
Love You Long Time – The results rendered by proper use of the Male Edge Pro (or any of its lesser cousins) are permanent for life.
Straight-Up Say Goodbye – Like all scientifically developed penis enlargement products, this can treat the curvature of the penis known as Peyronie's disease.
Safe and Sound – No latex or phthalates were used in the making of this product. Scouts' Honor.
Give Me More – According to the directions on the DVD, the more you use this thing the better your results get.
Train the Main Brain – You may not think your dick needs training, but the makers of the Male Edge know otherwise, which is why they've created such a gentle and simple training system to use alongside the device.
Dishwasher Safe – You read that right; it can be washed in the dishwasher right next to mom's favorite casserole dish. Hey, we don't make these things, we just review them.
Water World – Obviously, it's 100% submersible if it can go in the dishwasher, but you have to spell these things out for some people.
Old Habits Die Hard – Once you get in the hang of things (no pun intended), the Edge Pro isn't too hard to use, but that's an accomplishment in and of itself.

CONS
A Little R and R – Resting and relaxing are never more important than when you're strapping an adjustable dick stretcher to your man cave. To use this thing properly without making something snap, relax yourself completely before putting it on.
Some Assembly Required – Because the pro can accommodate dicks ranging from 2 inches to 11 inches, there is some ingenuity required to adjust the traps and stretchers to fit your ever-enlarging package.
Just the Tip – For uncircumcised dudes, this contraption may not be the most enjoyable thing ever attached to your furry fun zone. Extra tightening and adjusting might be required, plus you'll have to pull back your foreskin if you want the thing to work.
High School Geometry – Unless you can figure out weights and measurements quickly – some of which change by only a fraction – you might not be able to use the Male Edge Pro without yanking your dick off. We suggest watching the instructional video as many times as it takes, because the process can look like a whole lot of "ouch" with some "fuck that" on the side if you don't know what you're doing.
To the "T" – If you choose not to follow the 6-month training program by the book (and if not no worries; we totally get it), be warned that your results may not truly demonstrate what Male Edge can do for you.
WHERE TO BUY MALE EDGE ONLINE:
CLICK THE BUTTON TO REVEAL A SPECIAL 15% MALE EDGE DISCOUNT CODE:
The Final Verdict
At this point, we have reviewed quite a few penis enlargement kits or systems, so we can tell you that the Male Edge Pro is good enough to inspire casual, at-home use under the right circumstances. When compared to other penis enlargement devices on the market today, we can't deny its lofty yet humble presence among the wannabes. One our famous scale of 1 to 10, we're going to give the Male Edge Pro a solid 9 and hope that our rating serves as a wake-up call to those responsible for the new and improved model soon to come.You can find out more or get Male Edge Pro at their official website.
Despite the fact that John James is quite the character, there is one thing he has in common with everyone else: he likes a high quality sex toy just as much as the next guy.
Noticing that there were no legitimate websites out there reviewing all the amazing synthetic vaginas on the market, John James set out to do something about it.
After all, it is painfully obvious that today's men really need to know more about their options.