In case, you have been turned off by the recognizable shape, massive dimensions, clean-up regimen and price of a regularly available Fleshlight device but you are interested in having something more luxurious than your hand, the newly introduced Fleshlight Quickshot might be the one you have been waiting for.
While the Fleshlight Go Surge and Fleshlight Ice just released in 2015, with the introduction of this device, Fleshlight offers an even more compact version of their masturbator, a mobile version and clearly made for "quickly done well," kind of jobs. In this Fleshlight Quickshot review, we shall discuss the features and unique advantages offered by this device. Before getting into the review, let us check what this Fleshlight is all about.
 FLESHLIGHT
First, Fleshlight is a brand of realistic masturbators for men shaped artificial vagina. It takes its name from a pun on the fact that the device is inserted in a compartment shaped torch (flashlight). Since the development of the first Fleshlight, much time has passed and there were a lot of different models released.


Being an experienced player in the industry, today, the brand Fleshlight is the world's # 1 Male masturbators.
Not always the female flesh is willing or available as one would like. So, we need a replacement of real sex and the alternative must resemble the real sensations as closely as possible. The masturbator FQ is one such sex toy for men with an incredibly stimulating texture that will carry you to new heights of pleasure. It is a new addition to the ever-increasing Fleshlight line-up.
Quickshot series is designed to provide maximum pleasure, by the Fleshlight brand, along with maximum discretion and maximum mobility. Quickshot is an excellent choice for all those looking for sensational stimulation, while not always having time to clean and care as is required by classic Fleshlight, as well as those looking for a smaller and more mobile masturbator with an extremely discreet enclosure.
TWO VERSIONS OF QUICKSHOT
The Quickshot is available in two versions – the "Vantage" and "Boost". Before getting into the details of these two models, let's have a look at the overall specifications.
Specs: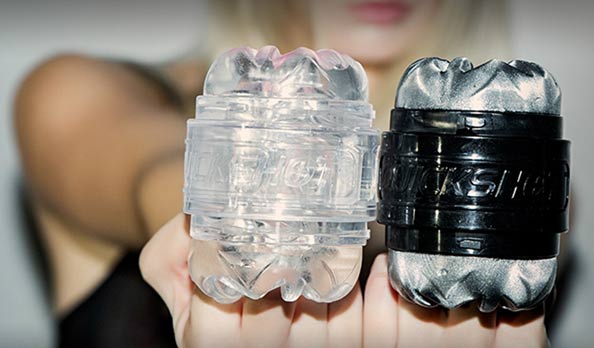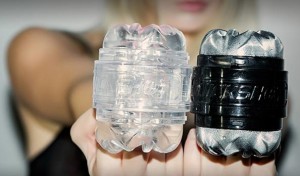 * Length (with the caps off): 3.5-inches
* Length (with the caps on): 4-inches
* Diameter (at the cap): 2.5-inches
* Weight: Around 8 oz.
* Available Textures: 2

Among the two, the Fleshlight Vantage is a see-through (transparent) model, while the Boost versions come in opaque black. Among the rest of the Fleshlight masturbators, the Vantage version is commonly referred to as "ice" and the see-through feature is very cool, just as in the case of the other "ice" versions of Fleshlight.
PACKAGING
Due to the compact size, the Fleshlight Quickshot (FQ) comes in a smaller pack. Well, nothing particular to say, except perhaps the small notches and a paper cardboard to unwrap after gently removing a transparent sticker, if one wishes not to destroy the packaging. If you want to keep it intact like me, be patient and delicate. The difference here is that there is no lubricant sample accompanying the masturbator. So, you need to have a water based lubricant separately.  
DESIGN
The legendary and the well-known "torch" now comes to us in a completely new look. Quickshot has holes on both sides, making fun takes on whole new rules, both individually and with a partner.
Once the masturbator out of the box, it can be a little easier to realize the thing. The first thing that strikes you is its size! It's small, low, and compared to the Surge and Go Fleshlight, it seems tiny. Well, ok, not tiny, but admit that there is change. This is a kind of capsule with two lids, one at each end. The two end caps might be used as a stand during pauses or to keep the device safe during storage. Both covers, once removed, giving way to the silver colored sheath surrounded by the rest of the hull of the marked Fleshlight Quickshot logo, which looks almost like a round cylindrical napkin. The two ports are identical, the Fleshlight Quickshot Boost is for its black hull and two covers are a metallic gray jacket for the device. It looks like a bit of an aerospace factory part or a lens for SLRs.
CLICK HERE TO VISIT THE OFFICIAL FLESHLIGHT QUICKSHOT WEBSITE
For the measurements, there is no change between Boost and Vantage version. But yes, the difference between the Boost version and the Vantage lies in terms of appearance, with the latter having a transparent (see-through) shell. Note that the Fleshlight Quickshot Boost is easy to hide and store, it is easy to confuse it with a camera lens, seen or experienced. But still, you might prefer the Vantage as you might find it visually interesting during use. You can actually look into what exactly is going on inside rather imagining, as with the regular Fleshlight devices.
SIMILAIR COMPACT FLESHLIGHT MODELS: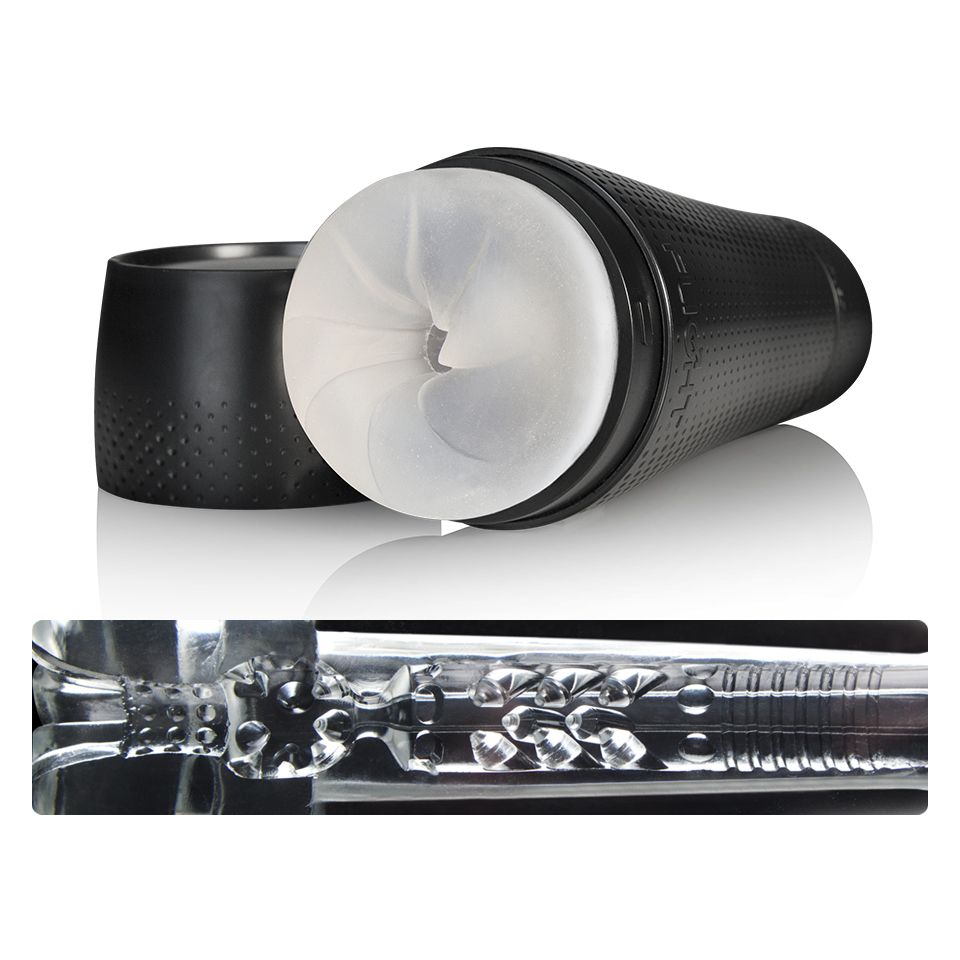 Fleshlight Flight Pilot

Small, light, discreet black case

Discreet non-anatomical orifice

Variety of touch elements and canal width changes

Proudly made in the USA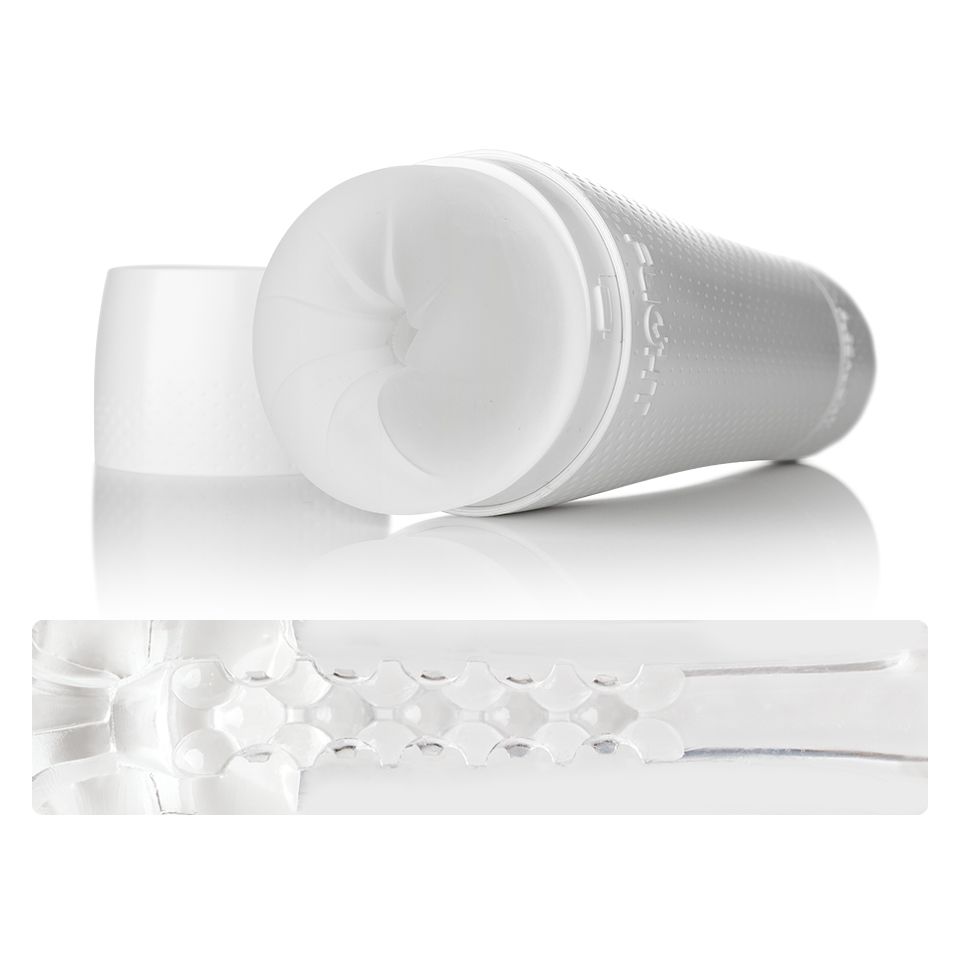 Fleshlight Flight Instructor

Small, light, discreet white case

Discreet non-anatomical orifice

Offers a smooth and compact touch

Proudly made in the USA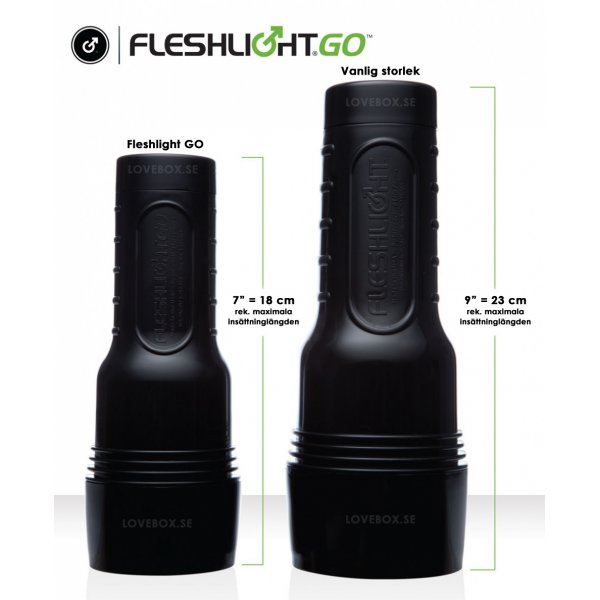 Fleshlight Go Surge

Smaller, lighter, and more compact case

Lady Orifice

Patented SuperSkin sleeve

Proudly made in the USA
THE TEXTURE
The Fleshlight masturbator Quickshot is a well-designed object, after unpacking, the first shock comes from the texture. The texture of the flesh is frankly very well imitated. If we dip the Fleshlight in warm water for a few minutes before use to set temperature,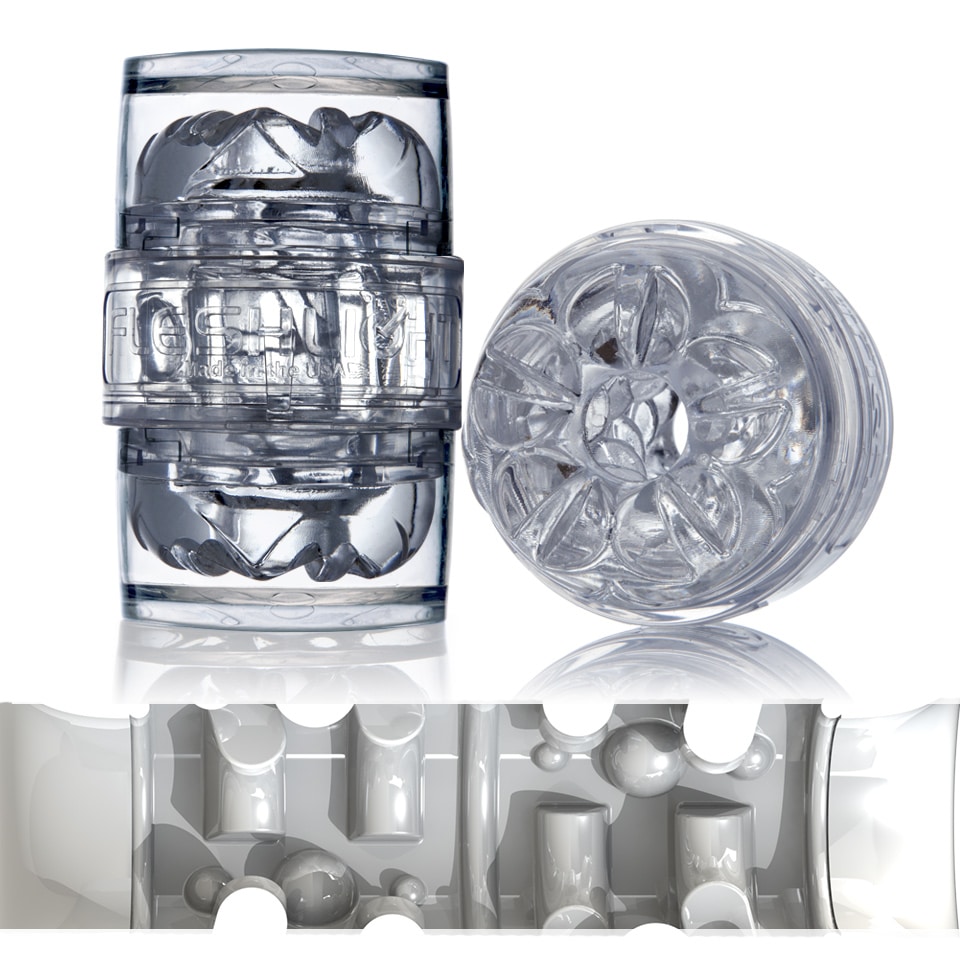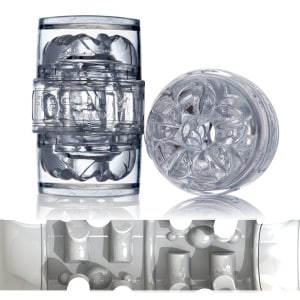 it really does feel like a real woman's sex in his hands. The lips and the vaginal opening are very realistic.
The texture contained in the FQ is for boosting to ecstasy every centimeter of your penis. With the sheath Superskin without phthalates and ABS (Acrylonitrile butadiene styrene) plastic shell, it's a classic device. Question texturing of the sheath, we find quite impressive streaks horizontally and some fairly large nodules between the streaks. A slight smell might be present upon arrival, but after a quick rinse, it quickly disappears.
Some of you might find the see-through Quickshot Vantage to be a little sticky when compared to the Quickshot Boost version. This is because transparent masturbation inserts are naturally sticky than the colored inserts. We recommend that you do not use talcum powder or baby powder for dusting a transparent masturbation Fleshlight, which might make the device lose its transparent characteristic. If you want your masturbator to remain the sweetest possible, just pour some corn flour (renewing powder). This would make the material less sticky and softer to use.
USING THE FLESHLIGHT QUICKSHOT
For use, it is necessary to properly lubricate the Fleshlight with a water-based lubricant. Do not hesitate to put it right because with friction, the lubricant tends to be dried and this may irritate your sex in the long run. With lubricants, always better than not enough. Both models do require proper lubrication. Make sure you have enough consisting lubricant and you will not have to put often. Sometimes if you just wash it and it is still wet when you use it, it might take more lubricant and it takes several minutes before the lubricant is comfortable.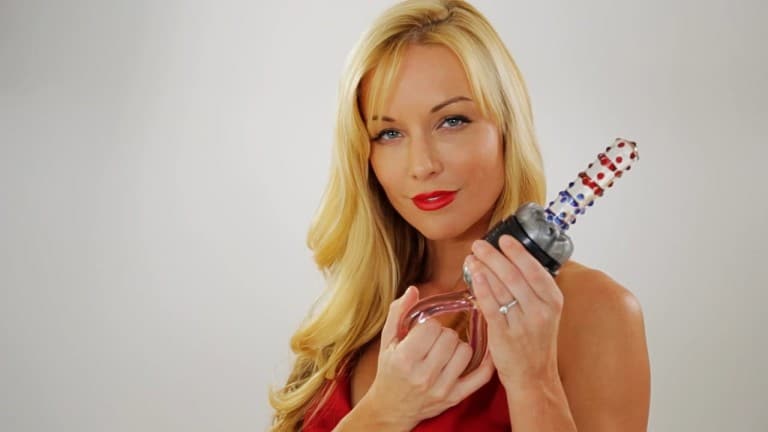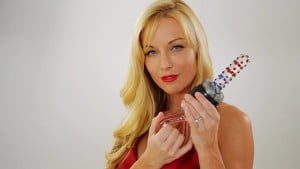 The sensations are simply excellent. Once properly lubricated Fleshlight, the sensations are closer to reality. Of course, it remains a masturbator, but the sensation is really good. The vaginal entrance is quite narrow but very extensible. The internal structure is made of a stretch material, imbued with the parallel ridges and slopes that provide incredible stimuli with each shift. It is suitable for solo masturbation, or that in a pair, as well as a creative addition to oral sex. The experiences were very different from those of other Fleshlight models but on the positive side. It is also lighter than other masturbators, allowing greater maneuverability, especially with its skid system. The penetration consequently resembles a real penetration.
It must be said that masturbation with these toys can be done at a rapid pace if you want to enjoy fast, but if you want to prolong the pleasure, you enter the masturbator more slowly and can easily control your pleasure. The sensation of feeling your penis slowly and deeply slip inside is quite unique.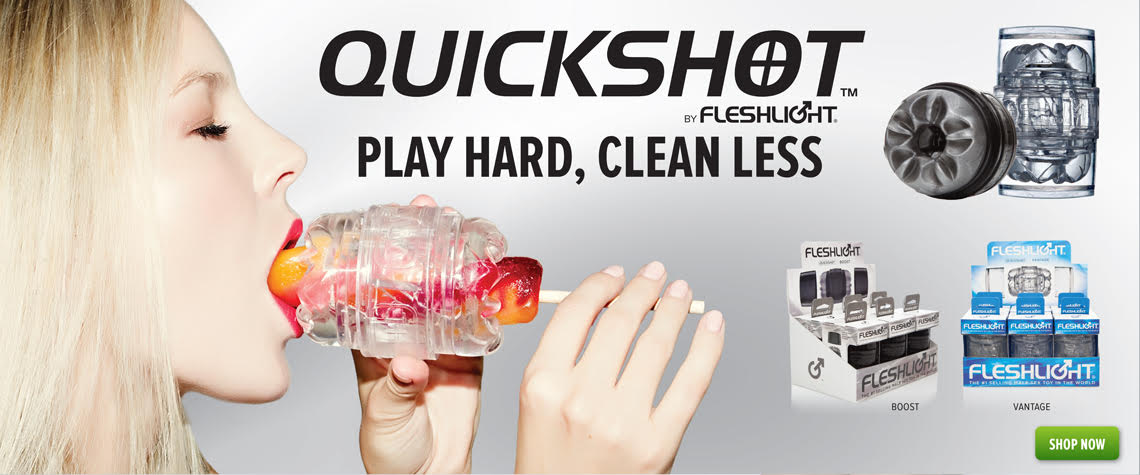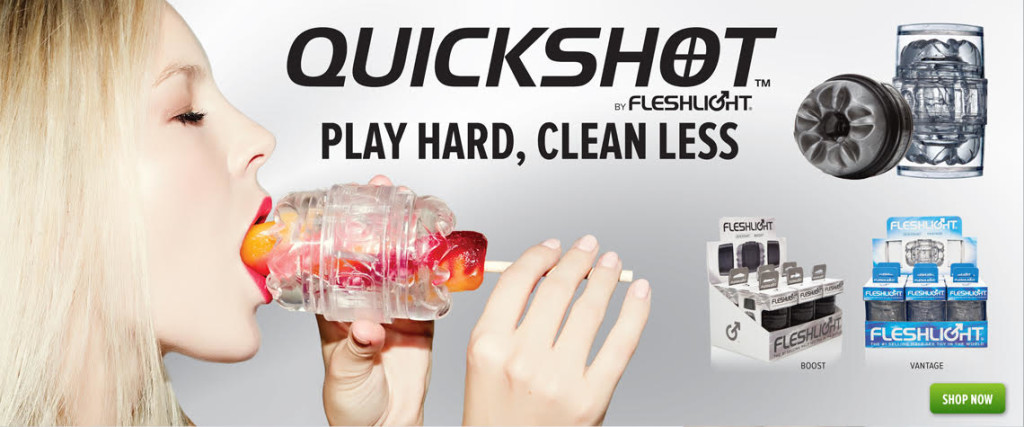 Yes, it is even more mobile, even easier to use, even easier to clean and gives very good orgasm while having better control. It's simple, here, the penis can move back and forth while being outside the gland, stimulated or not, depending on the location of the FQ on your penis. You can specifically stimulate the glans or only the staff, what you could not do with the Fleshlight Go or any other Fleshlight. And that is a very good thing, as with previous Fleshlight, you could, on some long sessions of masturbation, have overwhelmed the glans stimulation and it became almost anesthetized. Here, this problem does not arise. We can separate the stimuli. Better yet, you can during orgasm, continue to masturbate, especially just at the brake, thus increasing the duration and intensity of orgasm. The only catch is that it squirts everywhere because there is no cap on the other side.
 
I must say it makes noise too, the shell is completely different and open air escapes more easily and in large quantities. It is not hyper-discreet, though. The ergonomics of the Quickshot masturbator is well thought out. I liked the plastic shell, we can apply a minimum of pressure.
Well, if you are thinking about the difference between the two versions, not much to say except that the sheath is a little sticky on the Vantage version, but the stimulation, I would tend to say that the Vantage version is a little tighter, but it really is kif-kif. Let's say I have a slight preference for the Vantage release.
EASY TO CLEAN
Fleshlight Masturbator Quickshot, through holes located on both sides, is exceptionally easy to keep clean. You can always wash it under running water, then quickly dry it. The texture is fragile and when rubbed with a towel might lose its smoothness due to friction. So it is better to surround the Fleshlight with a towel and let it dry as is. You can use isopropyl alcohol to sterilize the device. Try not use soap because it contains fats can destroy the material – the patented Fleshlight Superskin.
PROS
* Small, compact and convenient – easy to hide
* Open at both ends, it offers you different sensations depending on the used side
* Offers a varied terrain allowing you to increase your feelings
* One can take advantage of the entire sheath
* Easy to transport
* Easy to clean and maintain
* You can stimulate the glans
* Splash proof and latex free
CONS
* During orgasm, be careful where you squirt!
* A little short for those who are well hung
* Cannot connect Vstroker for interactive online masturbation games
 
THE SENSATIONS ARE WAITING FOR YOU…!
If you are not limited by the need to have the utmost discrete Fleshlight and have the ability to spend, I think, having both the Quickshot Vantage and the Boost is the way to go. Honestly, they do complement each other. If you have roomies who do not respect privacy or if you are living in a college dorm, I think that the Quickshot's compact size, quick-dry/quick-clean design makes it quite a possibility to unnoticeably enjoy some more satisfying solo time on your own, avoiding the stress of having a massive regular Fleshlight in your bag.
The Fleshlight Quickshot is simply a good masturbator. It has the advantage of allowing the realization of a fantasy, especially that of the deep gorge, to change a bit of classic masturbation, but I think it is also a good way to strain for those who have never had the chance to get sucked or who have premature ejaculation problems. Efficient, adjustable, compact and economical, it offers a stimulating inner texture and a good grip. Stimulating, offering variety during penetration, featuring a transparent sheath to play with the visual (Vantage version), it's a great masturbator.

I recommend it, despite the recurring concern of Fleshlights, the sound of air escaping, but that's pretty much the same on all masturbators. While other Fleshlights are more challenging but also more imposing, less manageable, less easy to maintain and not to separately stimulate the glans and the shaft of the penis. I think it is a good complement to a classic masturbator Fleshlight or GB, easier to use, faster, it's perfect for the quick, to accompany your frequent trips, in short, a small nice companion to have on the elbow.
This is a beautiful creation, a feast for the fantastic universe and my dear fans… this is a product not found anywhere else! Ok, it's still a masturbator, but great masturbator.:)


You can find out more and buy Quickshot at the best price (if the discount is still available) at Fleshlight's official website. or you can explore others options here.
Despite the fact that John James is quite the character, there is one thing he has in common with everyone else: he likes a high quality sex toy just as much as the next guy.
Noticing that there were no legitimate websites out there reviewing all the amazing synthetic vaginas on the market, John James set out to do something about it.
After all, it is painfully obvious that today's men really need to know more about their options.

Summary
Reviewer
Review Date
Reviewed Item
Author Rating