Prostate massagers are a dime a dozen these days, so anyone who's unfamiliar with the pleasures derived from ass play may feel overwhelmed when searching for the best toy. Hell, even dudes who have been doing this shit for a while may feel dazed and confused by the inundation of options out there.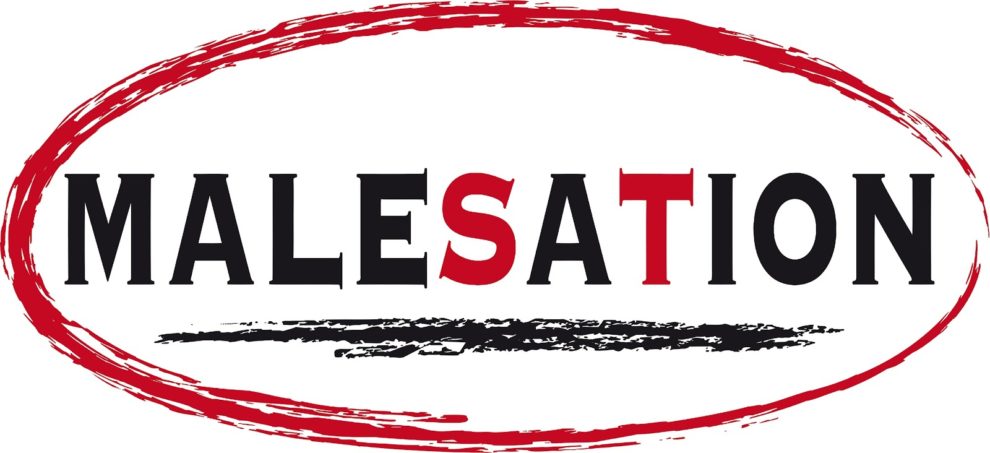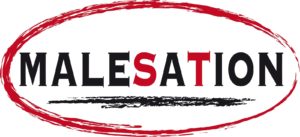 After all, like I said, there are simply too many toys to know what's what. That's where honest, perverted men like me come in. It's a tough job, but somebody's got to do it.
After recently trying the Malesation Remote Control Vibrating P-Spot Massager with Ball Loop, I couldn't resist giving my opinion. It's not every day I get to shove something up my ass and then talk about it openly. And since this toy is designed to be discrete, I'm pretty sure that's the way the manufacturer intended it. But what can I say? I'm a rebel.
What Is the Malesation Love Rider Remote Control Vibrating Prostate Massager with Ball Loop?
When someone says, "Shove it up your ass," they usually mean it in a bad way.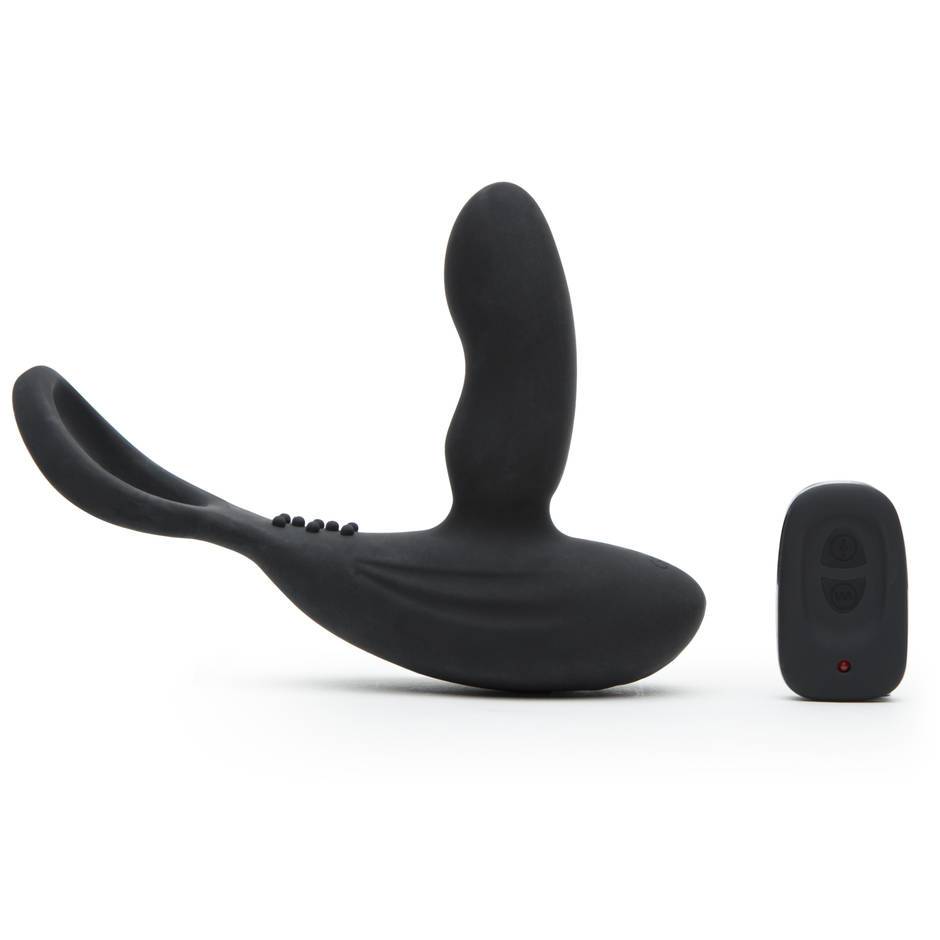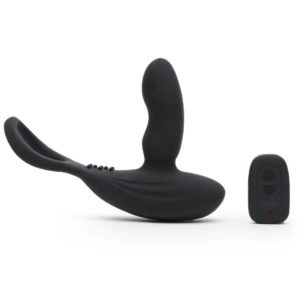 However, if they're referring to the Malesation Remote Control Vibrating P-Spot Massager as "it," then you can bet they're saying something nice. This solid work of craftsmanship is designed to poke and prod in all the right spots on the male body, although I will say that it's not the cream of the crop by any means. However, I'll be the first to admit that this toy gets the job done nicely, regardless of your butt plug experience level.
The features on this particular Malesation toy are substantial, despite the fact that they may not be suitable for newbies or dudes who have an aversion to testicle control. Overall, this bulky yet sleek and masculine prostate massager is supposed to provide a wide variety of "subterranean" sensations and it does just that. Whether you prefer it to similar toys in the industry is debatable, especially since it lacks in numerous areas when compared to other shitter shafts that have perfected the art of ass-ploration. Allow me to explain.
The Main Features of The Malestation Love Rider

This p-spot stimulating toy is made from ABS, which is an easier way of saying Acrylonitrile butadiene styrene.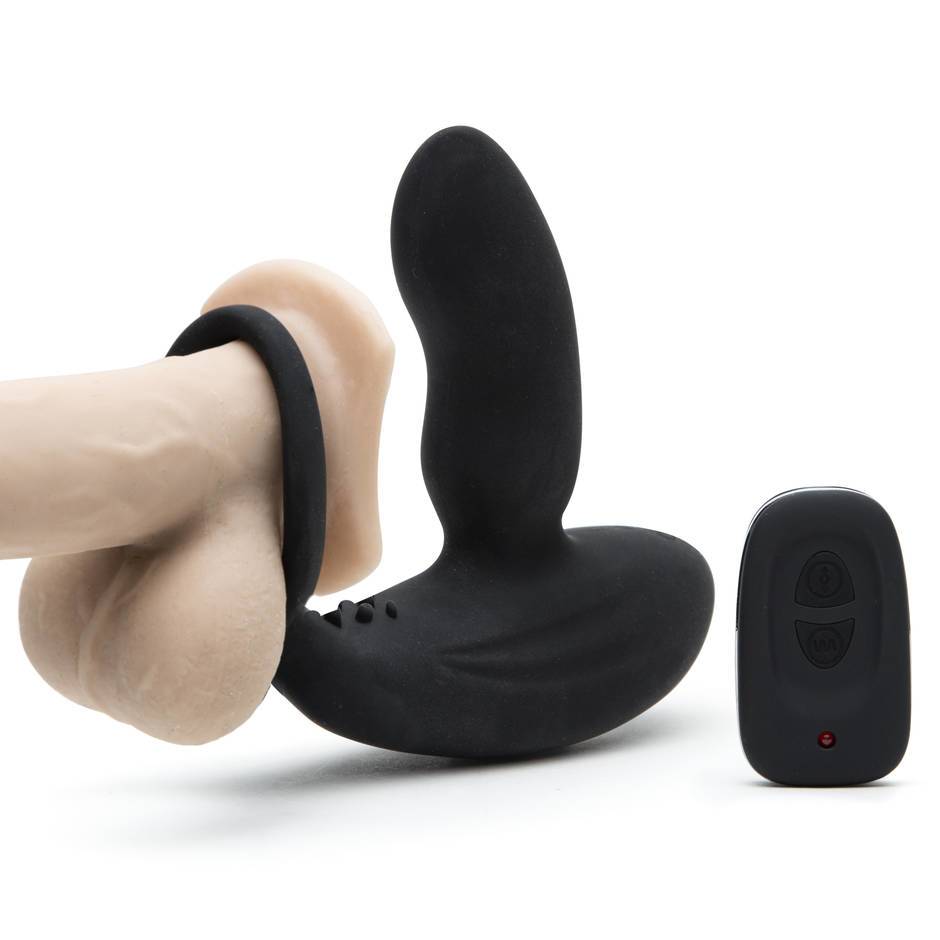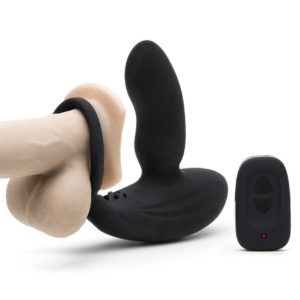 Although the material is a commonly used thermoplastic polymer, it can present an allergic reaction in some men which is no Bueno. I personally prefer skin-safe silicone for my butt plugs, but ABS is almost as equally smooth, flexible, and durable. Furthermore, the material contains no phthalates or latex, so there's that.
The Malesation Prostate Massager mentioned here vibrates too, as indicated in the name. It features 11 different functions, each of which are controlled by a remote. This gear shifter-shaped toy measures a doable 3.8 inches and has a hefty 4-inch circumference. So, it's probably not a good fit for dudes who are new to this whole all play thing. Either way, the texture is smooth, and the entire toy is completely waterproof, which means you can take it with you to the bath or shower without damaging any of the mechanisms that drive the vibrations.
I should also mention that the motor is fully rechargeable, so buying a shit ton of batteries is unnecessary.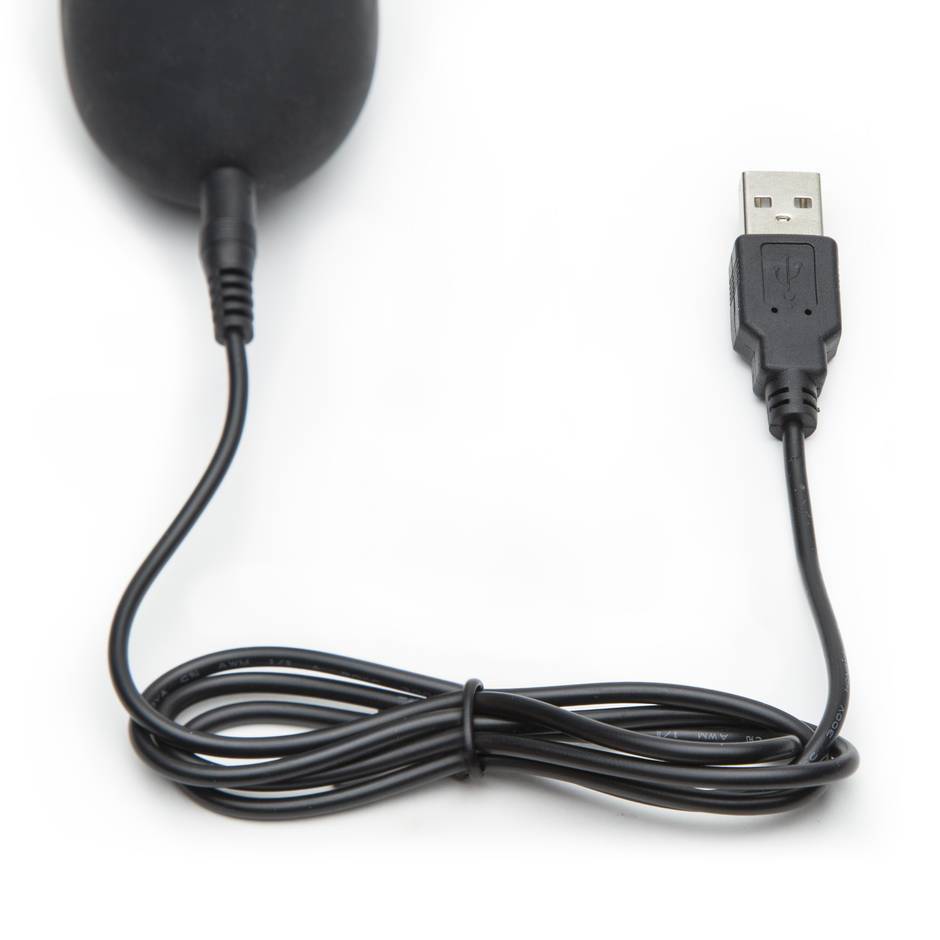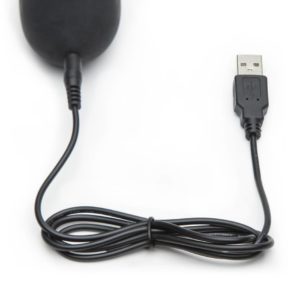 The remote control, which has a 5-meter range, features numerous buttons that dictate the speed and intensity of the vibrations. However, those vibes only permeate the shaft of the toy, leaving the ball loop to fend for itself. I did notice that some of the vibrations can be felt slightly in the ball loop when the control was set to high though.
Speaking of ball loops, the Malesation Vibrating Prostate Massager features a flexible ring that houses the testicles and keeps your erection in check. Unfortunately, it's very difficult to use this bastard without cramming your sack into that loop. So, you better be prepared for some testicular restriction if you opt for this toy. Keep in mind, however, that the ball loop is designed to heighten pleasure and prevent ejaculation – not a bad idea for a toy that aggressively and unapologetically vibrates your sweet spot into oblivion.
What Comes in the Box?
Nothing too fancy, this fuck stick comes with the following items in the box, which is relatively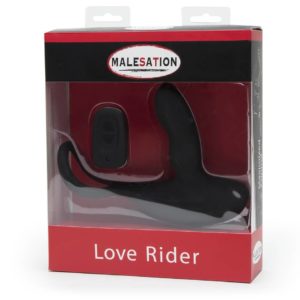 commercial looking and flimsy as a motherfucker:
The Malesation Vibrating Prostate Massager with Ball Loop (of course)
A Remote Control
A USB Charging Cable
A Black Velvet Drawstring Bag with Red Detailing
An Instruction Manual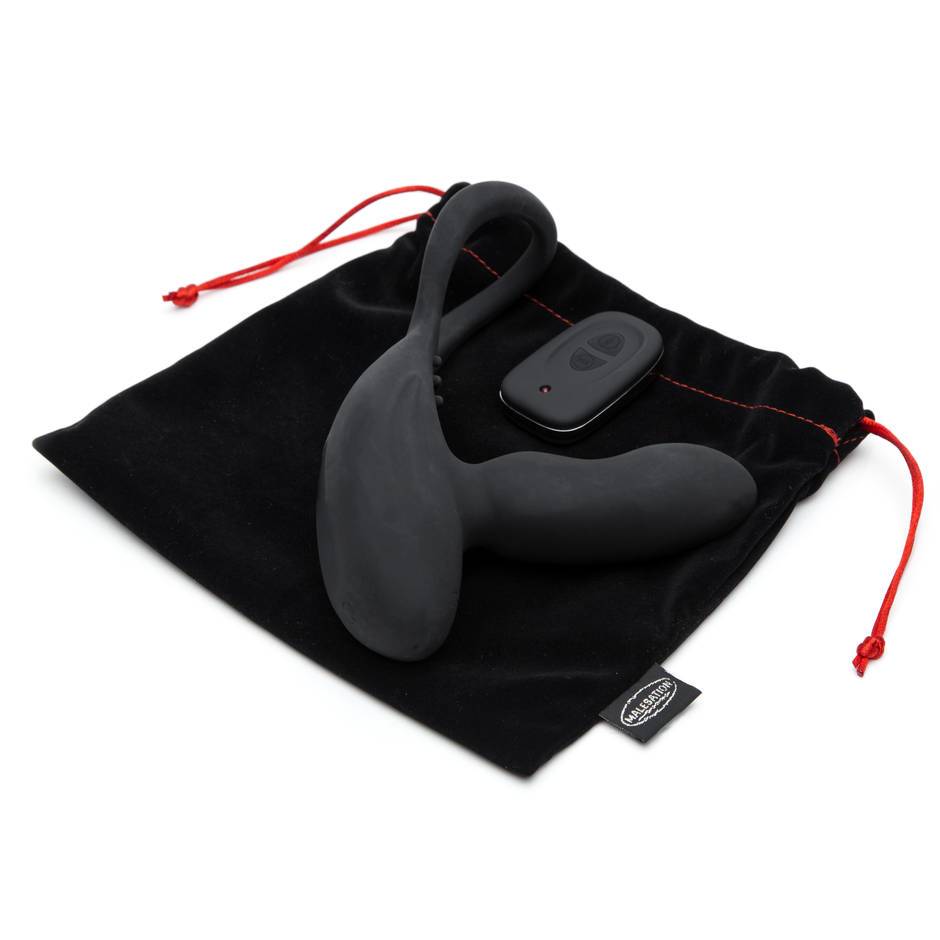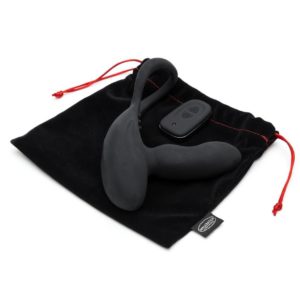 With no lube sample or toy cleaner included, you'll need to spend a bit more money to prepare yourself for the party. Regardless, the manufacturer gives everything else you need to get going as soon as you open the box.
How It Feels
Since the toy is thick and sturdy, it certainly has a presence inside your anal canal. The ergonomic shape stalks the prostate gland like an obsessed lover, and with integrated vibrators that are operated by an external remote, it's passable for both couple's play and solo missions. However, I do suggest using a fuck ton of water-based anal lube before shoving it up your ass, as the ABS material tends to snag on dry skin like a thorn on a rose bush. No thanks!
The Cheers and Jeers
Nothing on the modern market is without flaw, but this toy is a far cry from perfect. Here's what I thought about it (and I'm trying to be nice here):
PROS
Long-Time Friends – The rechargeable battery lasts for about 150 minutes when it's fully charged.
Home on the Range – The remote control works up to 5 meters away from the target, so surprise butt sex is now a real thing.
Splish-Splash – Like most well-made prostate massagers, this bad boy can be dunked into the water without damaging the precious dual integrated motors that provide all the fun.
Big, Bad, and Ballsy – This toy is ideal for experienced anal play lovers who want to give some extra attention to their balls while maintaining a rock-hard erection (which is pretty much everybody).
Eleventh Heaven – With 11 different vibe functions to this thing, it's easy to customize your experience with or without a willing and equally perverted partner.
Discrete Pete – Although it's rather bulky, the toy is self-contained and uniquely discrete – easy to store, simple to hide, and even comes with a swanky drawstring satchel.
Clean and Clear – The fully encased design of the toy makes it super easy to clean and maintain if you actually rinse the bitch off when you get done using it. Failure to properly do so damages the material and makes it a scratchy, nasty piece of shit.
CONS
A Little Goes a Long Way – This bastard is very large, especially for the new kids. I would not suggest it for guys who haven't experienced prostate massage yet. Don't say I didn't warn you.
Uneventful Undulation – Although there are 11 different vibe settings on this thing, the mid-range functions are quite similar and only begin to noticeably differentiate once you get to the highest ones.
That Goddamn Ball Loop Though – I wish the ball loop was detachable, or at the very least more flexible. It not only got in the way when I didn't want to use it, but the poorly molded material damn near cut my balls off when I started thrusting.
Time Consuming – You get about 2.5 hours of play time for every 3-4 hours of charge time – not a good trade-off, Malesation.
Rash Decision – With the material being ABS instead of skin-safe silicone, it's likely that some men will get a nasty rash after using this thing. I suggest using a condom if that's a concern of yours.
The Final Verdict
It turns out that the Malesation Vibrating Prostate Massager with Ball Loop has more PROS than CONS, but it's still a close call. Being as the size of the toy is sometimes a deterrent and the material has the potential for causing allergic reactions on certain skin types, it's all a matter of personal preference whether this is the toy for you.
Regardless, I think the thing has some pretty good potential for creating long-lasting, deep, and intense orgasms in men who know how to use it properly. Malesation isn't exactly the most famous sex toy manufacturer on the planet, but their toys are relatively decent for the price. And with a rechargeable battery and included storage bag, little more than a few squirts of lube is needed to fully experience all that this toy has to offer.
Despite the fact that John James is quite the character, there is one thing he has in common with everyone else: he likes a high quality sex toy just as much as the next guy.
Noticing that there were no legitimate websites out there reviewing all the amazing synthetic vaginas on the market, John James set out to do something about it.
After all, it is painfully obvious that today's men really need to know more about their options.