Have you ever encountered a sex toy that made you think, "What in the hell have I been doing with my life?" Yeah, me neither. Well, at least not until now. With all the amazing technological advancements in the world, it's a wonder how I haven't stumbled across a toy that made me second guess my existence.
In fact, the only thing close to that was the Lovense Hush – a quiet little toy that made my libido jump for joy. All the fantastic bells and whistles on thing were amazing, not to mention it was manufactured by one of my favorite brands in the industry. Needless to say, when I got my hands on this thing I had high expectations. Luckily, it did not let me down.
What Is the Lovense Hush Butt Plug?
The Hush by Lovense is your basic butt plug. Ok, I take that back. It's actually the world's first teledildonic butt plug.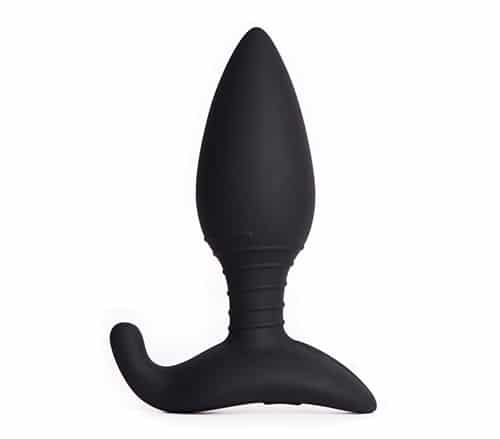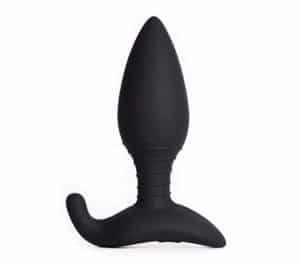 What does "teledildonic" even mean? Well, according to Wikipedia:
"Teledildonics, also referred to as 'cyberdildonics,' is real or fictional technology used primarily for remote sex or mutual masturbation at a distance, wherein tactile sensations are communicated over a data link."
In other words, teledildonics means you can bust a real-time nut with a partner from far away. I, for one, find that absolutely fascinating. As a butt plug connoisseur, I prefer my anal stimulators to come with a few fantastic features. But, outside of just the usual silicone material or vast array of vibe functions, that's been hard to find. Enter: The Lovense Hush and I think I'm in love.
CLICK HERE TO VISIT THE OFFICIAL LOVENSE HUSH WEBSITE
The Main Features Of The Lovense Hush Anal Plug
Aside from being teledildonic, which we already agree is the shit, the Hush butt plug has a variety of features that have kept me coming back for more since I cracked open the box.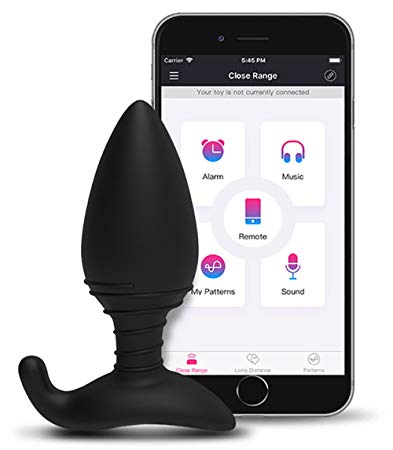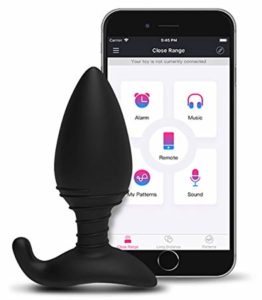 Not only does this thing work at any distance but it's also capable of being synced to any smartphone or device that can handle the free downloadable app.
Oh yeah, and the Hush can be synced to music as well, offering a range of vibe patterns that is virtually endless. It also features sound activated vibrations, just in case you're one of those people who likes surprise butt sex.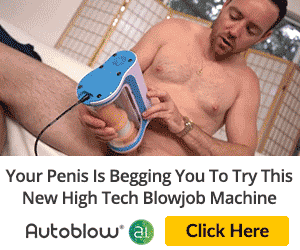 Furthermore, it's designed for superior comfort, which means that even people who haven't tried butt play yet will likely enjoy how it feels inside. With that said, let's explore the other features that make the Hush something to shout about:
It's made from 100% medical-grade, skin-safe silicone.
It contains to latex, rubber, or potentially harmful phthalates.
It has an ergonomic spiral at the neck which is made to trap lube near your sphincter, making it easy to remove the toy even after you play with it for a long time.
The neck was carefully crafted to stay in place during use, even if you get super rowdy.
The ergonomic base is exceptionally comfortable when the toy is inserted all the way inside.
And the base is also flared so you can be sure it won't slip and cause an embarrassing trip to the emergency room.
It's completely waterproof despite the fact that it's one of the most technologically advanced toys on the market.
The battery life offers about 2 hours of continuous play
App controlled, giving you full control over the range of power – none of that "6 vibe settings" bullshit with huge gaps in between each.
It has a total length of 4 ¾ inches.
It has an insertable length of 3.8 inches
Its base measures 3.15 inches.
And the neck width is ¾-inch.
It's compatible with multiple platforms such as: iPhone, iPad Air, iPad Mini, iPod Touch (iOS 9.0 or later), Android (4.3 or later with Bluetooth 4.0), Mac (with Bluetooth 4.0), Windows PC (albeit with the Lovense USB Bluetooth adapter).
The Hush is a cool piece of machinery for perhaps the most important reasons: it's rechargeable, it can be used hands-free, and it even comes with a 1-year warranty from the manufacturer. I forgot to mention that is also comes in two sizes, which makes it the most versatile butt plug I've ever seen.
What Comes in the Box?
You won't find much besides the bare essentials included in the box which is, by the way, kind of sexy looking. There are no sweet surprises in the form of lube samples or toy cleaners. However, you do get the following (and I think that's plenty because, let's face it, you should already have some of your own damn lube):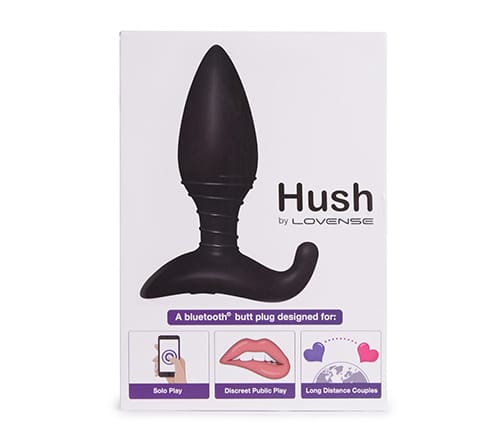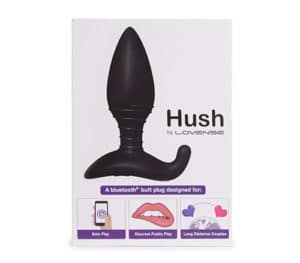 The Lovesense Hush Butt Plug (of course)
A standard USB charging cable
A user's guide
Also, you won't get anything to store this bad boy in, so you might want to think about that. I kept mine in the box, but that's not always a good idea when you've sopped the toy with lube. If all else fails, either buy a storage bag or keep it wrapped in a piece of cloth and hidden in your sock drawer. Problem solved.
How It Feels?
How does it feel? You're seriously asking me how it feels?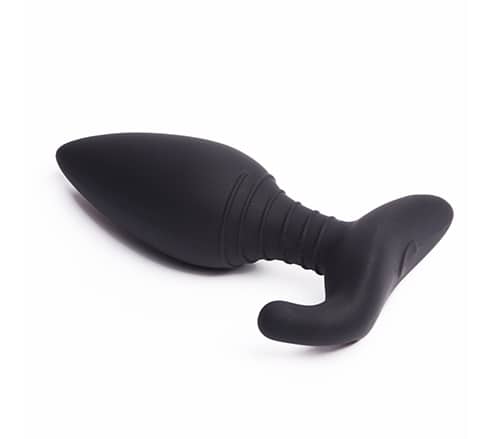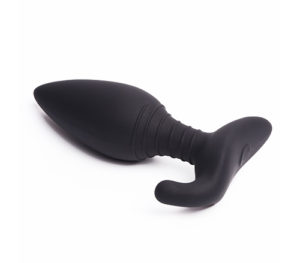 Well, let me shoot it you to straight then: The Hush butt plug feels like a smooth, two-finger tickle to the anus with a set of vibes that adjust effortlessly like the volume on your TV.
Because it has such bitchen ergonomics, it's extremely comfortable as well. Perfect for either butt plug beginners or perverted professionals, the Hush feels like the town bicycle; everyone can have a ride. And since it has so many high-tech, user-friendly features, it can be customized to suit anyone's desires. Ladies and gentlemen, I call that a work of anal art.
The Cheers and Jeers
Now, I've spent most of my time singing the praises of the Hush so ya'll probably think I'm affiliated with Lovense somehow. I assure you, I'm not. I just know a good thing when I see it. However, I'm not afraid to admit that this thing may have a few design flaws that aren't acceptable to everybody. Let's get the shit talking over with; but first, let me reiterate why I think this bastard is so cool:
PROS
Far and Away –

You can't beat being able to have sex in real time from a far-off distance. Isn't that what we all dreamed about when we were kids? No? Just me? Whatever.

Wet and Wild –

Since it's both high-tech and waterproof, you can enjoy all the fabulous features if it that means you've got to take it in the bath or shower with you.

Life of the Party –

When fully charged, the Hush lasts for several hours (and that includes times when you use it on the highest setting).

Stick to It –

Because of the well-designed ergonomics, this toy stays put yet slips out easily and I like that shit.

Safe and Sound –

With no rubber, latex, or phthalates, anyone can use the Hush without having to worry about developing a nasty rash.

User-Friendly –

Using some of the world's most well-known interfaces, this toy is super easy to use. And if you can't figure it out, the user's manual clears things up pretty well.

CONS
Losing My Religion –

While the Hush is supposed to be ideal for both men and women, some dudes don't get down like that and 1/4 of the dudes who do think might think this toy is way too bulky for secrecy.

Hooking Up –

Regardless of the relatively familiar operating platforms used, I'm sure there are still some people who won't know how to use it without opening a window in Google.

The Price Is (Not) Right –

For some of you cheapskates out there, the price tag on the Hush may be a little more than you bargained for.

Nowhere to Run –

It doesn't come with a carrying case or storage pouch, so while you exercise your right to be creatively kinky you'll also have to explore your practical side.
WHERE TO BUY LOVENSE HUSH ONLINE:
The Final Verdict
Overall, the Lovense Hush Butt Plug sets the standard for all other butt plugs that dare to come after it. While it may require a bit of an investment, it's totally worth it in my book. After all, what do you honestly expect to pay for an ergonomic, unisex toy that can offer up hours of long-distance, fully customizable pleasure? Stop being such a tightwad and you'll experience the best orgasm of your life. But, what do I know?
You can find more information or buy lovense hush at their official website.
Despite the fact that John James is quite the character, there is one thing he has in common with everyone else: he likes a high quality sex toy just as much as the next guy.
Noticing that there were no legitimate websites out there reviewing all the amazing synthetic vaginas on the market, John James set out to do something about it.
After all, it is painfully obvious that today's men really need to know more about their options.