Cock cages and dominance toys aren't for everybody, but they're sure as hell for me.

I like how they give my partner control over my junk, plus it's nice to have a little help holding myself back when I'm about to burst with excitement. A good cock cage can make fantastic sex even better. However, I'm not such a huge fan that I'm willing to play with whatever I find.
The cock cages I use have to be of top quality and possess body-safe features that make the experience restrictive yet fun. Due diligence is required to find the right stuff. I should know, but I'll save you the pain of having to listen to all the gory details about the time I wasn't so careful about my choice. Let's just say I learned my lesson and I'm passing the savings on to you.
Since my education, I've learned that the V3 Holy Trainer is one of the best cock cages on the market. While it may not be perfect or ideal for every man on the planet, it certainly has plenty of penis-worthy features that make it a true contender. Made by a company that's known for its production of high-end male sex toys, the Holy Trainer series is exactly as the manufacturer describes: part angel and part demon.
But why do they say that? What makes this piece of plastic such a gentle badass? As a strong, silent type myself, I couldn't help but find out and share the news with any and everybody interested in what I had to say. Let's start out by determining exactly what the fuck the V3 Holy Trainer even is.
What Is the V3 Holy Trainer?
Obviously, the V3 Holy Trainer is a cock cage, but I'm not sure why they call it a "trainer" unless that's a suggestion about how it can possibly train you to control your excitement until the time is just right to bust a nut.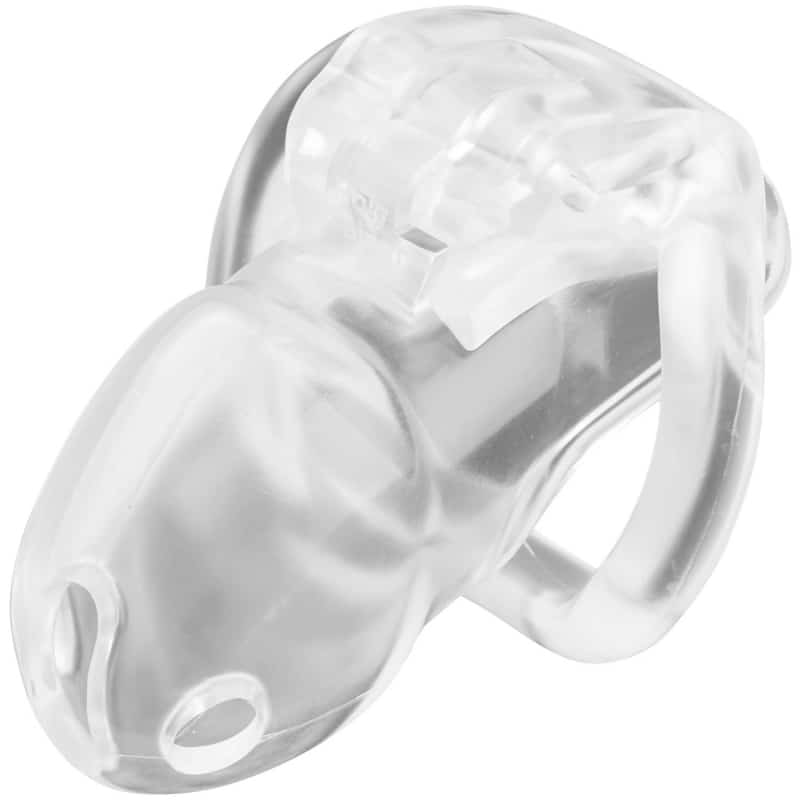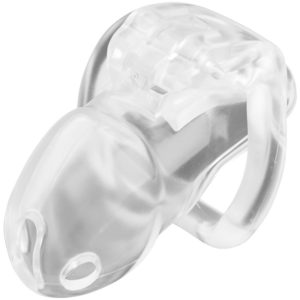 Put simply, this thing restricts your penis from becoming fully erect, which is pretty much the same thing that all cock cages do. Made specifically for dominance and BDSM experiences, the V3 is also designed for voyeurs who like to see exactly what's going on.
At first glance, this thing looks like nothing more than a see-through cock-shaped piece of hard plastic and that's basically all it is. However, it has a few key features that make it ideal for the intended purposes. As a new and improved version of the landmark Holy Trainer product that swept the nation just a few years back, the V3 now makes it a whole lot easier to enjoy your sick pleasures in private.
I, for one, was a pretty big fan of the original cock cage by Holy Trainer, but I certainly appreciate the new developments. It's like they heard all of my complaints and delivered with a quickness. I'm about to describe what I'm referring to, but for now let's just say that the V3 is an ergonomic cock cage with body-safe shaping and materials plus a pants-friendly locking mechanism that keeps all your dirty secrets from becoming public knowledge. We can all agree that that's a good thing, right?
The Main Features
The new V3 Holy Trainer version is said to be sleeker and smoother than the original, and I can tell you from experience that it definitely is.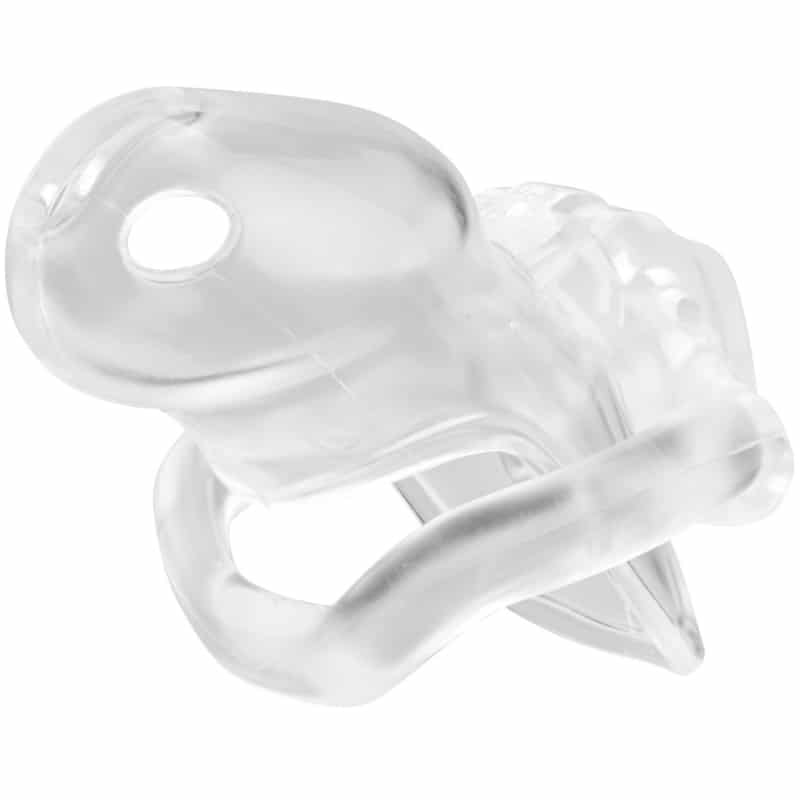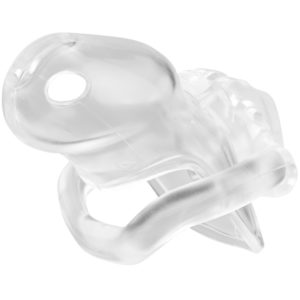 It features a more life-like ergonomic head than the first model, plus it has a nice extended plate at the top with this super smooth edge that cuts down on that pesky pinching you sometimes experience with other cock cages. The shape and design of the new V3 also does a better job of pushing your penis downward, which aids in keeping the device in place as you start to get an erection.
That design feature also makes it harder for your dick to slip out, but it's not painful at all. Furthermore, you get enhanced comfort from the internal brass lock that's used in the new model. Instead of using the traditional padlock, the manufacturer of the V3 uses a much more secure and discreet design that won't jingle or cause unsightly bulges in your pants. And since the lock is made from high-quality brass, it won't rust, won't oxidize, and is completely safe to take through TSA.
Another thing I really liked about the brass lock is that it unlocks very smoothly, so no more of that potentially painful snagging or dragging that's synonymous with most chastity devices. Oh yeah, and the soft yet strong material that's used on this thing is worth mentioning too. It's made from a 100% natural bio-sourced resin that actually gets more flexible when it gets warm and wet. So, if you wear the V3 into a hot shower or bath, the material softens further and molds onto your locked cock even better. Well, hotdog!
Perhaps my favorite thing about the new V3 Holy Trainer is that it comes in a few different sizes, which makes couple's play a whole lot more fun if you ask me. There are four (4) tube length and girth sizes to choose from, including: NANO, SMALL, STANDARD, and MAXI. The relative measurements are as follows:
NANO – 35mm (1.36 inches) in length and 1.3 inches in diameter
SMALL – 45 mm (1.75 inches) in length with the same 1.3-inch diameter as the NANO
STANDARD – 55 mm (2.14 inches) in length and 1.4 inches in diameter
MAXI – 65 mm (2.54 inches) in length with the same 1.4-inch diameter as the STANDARD
Each cock cage also features three (3) strategically placed air vents to help your dick breath while it's locked up. The material is resistant to all detergents and solvents, plus there are five (5) different ring sizes as well, including:
36 mm (1.41-inch)
40 mm (1.55-inch)
45 mm (1.75-inch)
50 mm (1.95-inch)
55 mm (2.14-inch

)
The tubes and rings are interchangeable too, and who doesn't like that idea? So essentially, you can mix and match the rings and cages depending on who's invited to the party. The only thing is that they're not interchangeable with the old Holy Trainer models, so don't get too excited. You'll have to buy a whole new contraption to take advantage of the new and improved features.
*What's New?
I kind of already covered the new features of the updated Holy Trainer, but here they are in a comprehensive list to help you sort it all out:
A better locking system that doesn't use a padlock to keep the case closed and secure
A silent mechanism that never rubs, clangs, or slaps while walking
A more discreet design that fits more secretly beneath your pants
Easier installation
More comfortable ergonomics for long-term wear
A thicker, more robust tube
Compared to the last version, the V3 is certainly an improvement. But, how does it compare to the other cock cages on the market?
How It Compares to the Competition
I picked out the industry's top three (3) cock cages and compared them to the V3 Holy Trainer to find out which one reined supreme. This is what I came up with:
The Mystim Pubic Enemy No. 2 with Urethral Sound
While the Mystim Pubic Enemy features e-stim technology designed for heightened sensations, its high-tech nature requires far more maintenance than the simple V3 cock cage. Furthermore, not all dudes like e-stim and it can be dangerous if you don't know how to use it properly. Also, you can't take the Mystim into the bath or shower and it's definitely noticeable through your pants.
The transparent Mystim may come with a sturdy zip case for safe storage and the V3 does not, but I don't feel like that's a deal breaker (or maker). Considering the V3 is compact and also clear, you can easily store it in your bedside drawer and nobody has to know about it. I suppose it's all about what kind of experience you're looking for. As for me, the V3 wins (almost) every time.
CB-X: The Curve
The first difference I noticed about the CB-X was that it uses a convention padlock to keep it closed around the cock. While I've been using padlocked cock cages for a long time, the V3 Holy Trainer has me spoiled. The CB-X has an extra long transparent cage that's made from medical-grade polycarbonate, but the V3 features interchangeable rings and tubes and is made from equally high-quality material. In fact, I sort of prefer the bio-sourced resin over the polycarbonate because the resin softens up better and thus fits around my half-staff better.
The CB-X also boasts five (5) varying u-ring sizes, but the tube can't be adjusted no matter how hard you try. It features four (4) separate locking pins and spacers though – supposedly to help users create individually tailored restraint – but, I thought all that required a bit too much work for me to find the perfect fit. I'm not about that life.
The CB-X CB-6000
The CB-X CB-6000 is also a transparent cock cage and it's made from medical grade polycarbonate like the CB-X (probably because it's manufactured by the same company). In fact, it's so much like the CX-X that the untrained eye may miss the differences. It even uses the same four (4) locking pins and spacers, and thus I have the same qualms with its design.
With similarly variant U-ring size options as well, the CB-X CB-6000's main difference from the CB-X is the shape and design of the cage itself. As far as how it compares to the V3 Holy Trainer: it doesn't. You can't beat a cock cage that's done away with padlocks, pins, spacers, and the need for an engineering degree to use it. The only thing is that V3 is slightly more expensive that the CB-X models, but that's a small price to pay for user-friendliness and discretion if you ask me.
WINNER: The V3 Holy Trainer wins the battle hands-down, even when compared to a high-end e-stim model like the Mystim Pubic Enemy No. 2. To the victor go the spoils, and the V3 is spoiled as hell.
What the V3 Holy Trainer Feels Like
The new and improved V3 Holy Trainer comes in three (3) colors: black, purple, and pink, but they all feel exactly the same. And what do they all feel like, you ask? Well, allow me to explain the main things I noticed while wearing this thing (in every color, mind you):
The smoothed and rounded edge of the extended plate at the top of this device makes it extremely comfortable to wear, even for long periods of time. Considering the best times I ever had with a chastity device involved me wearing one for several hours, that was definitely a welcomed improvement.

The downward pressure created by the ergonomically curved shape is highly erotic and reminds the wearer who's boss. Since I have a hard time controlling my excitement when things get hot and heavy, gently but forcefully pressing my cock into submission is a very good thing.

The silent, built-in brass locking mechanism prevents all that annoying jingle-jangle mess that, personally, drives me up the fucking wall. Plus, I like to get freaky no matter where I go (and so does my partner), so the fact that it can't be seen under my pants is awesome sauce.

The fact that the tubes and rings become somewhat flexible and quickly mold to the shape of my dick when they get warm and wet was probably my favorite feature. Not only was the device snug and comfortable but it produced exactly what I expected out of a good cock cage.
The Cheers and Jeers
Yes, I preferred the V3 Holy Trainer over the competition but that doesn't mean it's perfect. In fact, I had a couple qualms that I will talk about just as soon as I get done singing its well-deserved praises.
PROS
Pop, Lock, and Drop It –

This thing doesn't use a detachable padlock like other chastity devices, but it still has the separate key to give your partner all the control they desire.

Through the Looking Glass –

The V3 Holy Trainer has that same see-through design we all know and love in a good cock cage.

Erase, Replace, Embrace, New Cage –

The tubes and rings are completely interchangeable, meaning you can easily grow or shrink the cage at will (or at the will of your dominant lover).

Easy-Peasy –

Even though there are a few movable parts because of the interchangeable rings and tubes, they snap together quickly and easily, virtually eliminating the need for an instruction manual.

Like Butter –

I especially appreciated the super smooth bio-sourced resin material that the manufacturer used to make this bad boy. It breathes (thanks to the air vents), it hugs, and it never tugs.

I Like 'em Thick –

The material is nice and thick in all the right places, an obvious improvement from the original design that featured several weak spots.

Flex for Me –

Unlike other chastity devices I've used, the V3 is the only one that featured a material that flexed to create a better grip.

Globe Trotter –

Thanks to the brass locking mechanism, you won't get any gruff when travelling through customs or TSA.
CONS
Under-stimulated –

Unfortunately for some men, the V3 Holy Trainer does not have any electronic stimulation capabilities, nor does it have any room to attach an external one.

Wallet Woes –

This thing is one of the most expensive cock cages on the market, which means you'll have to make a major investment to experience all that it has to offer.

In with the New; Out with the Old –

Although the tubes and rings of the new and improved V3 Holy Trainer are interchangeable with one another, they are not, however, compatible with the older Holy Trainer model.

Getting Off (Or Not) –

Because of the enhanced shape and flexible material, the V3 can be somewhat difficult to get off of your half-staff shaft once it's been sawdered to your flaccid penis.
The Final Verdict
Despite its few flaws, the newly designed Holy Trainer is a bad mamma-jamma that gets the job done in a revolutionary way.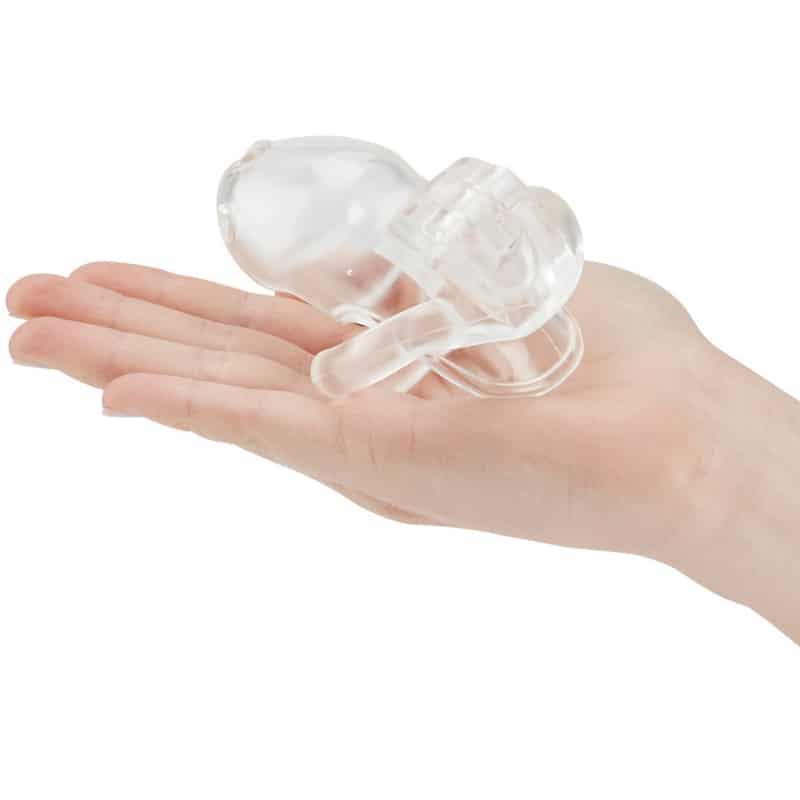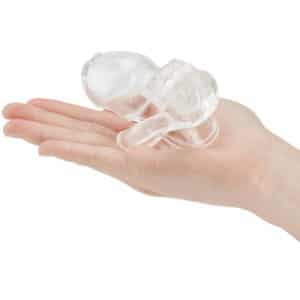 While it may be slightly more expensive than some of its competition, the maker obviously thinks it's well worth the price. I couldn't agree more. For the money, you get a highly discreet, super comfortable, quiet, and snug cock cage that's damn near impossible to break. A good sex toy always requires an investment, and the V3 is no exception.
Furthermore, the fact that it's adjustable and features interchangeable tubes and rings makes it more or less several cock cages in one. So, you're pretty much getting several chastity devices for the price of one. Unfortunately, the different sizes are sold separately which means you'll be forced to buy each one if you want to switch things up a bit. Either way, you can't argue the fact that variety is the spice of life.
Despite the fact that John James is quite the character, there is one thing he has in common with everyone else: he likes a high quality sex toy just as much as the next guy.
Noticing that there were no legitimate websites out there reviewing all the amazing synthetic vaginas on the market, John James set out to do something about it.
After all, it is painfully obvious that today's men really need to know more about their options.