Some people wonder why a sex position wedge is even necessary when there are usually plenty of pillows available on the bed.

Well for one, without a good wedge, you and your partner's bodies will sink into the mattress as you do the wild thing. Secondly, achieving those difficult positions found in the Kama Sutra would be damn near impossible without a little support. Furthermore, attempting to rely on your own strength can drain stamina and leave you feeling exhausted a whole lot sooner. Therefore, sex pillows, wedges, and/or ramps are sort of par for the course if you're after a decent orgasm (and you know you are).
What Is the Liberator Sex Position Wedge?
The Liberator Sex Position Wedge is one of those products that's been designed with your love life in mind. It's made to "uplift" your spirits by "elevating" your sexual potential (pun completely intended).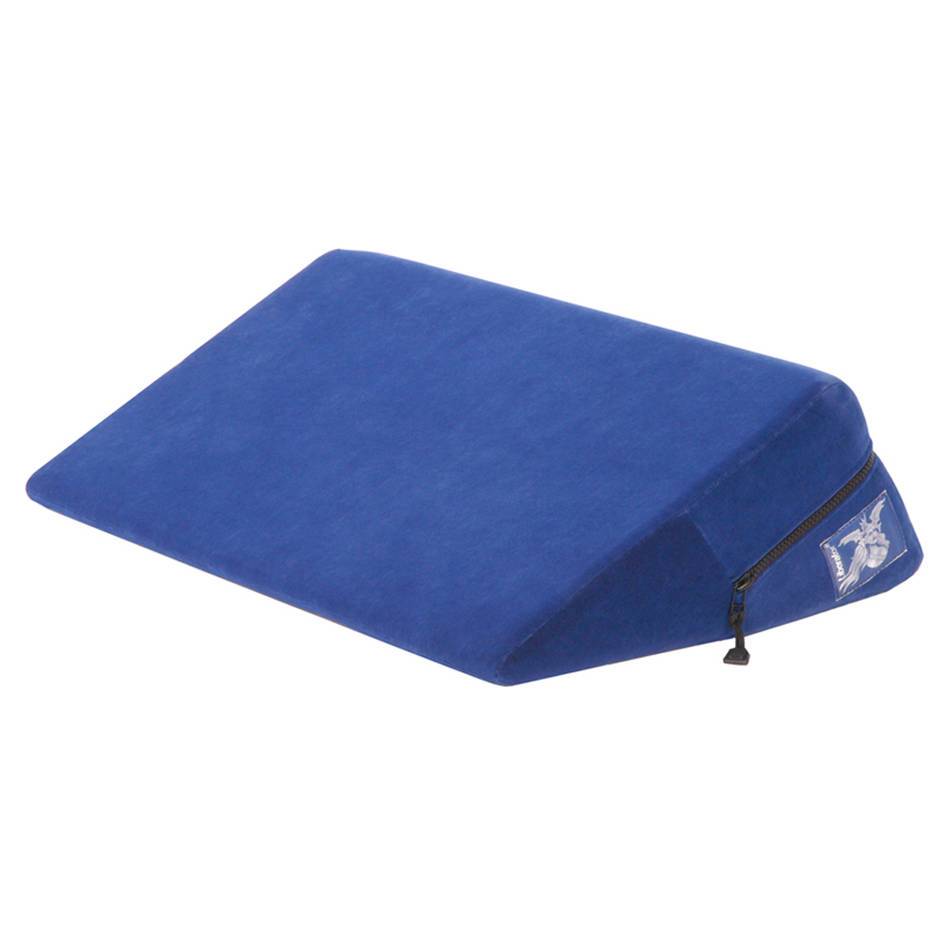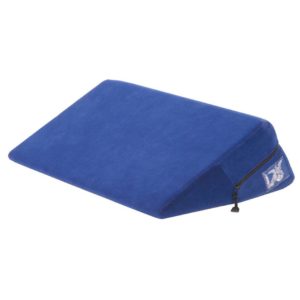 What it can't do it improve your knowledge of the human body, but it can certainly help you access more of it.
Known in the industry as a "bedroom booster" for several reasons, this thing promotes better contact, deeper penetration, and a wider range of motion in your ocean. It basically "liberates" your libido and opens up opportunities that would otherwise be closed, cloaked, crammed, and cramped. Although good lovins are possible without a Liberator Wedge, satisfying sex is much more difficult when you can't reach the sweet spot.
CLICK HERE TO FIND THE BEST PRICE ON THE INTERNET
The Main Features Of The Liberator Wedge
When you first look at the Liberator Sex Position Wedge, it appears to be little more than a triangular-shaped pillow with some sort of fancy covering on it.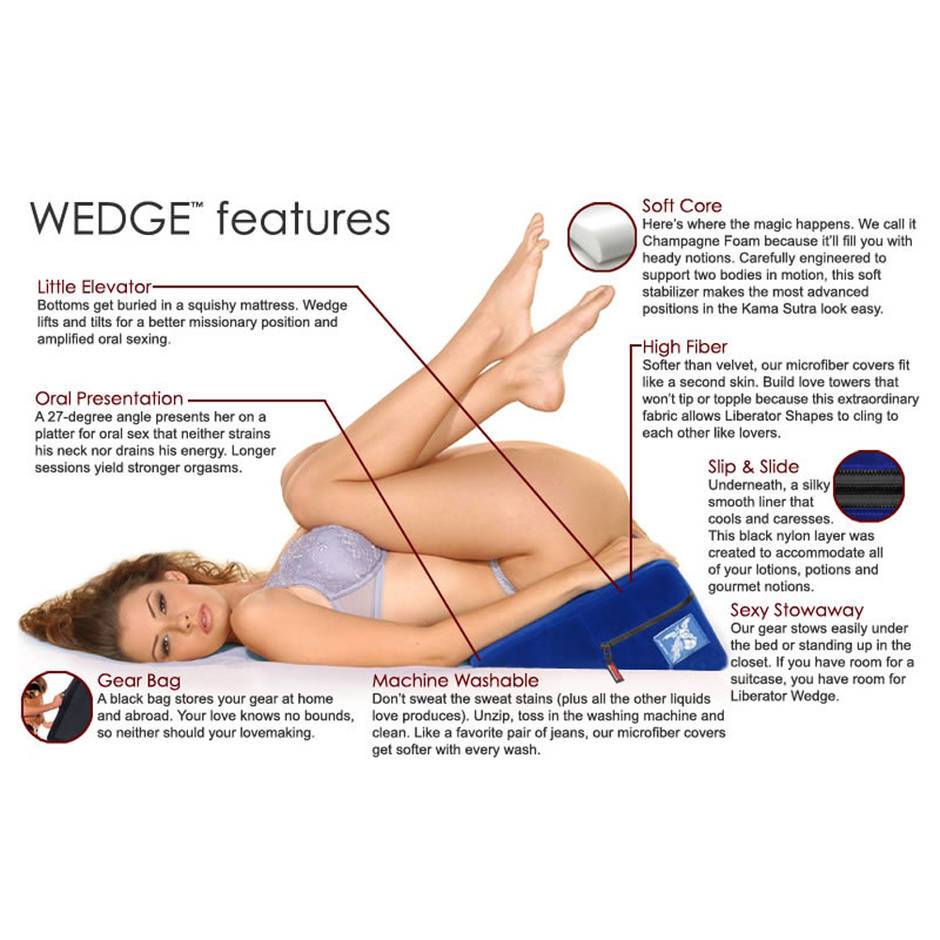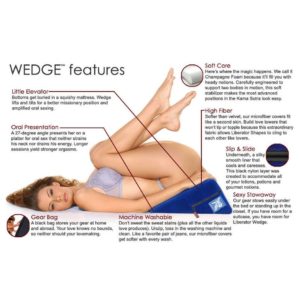 However, a closer inspection will reveal the truth. This thing is ergonomic to the core, and I mean that literally.
It features a body-conscious 27-degree angle that's created by the patented Champagne Foam within. The manufacturer says that the name of its foam was inspired by its luxurious softness, and that makes a lot of sense once you touch it. The Liberator Wedge also features an equally soft microfiber covering that comes unzipped when it's time for a wash.
Underneath that soft covering, the foam is lined with a layer of silky nylon that's designed to block the moisture from your sweat, bodily fluids, and lubes. Moreover, this wonderful wedge measures an ample 14 inches long but sits a quaint 7 inches tall. As if those measurements didn't make the Liberator super easy to store, it also comes with a sleek black swag bag. So, if you have room for a suitcase in your closet or under your bed, then you have enough space to hide your dirty little secret.
What Can You Do with It
Thinking that products like this are pointless is a big mistake. A well-made sex pillow or wedge can do a lot more than simply lift your ass off the mattress. It can improve your pleasure, expand your horny horizons, and turn you into a booty beast. In fact, the Liberator is designed to do any or all of the following for you or your partner:
Support Two Bodies at Once
The best sex pillows on the market are soft enough to feel comfortable yet robust enough to support the weight of both you and your lover. The Liberator Wedge is one of them.
Hoist Your Genitals for Extremely Precise Oral Sex
This thing, with it's ideal 27-degree angle, positions you or your partner's no-no parts perfectly to give or receive extremely precise lip service.
Help Those with Mobility Issues
With a good wedge like this, lovers who have minor (or even major) mobility problems can still get down like a person who has no physical limitations.
Increase Your Physical Stamina
When you have adequate support for you or your lover's body, it's much easier to stay in the zone for longer than you'd be able to without it (especially since you don't have to thrust and hoist at the same time).
Prevent Cramps or Injuries
Because the wedge is doing most of the work for you while also supporting your weight, you can freely fuck without getting a cramp or sustaining an injury in your back.
Remove the Size Gap Between Lovers
Not all lovers' bodies are naturally compatible, but that doesn't always stop a physical attraction. A good sex wedge can help even the playing field between partners with different sized physiques.
The Cheers and Jeers
Although the Liberator Sex Position Wedge isn't perfect, it certainly has several redeeming characteristics. The list of PROS is long compared to the relatively short list of CONS. Let's compare them now.
PROS
Low Maintenance –

The cover can be easily removed by unzipping it, allowing you to keep things clean no matter how dirty you get.

Softer by the Minute –

While the microfiber material on the wedge's covering is already super luxe, it gets softer each time you wash it.

Wet and Wild –

There's a sweet ass nylon layer that acts as a temperature controller and a moisture barrier lying between the Champagne foam and the microfiber cover to keep things cool and dry.

Bag Swag –

Unlike many sex position pillows, the Liberator Wedge comes with a nice black storage bag to help reduce dust and debris on your swag.

Size Matters –

At 14 by 7 inches, this thing is simple to hide in a regular sized closet or under your bed (especially since it comes with some neato bag swag).

Do You Even Lift, Bro? –

The Liberator brand is well-known for producing sex pillows, wedges, and ramps that support the varied weights of at least two lovers.

It's Ok to Be Clingy –

The Liberator brand is also known for the stack-ability of their various products. Each item in their lineup features the same patented material which gentle sticks together to help you build your own lover's tower.

Cumming Compass –

This product comes with a handy-dandy position guide, so you and your partner can use it to its full potential even if you don't own a Kama Sutra. Featured positions include things like the Moon Walker and the Alley Oop.

Doctor's Orders –

Many doctors and chiropractors recommend using a sex pillow or wedge regardless of your age or physical fitness to prevent sprains, bruising, pulled muscles, cramps, or other injuries.

CONS
Thin Is (NOT) In –

After a while, the microfiber material, albeit progressively softer at first, will start to decrease in quality once it's been washed too many times.

Zipper Slip –

Be careful to rezip the cover properly after you remove it for a bath because it can snag your clothes, hair, bedsheets, or skin if you don't.

Limited Options –

While the Liberator Wedge helps put you or your lover in the perfect position, you may need to purchase another wedge if you want more elevation or more position options.
WHERE TO BUY LIBERATOR WEDGE ONLINE:
LOVEHONEY.COM (BEST PRICE & FASTEST DELIVERY)

CLICK THE BUTTON TO REVEAL A SPECIAL 15% LIBERATOR WEDGE DISCOUNT CODE:
The Final Verdict
Overall, the Liberator Sex Position Wedge is a pretty good piece of equipment to have in your love making arsenal, even if it is rather basic and meant mostly for sex pillow newbies.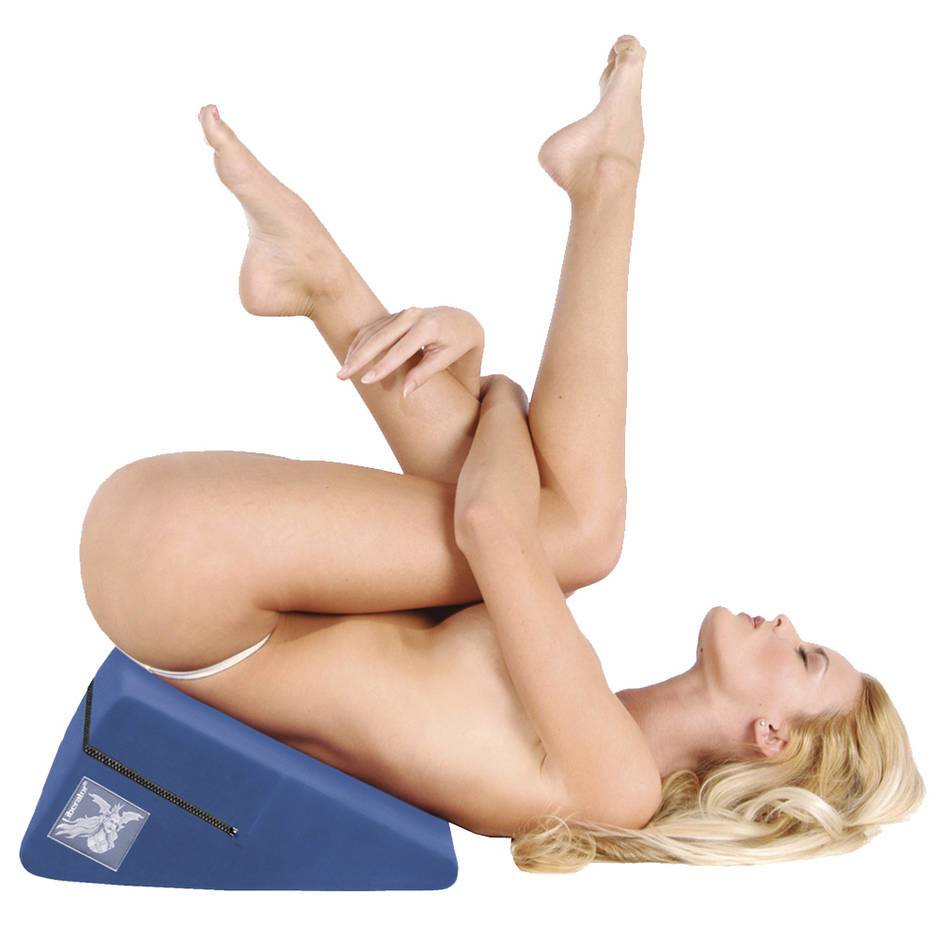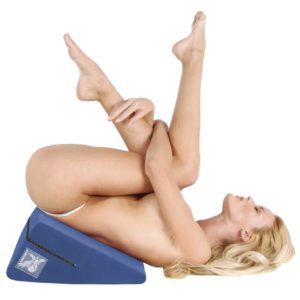 Luckily, it's compatible with all of the other products in the brand's inventory, so stepping up your game is super easy if you're not opposed to making the investment.
Despite the fact that John James is quite the character, there is one thing he has in common with everyone else: he likes a high quality sex toy just as much as the next guy.
Noticing that there were no legitimate websites out there reviewing all the amazing synthetic vaginas on the market, John James set out to do something about it.
After all, it is painfully obvious that today's men really need to know more about their options.