When it comes to vibrators, it seems like women have all the fun.

But thanks to new innovations in the male sex toy industry, men may finally have a shot at experiencing extreme pleasure. However, that all depends on the quality of the products available. In my experience, not everything that promises pleasure delivers on that promise.
As a result of all those broken promises, I've become something of a picky dick when it comes to the toys I subject my junk to. I got my hands on the Desire brand's Luxury male vibrator and it inspired me to run off at the mouth. How does it stack up to the other sex toys on the market? Well, you're about to find out.
What Is the Desire Luxury Male Vibrator?
Enter: The Desire Luxury rechargeable male vibrator – a supposedly high-end jerk-off sleeve that pulsates at varying speeds and features several vibe patterns.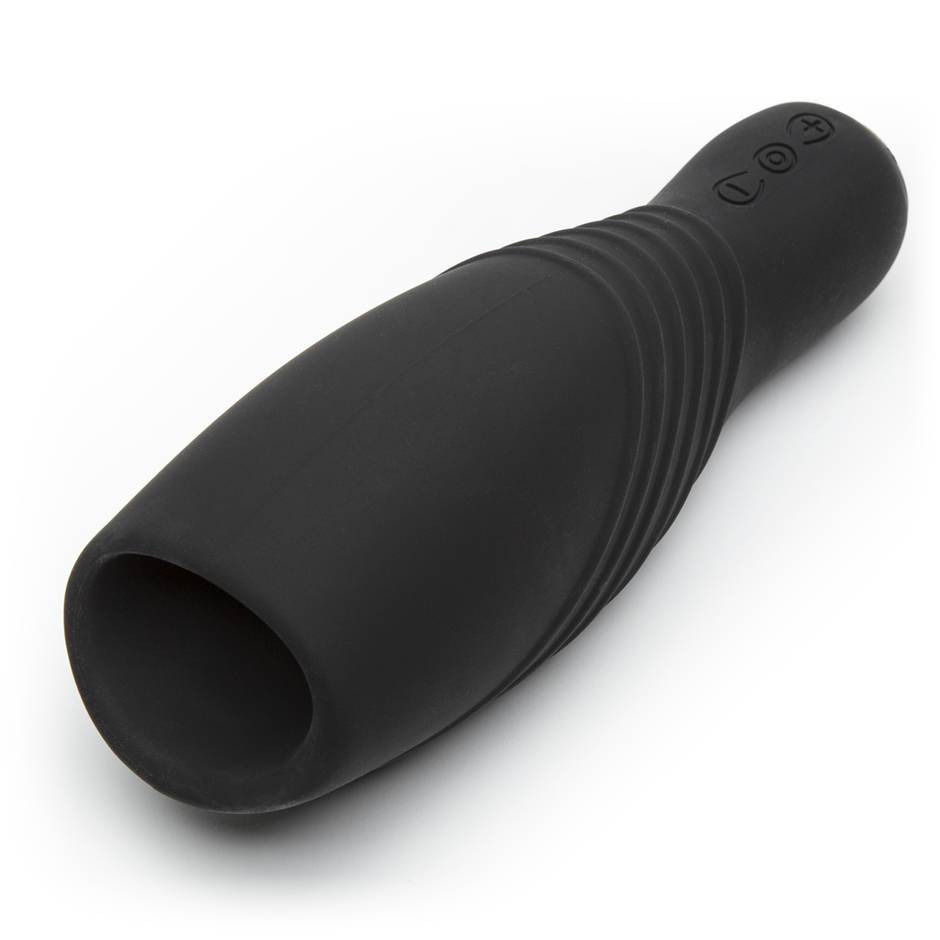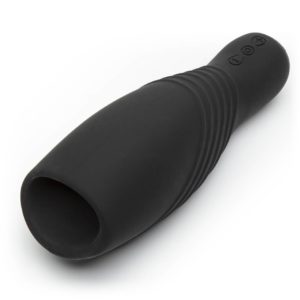 It's made to kill you softly, but I thought it left much to be desired in that department. It's not that it felt bad, it's just that it felt so good I wanted to do more with it and couldn't. In my opinion, it takes more than a few vibrating motors to achieve a decent orgasm.
And while this thing certainly shakes your cock into submission, it requires some serious pumping action at the same time. Regardless, the Desire brand does have a stronghold on making luxurious-feeling products that can withstand a righteous beating. I found that this toy in particular is designed for enthusiastic chicken chokers, with ergonomic features that support a rough ride. So, depending on how you use it and what you're packing downstairs, it may very well provide a pleasant experience.
The Main Features
As I said, this toy is loaded with dick-friendly features that could put some of the female vibrators to shame. Its various vibe functions are operated by 3 powerful motors that run along the shaft to drive the 8 different patterns – each of which has 12 distinct intensity levels to choose from. It's like a smorgasbord for your shlong if I do say so myself.
Furthermore, the Desire Luxury vibrator has the following features:
It's completely waterproof, which means you can use it in the shower, bath, swimming pool, or hot tub.
It's made from skin-safe silicone – some of the silkiest material on the planet.
It's uniquely shaped to contour to the average male penis. However, it's not exactly a good fit for dudes with Peyronie's disease.
It has an easy-to-use built-in push button operating interface on the top of the toy for quick settings changes.
It's fully rechargeable using a standard universal USB port.
It has a travel lock to prevent accidental activation.
The canal is undulating to provide sensory pleasure to the tip of your penis with every thrust.
It's got a few ridges on the handle to help keep your grip nice and tight.
The canal has a diameter of 2.25 inches.
It has an internal length of about 6 inches.
It contains zero latex or phthalates, so you never have to worry about skin irritations or embarrassing rashes.
When fully charged, it can run for up to 80 minutes on full blast.
Put all those fuckworthy features together and you have one kick-ass machine. However, it may not be suitable for men with large dicks or for guys who desire a tighter canal.
What Comes in the Box?
The Desire brand is known for offering what they call "luxury" sex toys, but the box that this thing comes in is rather commercial looking and made from flimsy cardboard. Either way, what comes inside is everything you need to feel the vibes immediately. Still, you won't get any freebies with this one – no lube sample, no toy cleaner, etc.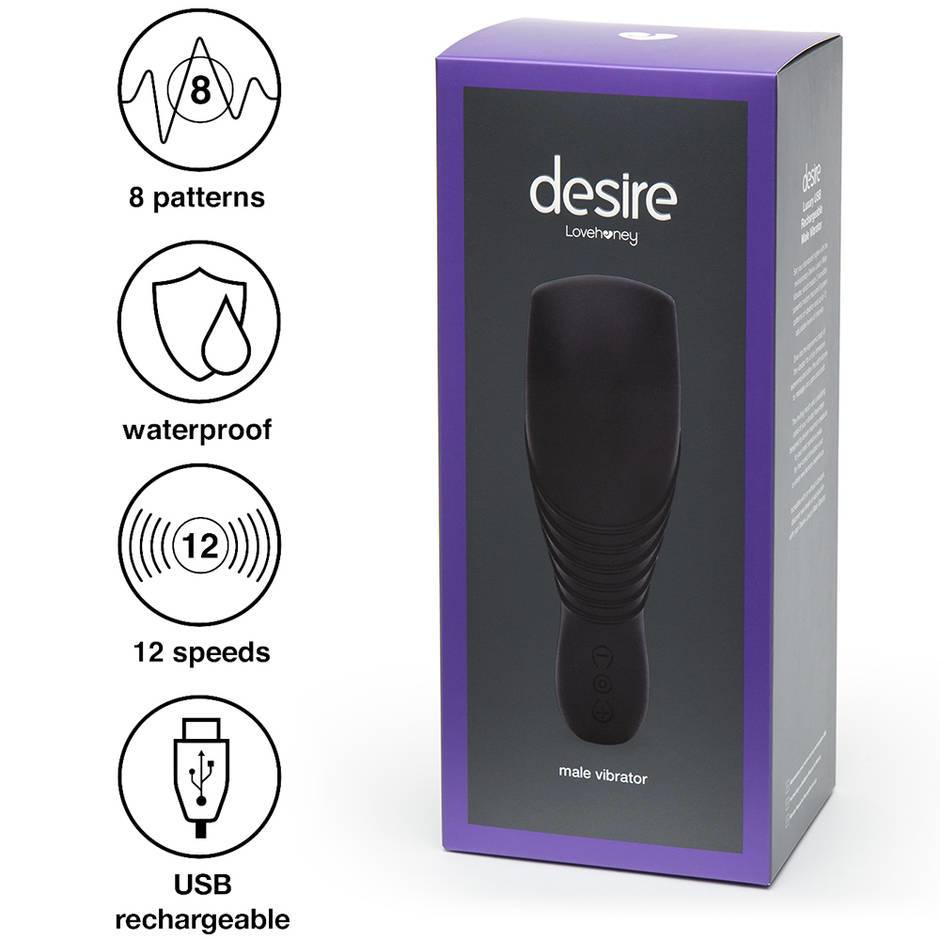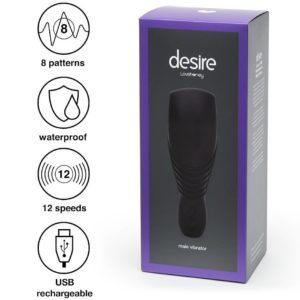 Here is what you do get though:
The Desire Luxury Rechargeable Male Vibe (of course)
A USB charging cable
A set of instructions
A black patent leather carrying case
NOTE: The carrying case, which is provided for discretion, is big enough to house the vibrator but leaves little room for the USB charging cable. However, the carrying case has a small opening that's big enough to fit the cable through it for discrete charging. Someone in the development department didn't think this through.
How It Feels
While the opening is somewhat snug and flexible, it loses some of its appeal upon entrance, especially if you use a lot of lube.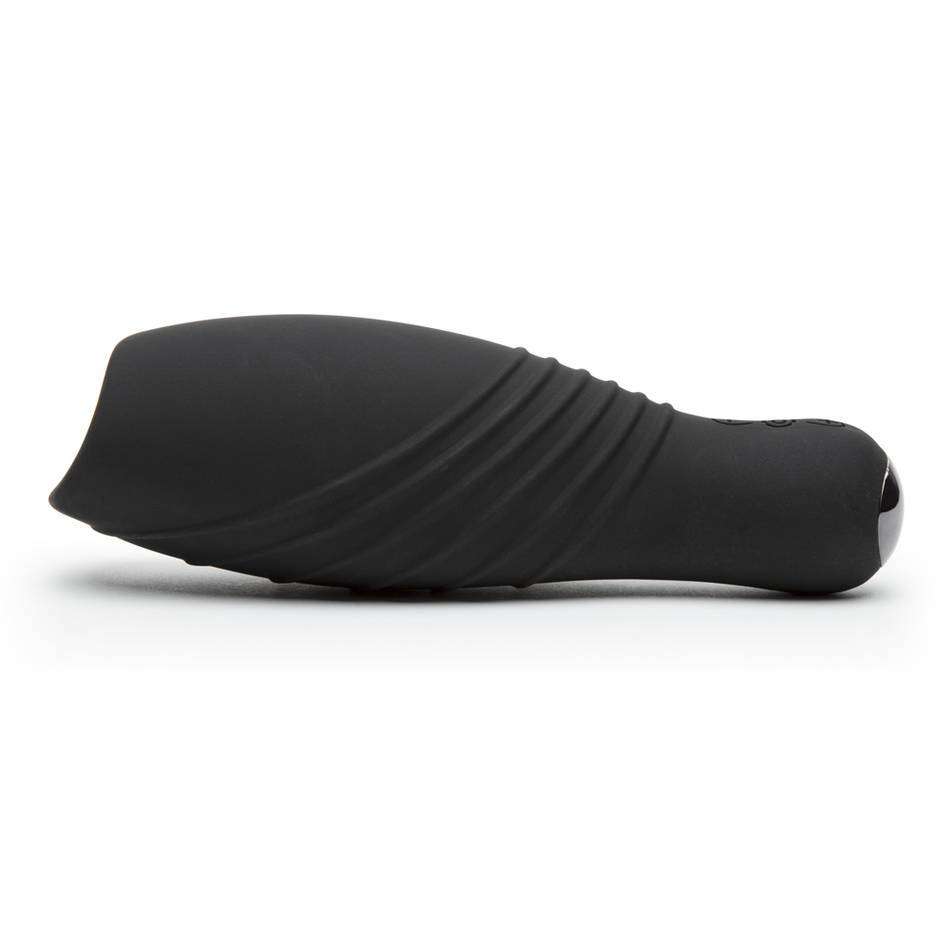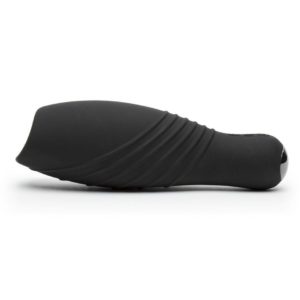 There's no internal texture either – just a smooth, soft silicone sleeve that requires vibes and pumps to make it feel good. In other words, it's definitely no Fleshlight, I don't care what anyone says.
It can't be used as a stand-alone sex toy, so you better make sure it's fully charged before the party begins. Also, it's not a good toy for couple's play, which is quite a disappointment. Unless you want to hand it over to your partner and let them jerk you off with it, you're going to be a solo artist while using the Desire Luxury vibrator.
The Cheers and Jeers
As a picky asshole, I know a good thing when I see it. Obviously, I've made my mind up about my favorite sex toys, but even those toys have a few flaws I'll admit to. Either way, can we all just agree that nothing in the sex toy industry is perfect? The pleasure derived by any given product is subject to personal opinion and there's no arguing about it.
With that said, let's explore the good, the bad, and ugly of the Desire Luxury rechargeable male vibrator, shall we?
PROS
You Big Softie –

While my favorite toys feature a skin-like material, I had zero complaints about the medical-grade silicone used on this thing.

Pump It Up –

The grip assist on the handle is a nice touch, especially considering how much pumping you have to do for this toy to feel good.

Power Ranger –

With so many different vibe and intensity settings on this bitch, it's nearly impossible to run out of pleasure options.

The Life of the Party –

Since the battery life extends to about 80 minutes even on full blast, it's realistic to say that you can use it several times before the toy loses power.

Get It Wet –

The Desire vibrator for men is completely waterproof, and I don't know of a single person who doesn't appreciate that.

Push It Real Good –

The buttons on the top of the toy are conveniently placed for easy adjustment of the various vibe and intensity settings.

Worthy Instructor –

With simple instructions and an easy-to-read manual, even a trained monkey can get this thing to work properly.
CONS
Charges Filed –

This bastard may run for up to 80 minutes when fully charged, but it will take you about 3 and a half hours to get it there. Yikes!

Give Me Some Skin –

The soft silicone is a good thing, but I could have used a bit more texture inside the canal. When you use lube, it feels like a bunch of nothing.

Just the Tip –

If you thrust too hard with this thing, you'll bang your cock on the top of the canal and that shit can hurt like a bitch.

Straight Away –

Although the Desire Luxury vibrator is rigid and shaped perfectly for an average dick, it's not curved-cock-friendly and I think that's bullshit.

Bagged and Tagged –

While the storage bag is nice and discreet, it's too small for all the parts and thus requires the user to get creative about how they hide their toy.
The Final Verdict
The various vibe settings and silky-smooth silicone are perhaps the best parts of this thing. You can tell right away that it's a high-quality toy; it feels like a million bucks in your hand. It also has a very powerful set of motors and a nice ergonomic design. However, the Desire Luxury male vibrator has a long way to go before it can realistically compete with some of the better toys on the market.
It's not every day that you find a male vibrator that has all the necessary qualities to produce a decent orgasm. With the Desire Luxury rechargeable toy, today may or may not be that day. Overall, the product is well made and sturdy, but it's not going to replace any of your higher-end toys anytime soon.
Despite the fact that John James is quite the character, there is one thing he has in common with everyone else: he likes a high quality sex toy just as much as the next guy.
Noticing that there were no legitimate websites out there reviewing all the amazing synthetic vaginas on the market, John James set out to do something about it.
After all, it is painfully obvious that today's men really need to know more about their options.