Apparently, our boss likes riding our ass more than we first suspected because our most recent assignment was to review another prostate massager from the Aneros brand called the Helix Syn.


Happy to oblige, we already knew about the medical-grade quality of this trusted brand's lineup. Our team was excited to see what it had to offer, even if we still couldn't sit down right from the last toy we reviewed.
Having given our booties about a week of break time, we then dove right in to our allocated adventures. Most of us came back with the same opinion, but there's always that asshole who has something negative to say. Together, we poked, prodded, plucked, and fucked the Helix Syn until we knew more about it than the manufacturer. Here is what we think you should know.
What Is the Aneros Helix Syn?
Plainly put: the Aneros Helix Syn is just a simple silicone prostate massager.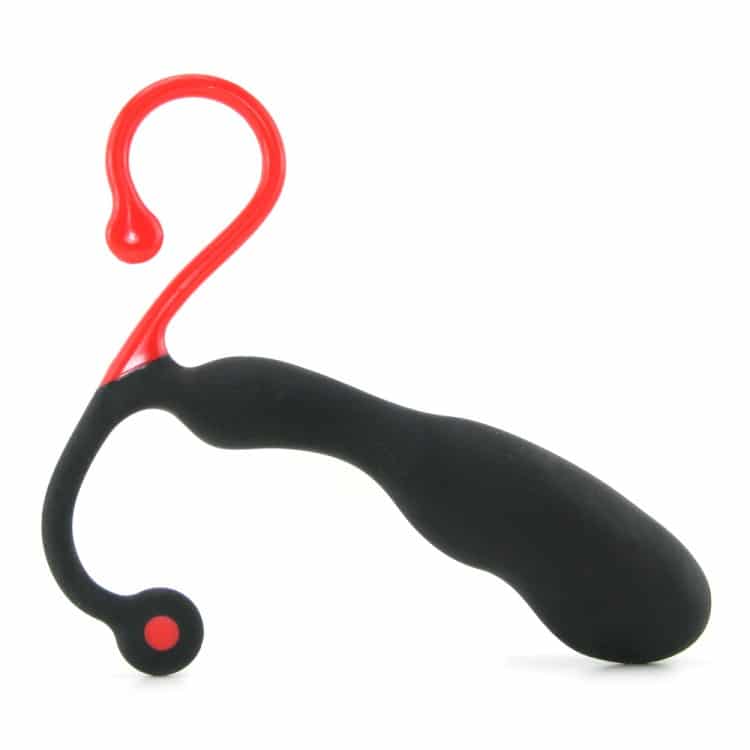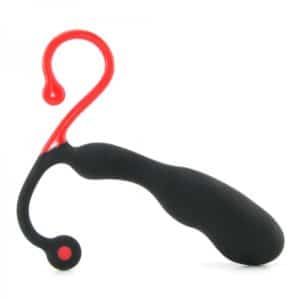 If you don't know what one of those are, they are ergonomically designed sex toys made to stimulate the male p-spot and perineum – the two erogenous areas on a man's body that are most responsible for a successful ejaculation. Since Aneros was originally a medical supplier, it's not surprising that the Helix Syn is commonly used by dudes who need to step their sex game up a bit in terms of longevity, pleasure, and function.
As a team of experts, we have seen and reviewed just about every sex toy on the market. That means we know good shit when we see it, and it also means we're not afraid to say exactly what we think. In our opinion, a good toy doesn't have to have a gagglefuck of bells of whistles to get the job done, but we're not gonna lie; it certainly helps. What the Aneros Helix Syn is lacking in features though, it more than makes up for in "fuckability" (yes, we're making up our own words now).
VIDEO PREVIEW
The Main Features
The main features list of the Helix Syn is relatively short: a medical-grade silicone casing that feels like silk, two gripper handles designed for easy insertion and ejection, one of the grippers features a little ball on the end that stimulates a man's sensitive perineum, and the whole thing is sized right for amateurs and pros alike – measuring 4 inches in insertable length and 3 inches in girth at the widest point of its curved and shapely body. It is colored in a funky black and red fashion, and that's about all there is to it.
What Comes in the Box?
As if the simplicity of the Helix Syn wasn't self-explanatory enough, the manufacturer went as far as to place a full instruction manual inside the box.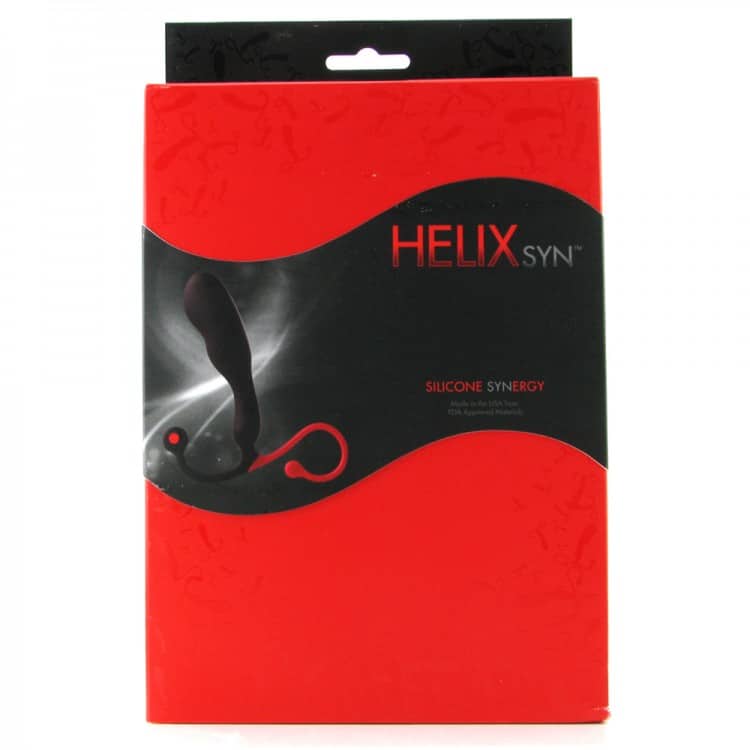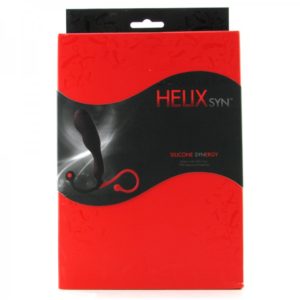 We discovered this when we were digging for some lube, toy cleaner, body wipes, carrying case, or something like that. All we found was that training booklet and the toy itself. So much for all-inclusive altruism – the Aneros brand is all about cost-effectiveness and efficiency, which isn't necessarily a bad thing.
What It Feels Like
We took notes on how the Aneros Helix Syn felt as it was in our ass, that way we could give you the most accurate and genuine reactions possible.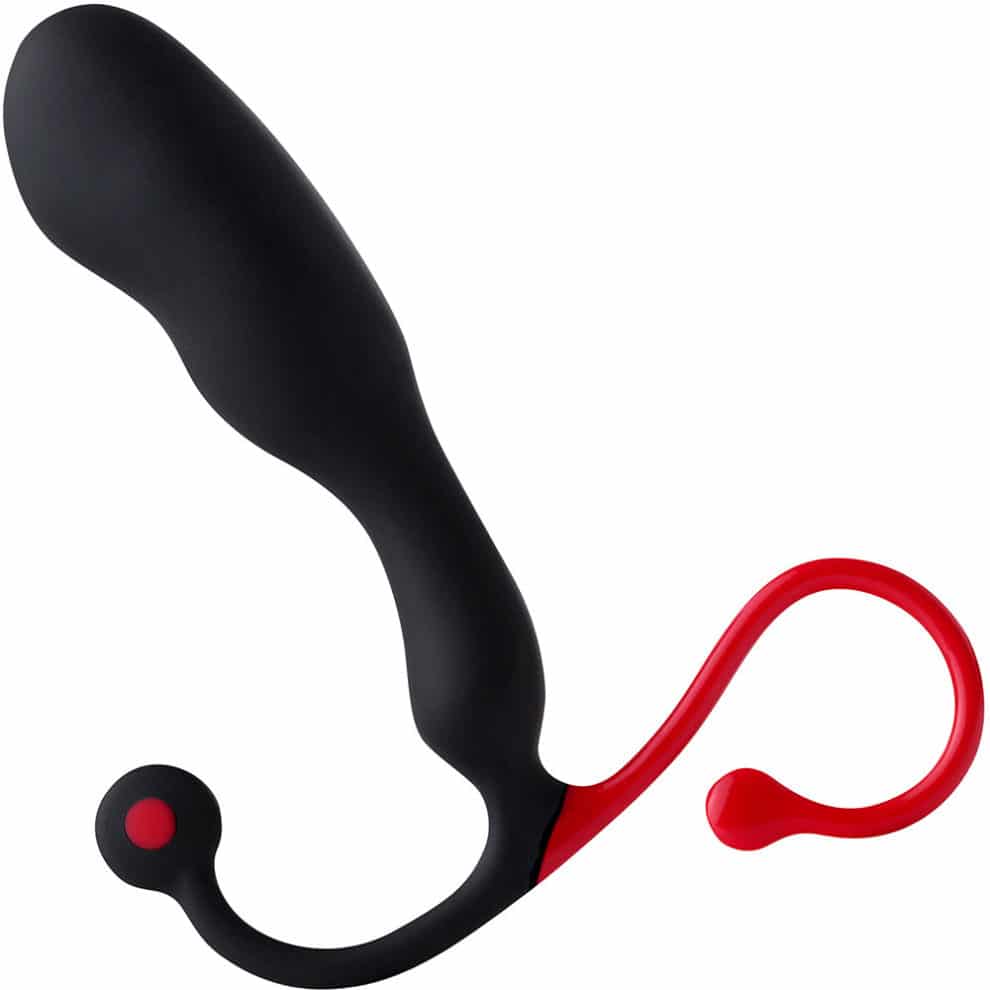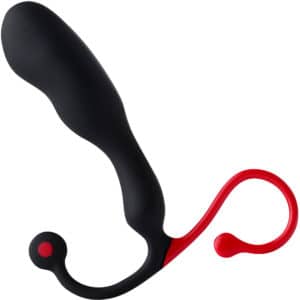 Don't worry, we threw away those pens and washed our hands before writing this. If we had to describe the way this sex toy feels (and we do have to, our boss will fire us if we don't), most of us would say that it felt like our caverns' nooks and crannies were taken to the spa – milked and massaged until we said "Ah!" Still, some of us wanted more out of a name brand prostate massager, so we formulated a no-holds-barred list of our likes and dislikes (mostly because "Mr. I Hate Everything" wouldn't shut up).
Our Cheers and Jeers
Our mothers taught us that if we didn't have anything nice to say then we shouldn't say anything at all. Our mothers also taught us not to play with ourselves, but we do that shit anyway. So, since we're being rebels here, we might as well have a cause. After all, she told us to be honest and we have to start listening at some point.
PROS
Mr. Solo Dolo – In case you can't find a partner, the Helix Syn has a self-pivoting design that makes it proportionate enough for hands-free play.
We're Going In – The rounded, bulbous tip cuts down on friction, providing better sensations and more comfort for everybody. What a wonderful time to be alive.
Conformity Can Be a Good Thing – The firm, angled shaft ripples and bulges precisely to give a form-fitting sensation.
Take a Dive – It is fully submersible in water, so let your imagination run wild.
Pieces of Flair – The flared base and its handy-dandy perineum tab aren't too shabby, and it keeps the Helix Syn from going up too far inside the anus.
Mother Nature's Masturbator – If Earth had a say in how you get off, she would most likely choose the Helix Syn because it uses no batteries, electricity, or otherwise. Just you, your asshole, and a whole lot of satisfaction. It's better than planting a tree.
Safety First – It is hypoallergenic and contains no latex or phthalates, so adverse allergic reactions should not be experienced.

CONS
Size Matters – Smaller than most of the other sex toys from the Aneros brand, the Helix Syn isn't the best choice for men who have seen their fair share of anal insertions.
Such a Betty – This thing is by no means fancy. It's weighty and well-made, don't get us wrong. It's just that it's plain as hell and could easily be replaced by a set of dedicated fingers.
No Frills Fucking – Don't get too crazy with this toy until you equip yourself. Fast shipping or not, you can't even use it until you pick up some lube and toy cleaner.
It's All In Your Mind – With no vibe functions or anything, you'll have to rely on your imagination when your anus becomes inevitably desensitized.
WHERE TO BUY ANEROS HELIX SYN ONLINE:
LOVEHONEY.COM (BEST PRICE & FASTEST DELIVERY)
CLICK THE BUTTON TO REVEAL A SPECIAL 10% ANEROS HELIX SYN  DISCOUNT CODE:
The Final Verdict
Honestly, we feel like $64.99 is a bit much for a motionless butt plug, but what do we know? Considering there was nothing inside the sleek, magnetically closed packaging besides the toy and an unnecessary instruction manual, we can't put this toy on the top of any of our lists and sleep well tonight. On a scale of 1 to 10, we're giving the Aneros Helix Syn a 6 and that's the best we can do.
Despite the fact that John James is quite the character, there is one thing he has in common with everyone else: he likes a high quality sex toy just as much as the next guy.
Noticing that there were no legitimate websites out there reviewing all the amazing synthetic vaginas on the market, John James set out to do something about it.
After all, it is painfully obvious that today's men really need to know more about their options.