At A Glance: Our Top 4 Picks for Top Delay Sprays
IMAGE
PRODUCT

Our Top Pick

Our Top Pick

Last longer in bed
Delay orgasm
Prolong sexual pleasure

Enhanced absorption formula reaches the nerves that impact the time to ejaculate for greater orgasm control
Patented TargetZone™ technology
Fast-acting formula

Maintains rock-hard erections for longer sessions
Enhance the size and hardness of your erections
Easy to use squeeze tube

High-strength desensitizing spray for men
Designed to lightly numb the skin to help enhance erections
Latex compatible and safe to use with condoms
From time to time, I'm guilty of being a no-show in bed. By that I mean: I can't cum no matter how hard I try nor how alluring my partner is.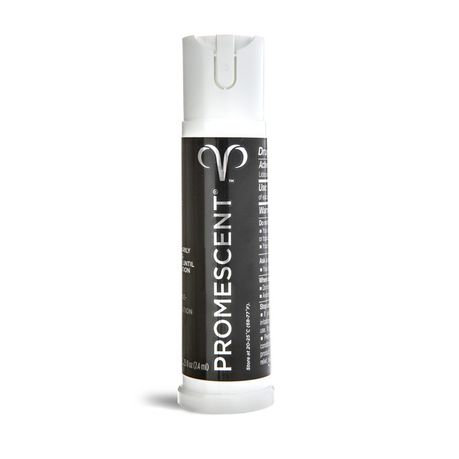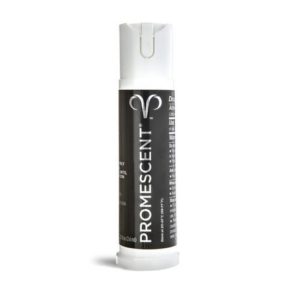 Sometimes, that unfortunate event makes the other person feel like shit about themselves and I don't think that's fair. Yet other times, I cum so fast that my partner's head gets too big for my liking. Those poor bastards end up thinking they're hot shit, and I don't think that's cute one bit. In fact, an inflated ego in the bedroom can instantly ruin the mood.
So, to keep my partners' self-image rooted in reality, and to prevent them from crying themselves to sleep after I've pounded their holes into oblivion, I've done my homework on the top delay sprays on the market. You see, a delay spray that's too strong can be counterproductive, but a delay spray that's ineffective can make a man feel like a one-pump chump. There's got to be a middle ground somewhere.
CLICK HERE TO FIND OUT HOW THOUSANDS OF MEN HAVE INCREASED THEIR SEXUAL STAMINA BY USING 100% NATURAL MALE SEX ENHANCEMENT SUPPLEMENTS
Now, I should say that I'm not too proud about having to use any of this topical nonsense since I'm usually the King of the Ring. It ends up that my unwitting partners are always surprised when I whip the stuff out, but my willing partners always seem a bit disappointed in me when they see me wipe it on. Regardless, most guys (even me) need a little help keeping their shit together every now and then, so truly, there's no shame in my game and there shouldn't be any in yours either. A good delay spray can change the game big time if it's used right, not to mention how the right one can make a man fuck like a Russian race horse.
My General Opinion on The Best Delay Spray For Men Formulas On The Market
Unless you want to go to a doctor's office to tell all the people working there that you and your dick don't always get along, delay sprays and stamina training devices are necessary.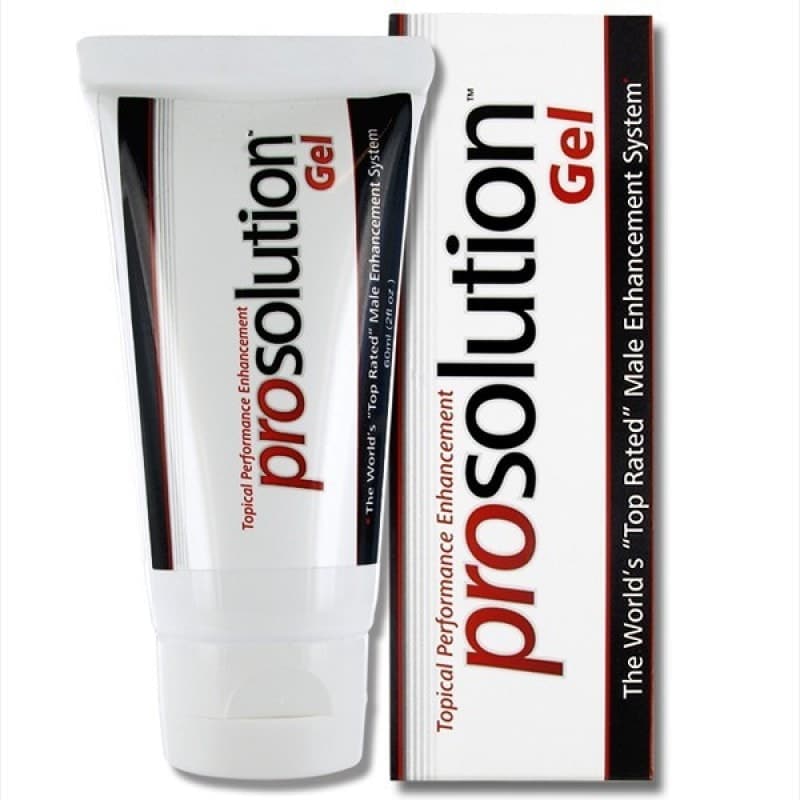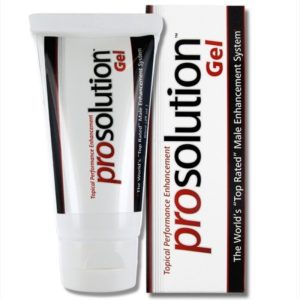 As a man ages, his ability to stay virile reduces drastically. Shit happens, but you don't have to become a victim to nature if you listen to what I say. A lot of brands out there are junk; some manufacturers just want to make a quick buck. So, I suggest you get like me and read up on the subject before forking over the cash.
As for the good delay sprays out there, they tend to do their jobs well when they're used as directed. However, I've noticed that there are plenty of drawbacks associated with them, even for the pros who already know what to expect. Just keep in mind that the majority of the work is done by you and your obedient cock, and remember that a topical cream, spray, or ointment can only take you so far. If you realize that, then you're ready for the big leagues.
Here are the top 5 reasons I fuck with this shit in the first place, even though I know that a little disappointment is associated:
Most of these sons of bitches can help a man last much longer in bed than they're used to, even if they're the kind of guy who goes for hours.
Many delay sprays are innately designed to reduce a guy's sensitivity during sex, which can be a blessing or a curse.
Using an effective delaying product can stop a premature ejaculate dead in it's tracks, but you've got to act fast for that to happen.
These products can be applied in secret, although the cat will be out of the bag as soon as you insert your Johnson into your partner because they can feel that shit too.
Overall, delay sprays can boost your in-bed confidence if you're the sort of dude who needs to feel better about his performance.
While we're on the subject, you should also know that no delay spray on the market is a permanent solution to premature ejaculation. Actually, nothing is besides good old-fashioned practice and prescription drugs. I'll get more into that later on.
The Top 10 Delay Sprays & Penis Numbing Creams For Sex That Your Money Can Buy
For now, let's get down to business and discuss what I see as the top 10 delay sprays in the industry. Your opinions on the following products may differ from mine and, of course, every man's experience is unique, but in the end, you'll be best served to take my advice here. Otherwise, you'll end up searching high while your bank account gets low. Don't say I didn't warn ya.
With just a tad bit more of the active ingredient, lidocaine (10%), Promescent is a bit stronger than our less expensive pal, Stud 100.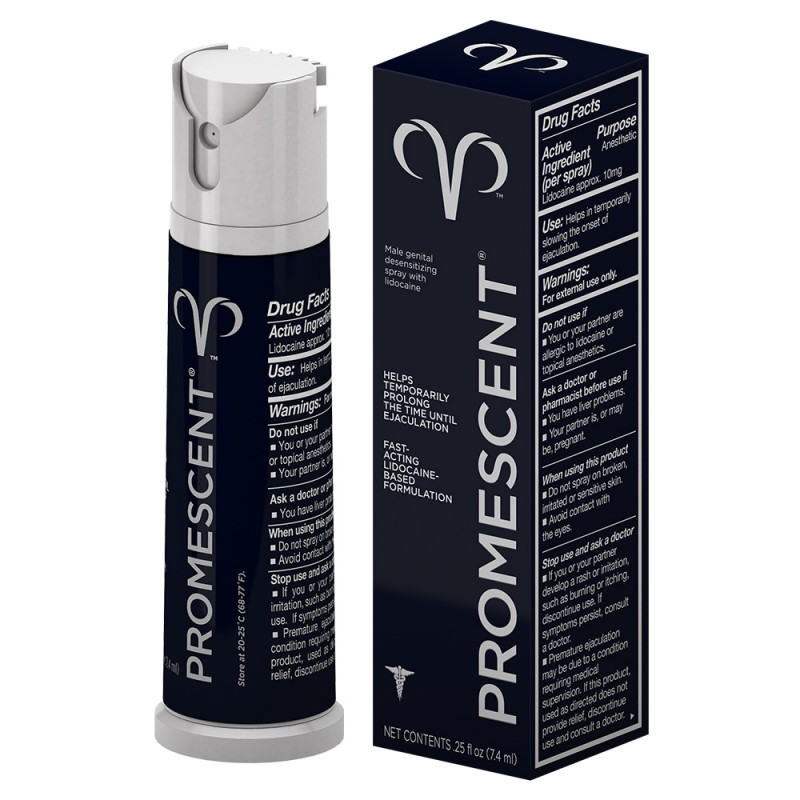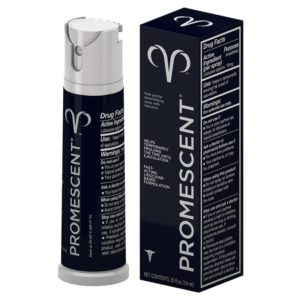 It also has that convenient metered pump that I love and is considered in the industry as one of the best delay sprays available. In terms of reliability, it's relatively predictable, not to mention it's highly effective as a numbing agent. But, before I continue singing its praises, let's talk a bit about where it lacks the most.
Promescent, in my opinion, stinks like a metallic turd, which may or may not explain the "scent" in the latter part of its name. Although it's approved by the FDA for oral sex just like it's competition, it may turn your partner off if you use too much of it. It also lacks the production of negative side effects, but oddly enough, it doesn't last as long as some of the others on this list. In my experience, this shit was effective for only about 10-15 minutes, but then again, I was banging pretty hard and our crotches were wetter than a water slide.
It's marketed as mostly waterproof though, and I did notice that it absorbed into my cock skin rather quickly. It can be used with a condom, but that's the case with most well-made delay sprays out there. At least there's that, right? So, if you can stand the pungent smell and don't mind paying a little extra for one of the very few delay sprays that are approved by the big boys at the Food and Drug Administration, then you've got yourself one badass dick desensitizing product.
As the name suggests, VigRX is made to increase your sexual vigor by decreasing penile sensations to a level that's best for the whole team. Designed in an easily controlled spray form, this product is both effective and convenient.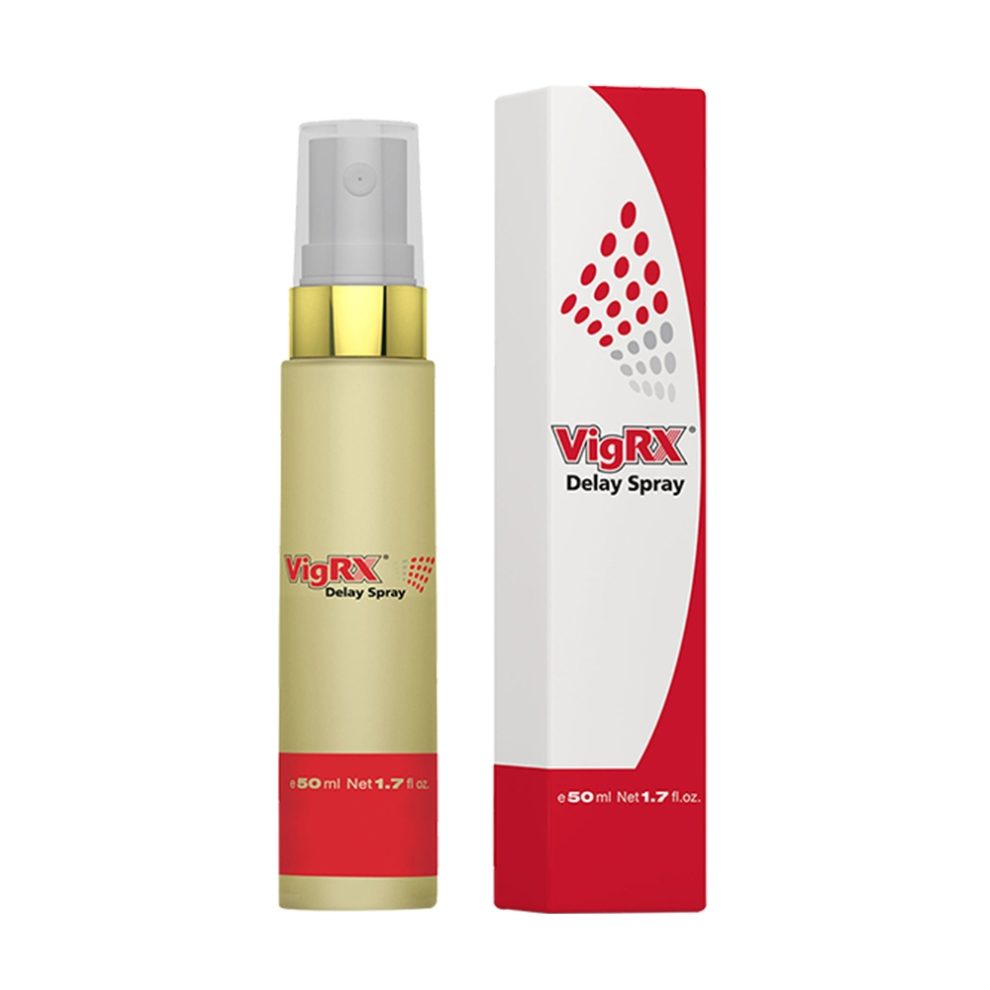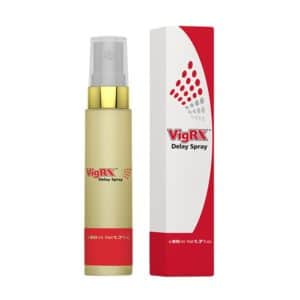 Since practice doesn't always make perfect, high-quality, safe delay sprays should be kept in everyone's bedside table. This male desensitizer calms your genitalia down, allowing you to keep the "I'm going to fuck you all night long" promise you made before hopping into the sack.
VigRX is manufactured by a reputable company called Leading Edge Health, a cGMP-compliant facility that operates under the strictest production safety regulations. In fact, this brand is considered royalty in an industry that has several dozen delay spray options on the shelves. While it's nowhere near the perfect product, VigRX successfully prolongs intimacy without a bunch of nasty side effects.

Adam and Eve: Marathon
As the last desensitizing product on my list which uses ingredients that are relatively well-known and trusted, the Adam and Eve Marathon delay spray contains a healthy dose of trusty benzocaine.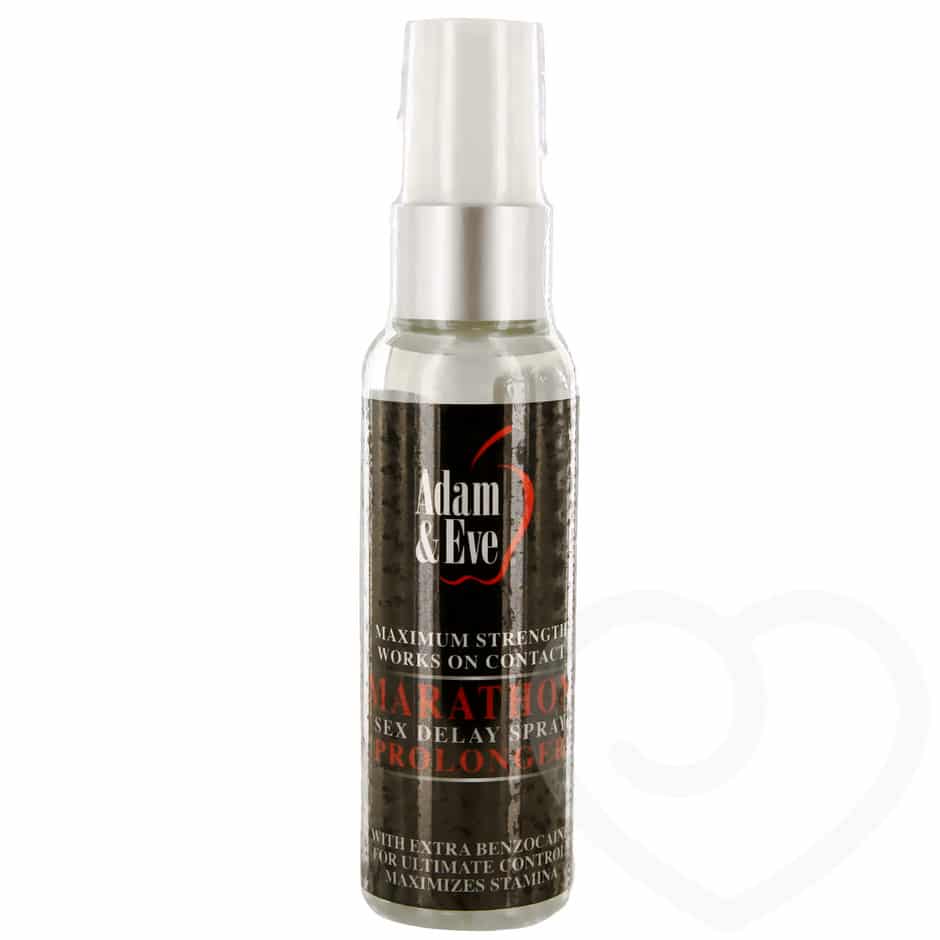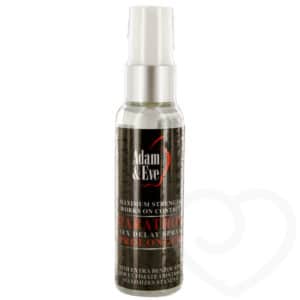 It comes in a spray can that's pretty easy to use and control, so this shit is pretty standard thus far. For men who are somehow allergic to lidocaine, this one and the other benzocaine activated spray are the only ones that suffice. Tough break.
Regardless, this heavy hitting shit takes about 5-10 minutes to reach its max potential – kind of a long wait in terms of delay sprays if you ask me. A little preparation goes a long way with this one. Furthermore, it sort of smells like steel sex (if you can imagine). I'm not sure if that's a good thing or a bad thing, but either way it's not too bad once you get used to it. Also, don't use it during oral sex. We'll just keep it at that for now.
Interestingly, the Adam and Eve Marathon spray is curiously marketed as a product that gives men stronger, more robust erections. However, I didn't see anything on the ingredients list that would indicate that misleading claim to fame. Like so many products on my list, this stuff isn't approved by the FDA for anything but over-the-counter sales in sex shops, but nobody really gives a damn about government funding when they're trying to last longer in bed. And since the price is right, you'll probably forget all about that shit really quick when it starts to work.

Shibari Triton
Despite it's kinky and exotic name, which refers to an ancient form of Japanese rope bondage, this delay spray is pretty standard as far as this type of shit goes. It doesn't have a metered pump, but instead it uses a typical spray bottle that makes it hard to control the amount and location of the application. Similar to Promescent, it contains 10% lidocaine as the active ingredient, so it's pretty good shit. Furthermore, it's not as smelly so you won't have as much explaining to do to your curiously grossed out partner.
For me, it only took about 2-3 pumps of this Japanese magic potion to get my penis ready for the motion in the ocean. However, there were a few times when the stuff didn't work very well at all. Maybe that's why this product has yet to be approved by the FDA. On top of that, it's not ideal for oral sex. However, it can be used with a condom, although a lubricated love glove tends to strip your dick of the spray.
The instructions on the label say to use the product sparingly, but if you're anything like me, you'll most likely have to use a bit more than is suggested. I'll warn you though, the more you use, the more of a tingling sensation you'll experience. I, for one, didn't like that feeling too much, but maybe you will. And since this shit is moderately priced, it may be a good trade off at the end of the day.

Doc Johnson's Power Plus
Made by one of the most popular brands in the sex product industry, the Doc Johnson Power Plus delay spray is a strong contender in this category. However, I'll have you know that this shit contains one of the least amounts of numbing agent on this list. Furthermore, it doesn't use lidocaine. Instead, the active ingredient is benzocaine, and the formula only contains 7.5%.
Additionally, this relatively unique stuff is a cream rather than a spray. Although the brand offers a wide variety of products that delay ejaculation, the Power Plus version is some of their top-notch shit. And since it's a cream instead of a spray, applying it to your dick is much easier and can be controlled better. Even so, newbies to the delay spray/cream arena might have to do some math to figure out how much to use, especially since there's no metered pump or measuring guide on the label.
Either way, Doc Johnson brand products are popular but none of them have been approved by the FDA for oral sex. It doesn't stink as much as some of the other option on this list, neither does it taste too bad (I tried it). And while the cream doesn't transfer too easily, it's probably not a good idea to be a guinea pig anytime soon. Warning: this shit is strong as hell if you use too much, so just be careful not to completely ruin the mood because you don't know how to proceed with caution.

Super Dragon 5000
This product's name sounds like some kind of corny shit that's used in bad porn, but it works nonetheless. With a proprietary formula that consists of 10% lidocaine, it's relatively comparable to the competition. However, there is one glaring difference with this one: it also has a bunch of vitamin E in it. So, whether the shit works to numb you out or not, you'll end up with a silky soft dick if you use enough of it.
Since it comes in a spray bottle, you don't have to worry about using too much or getting it on your hands. However, the pump isn't metered whatsoever, so you'll have to use a customized algorithm to figure out how much to use. Keep in mind that Super Dragon 5000 is one of the fastest acting desensitizing sprays on the market. It only takes 3-5 minutes to reach its maximum numbing potential, and it's strong as hell too. If you end up using this shit, just remember to wash your dick as soon as you're done being super, Mr. Dragon.
That's another thing. Due to the dense vitamin E contained in the formula, this product is one of the hardest ones to wash off. And since the instructions plainly say that you shouldn't wear it for longer than 45-60 minutes, and due to the fact that it's not recommended for oral sex (for obvious reasons), it's sort of a pain in the ass to use. Here you are, trying to make your sex session last longer than usual, and meanwhile you have to set an alarm to make sure you don't burn your dick off. I guess it's true what they say: dragons really do breathe fire.

Viga 5000
Another good dick desensitizer that has a cock-softening mixture of lidocaine (10%) and vitamin E, Viga 5000 also comes in a spray bottle, albeit not metered at all. Still, it beats the competition in several ways. First of all, it's one of the best smelling formulas I've used thus far. Secondly, it usually takes only one spray per use to get you where you want to be, so it's safe to say that a little goes a long way. And since it's kind of expensive (comparatively speaking), you'll probably have a bottle of this shit lying around for the next decade.
When using this product, I found that more than the suggested number of sprays really does a number on your main member. It's very strong, despite the fact that it contains the exact same ingredients as some of the other stuff on my list. There's just something about it, and perhaps that's why it has a "5000" at the end of its rather boring yet mysterious name. Too much of this stuff and you'll be fucking for hours with no results; too little and you'll end up finishing with nothing more than a slightly tingling dick. Again, you'll want to experiment with the amount you use to get the best results.
As for how quickly it works, you might see a blur. It leaves you ready to get your groove on within less than 5 minutes and it lasts for quite a while too (on average, about 60-90 minutes if you use the correct amount). And although it contains vitamin E, it's not too difficult to wash it off when you're done, which is a very good thing considering it's not recommended by the FDA for oral sex. Bummer, especially since it's fairly priced and makes your skin feel like a million bucks.

China Brush
While I'm not too sure about the name of this product, I am sure about one thing: it works very well, especially considering how it uses questionable, foreign ingredients that are uncommon in the modern world. I'm also not sure about what it's supposed to be brushing, but the Chinese herbs in this shit are effective none the less. In fact, the formula uses mostly herbs as the active ingredients, so technically this product is edible (although I don't recommend eating it even if you're a hungry, hungry hippo).
With things like cinnamon, Korean ginseng, aloe vera, and clove, this delay spray smells like an Asian whore of the best variety. Be careful though, because the ingredients list also contains gallstones. Yes, gallstones. All of that crazy stuff is blended together into a liquid solution and is meant to be brushed onto your dick sparingly, which must be where the manufacturers came up with the name. Regardless, the all-natural formula is an excellent substitute for lidocaine and benzocaine, since both of those numbing agents can cause skin irritation and painfully long-lasting side effects.
Unfortunately, there are a few drawbacks with good ole China Brush. First of all, it takes almost an hour to become effective. Secondly, it tends to create an annoying tingling sensation that might be distracting during sex. However, it's still as effective as modern-day formulas (if not more), and it lasts for a long time. Furthermore, it's super easy to wash off and can help you stay virile for hours if it's strategically reapplied. As for the cost, it's pretty good when compared to the others on this list; but, it's still not approved for oral sex or given the green light by the FDA. Go figure.

Jamaican Stone
From the other side of the globe hails Jamaican Stone, a product made from the sap of a popular Caribbean tree. As weird as that sounds, it can't be any worse than gallstones and cinnamon if we're being honest. The application method is a bit strange as well; nothing even close to a metered spray pump or even a nifty little Chinese brush. You'll have to apply some water to the stone that's included and then use the liquid that forms on the stone as your numbing agent.
I should let you know that, as captivating as this shit sounds, it does come with a warning label. If used improperly, it's potentially dangerous. Still, it's insanely popular in several countries and has been used by Jamaican men for a very long time. With that said, it's obviously an effective numbing agent that works fast enough to gain some serious attention. Considering it's so exotic and risky, you can bet your ass that the FDA hasn't approved it for anything. In fact, it's banned in most countries and is not suggest for oral sex in any capacity. Talk about some kinky shit.
Furthermore, improper use of Jamaican Stone can cause a burning sensation that lasts for hours. It's marketed as a product that gives more substantial erections, but I found that it does little more than give longer sex sessions. With mixed reviews, you'll have to decide if it's worth a try or not. Since it's banned, it may be hard to find online and could cost you an arm and a leg. Either way, it made my list for a very good reason.

Tauro Extra Power
Since we're on the exotic tip here, I put Tauro Extra Power on my list because it's made from some pretty remarkable shit. Check this out: ginseng extract, hedera helix extract, ginko biloba extract, and chamomilla recutita extract. If you want to know what any of that stuff is, you'll have to Google it. All I can tell you is that, whoever came up with the formula, obviously knew what he was doing. And since it comes in a spray can instead of some weird rubbing stone or Asian brush, it's easy to control and apply, which is a relief.
This all-natural product is an excellent choice for men who aren't into that whole modern-day pharmaceutical anesthetic stuff. With no frills, it still goes to work within a reasonable amount of time (about 20-30 minutes), not to mention it lasts for a significant amount of time (about an hour). In addition, it's relatively easy to get off if you use warm water and soap and it's not messy at all. Unfortunately, the FDA seems to only approve products that are made from ingredients that they have existing patents on, so you can probably guess where this is going.
By the way, this shit is not ideal for oral sex, mostly because it tastes and smells like a dirty hospital room. Likewise, it's expensive like a medical procedure, but it's a good substitute for lidocaine, benzocaine, and weird ass gallstones. It can be used with condoms though, mostly because it stays put rather well. And since it contains such natural ingredients, your dick skin doesn't feel too bad after you use it. Overall, it's a pretty good product for men who want to take an organic approach to lasting longer in bed (if you're into that kind of thing).
My Top 5 Delay Spray Usage Tips
If you choose one of the products on my list, be sure to use it as directed. Also, consider some advice from the pros (me, that is). I have been tinkering and tampering with sex toys and dick delay products from quite some time now, so I've learned a thing or two along the way. Let me break it down for you:
Make sure your partner knows you're about to use a delaying product if you plan to fuck without a condom, especially if the product transfers easily. You DO NOT want to be forced to explain why their crotch is numb during sex, or worse, on fire.
Don't forget to wash the shit off when you're done, even if you can't feel it very much anymore. You'd be surprised how many times I did that, only to wake up in the morning with a sick rash all over my family jewels.
Never attempt oral sex if the product explicitly advises otherwise. I don't care how hot the shit gets. Nobody wants to deal with unwanted facial numbness, sudden sickness, or death, and you're too pretty for prison.
Wash off your hands if you use them to apply the product. Nothing is worse than wiping your eyes with this shit on them. Can anyone say "ouch?"
Store your bottle or container in a temperature safe environment – one that's far away from extremely hot or cold climates. Frozen delay sprays gunk up and don't work right, and overheated delay sprays smell funny and sweat all over the place. That mess is 100% avoidable if you keep your shit together.
My Final Thoughts on the Matter of Desensitizing Sprays

Now, I mentioned earlier that these dick desensitizing products (and all others like it, regardless of their price, ingredients list, or brand name) are not ideal if you're looking for a permanent solution to premature ejaculation. The items on my list are not a cure-all for quick cumming by any means, but they will still help you out in a pinch. So, if you're looking for something with a little more staying power, I seriously suggest getting yourself a good handheld or automatic masturbator to help you practice your pump in the meantime.
Luckily, there are lots of techniques that can help you control your erection more effectively. The modern market also have tons of toys designed for that very thing – most notably products from reputable manufacturers like Fleshlight and Kiiroo. For example, the famous Fleshlight brand, known for its ridiculously huge selection of customizable sex toys, has this thing called the STU (Stamina Training Unit). That son of a bitch ain't no joke. And while it may take you a little while to master the art of purposeful self-pleasure, I think it's worth the effort at the end of the day.
Despite the fact that John James is quite the character, there is one thing he has in common with everyone else: he likes a high quality sex toy just as much as the next guy.
Noticing that there were no legitimate websites out there reviewing all the amazing synthetic vaginas on the market, John James set out to do something about it.
After all, it is painfully obvious that today's men really need to know more about their options.