It's rare to find the perfect sex toy as soon as you start shopping, but that doesn't mean it's not possible.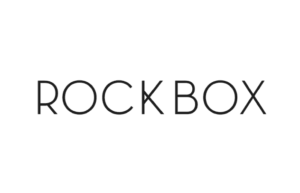 Products that are made for both partners are even more hard to find, but again, they do exist. However, the quality of such items is often lacking because the manufacturer is trying too hard to create something that everyone likes. Fortunately, there may now be something that breaks that mold like an expired condom in the hot sun.
If you're anything like me (and we probably have more in common than you think), then you most likely looked at this toy and thought, "What in the hell is that thing?" Don't be too quick to consider yourself out of the loop. The Rockbox 2 is basically the first of its kind, with nothing quite like it on the market thus far. So, without further ado, let's give this self-proclaimed "pleasure power tool" a proper examination and find out whether it's worth the money.
What Is the Rockbox 2?
Put as simply as possible, the Rockbox 2 is a unisex vibrator that you plug into a standard electrical outlet for nonstop power and pleasure.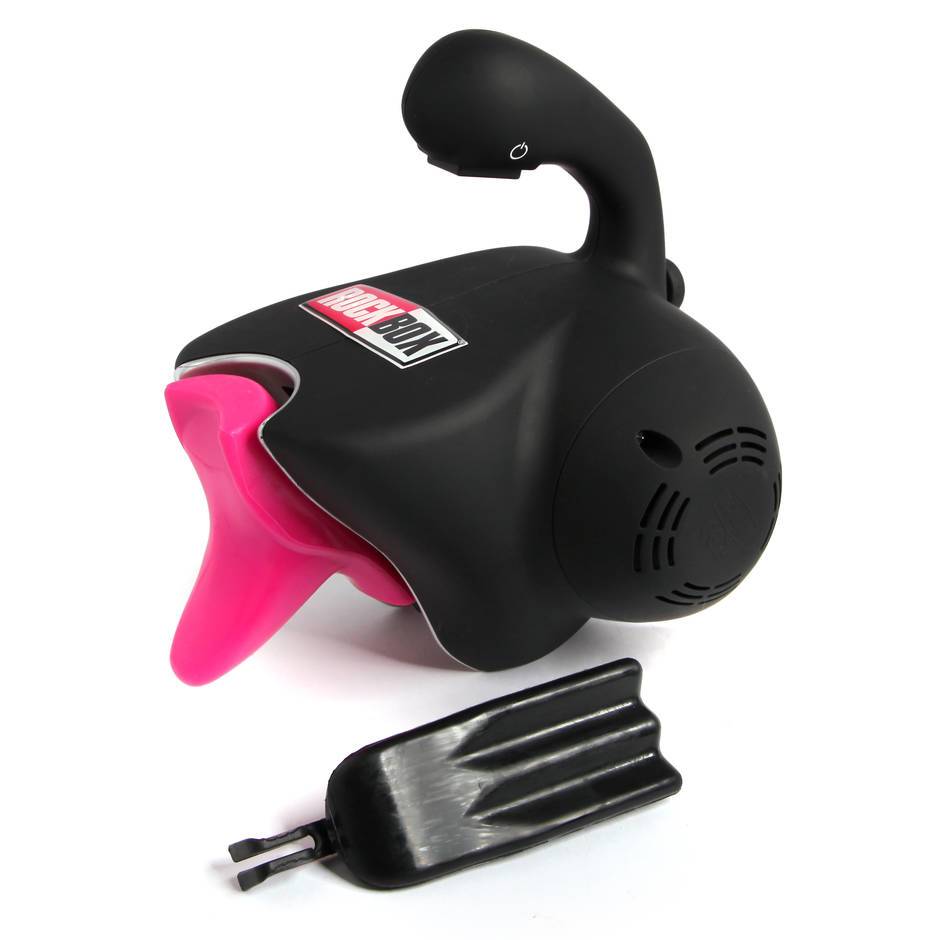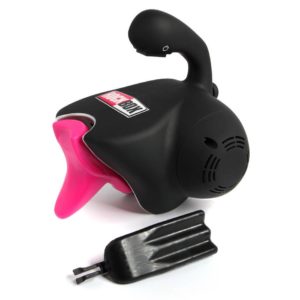 Being as it's unisex, which means it's made for both men and women, it's like the Walmart of sex toys – a one stop shop, designed for serious orgasms and delivered in a wholly unique way. For real, you've probably never seen anything like this before.
At first glance, the Rockbox looks like an unremarkable power tool. However, that just means you can easily hide it in your garage or bedroom without causing too much of a fuss. Furthermore, the manufacturer claims that it's up to 3 times more powerful than a wand, dildo, or regulatory vibrator, which can only mean one thing: it's basically all you'll ever need to bust a nut alone or as a couple – a true money-saving product that virtually pays for itself.

The Main Features
Known as the toy that provides the most intense vibrations in the world, the Rockbox gives off 3 times more power than a standard vibe wand and up to 5 times more power than your average washing machine spin cycle.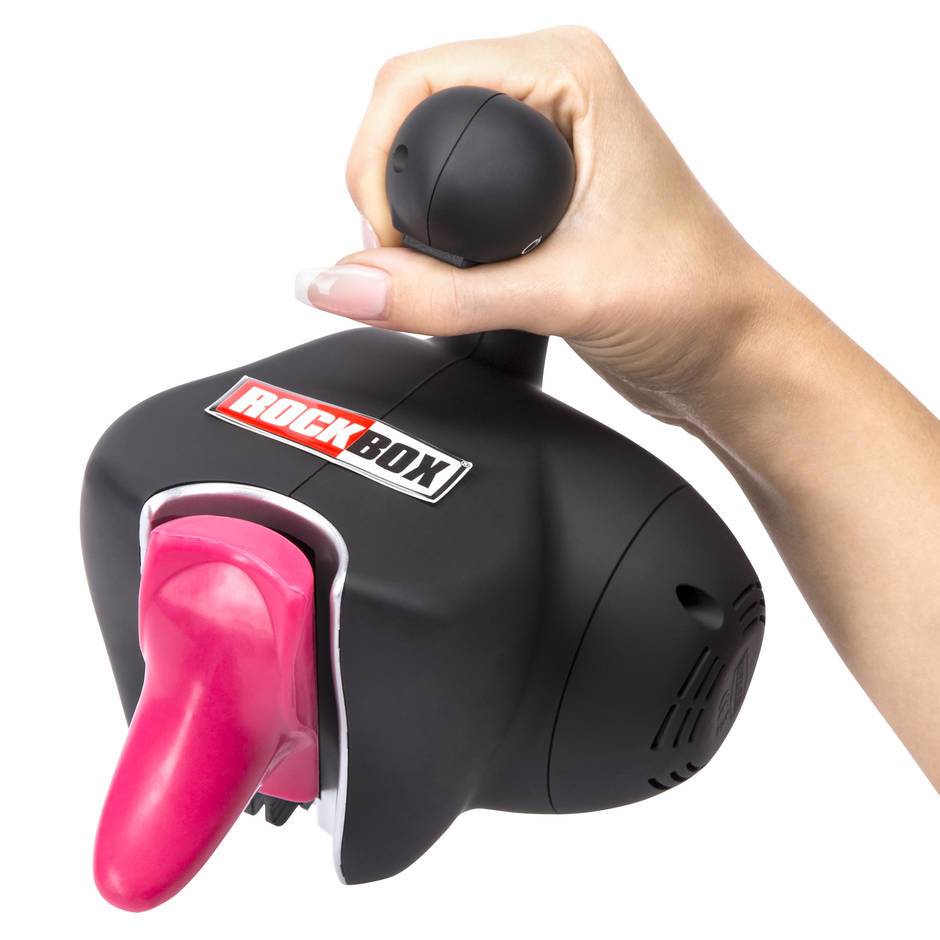 With an insanely strong motor like that, it's no wonder why the manufacturer put so much work onto designing the ultimate sex toy. Anything with 5,000 RMPs deserves attention.
This earth-shattering toy features 6 distinct vibe speeds and patterns, each made for both male or female perverts. There are two different compatible pleasure attachments: The "Hot Chick" attachment for the girls which has a firm, directed tongue-like shape to simulate oral sex and the "Master Blaster" attachment for the boys which has a three-wave texture to stimulate the frenulum. Talk about a team player!
For example, the "Hot Chick" attachment juts outwards from the unit and is powerful enough to be felt through your clothes.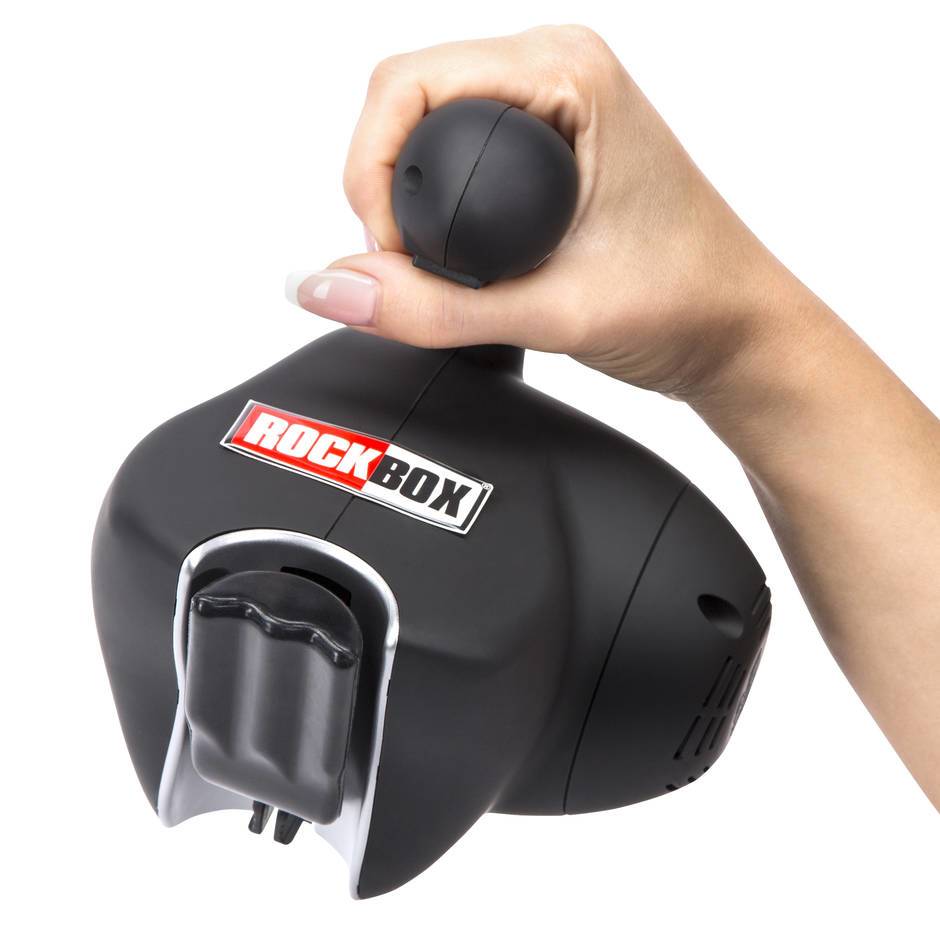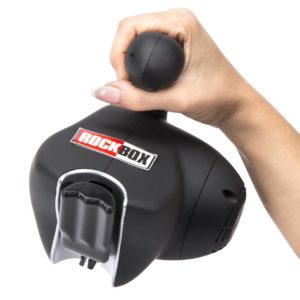 As for the "Master Blaster" attachment, it's made to tickle the tip (or corona) and the underside (or perineum) of the penis, plus it can be felt without getting naked. Each setting can be gradually increased and decreased at a whim and both attachments can be used with or without lubrication.
The Rockbox 2, which is made entirely from medically compliant TPE, measures 4 inches in circumference and about 2 inches in insertable length (although the unit is about 8 inches long in total). It contains no latex or phthalates either, so the unit is completely legit for men and/or women with super sensitive skin.
Oh yeah, and the entire toy requires no batteries or recharging time. It's 100% electrical, powered solely by a 6-meter plug-in cord and an oversized user interface that features speed dial for one of the easiest sex sessions you've ever experienced. Because of that, it's in no way waterproof, but that's not a bad trade if you ask me. The Rockbox also has an ergonomic handle and a simple "Slide n' Load" mechanism, all of which makes attachment swaps a seamlessly sexy endeavor.
What Comes in the Box Of The Rockbox 2?
The container in which this pleasure power tool comes is rather commercial, but that's just part of the appeal. Ordinary yet spacious, the box can double as a clandestine storage compartment if need be. Moreover, it's jam packed full of everything you need to get the party started as soon as you cut the tape, including: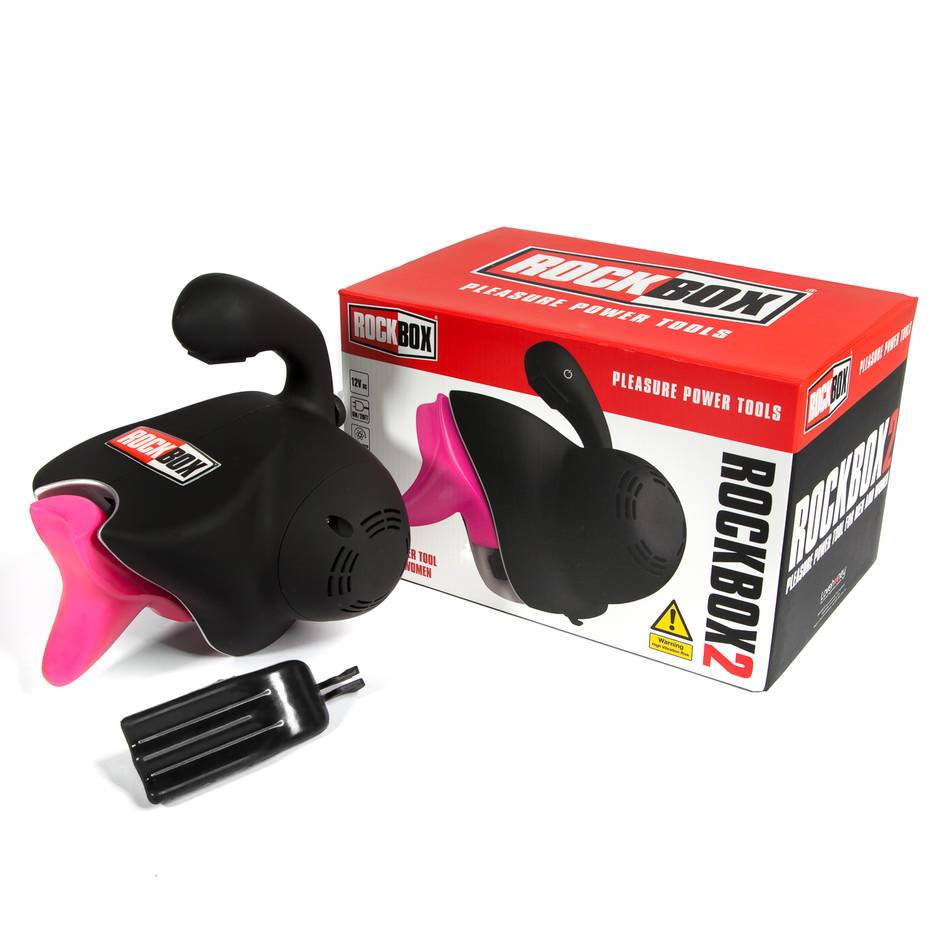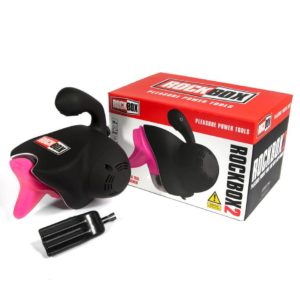 The Rockbox 2 Plug-In Unisex Vibrator (of course)
An instruction manual
2 gender-specific pleasure attachments

The Master Blaster (for men)
The Hot Chick (for women)

6-meter electrical power cord
You won't find any toy cleaner or lube samples inside the box though. However, when you're buying something as heavy duty as this thing, you're likely stocked up with everything you need already anyway. If not, the maker of the Rockbox sells the extras separately (and at a decent cost too). It doesn't come with a storage container either, which will require you to get somewhat creative about how you store it when you're all done because, quite honestly, it's a rather large piece of erotic equipment.
How Does It Feel?
It's kind of difficult to describe how such a revolutionary sex toy feels, especially since there's nothing to compare it to.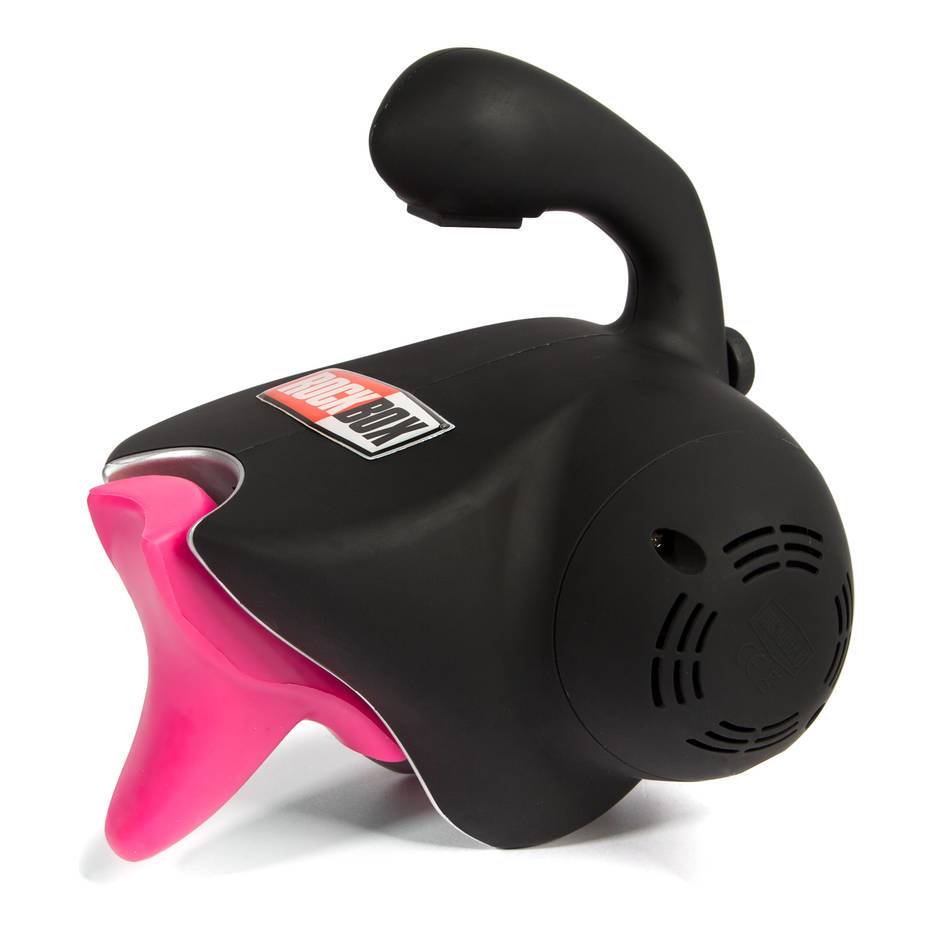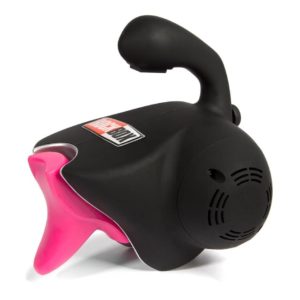 The only thing I can say is that the Rockbox 2 gives off the most intense sensations I've ever felt when operated at the highest level, but it also has the ability to provide somewhat gentle vibrations when placed on the lowest settings. It's definitely a one-size-fits-all sex toy, made specifically for both the girls and the boys.
Additionally, this mind-blower feels like it's vibrating from the inside out when used as intended. The super powerful mechanism mixed with the body-conscious design combine to create sensations that pierce the very essence of the human physique. In other words, it's obviously created to make you second guess your expectations (in a good way, of course).
The Cheers and Jeers
Never expect anything to be perfect, even a sex toy like the Rockbox 2 which is made to please both sexes simultaneously and in the most powerful way possible. However, this unit certainly has plenty to offer and leaves little to be desired. Check this out:
PROS
Pump Up the Jam – This device is hands-down the most powerful sex toy on the modern market, with an extremely robust motor that gyrates with a surprising strength.

Never Give Up – Since it's a plug-in vibrator, you'll never need to buy batteries or hook up to a recharging unit and wait for it to start working again.

Play Both Sides – The Rockbox 2 is designed for men and women, meaning it can be used alone or with a partner.

Swap It Out – With dual attachments for both genders that can be switched at the speed of light, it's easier than ever to please everyone without that awkward waiting period that many must endure with other types of toys.

Handle Your Business – The designers took the unique shape of both male and female hands into consideration when making this device, which means nobody in the bedroom will have to fumble to use it correctly.

Keep it Copasetic – The medical-grade TPE material that this toy is made from will prevent any unwanted skin rashes or irritation.

Explore Your Options – With 6 powerful vibe settings that are each distinct, it's simple to customize your play time just the way you like it.
CONS
Slow and Steady Win the Race –

This thing omits extremely commanding vibrations – a features that may or may not be for everybody. TIP: Try using it over your clothes if it's too much for you to handle.

Less Is More –

Although the Rockbox 2 is very powerful and can please a man or a woman, it's one of the biggest sex toys on the shelves today, which is probably not a good thing for people whose chief concern is discretion.

Dry Your Tears –

Because this toy is powered by an outlet that serves up electricity nonstop, it cannot be dunked in the water at all (or even placed near moisture for that matter). However, it can be used with a good lubricant and won't be harmed by you or your partner's bodily fluids, thank Oprah!

Don't Be Nasty –

Unfortunately, the device is rather difficult to clean when you're done getting down and dirty, so you'll have to invest in a good toy cleaner or, at the very least, be very careful when maintaining your unit.
The Final Verdict
All in all, the robust Rockbox 2 is a radical sex toy that provides thrilling pleasure whether you're a man or a woman. While it may have a few design flaws, such drawbacks tend to come with the territory when you're using a straight-up power tool for your pussy or penis. Since it comes equipped with all the attachments you need to start humping immediately, it's a sound investment and it tends to last quite a while when cared for properly.
Despite the fact that John James is quite the character, there is one thing he has in common with everyone else: he likes a high quality sex toy just as much as the next guy.
Noticing that there were no legitimate websites out there reviewing all the amazing synthetic vaginas on the market, John James set out to do something about it.
After all, it is painfully obvious that today's men really need to know more about their options.