I usually don't like messing around with devices that look like NASA developed them, but when you're dealing with unmanageable erectile dysfunction or a short, skinny dick, you gotta do what you gotta do, am I right, guys?

I suppose it's a necessary evil if you want real results. After all, those overly simplistic penis pumps seem to do nothing but steal my money and my goddamn dignity.
At least when I'm using the LA Pump Deluxe System I feel like I'm getting something done. This thing is recommended by doctors for fuck sakes. And while it's not exactly designed for pleasure, it will certainly increase your penile prowess if you use it right. Made specifically to combat limp dick syndrome, I found it easier to use than I first expected.
What Is the LA Pump Deluxe System?
As the name suggests, the LA Pump Deluxe System is an erectile dysfunction penis pump that's supposed to improve the strength of your erections, enhance the girth of your shaft, and thereby boost your bedroom performance.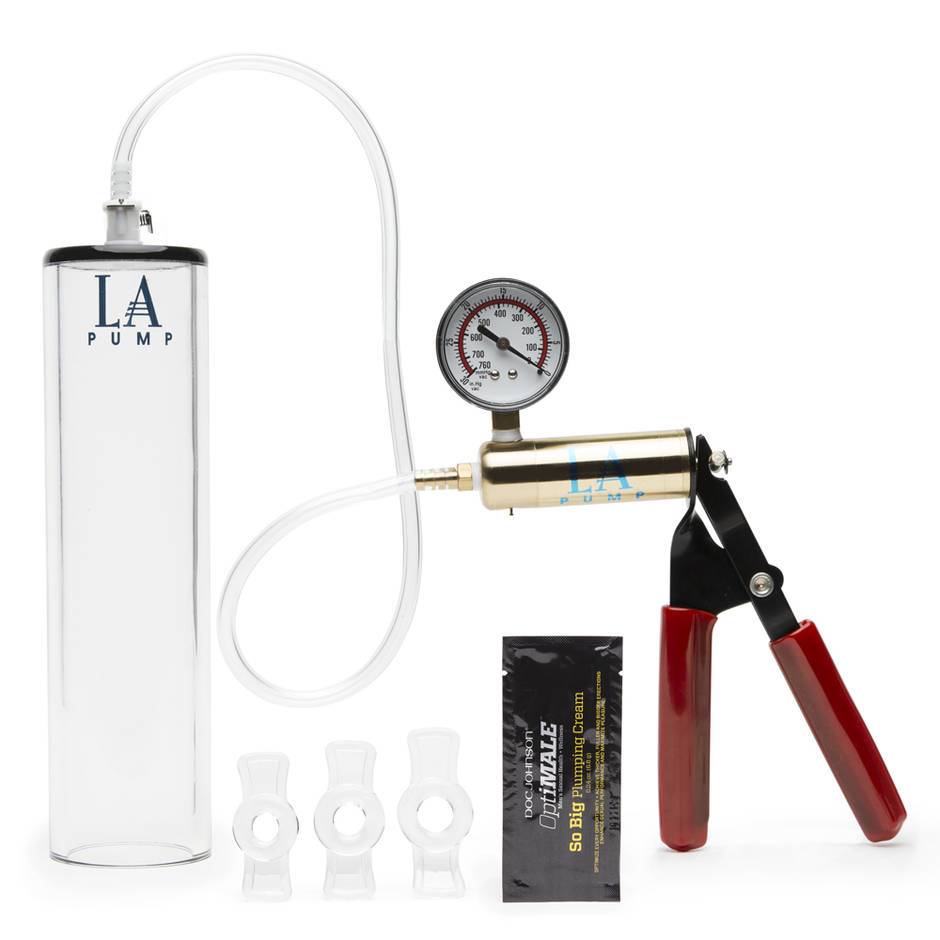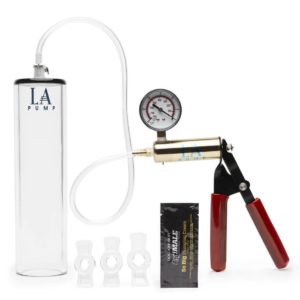 It comes as a completely self-contained system, with everything you need to get started as soon as you open the box. Developed by specialists, it's designed to make sexy time easier, less embarrassing, and more enjoyable for everyone involved.
The system is made 100% in the United States, which may or may not be a good thing. In my experience, those foreign fucks tend to make better sex toys and penis pumps, but the LA Pump Deluxe System caught me by surprise. Solid and durable, it has stood the test of time so far. And since it treats ED, I've decided to keep it around for a bit longer just to earn some bragging rights and street cred.
CLICK HERE TO FIND THE BEST PRICE ON THE INTERNET
The Main Features
The LA Pump Deluxe Erectile Dysfunction System isn't as complicated as it looks, especially once you get use to how it works.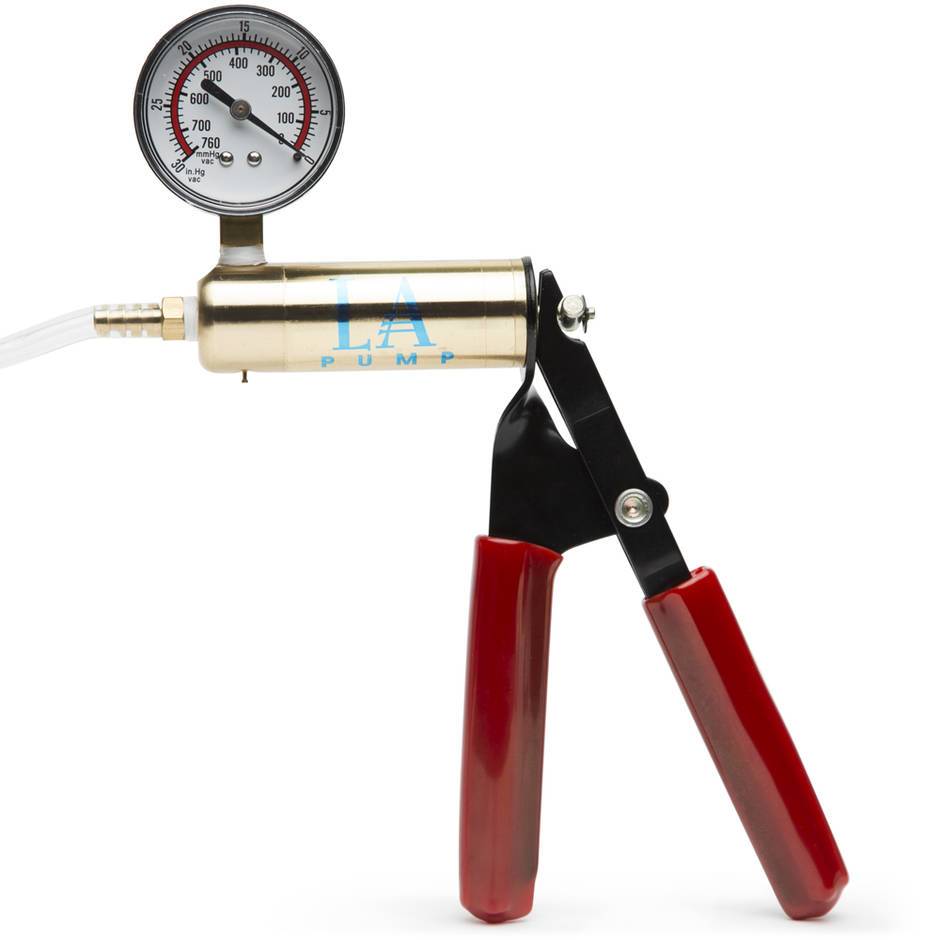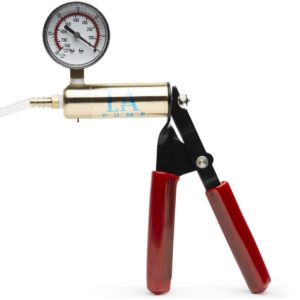 Like most ED devices, it uses a tube that's attached to a handheld pump and it sucks all the air from the cylinder one squeeze at a time. It delivers a super strong grip that's relatively customizable too. The LA effectively plumps your junk until the tension gets halted via the quick-release valve resting conveniently on top of the connector piece that attaches the tube to the pumper.
The system's pressure gauge is a nice touch too, although it looks a bit like an air pump for a bike tire. Despite it's relatively conspicuous appearance, it's made to aid with accuracy. Just a few uses, and you will be able to determine just how many pumps your penis can withstand without bursting like a bubble. With each squeeze, the vacuum becomes a little stronger. But be careful, gentlemen. I found that the difference between one or two pumps can be enough to make you wonder whether you're about to rip your dick off. I suggest taking it slow with this bad boy until you know what it's capable of; it doesn't play around.
It also features a clear penis cylinder which is designed to let you watch the progress as you pump your life away.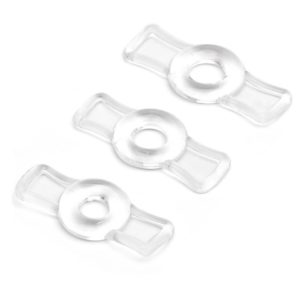 The manual pump gives you even more control over the situation, and if you've ever tried an automatic pump you know exactly what I'm saying. While the manufacturer admits that results are bound to vary, the LA Pump Deluxe is one of the only ED devices on the market that comes with an endorsement by medical professionals.
Furthermore, it's made from completely skin-safe plastic that contains absolutely no latex or phthalates (and you already know that's a good thing). It's waterproof too, you giving your groin a pep talk in the bath or shower is no problem whatsoever. With an internal length of 9 inches and a total canal diameter of 1.75 inches, it can accommodate almost any sized penis imaginable. I do suggest using some lube though, just because it helps create a better seal.
What Comes in the Box?
I mentioned earlier than the maker of the LA Pump Deluxe Erectile Dysfunction System provided buyers with everything they needed to get the party started immediately after opening the box and I wasn't lying. In fact, they even include a couple things that I didn't expect – items that are damn near mandatory for a good pump action but seldom come with other products. While you won't get a big supply of the freebies included, you can start pumping your penis straight away without having to run out to the store.
The box, which is completely transparent and thus not discreet at all, probably isn't the best thing to store your pump in. However, the system comes apart rather easily and can be kept in your closet or under the bed without anybody finding out. The manufacturer doesn't offer a sold-separately case either, so if secrecy is your main concern then you may want to think about that before you purchasing this thing.
Regardless, inside the tell-all box you'll find the following accoutrements: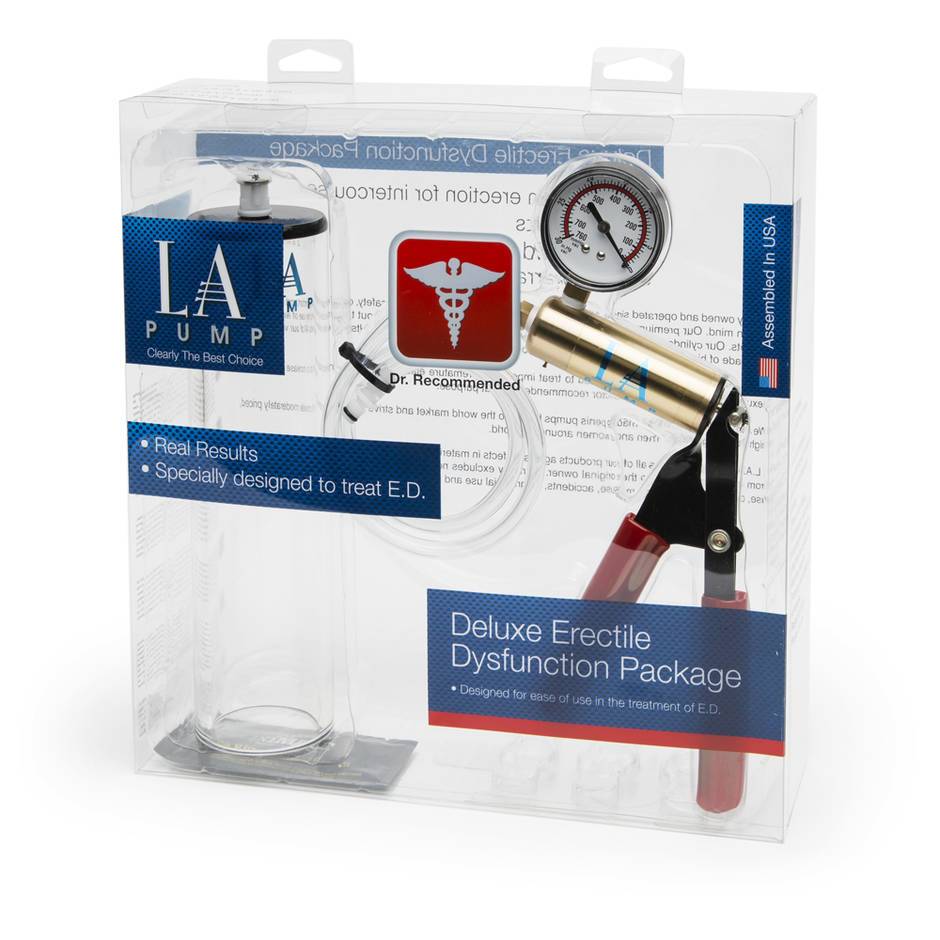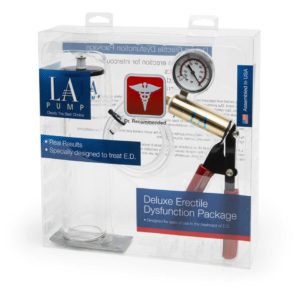 The LA Pump Deluxe clear, rimless cylinder
A premium, durable, handheld pump (it looks like a set of plyers, which obviously provides a better grip and a more substantial pump than the standard bulb)
A pressure gauge (it's attached to the pump, so no extra assembly is required)
2 feet of vinyl tubing
3 different sized restriction rings (think of them as supportive cock rings, if you will)
A small packet of Doc Johnson water-based lube (for that super seal I was talking about a few minutes ago)
Connectors (these are needed to disconnect the pump from the cylinder and/or to retain the pressure build-up)
An instruction manual (and you'll probably need it, at least for the first few uses)
Keep in mind, however, that you'll need to keep this puppy clean. It doesn't feature any vents or holes to let your dick breathe because, quite frankly, that would defeat the purpose. So, you'll want to invest in some toy cleaner or at the very least some antibacterial soap. The maker assumed you'd know that and didn't include any in the box.
What Does It Do?
If you don't know what a penis pump does, you should probably do some homework before tackling this mamma-jamma.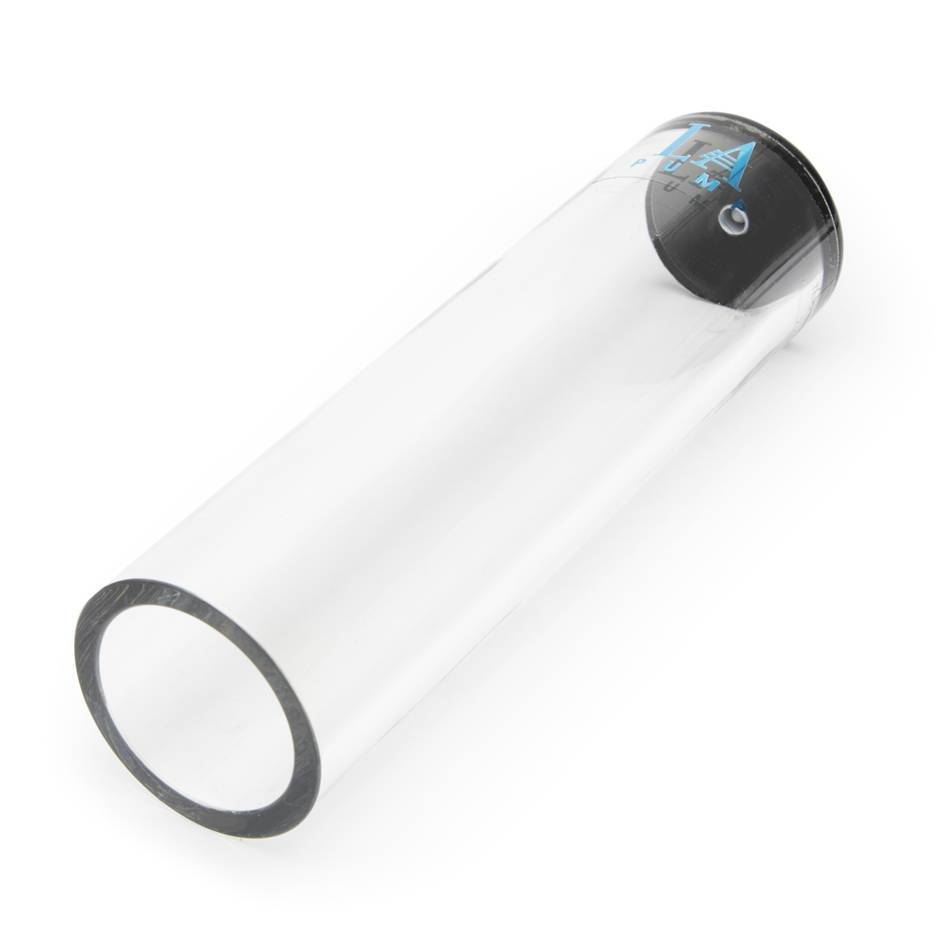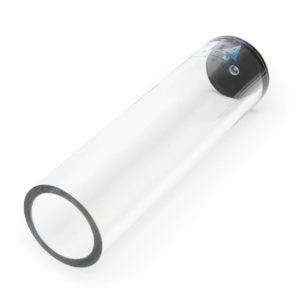 Better yet, start small. Get yourself a cheaper, less complicated model and figure out what to do with it. For those of you who are well aware of what penis pumps are, how they, work, and why erectile dysfunction is such a pain in the ass, you won't be surprised to learn that the LA Pump Deluxe creates a strong vacuum seal around your entire shaft to increase blood flow and create a strong erection.
Remember that penis pumps can only produce semi-permanent results, meaning your dick will only stay hard for a little bit. However, the tissues in your junk will respond to regular use of a penis pump, so you might eventually achieve a noteworthy stiffy on your own. Furthermore, I noticed that this thing is made primarily to help us ED sufferers get it up, but it actually increases the length (slightly) and the girth (majorly) of your penis after a while.
How Does It Feel?
Like almost all penis pumps out there, the LA Pump Deluxe feels rather tight and restrictive when you use it right. Good thing it's not recommended to use a penis pump for more than 20 minutes at a time. Still, you can pump to your heart's delight as many times a day as you'd like. Just be prepared for some serious squeezing action if you do.
I suggest using the handheld pump with serious caution if you know what's good for you. Because the pressure increases when the pump is released and not when you squeeze it, I recommend a slow and gradually decreasing grip. As for the pressure valve, don't be slapping that baby open all willy-nilly or you'll be sorry. The point is to create a hefty vacuum seal and then release your dick from bondage as leisurely as possible – sort of like the American justice system handles the release of prisoners (painfully slow and tedious).
The Cheers and Jeers
Don't be a loser and think that there's a such thing as the perfect penis pump; there isn't. Also, don't be a whiney ass and complain too much about the relatively minor flaws that this one has. You're not going to find a flawless product on the modern market no matter how hard you try. So, suck it up and figure out what you can live with and what you need to avoid.
In terms of the LA Pump Deluxe Erectile Dysfunction System, the following are what I've determined to be the pros and cons:
PROS
Don't Let Go –

The way in which this device is made creates an excellent seal around the base of the shaft, especially if you apply a little bit of lube to the rim before you start pumping.

Bigger and Better –

The pump isn't a bulb; it's a two-handled metal grip that gives you more surface area to hold onto and better control over the pressure you create inside the cylinder.

Strong, Silent Type –

The unique plyer-like hand pump provides super strong suction without producing that annoying "whiz" sound that so many penis pumps create.

Rim Shot –

I was a really big fan of the LA Pump Deluxe System's rimless cylinder because, let's face it, all that pressure plus a sharp edge is not a comfortable combo.

Just Let Me Watch –

Not only is the clear cylinder great for controlling the amount of pressure build-up within, but it's also awesome for dudes (like me) who want to see what their cocks look like long and strong again.

Well, Actually –

There are few things worse than a pressure gauge that's way off or needs calibrated constantly. Luckily, this is not one of them.

Size Me Up –

The cylinder's internal length and diameter are pretty ideal for men of almost all sizes while still giving plenty of room to grow if you know what I mean.

Righty Tighty, Lefty Loosey –

The pressure valve was both secure when closed and easy to open when I needed it to be. Who could ask for more?

Doctor's Orders –

As one of the only penis pumps that comes with a recommendation from a doctor, you know this son of a bitch is safe and effective.

CONS
Cha-Ching –

The LA Pump Deluxe System is kind of pricey, but by far not the most expensive device on the planet.

Large and (NOT) In Charge –

You can't use this thing if you have a really big dick, it doesn't matter how bad your ED is or how much lube you slap on the opening.

Hidden Agenda –

The manufacturer could have thrown in a cheap carrying case or solid-colored storage bag for the price, but alas, they didn't.

Stay in School –

This pump is somewhat difficult to assemble and use the first few times, so thank fuck there's an easy-to-read instruction manual that comes with it.

One Too Many –

The difference between one squeeze of the pump and the next is absolutely mind-boggling, and also somewhat uncomfortable if you're not careful.
WHERE TO BUY LA PUMP DELUXE ONLINE:
LOVEHONEY.COM (BEST PRICE & FASTEST DELIVERY)

CLICK THE BUTTON TO REVEAL A SPECIAL 15% LA PUMP DELUXE DISCOUNT CODE:
The Final Verdict
Overall, I can't really complain about the functionality or design of the LA Pump Deluxe Erectile Dysfunction Penis Pump System even if I tried. Having used it numerous times over the course of a few weeks, I've seen a significant increase in the thickness of my Johnson when it's fully erect. I also have better stamina and more confidence as a result of my strenuous routine. I even tried it in the shower to ensure the pressure wasn't lax because of the water and it was a big NOPE. I found that a quick pump before entering the water box gave me the perfect opportunity to groom my groin in private. And considering the high price of creams, pills, and apologies, this thing has more than paid for itself.
Despite the fact that John James is quite the character, there is one thing he has in common with everyone else: he likes a high quality sex toy just as much as the next guy.
Noticing that there were no legitimate websites out there reviewing all the amazing synthetic vaginas on the market, John James set out to do something about it.
After all, it is painfully obvious that today's men really need to know more about their options.