Listen, cock rings and vibrators are all over the place.


On any given day, you can do a search on the internet or go shopping at a sex toy store and find a gagglefuck of options to choose from. We're all trying to discover the next best thing, or at least something that's not basic AF. I can tell you right now, the toy I'm about to describe is nowhere near basic. In fact, it's probably the most unique thing I've seen in a really long time.
If you looked at this toy and thought, "What the hell is that?" you're not alone, believe me. I couldn't tell what I was dealing with either, at least not until I cracked open the box and took a healthy gander at the surprise inside. Once I did, the only thing that came to mind was that this male sex toy was likely to either feel amazing or hurt like hell. However, since it's made from the trusted Doc Johnson brand, chances are it would vibrate me to death in the best way possible. Oh, what a sweet and sexy way to die!
What Is the Doc Johnson Tryst Vibrator?
To the best of my knowledge, the Doc Johnson Tryst is a high-tech, uniquely made, ergonomically designed cock ring-slash-clitoral vibrator.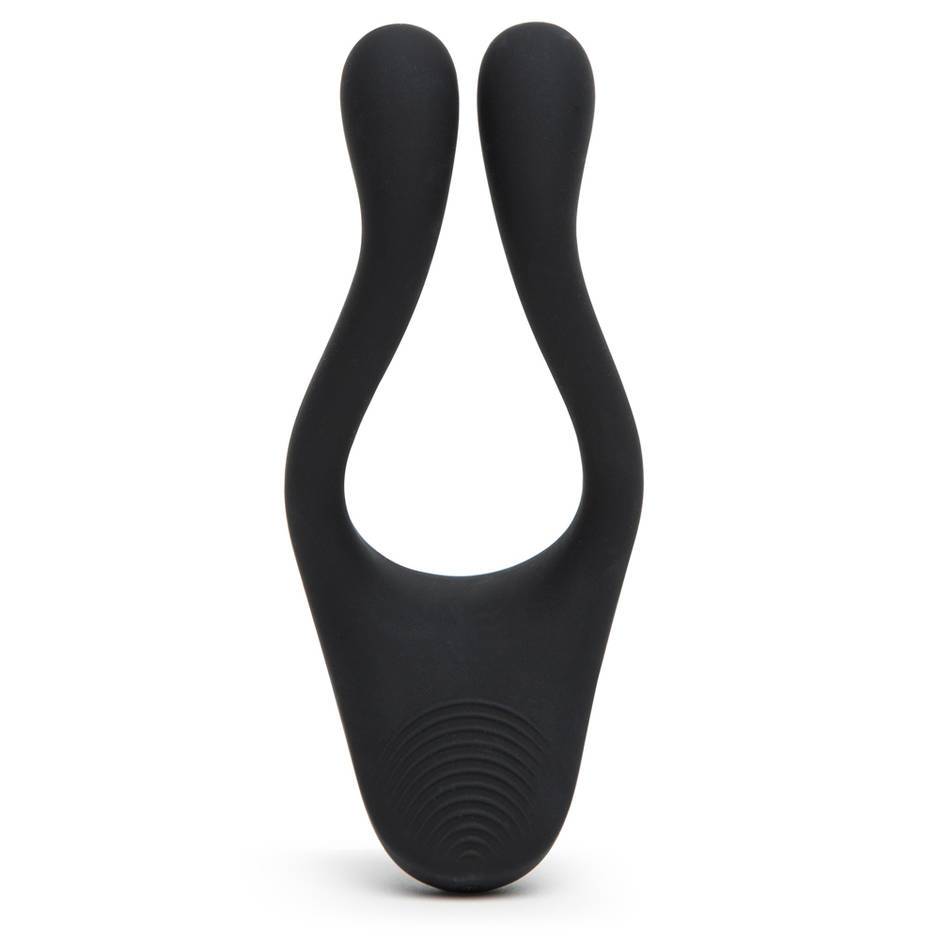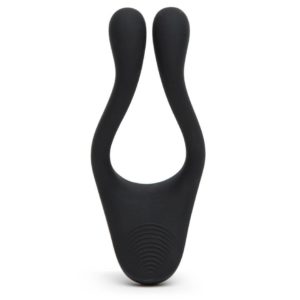 According to the manufacturer, it provides both internal and external stimulation to the average male or female body. Furthermore, it's supposedly ideal for solo missions as well as couple's copulation, and as a multi-erogenous zone massager, I can certainly see why they'd advertise it as such. Either way, the Tryst is a twist of Biblical proportions that deserves an honorable mention at the very least.
I feel like I should also mention that this toy doesn't function like your standard sex toy, nor does it look like what you'd expect from a male/female pleasure product. As a real all-in-one machine, it's perfect for the guys and gals, functioning as a cock ring, a nipple teaser, a vaginal vibrator, or even a butt plug. So, it's obviously designed to make all your other sex toys obsolete. Just don't forget to slather on the lube and clean it properly when you swap zones. You have been warned.
CLICK HERE TO FIND THE BEST PRICE ON THE INTERNET
The Main Features Of The Tryst By Doc Johnson
To put it lightly, the features of the Doc Johnson Tryst are intriguing yet user-friendly.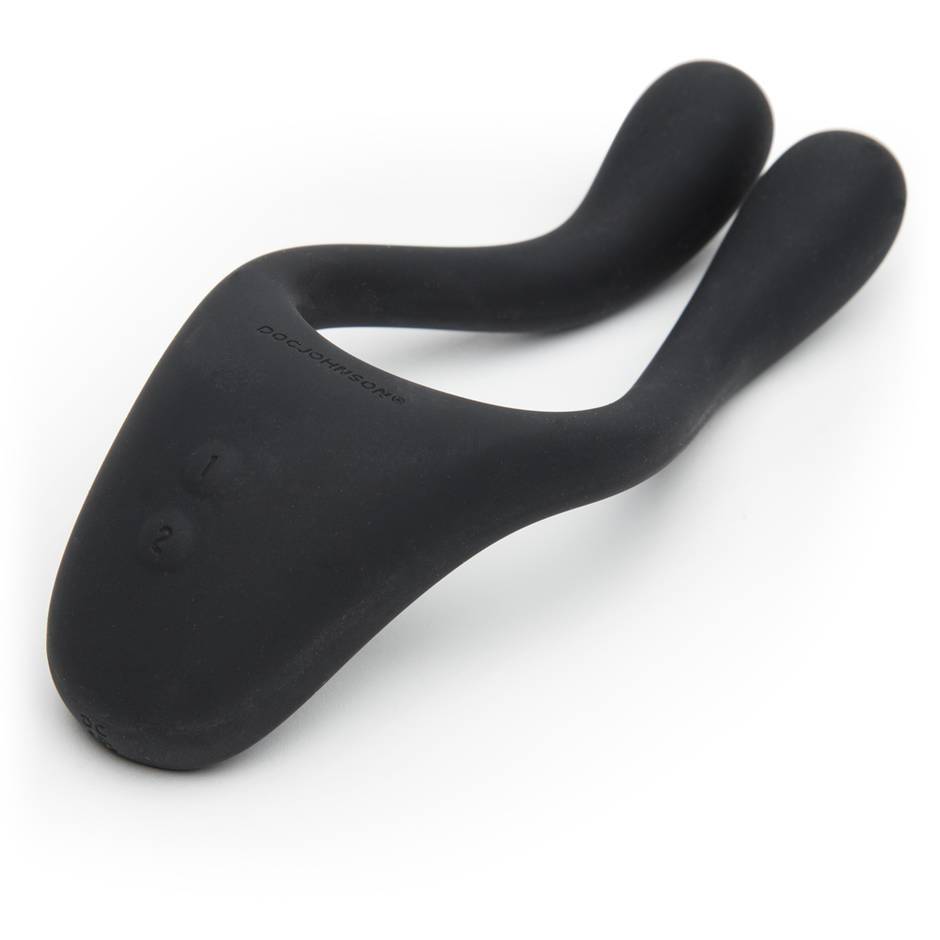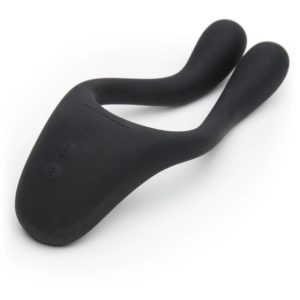 This thing has a thick, tapered base that's made to function in various ways to provide an array of sexual healing. At first glance you may find yourself wondering how it operates, but the two buttons of the top of the toy do all the work and it's super easy to figure out.
Furthermore, the pad on the bottom of the toy is textured for extra stimulation regardless of how or where you use it. It also features two semi-flexible bulbous arms with rounded tips – each designed to fit snuggly around the base of the penis or balls, not to mention fit nicely inside the pussy or asshole. So yeah: This luxurious multi-erogenous zone vibrator can be worn as a cock or clitoral massager, but it can also be shoved inside to reach your g-spot or p-spot. Now that's worth writing home about.
Made from silky-smooth medical-grade silicone, it contains no latex or phthalates so it's safe for folks with skin sensitivities.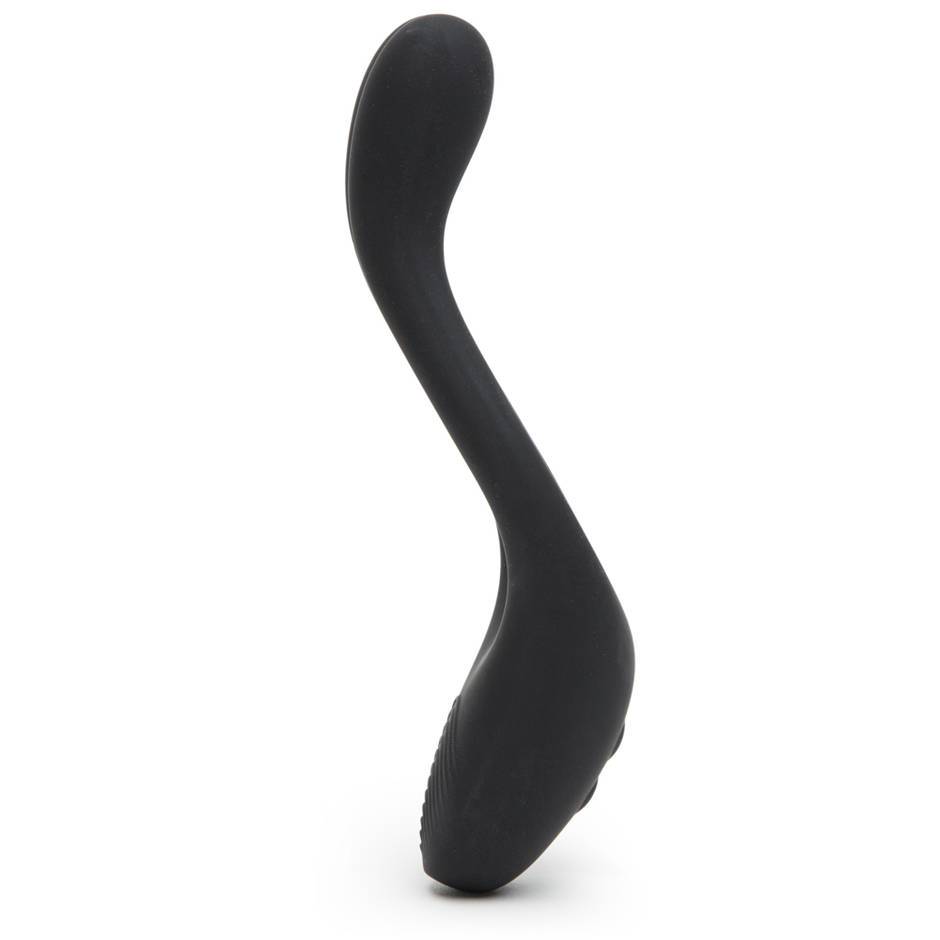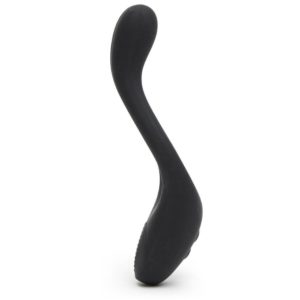 The 4-inch circumference and 3.5-inch insertable length of the toy is small enough to remain comfortable yet large enough to take charge of any body type. The overall design, albeit compact, houses three robust motors that deliver 7 different vibration modes. Perhaps best of all is that it operates silently and has a fully rechargeable battery which uses a standard USB cable. Oh yeah, and it's also waterproof. So, you're basically only limited by your imagination when it comes to using the Tryst.
What Comes in the Box?
Your initial impression of the Tryst may be a lot like mine: "This is it?!" But I'm telling you, the toy itself has everything you need to bust a proper nut, no complicated attachments required. The rectangular box is relatively small and features a clear, plastic window that reveals what's inside (so say goodbye to discreet storage). However, the condensed packaging does have a very telling sticker on the front – one that reads "Cosmopolitan Sex Toy of the Year." If that doesn't get you excited, I don't know what will.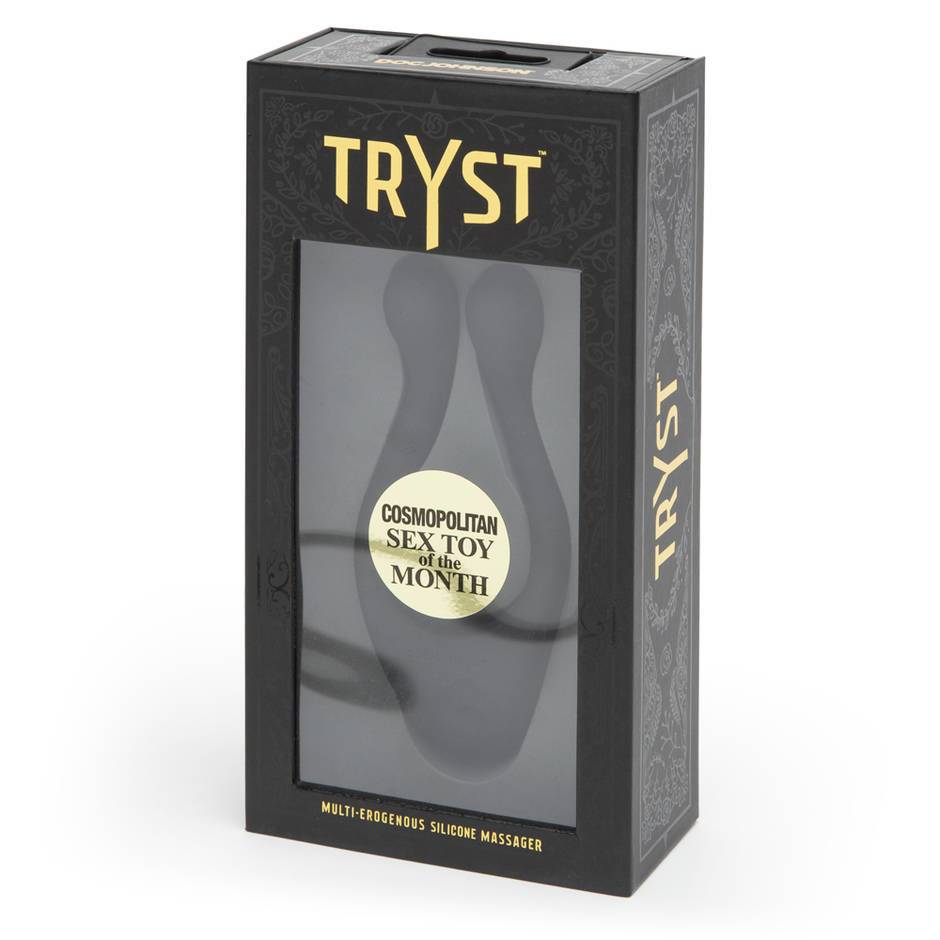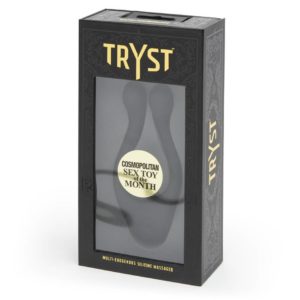 Inside, you'll find the following items:
The Doc Johnson Tryst Rechargeable 7-Function Multi-Erogenous Vibrator
A standard USB charging cable
An instruction manual
What you won't get in the box is a sample packet of lubrication, most likely because of the versatility of the toy. After all, the manufacturer has no idea how you'll use it and probably doesn't want to make assumptions. You won't find any toy cleaner either, which I HIGHLY suggest using since the Tryst is bound to do some traveling. Fortunately, this thing can be cleaned with a little warm water and a gentle soap, so you can save some money there as long as you promise to give it a bath regularly.
How It Feels
It's very difficult to explain how the Doc Johnson Tryst vibrator feels, at least without breaking it down based on the erogenous zone you plan to use it on. So, without further ado:
AS A COCK RING

– It will basically vibrate your pants off, especially on its highest setting. Be warned, however, it can fit rather snuggly around large penises or balls, so lube up if you know what's good for you.

AS A CLITORAL STIMULATOR

– The super powerful motors and wide range of vibe functions will shimmy and shake your clit into submission, especially if you use it with a partner.

AS AN ANAL PLAYTHING

– Not the best thing for butt play, the Tryst will still stimulate your anal canal in a pleasurable way. Although it's supposed to be shaped for p-spot pleasure, it may be difficult to separate the two bulbous arms enough to get it far enough into your anus. Then again, you can always use it as a clip and vibrate your perineum at the same time. It's pretty much based on your body size.

AS A NIPPLE TICKLER

– It certainly works wonders on the nipples, but the highest vibe setting may be a little too intense for some (especially the women). I suggest starting on the lowest function and working your way up to find the speed/strength that works best for you.
Because your imagination is the only limitation with the Tryst, your experience may vary slightly from the one I had. Still, this thing is certainly a one-stop-shop that may or may not replace the other toys in your stash. While it does leave a few things to be desired, it's perfectly sized for travel and can serve as an on-the-go pleasure provider in a pinch.
The Cheers and Jeers
Like I said, the Tryst by the trusted Doc Johnson brand is an impressive work of perversion, but that doesn't make it perfect. It has a few minor flaws, but overall, it's a magnificent machine with plenty of well-earned bragging rights.
PROS
Explore Your Options –

The sheer versatility of the Tryst is worth a second look, I'll tell you that right now.

Charges Filed –

You won't need any batteries or special attachments to get this baby up and running.

Water Baby –

This toy can be taken into the bath, shower, pool, or hot tub as you see fit.

Prejudice Not Included –

The ergonomic, body-friendly design of the Tryst makes it perfect for almost anybody.

Play Date –

The toy can be used in solo mode or with a partner.

Last, but Not Least –

The battery life, when fully charged, is long-lasting and powerful down to the last drop.

Easy-Peasy –

With only two simply buttons, the Tryst is extremely easy to operate.

CONS
Patience Is a Virtue –

It can take up to 2-3 hours to fully charge the battery after you drain it.

Sorry, Charlie –

If you have a horse dick, a long vaginal or anal canal, or extremely large balls, this thing may not fit your body as well as you'd like it to.

Button Up –

While the two-button interface is easy to use, a wireless remote would be nice.
WHERE TO BUY DOC JOHNSON TRYST ONLINE:
LOVEHONEY.COM (BEST PRICE & FASTEST DELIVERY)

CLICK THE BUTTON TO REVEAL A SPECIAL 15% DOC JOHNSON TRYST DISCOUNT CODE:
The Final Verdict
Overall, the Doc Johnson Tryst is worth the money and can provide you with hours of versatile pleasure in and out of the bedroom.
Despite the fact that John James is quite the character, there is one thing he has in common with everyone else: he likes a high quality sex toy just as much as the next guy.
Noticing that there were no legitimate websites out there reviewing all the amazing synthetic vaginas on the market, John James set out to do something about it.
After all, it is painfully obvious that today's men really need to know more about their options.