At A Glance: Our Top 4 Picks for Vibrating Cock Rings
IMAGE
PRODUCT

Our Top Pick

Our Top Pick

100% Waterproof
6 Pleasure Settings
Fully Rechargeable

Silicone vibrating cock ring with 2 powerful motors
100% Waterproof
5 different pattern modes

Powerful rumbly vibrations
100% Waterproof
Stretchy and comfortable

Made With Silky Smooth Silicone
100% Waterproof
Fully Rechargeable
What Is a Penis Ring (a.k.a. Cock Ring)?

Out of context, a cock ring is just a simple elastic loop that you wrap around your junk to restrict blood flow. Seen from a different perspective, however, a well-made cock ring is a man's best friend – a mighty weapon of "ass destruction" in a global arsenal of synthetic toys that are designed to improve sexual performance and increase gratification. Put simply, the right cock ring can make all the difference in the sack (and that goes for everyone involved)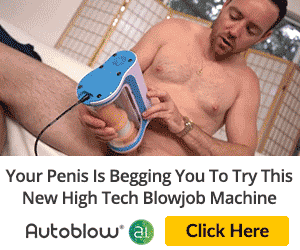 Unfortunately, finding the right product is easier said than done, especially in an over-saturated market. From the looks of things, everyone has the best cock ring in the land.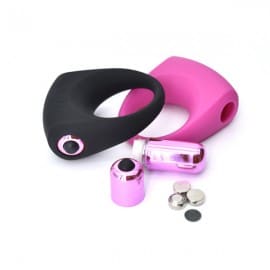 But, it's not possible for them all to be equally amazing, is it? The answer to that question is a quick and painless no. And since the answer is no, we figured that a simple cock ring buying guide would help our fellow fuckers with their precious purchasing decisions. Yes? (You can also read our tips on how to wear a penis ring here)
We know that when we first stepped into the cock ring arena, we didn't know our asses from our elbows. All we saw were thousands of options, and all we had was one rock-hard dick begging for more action. We stumbled our way through the muck until, one day, we emerged as experts in the field (and as owners of some pretty badass fuck toys). Now, we're here to share our knowledge with you.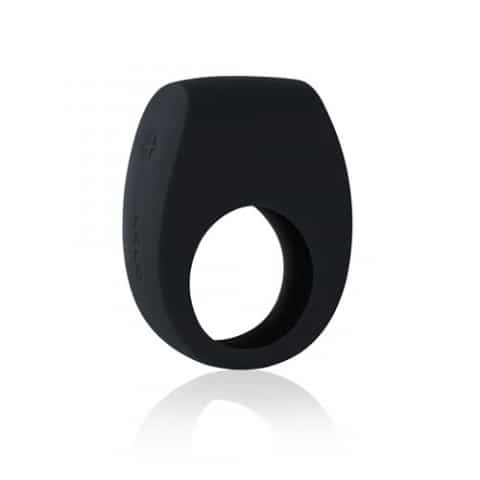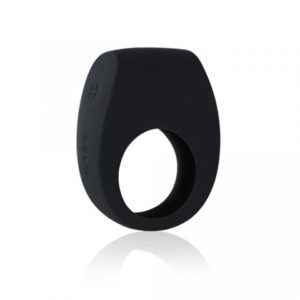 And although you won't get out of here without spending at least $100, you will leave feeling more satisfied than you ever have before – because we care about the quality of your nut, and because we have done all the hard work and money wasting ahead of time. You're welcome, sluts. However, among the beautiful fruit we've hand-picked for you, we've discovered a few striking similarities. Because of that, we've also devised a short checklist to help newbies like you decipher the complicated cock ring code.
A Quick Guide That Will Help You To Choose The Best Cock Ring On The Market
One of the cock rings on our list will surely have exactly what your dick desires. But before you decide, consider a couple key points so you can tell when you've found the right one:
Sensation – The main concern regarding any sex toy is whether it feels good or not when used as intended. Each cock ring on our list has been expertly reviewed by our staff of professional perverts, and we agree – without a doubt – that silicone parts are, indeed, made for toys. Opt for a ring that's made from this high-tech material and you're good to go. Moreover, try to find a toy that does more than just wrap around your dick. See that it vibrates in various patterns, is Bluetooth compatible, or that it has a remote control included. It's 2018; there's an app for that.
Features – Consider the design and function features of each toy in question, but also think about your intentions with it. Ask yourself, "Who will I be fucking?" and "What about their needs?" We've got a few questions of our own, like, "Why are you such a selfish prick in bed?" and "Don't you think about anyone but yourself?" We'll go ahead and assume the worst and advise that you check out the bells of whistles of each cock ring on the list, ya know, just to make sure you get laid again after all is said and done. Look for the following features to get the most out of your chance at some amazing sex:
Waterproof
Rechargeable
Multiple pleasure settings
Perineum and/or clitoral stimulator
Manufacturer's warranty
Durability – Remember that this thing is going to be strapped around your rock-hard dick while it's being fucked by God knows what. Our guess is that you'll need the Lee Dungarees of cock rings – It can't be busted. Silicone is good for this purpose as well, but silicone is ultimately destructible and loses its elasticity after a while. Choose a cock ring with a solid design, perhaps go for one that has a carrying case, a durable outer shell, or a few plastic parts at the very least. Otherwise, you'll just have a broken cock ring and a broken heart after about a year or so.
Discretion – A handy dandy carrying case for your cock ring will have more than just one use. If you think about it, a durable container can double as a hiding spot for your dirty little secret. Unless you want the entire world to know about your filthy bedroom habits, we suggest buying a cock ring that has one. If the design and function of the cock ring you like outweighs the fact that it doesn't come with a carrying case, we suggest making sure it's compact enough to be stowed away when it's not in use.
Cost – If something is remarkable in the way it looks, feels, and functions, most people will save up their money to afford it. Cost isn't exactly the most important factor, especially when shopping for a high-quality sex toy. As we mentioned, none of the cock rings on our list cost less than $100, with the most expensive one coming in at a cool $200. We're just big believers that you get what you pay for, so we won't even suggest a cheapy because we don't get down like that. If cost is an issue for you, consider what you get for the money. Some cock rings come with warranties and spare parts are cheap. Paying more now might actually save you money in the long-run.
Appearance – At the end of the day, most of us want a cock ring that accentuates our size and style. In other words: We don't want to wear something that makes our dick look small, or slap on a cock ring that appears to be cheap, overly flamboyant, or boring and plain. We feel as though every man should have access to the goldilocks of cock rings. After all, horny men have feelings too! All the cock rings on our list have been certified as "awesome" by the general population, so no worries about looking like a dorky asshole when it comes time to party.
Forget what you think you know about using sex toys that are made exclusively for men. For example, cock rings – they aren't just for guys who can't get it up or keep an erection. In fact, they're specifically designed to enhance each partner's sexual pleasure in a convenient and non-disruptive way that allows for deep penetration, long-lasting sessions, and more intensified orgasms. So, if you use them just to help with the quality of your boners then you're missing out on their full potential.
Ready to find out what all the fuss is about? Here you go!

Our Top 10 Best Cock Rings On The Market In 2019:
#1 The LELO Tor 2
---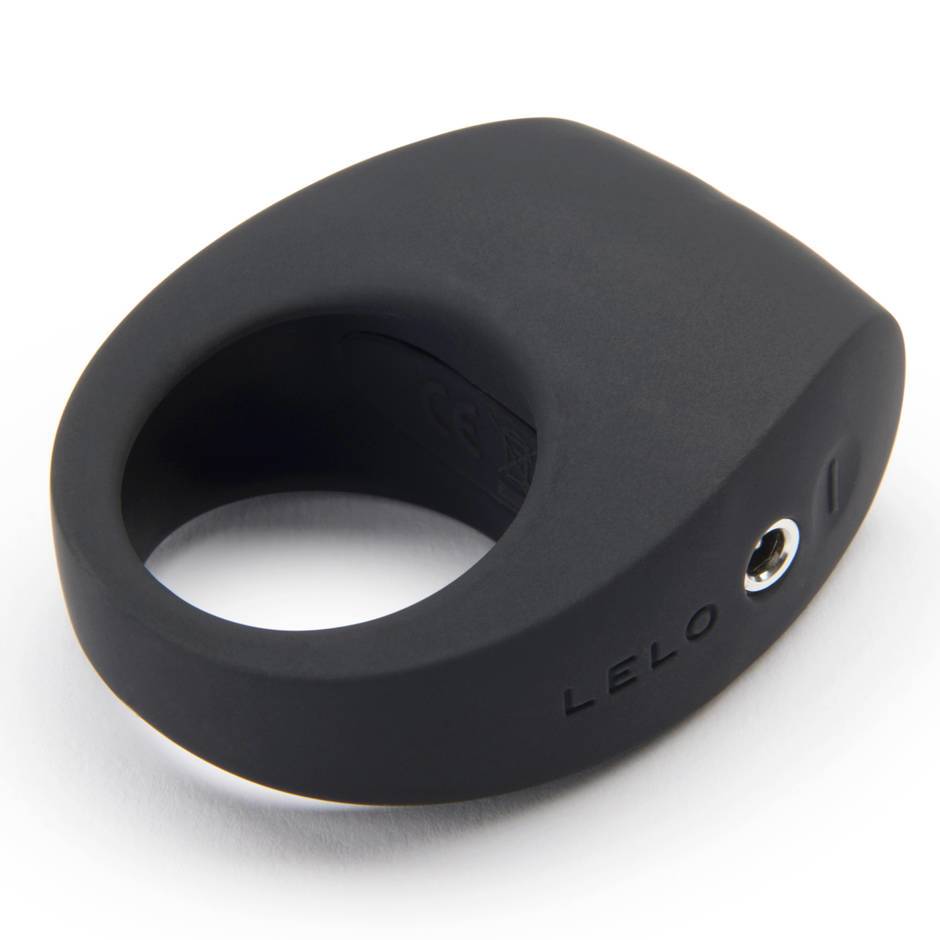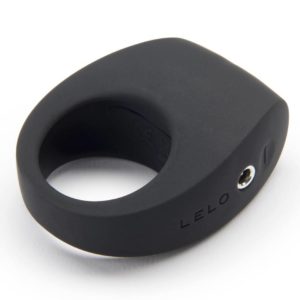 This luxury-grade pleasure enhancer is made by one of the most popular sex toy brands in the biz and it comes with upgraded features from the original. The LELO Tor 2 is the manufacturer's new and improved cock ring, complete with the same smooth and stretchy silicone material and a completely rechargeable USB-powered battery. Scroll through 6 different vibration functions using the ergonomic, built-in control interface on the side and enjoy a wide variety of experiences with the two-part construction that consists of a square bullet vibe and a stretchy ring – each of which can be used together or independently. The entire thing is 100% waterproof and the discreet size is matched only by the convenient travel lock function provided.
PROS
Four-hour battery life

Attractive presentation for unique gift-giving

Comes with manufacturer's warranty

Made from skin-safe materials

Fits most penis sizes
CONS
May not be appropriate for extra-girthy penises
#2 The Doc Johnson Tryst
---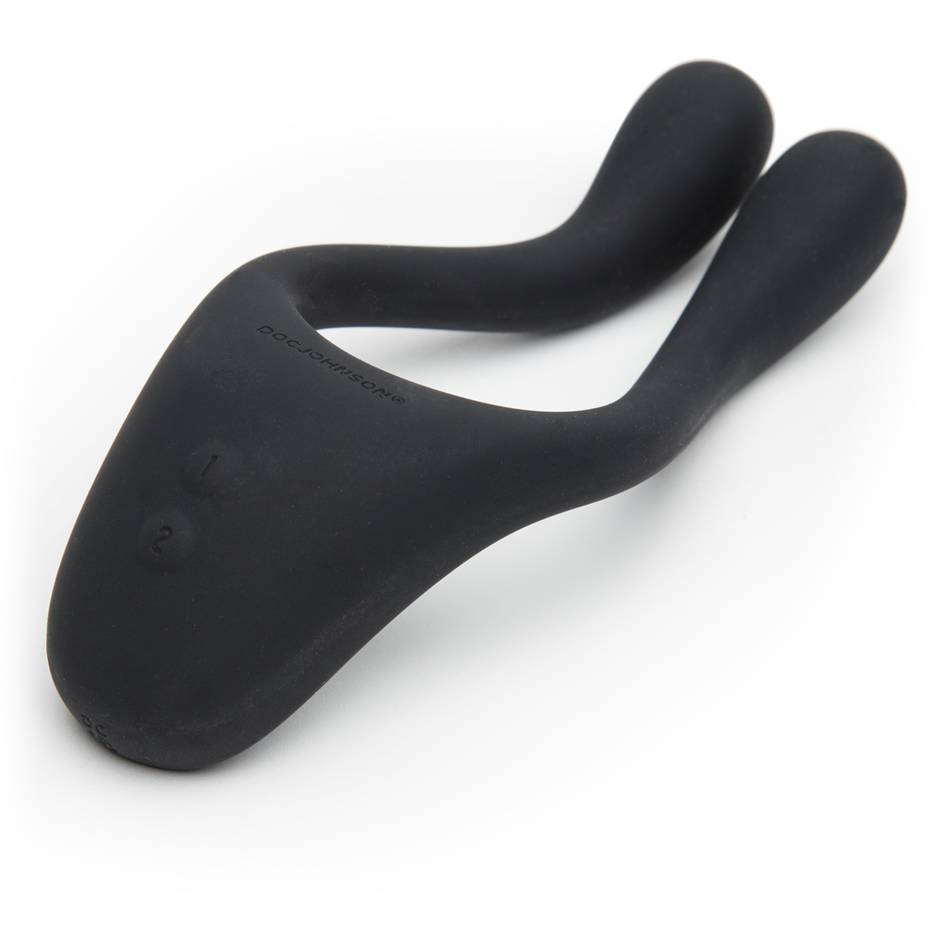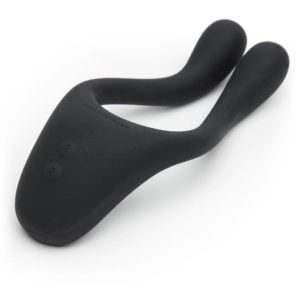 You probably won't find anything like the Doc Johnson Tryst on the market and it's all because of the unique dimensions and unconventional clasp-like design. It offers virtually endless play possibilities and can be used either internally or externally depending on the situation. With a tapered base, texturized pleasure pad, flexible arms, and bulbous tips, this thing is several different sex toys in one. Enjoy it as a clit clamp, a nipple pincher, a scrotum teaser, a body massager, or as a classic cock ring – the choice is yours. It's made from hypoallergenic silicone and boasts three powerful motors that run 7 distinct vibe settings, just in case you were wondering.
PROS
Innovative concept for more versatile masturbation

Insertable length of 3.5 inches

Rechargeable via USB connection

100% waterproof

Made from skin-safe materials
CONS
May be somewhat awkward to use at first
#3 The Je Joue Mio Luxury
---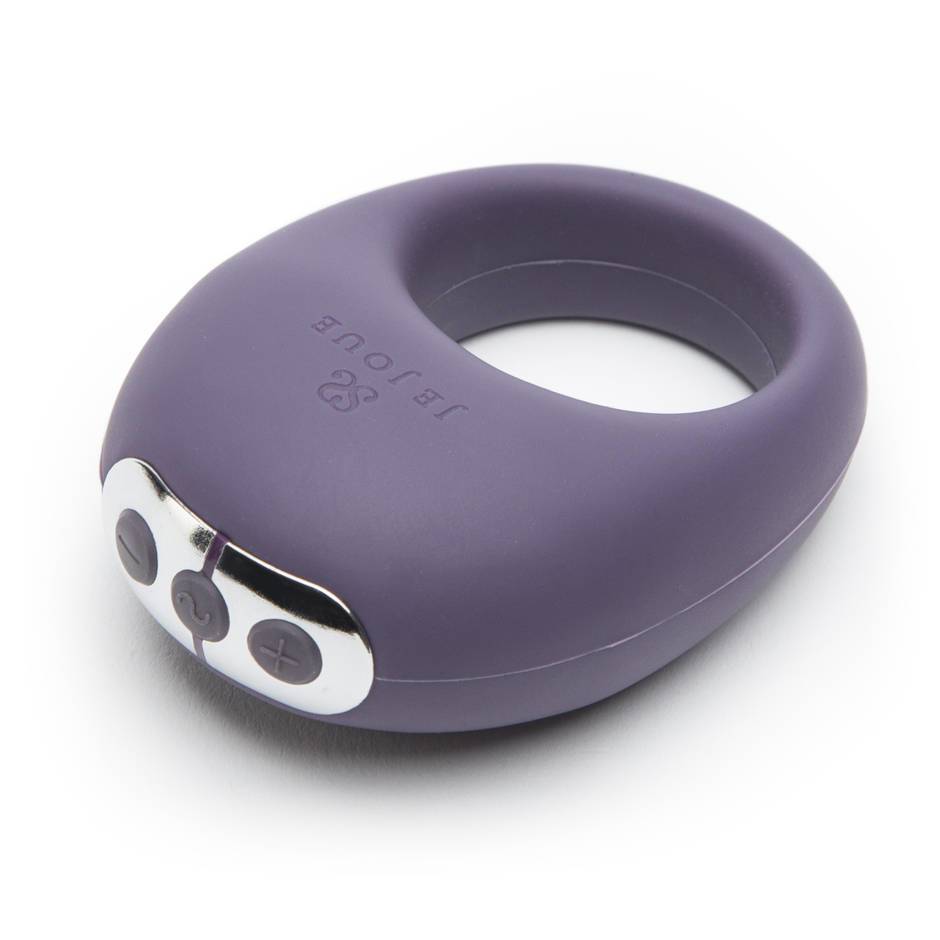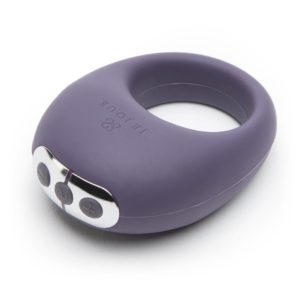 The Je Joue Mio Luxury cock ring does not fuck around, and that's evidenced by its unparalleled 25-mode vibration capabilities (5 functions times 5 distinct speeds, to be exact) and its super-smooth silicone composition that makes it ideal for all skin types. This sophisticated sex toy for men features an ergonomic clitoral stimulation pad for her, doubling your pleasure while quadrupling the fun. Furthermore, the stretchy material and built-in control interface make it easy to use for both partners and the entire shebang can be quickly recharged using a standard USB cord (which is included).
PROS
Designed to slide on with minimal friction

Large clit pad for guaranteed contact

100% waterproof

Fits most penis sizes

Attractive packaging for unique gift-giving
CONS
May not be powerful enough for some
#4 The Hot Octopuss Jett Extra
---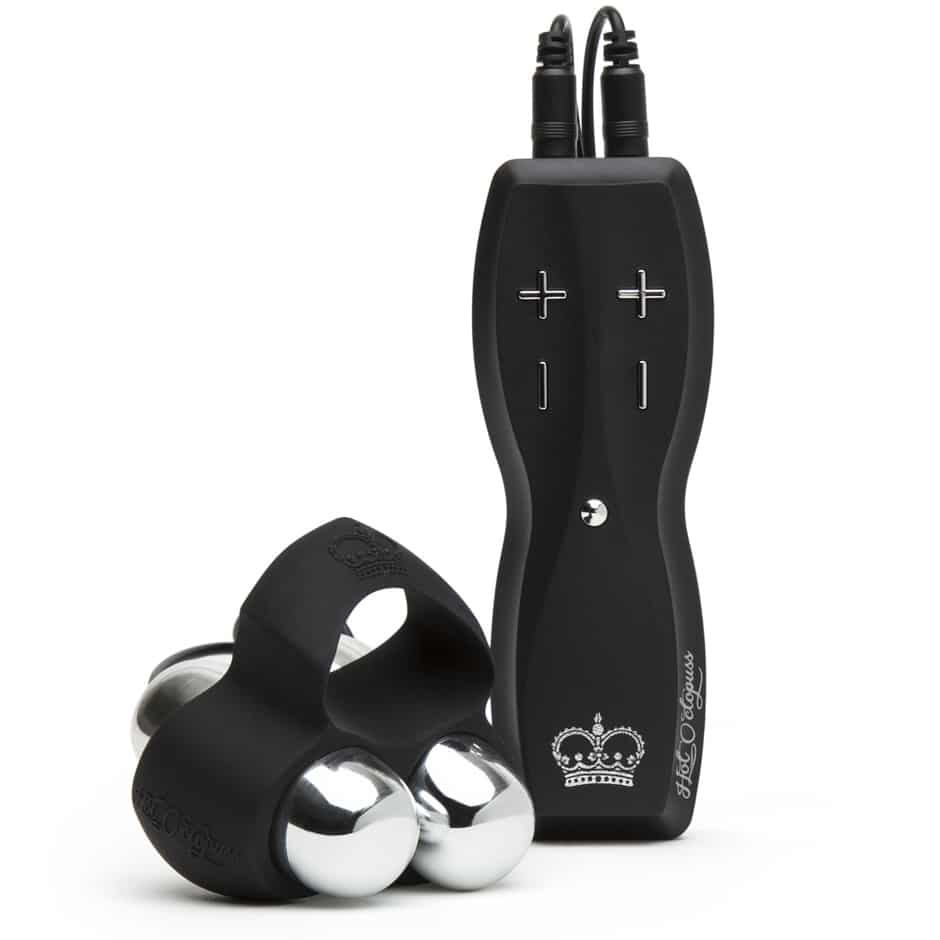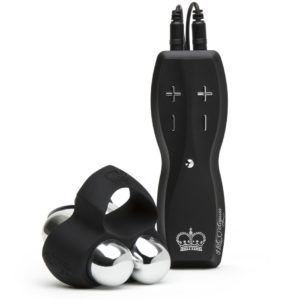 This is not your ordinary cock ring, nor is a traditional sex toy in any sense of the word. The Hot Octopuss Jett Extra is a completely innovative way to achieve a mind-blowing orgasm, with patented 'Treble and Bass Technology' that emits high-frequency sound waves instead of rudimentary vibrations. It can be used in solo mode or with almost any partner because of the personalized fitting options, effortless slip-on design, and wireless remote. Made to promote hands-free penile stimulation and dual climax potential, this deliciously dickish device offers an insane variety of pleasure setting combinations and can even be worn in different positions to enhance your performance in a brand-new way.
PROS
Ideal for couples

Intense, deep-tissue stimulation

No recharging downtime

Customizable wearing options

Made from skin-safe materials
CONS
Requires 4 x AA batteries, not included
#5 The Hot Octopuss ATOM PLUS
---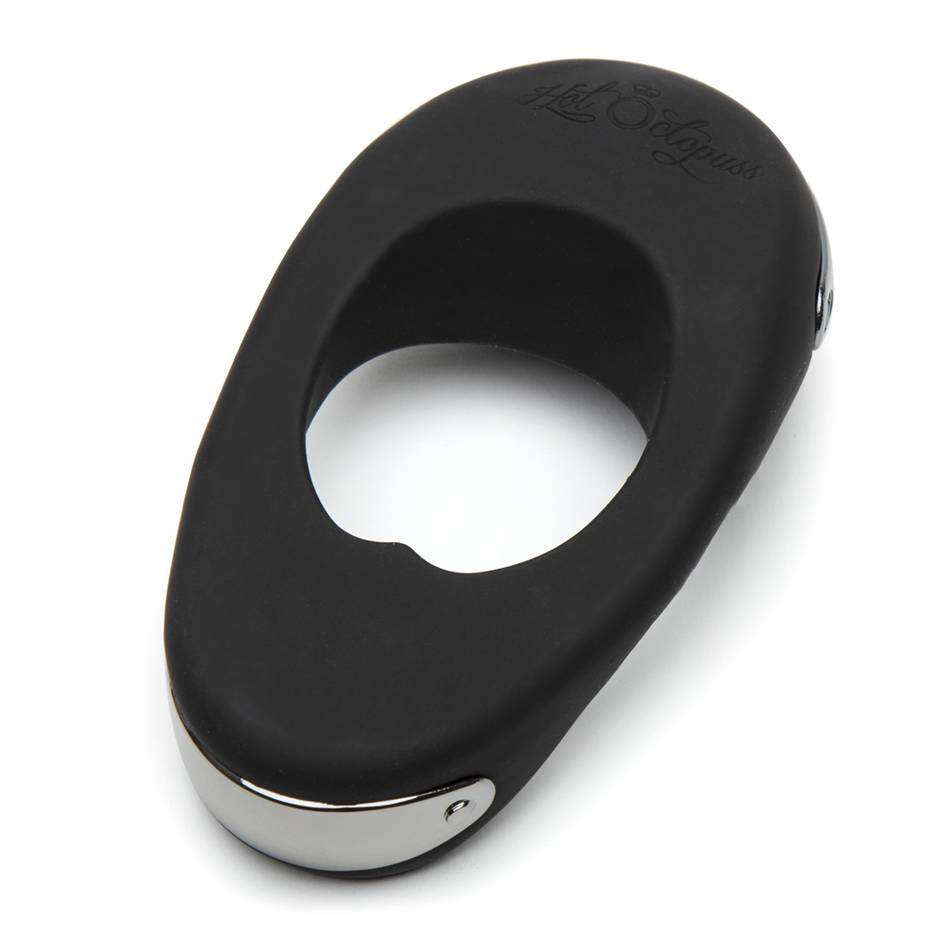 As a world's first in any sex toy category, you'd think that a device would become a household name. However, the Hot Octopuss ATOM PLUS has remained a well-kept secret of men all over the globe, with its dual integrated motors and intense perineum stimulation pad put on the ring just for good measure. It also features an ergonomic contact area for your partner's pleasure and the super-soft, stretchy materials glide on/off the shaft without pinching, bunching or twisting. The manufacturer also made sure that their product charged quickly so users can get back in the game as fast as possible – two short hours and you're ready to go all over again.
PROS
Large motors for deep, rumbly sensations

Balanced power for dual pleasure

Rechargeable via USB connection

100% waterproof

Made from skin-safe materials
CONS
May be too large for some users
#6 The WE-Vibe Pivot
---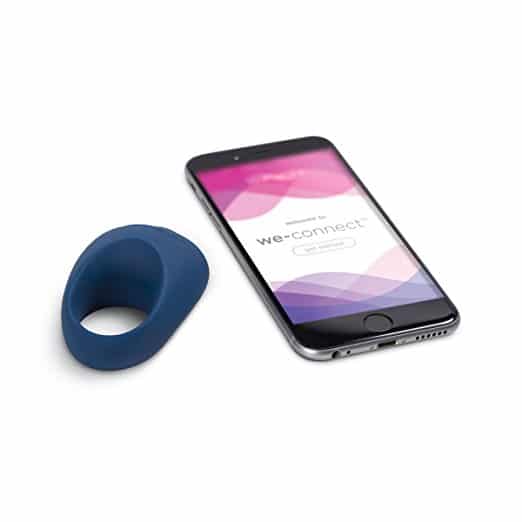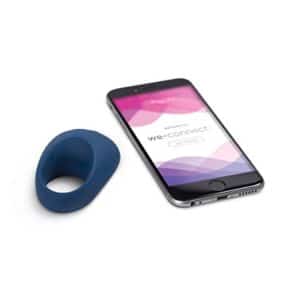 Men and/or couples looking for a high-end pleasure product without all the bells and whistles might want to look elsewhere because the WE-Vibe Pivot is made to impress while being versatile, powerful, and comfortable to wear. The super-stretchy material wraps snugly around your penis for an optimal fit and the long battery life lets you experiment for hours. Best of all, this bad boy just so happens to come equipped with a free downloadable smart phone app which doubles as a long-distance remote control. We'll wait while you let your imagination run wild. . .
PROS
Thick external stimulation pad

Rechargeable via USB connection

100% waterproof

Low power alert light for easier session management

Made from skin-safe materials
CONS
Requires extra equipment to use as intended
#7 The WE-Vibe Verge
---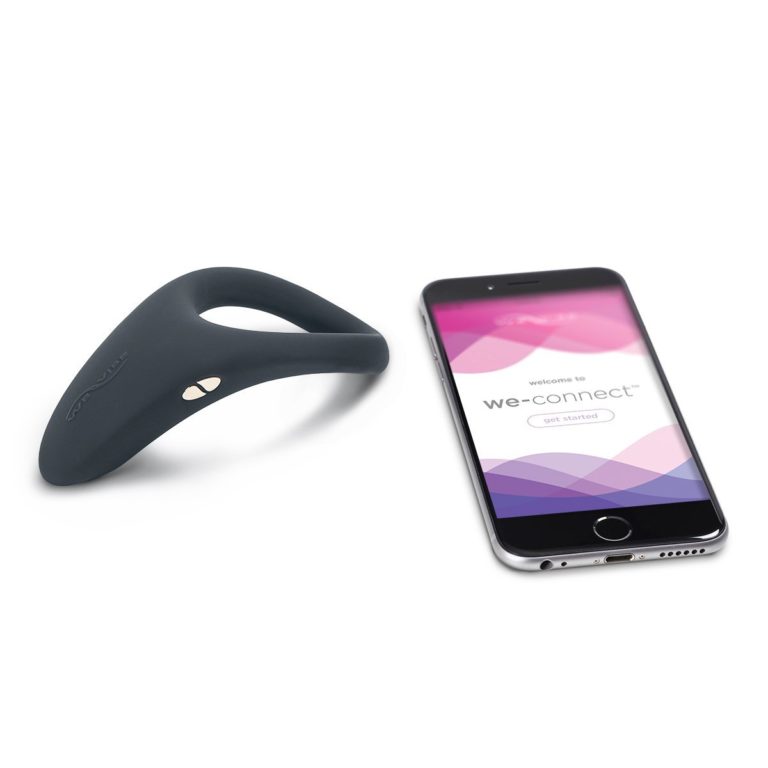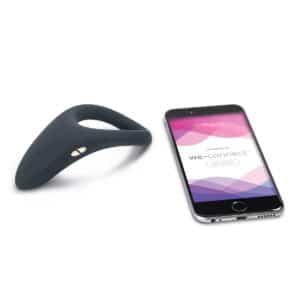 The WE-Vibe Verge will take you to the verge of an orgasm and then throw you off the edge. It offers a premium selection of deep-rumbly vibration settings and it's shaped ergonomically for the wearer's maximum pleasure. It also has a uniquely designed clit stimulation nodule and everything is made to fit snugly through the stretchy silicone loop with or without lubrication (although recommended, of course). The entire thing syncs up to a free downloadable app created by the manufacturer which allows for long-distance play and customizable sensations.
PROS
Clitoral targeting stimulation pad

Low power alert light for easier session management

100% waterproof

Rechargeable via USB connection

Made from skin-safe materials
CONS
Requires extra equipment to use as intended
#8 The TENGA SVR Smart Vibe
---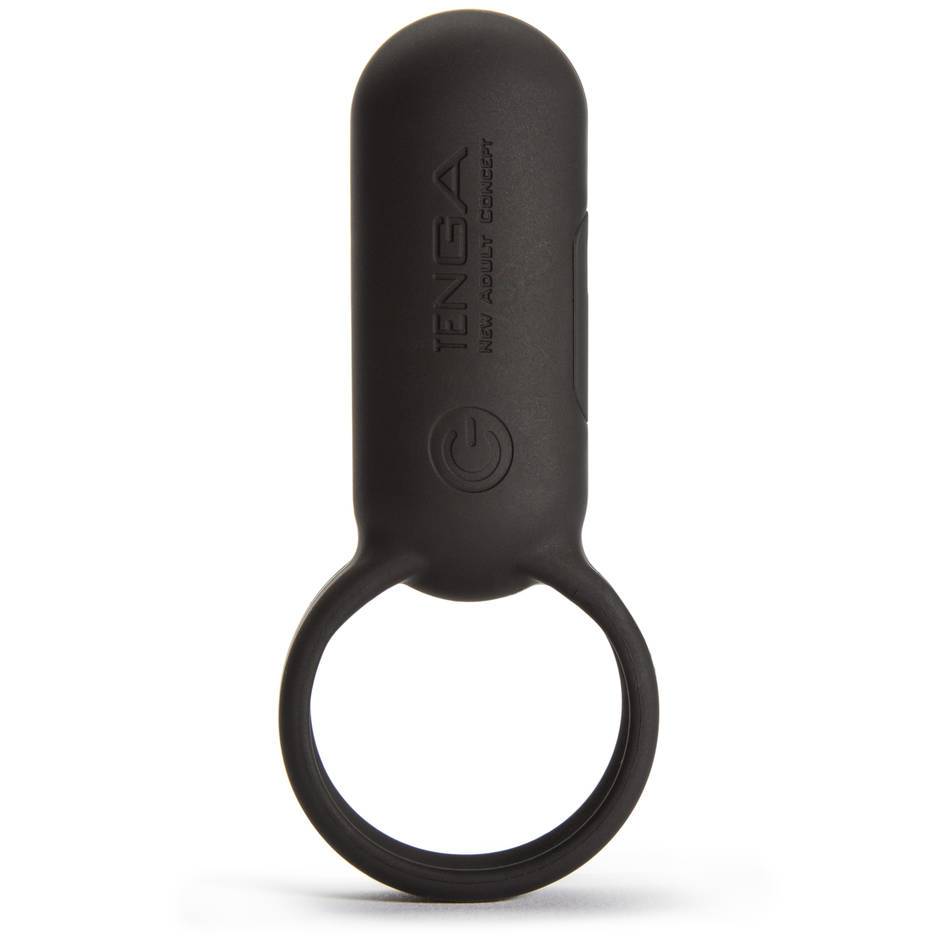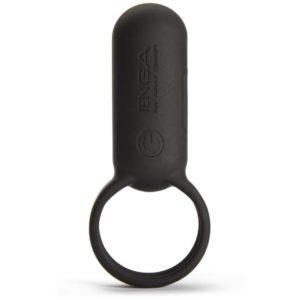 There's nothing smart about having sex without toys, so there's something to be said about getting it on using a high-tech pleasure product like the TENGA SVR Smart Vibe. First of all, it features an innovative, upright external stimulation bullet that's been completely integrated into the design of the stretchy, silicone cock ring below. It's also made for maximum clitoral contact and enhanced penile performance, as shown by the flat form and single button operation. In short, this compact little contraption is most ideal for kinky couples, curious individuals and even people who are new to the whole cock ring thing altogether.
PROS
5-speed, 2-pattern operation

Long battery life, short charge time

Rechargeable via USB connection

100% waterproof

Made from skin-safe materials
CONS
Clitoral stimulator may be too large for some
#9 The Adrien Lastic Gladiator
---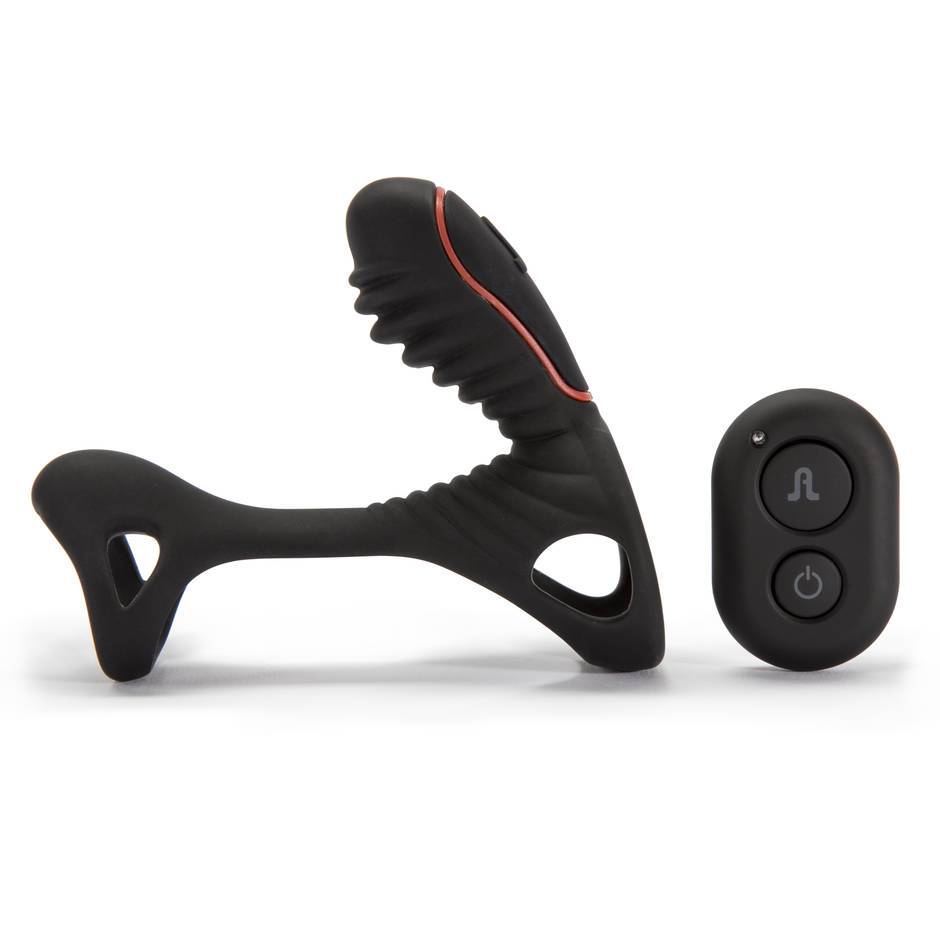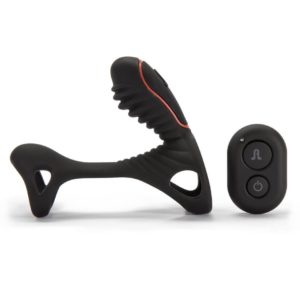 Don't even come near the Adrien Lastic Gladiator unless you're in the mood to have back-to-back orgasms in the most futuristic, couples-friendly way possible. The Adrien Lastic Gladiator is a remote-controlled cock ring and clitoral stimulator combo with three vibration speeds, seven different patterns, and a silky-soft silicone construction that makes it as comfortable as it is safe for all users. The dual motor design is whisper quiet even on the highest setting and the unique dimensions of this device make it perfect for men with smaller penises, Peyronie's Disease, and even erectile dysfunction. Best of all, it has a 5-meter range for better bedroom kink and experimentation.
PROS
Extreme ridging for enhanced external stimulation

Dual ring design for maximum comfort and security

Adds size and texture to the shaft of the penis

Rechargeable via USB connection

Made from skin-safe materials
CONS
#10 The Svakom Tyler Couples Love Ring
---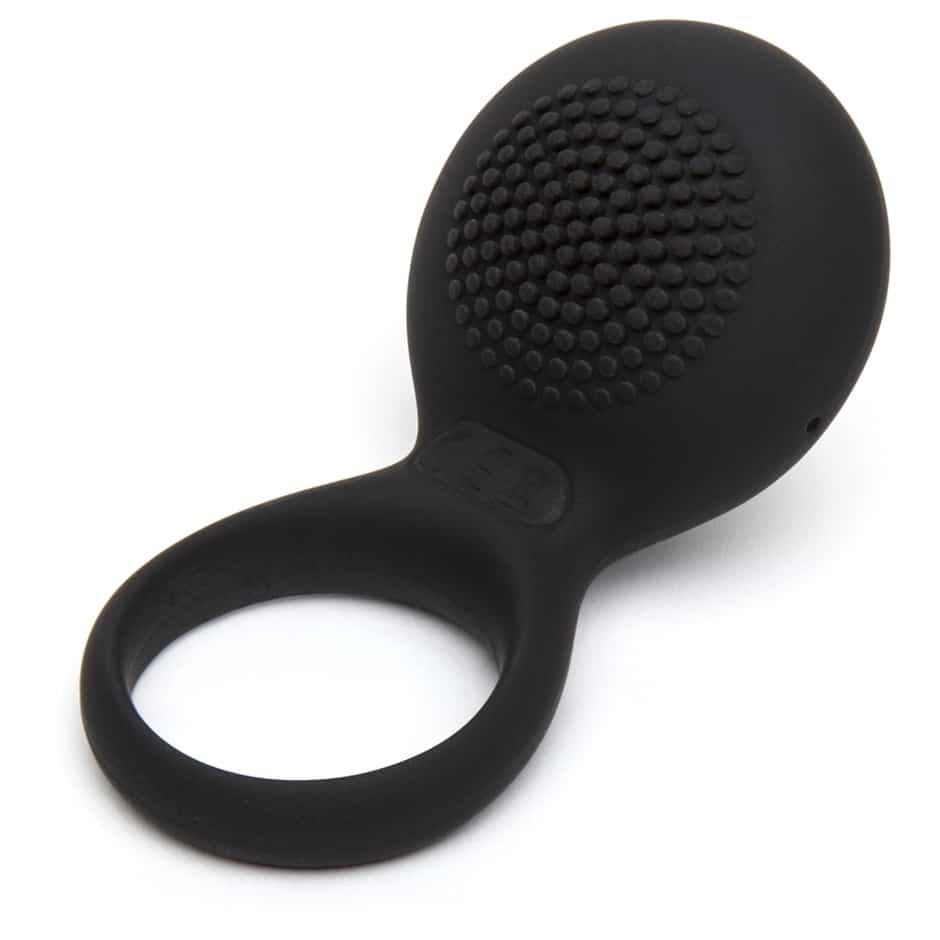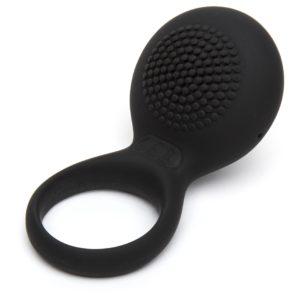 Why not have a threesome with Tyler? After all, he's well-equipped with an ergonomic design, 25 different stimulation combinations and a stretchy, silicone ring for maximum comfort. His powerful motor churns out 5 different vibration modes at 5 distinct intensity levels and everything is controlled through a built-in button interface on the dominant side of the device, which just so happens to be the same place you'll find an extremely texturized clitoral stimulation nub. This bad boy fits almost any penis size and offers over an hour of personalized play with every charge. To top it off, the toy comes with a velvet storage bag
PROS
Ideal for larger penises

Rounded clit stimulation pad for maximum contact

Rechargeable via USB connection

100% waterproof

Made from skin-safe materials
CONS
May be too cumbersome for certain body types
Cock Ring FAQ
Q: What is a cock ring used for?
A: People use cock rings for many different reasons. Some like them simply because they can limit blood flow to the penis and thereby increase the longevity of an erection. Others enjoy them because of their ability to increase the visible thickness of the wearer's penis. With the right features, however, these toys can be extremely useful in a couple's play scenario. Many times, rings are constructed with external stimulation texturization in the form of nodules, clit and perineum pads, or undulated/bulbous designs. The good ones can vibrate at various speeds and intensity levels too, making them ideal for enhanced erotic of all kinds.
Q: How do I clean and maintain my device when I'm done using it?
A: Fortunately, these are some of the easiest sex toys to take care of because, usually, they're not used for internal stimulation. In general, consumers need only rinse their device off with warm water and a mild, non-abrasive, hypoallergenic soap before setting it out in clean, fresh air to dry. For best results, always consult the instructions/owner's manual included in the package with your toy.
Q: Is there a certain way to store my toy when I'm finished cleaning and drying it?
A: You may or may not receive a storage container in the package with your new sex toy, so come prepared as best you can because cock rings need to be put up carefully to prevent them from getting damaged or harboring any potentially harmful bacteria. While they're not typically inserted into the body, the stretchy materials they're made out of can attract dirt, dust and debris easily. Plus, pliable materials are already notorious for snapping, cracking or breaking. Keep your device out of direct sunlight, away from excessive moisture, and in a cool, dry place that's not exposed to extreme hot or cold temperatures. For most people, a bedside table or dresser drawer works just fine. Use any storage containers provided by the manufacturer.
Q: Do I need any special skills or equipment to enjoy a cock ring?
A: The majority of cock rings available on today's market are self-explanatory, with only a few higher-tech versions requiring things like carefully attention to the instructions or special equipment not provided by the maker. As a general rule, interactive and/or couples-friendly toys typically take knowledge about modern-day technologies as well as a stash of spare batteries, maybe a smart phone, and some good water-based lube as well. The simpler and less feature-dense the item, the less you'll need to get started.
Q: How long can I wear one of these things before my dick goes numb?
A: Keep in mind that cock rings are not a permanent solution to your love life woes, nor should they be worn for extended periods of time. Usually, these things can be worn for as long as 30 minutes without an issue, although that figure is only an average and can vary depending on several factors. Basically: the tighter the ring, the less time it should spend on your shaft. For best results, use these devices sparingly and keep them on your genitalia for 15 to 20 minutes or less during each experience. You may, however, remove them and reinstall them at freely scheduled intervals if you're responsible with your timing.
Q: Can I get hurt in any way by playing with this type of sex toy?
A: Cock rings are not designed to hurt a man or his partner in any way, but that doesn't mean t can't happen. As with everything in the modern world, moderation is key and responsible use changes the game. Rings for the dick are made to be enjoyed occasionally and shouldn't be worn for long periods of time. For good measure, apply a high-quality water-based lubricant to the shaft of your penis before sliding one on to prevent chaffing and/or skin irritation.
Q: Are these kinds of toys made for specific penis sizes or are they one-size-fits-all?
A: WARNING: Cock rings are not for everybody, nor are they all made to fit every swinging dick on the planet. Pay attention to the dimensions of each one. You'll find measurements like total length, resting circumference and maximum circumference most of the time. Those numbers tell you how the device will fit on your penis and feel to your partner, so don't go picking out products willy-nilly. Meanwhile, get out a ruler because you'll want that information available when you're out shopping.
Q: Should I use lube when playing with a cock ring?
A: Yes, you should apply plenty of high-quality water-based lube to your penis and/or the device's materials before sliding it onto your penis. This will prevent pinching, chaffing and skin irritation while also ensuring a proper fit. Don't worry about it making the ring slip off your shaft either. Good devices will fit snugly around the base of your penis and can withstand vast amounts of moisture from lubricant, ejaculate, or otherwise.
Q: What happens if my device breaks shortly after I pay for it?
A: Keep your cool if anything breaks after you buy it because some of these things come with limited warranties from the manufacturer – coverage that protects the device from breakages, damages and malfunctions as long as the user isn't blatantly negligent. Find out if your toy has a warranty and then be sure to register it within 30 days of the purchase date. If you didn't get any protection with your purchase, contact the manufacturer or look online for replacement parts and/or accessories because that's pretty much all you can do at that point.
Q: Can I use these products every time I have sex or just occasionally?
A: Truth be told, you can use a cock ring every single time you have sex, although some speculate that doing so might make getting a natural erection more difficult. Experiment with different sizes and play with the various pleasure features on your toy to prevent muscle memory and/or desensitization.
Despite the fact that John James is quite the character, there is one thing he has in common with everyone else: he likes a high quality sex toy just as much as the next guy.
Noticing that there were no legitimate websites out there reviewing all the amazing synthetic vaginas on the market, John James set out to do something about it.
After all, it is painfully obvious that today's men really need to know more about their options.