At A Glance: Our Top 4 Picks for Top Rated Sex Furniture
IMAGE
PRODUCT

Our Top Pick

Our Top Pick

Set of 2 angled sex position pillows for better sex and longer lasting fun
Moisture-resistant liner protects inner cushion
Each cushion can be used separately or together for a variety of play options

Moisture-resistant liner protects inner cushion
Non-slip microfiber case is removable and machine washable for easy cleaning
Made from high density foam and features a responsive core

Bondage Boutique Sex Position Chair

Champagne foam to support both your bodies in motion
A must-have for oral enthusiasts!
Unzippable washable covers that get softer with every wash

Contoured sex seat to aid longer, more comfortable sex sessions
High-density foam to support both your bodies in motion
A must-have for oral enthusiasts
People have been doing the wild thing since the beginning of time. That includes your parents, your grandparents and their folks too. After all, how do you think you got here? Sex is a natural part of life, but some of the positions we get ourselves into aren't so ordinary. In other words: if you plan to "do it like they do on the Discovery Channel," you may need a little help.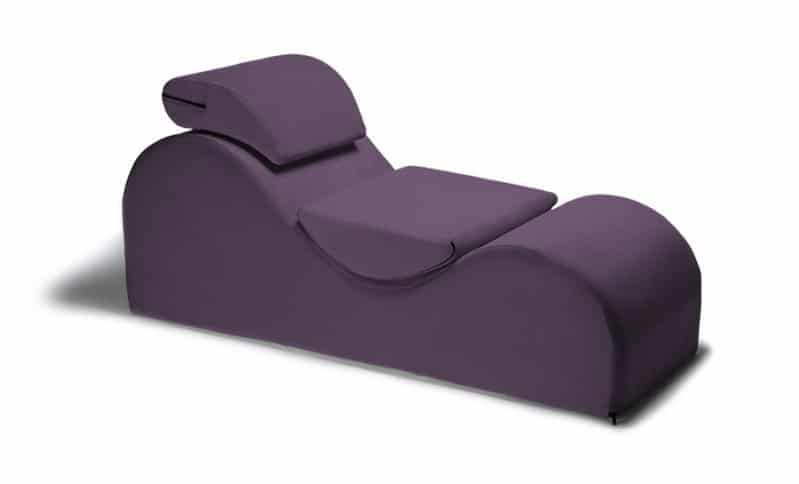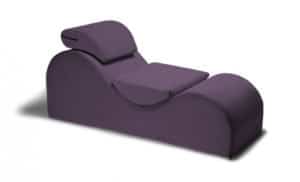 Sex-related injuries and subsequent 911 calls or ER visits are more common than you think. Unfortunately, it's difficult to prove that fact because most sex-related injuries go unreported or, better yet, lied about completely. According to experts, most people just say they fell. Either way, we all know how dangerous the bedroom can be when hormones start flaring.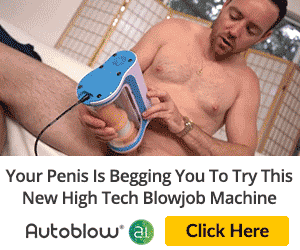 Whether the invention of sex furniture was due to the prevalence of sex-related mishaps or spawned out of sheer ingenuity is unclear. What we do know is that high-quality sex furniture can make a big difference for everyone involved. However, it's nearly impossible to find the best stuff if you don't know what you're looking for. 
Stumbling across a piece of luxury sex furniture is about as likely as getting struck by lightning. Simply relying on the brand name or price to determine a product's practicality or quality is a rookie mistake. Don't fall for the hype. Turn yourself into a learn'ed sex furniture scholar.
What Is Sex Furniture?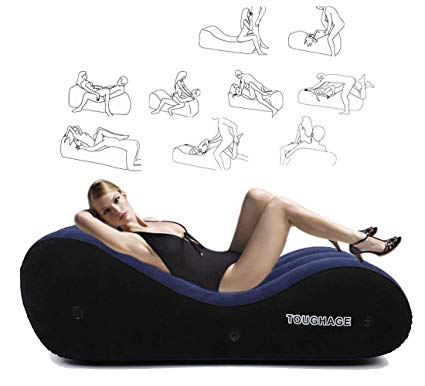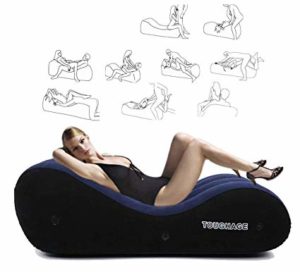 Technically, sex furniture can be anything that you hoist or support someone's body on during lovemaking. However, we're not talking about dining tables and kitchen countertops here. Legit sex furniture is so much more than a simple surface on which to travel to Pound Town.
Commonly referred to as "erotic equipment," sex furniture acts as a physical aid for sexual activity, even during routine sessions that involve few position changes. By supporting a person's weight or elevating their pelvis to an optimal position, sex is not only easier and more enjoyable but also safer as well. While everyday beds and couches are commonly used by modern-day lovers, sophisticated couples with a healthy sexual appetite and an appreciation for proper posture always seem to use high-end sex furniture in addition to those things.
The reason for that extra investment is simple, and it has a lot to do with the improved experience sex furniture users enjoy. On average, those who employ the right erotic equipment in the bedroom have longer, more satisfying sex than those who don't. So, besides your bed and sofa, what counts as legitimate sex furniture and how do you use it? I thought you'd never ask.
CLICK HERE TO FIND THE BEST PRICES ON THE INTERNET
The Five Main Types of Sex Furniture
What qualifies as "sex furniture" can vary widely because it's a rather subjective term. However, legit erotic equipment typically includes the following products:
Pillows
As one of the most common pieces of contemporary sex furniture, defined sex pillows differ from the ordinary pillows that you might fold in half and shove under your lover's back. Offering superior support, sex pillows come in a variety of shapes and sizes to accommodate all body types.
Ramps and Wedges
Similar to sex pillows, only far more rigid, wedges and ramps also support a person's weight. However, they also help lovers achieve difficult positions without getting hurt or damaging anything. Typically, wedges and ramps are sold with varying angle heights to make customization easier.
Swings
Sex swings are probably the most dangerous yet enjoyable piece of sex furniture on the market. Made from an array of materials, contemporary sex swings that are used properly allow lovers to safely suspend one another in the air for a little weightless fun. Many come with arm and leg restraints as well.
Unlike pillows, wedges and swings, sex couches/sofas are stationary. Usually, they attach to another piece of furniture such as the bed or a chair. However, some of the better-quality couches can be secured to numerous surfaces with adjustable straps.
Tantra Chairs
Tantra chairs are a relatively new concept, but they count as sex furniture either way. Designed to act as a streamlined combination of pillows, wedges and harnesses, tantra chairs are heavy-duty pieces that feature an unusual shape. That shape, albeit strange, helps lovers achieve the positions listed in the famous Kama Sutra.
BONUS FURNITURE
Like I said, the sex furniture definition is kind of blurry. In some circles, the following products are also put in that category:
Toy Mounts
Some of the best sex toys in the biz can be mounted easily for hands-free play, meaning those mounts are more or less portable and detachable pieces of sex furniture. Lightweight and durable, toy mounts make it possible to achieve an assisted orgasm regardless of your environment, body type or position.
Things like handcuffs and rope may be considered sex furniture by some people, although many put them in the category of "toys." However, since restraints themselves do not provide sexual pleasure, they're defined as pieces of sex furniture for the purposes of this article. Restraints are usually compact and user-friendly, making them a terrific complement to any sex toy stash.
A 6-Point Buyer's Guide to Good Sex Furniture
Picking out the best sex furniture requires more than a brief overview of your options. It takes industry knowledge and tenacity, not to mention an open mind and an even more open wallet.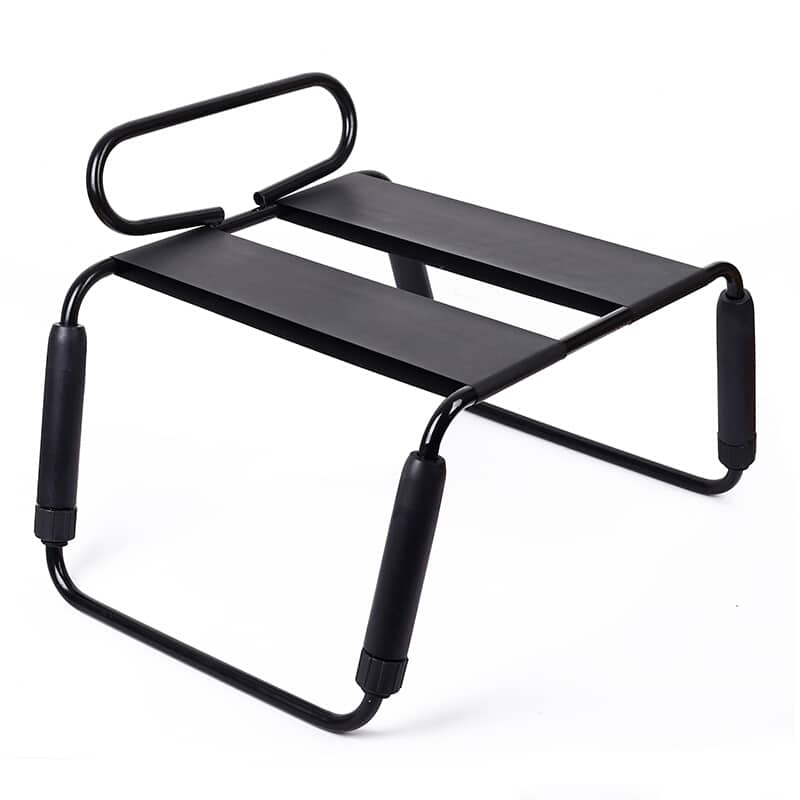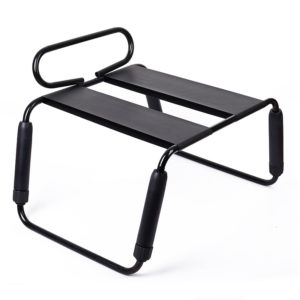 Good sex furniture isn't cheap, but cheap sex furniture isn't good. On the other hand, a product's price isn't always indicative of its quality.
Let's face it; this is all about having a good time while busting a nut. To choose the best sex furniture for the type of love life you want to have, use the following six-point buyer's guide to steer you in the right direction.
Check Out the Product's Durability
Try to remember that, like every other product on the modern market, not all sex furniture is made with the same quality standards and attention to detail. The durability of each item varies depending on how you use it, but sex furniture durability is usually based on several factors which include but are not always limited to the following:
Strength of the material

Quality of the stitching

Manufacturing standards

Density of the internal cushioning (if applicable)

Roughness of use

Care and maintenance requirements
Good sex furniture will feature high-quality, breathable materials that are secured tightly or stitched together carefully using industrial strength threads and adhesives. Furthermore, any internal materials are hypoallergenic, resistant to wear and tear, plus easily washed and dried. Any piece of sex furniture that doesn't have those characteristics is likely a waste of your money.
Make Sure It's Sturdy Enough to Take a Pounding
Considering the fact that sex furniture has the express purpose of supporting you and/or your partner's full body weight while being aggressively thrusted into, making sure it's sturdy enough for the job is important. Durability is one thing, but a piece of sex furniture that's wobbly can be unsafe and unpleasurable to say the least.
Determine a product's stability by factoring in the following:
Your weight and height

Your partner's weight and height

Where the furniture will be used

How the furniture will be secured or mounted (if applicable)

What you plan to do with it
NOTE: A perfectly stable and sturdy piece of sex furniture can quickly become a health and safety hazard if you don't use it right. Always read the manufacturer's instructions, even if you think it's unnecessary.
Get to Know the Materials Used
You may not think a product's material is a big deal but it is. Every material looks, feels and behaves differently. Furthermore, certain materials (like latex and phthalates) can be dangerous to those who come in contact with them, especially if they have allergies or skin sensitivities. Most of the time, a list of materials used is provided on the product's packaging.
Common sex furniture materials include but are not always limited to:
Cotton

Leather

Patent leather

Wool

Satin

Velvet

Nylon

Polycarbonate plastic
Keep in mind that the material used on your sex furniture can also affect its durability and stability. For example, something made with satin or silk is difficult to hold onto (and clean, for that matter). Alternatively, a piece of erotic equipment made from cotton or wool will not only function better in rough waters but will also require less energy to maintain. The choice is yours, just be sure to choose wisely.
Question Its Versatility
A highly versatile piece of sex furniture will bring you lots more pleasure, flexibility, mobility, and stamina than one that has only a few possible positions that it can be manipulated into.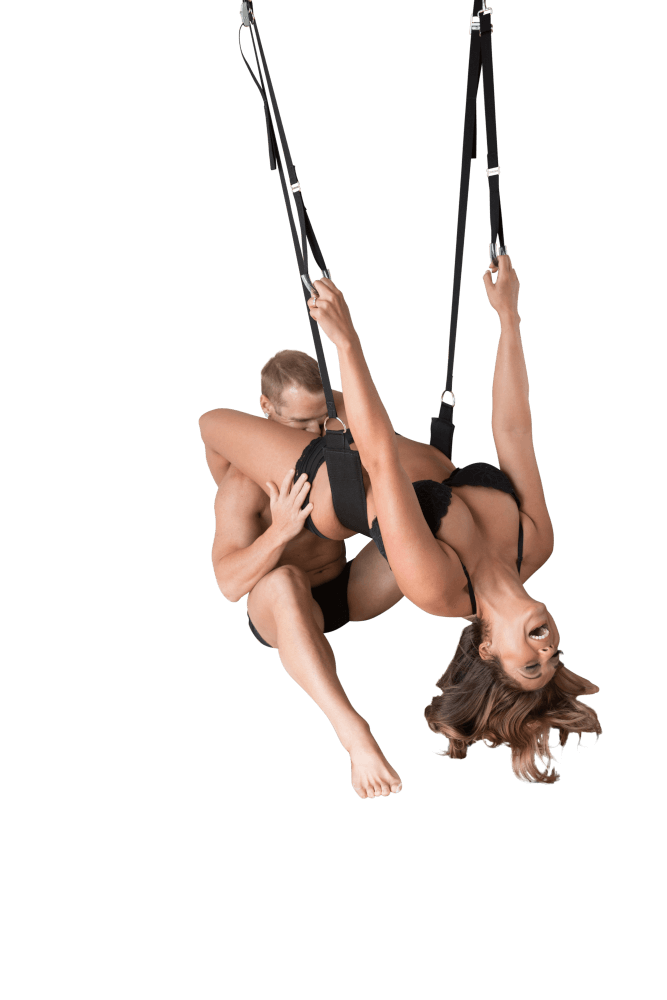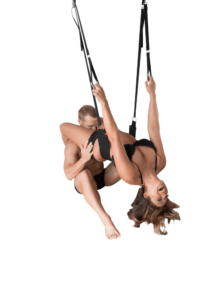 Although many people don't need numerous positions to achieve orgasm, it's always a good idea to have several options just in case things get wilder than expected. As such, the best sex furniture will twist and fold into several shapes or increase/decrease in size easily.
Take sex pillows, wedges and ramps, for instance. The product's shape should be one of the first characteristics you examine. Rounded pieces are excellent for those in need of extra comfort in the bedroom, while triangular, square and abstract furniture are pieces more conducive with switching positions because they usually fold into several shapes.
To figure out whether a piece of sex furniture has the versatility you need, carefully consider your intended uses. If you don't plan on getting too freaky, a square pillow should do fine. If you have mobility issues or physical impairments, rounded pillows help keep you comfortable. However, if your plans are to break a record or complete the Kama Sutra, choose a more abstract piece of furniture for best results.
Consider Its Intended Purposes
When thinking about your sex furniture's versatility you considered your own intended uses. However, it's important to also think about the manufacturer's intensions when the product was created. If the maker didn't mean for their sex furniture to be used in a certain way, chances are you won't have much success when you start experimenting. Regardless of how perverted you might be, always follow the instructions so no one gets hurt.
Considering a product's intended purposes helps you determine whether it's of high quality or not. Take a sex pillow for example. It's supposed to be used as a hip and pelvis elevator, so if it quickly deflates under your lover's body weight then it's basically a worthless piece of junk, right? When shopping for sex furniture, ask yourself the following questions:
Where am I most likely to use this?

How much exploring and experimentation can I get away with?

Is it ideal for my average partner?

Do I need to buy or acquire anything extra to make this thing work?

Why did the manufacturer design their product this way?
You're most likely in the market for a good piece of sex furniture because you want to expand your sexual horizons while protecting your body for future excursions, am I right? So, although the product's durability, stability and materials are all important factors to consider, its intended purposes are perhaps the most crucial. After all, if you use your sex furniture incorrectly it won't be sturdy or durable, nor will the materials matter.
Glance at the Price Tag
Since all modern-day products are made differently and every manufacturer has a right to name their price, the cost of high-quality sex furniture varies widely based on where you get it and who you get it from. However, the price tag on a piece of sex furniture shouldn't ever be your first concern. High-quality isn't always synonymous with high-priced, nor is economical always synonymous with erroneous.
That's why you should only glance at the price when shopping for sex furniture (or anything for that matter). The average price of a good piece of erotic equipment can range from a few bucks to a couple hundred. By looking at the cost of various similar products you can more easily compare features to find the best value. There are plenty of fish in the sea, ladies and gentlemen, so don't be afraid to cast a wide net.
BONUS FEATURES TO LOOK FOR
As mentioned, not all sex furniture is made the same. Therefore, some of the higher quality pieces have exciting bonus features that other models do not, even when they're made from the same manufacturer. We're talking features that put the O-face in "orgasm," so listen up.
Some of those intriguing "bonus features" include (but certainly are not limited to) the following:
Like cupholders but for your dildos and vibrators, these conveniently placed holes securely hold your favorite sex toys for some hands-free humping.
Removeable and Washable Outer Covers
While your lover may be high maintenance, your sex furniture never should be. Try to find pieces that feature removeable covers and washable materials, especially if you plan to use lots of lube.
Storage Containers and Travel Gear
Contemporary sex furniture manufacturers understand the importance of portability, which is why some pieces have detachable parts or come with protective zipper bags, sanitizing wipes, material defense sprays and other travel-friendly gear.
PRO TIP: When choosing your sex furniture's bonus features, be sure to go through the same buyer's guidelines you used to select a standard piece. However, also consider the fact that not every sex toy in your stash will fit into the furniture's provided toy holder. Carefully take measurements prior to spending any money or you'll be sorry.
How to Find the Best Sex Furniture on Today's Market
With so many options out there, it can be hard to find the best piece of sex furniture, even if money is not an issue.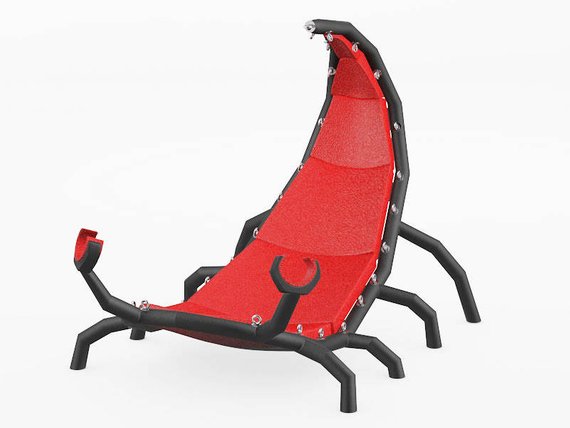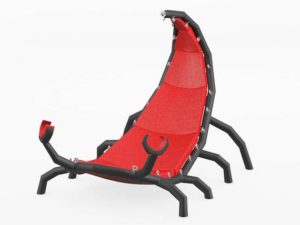 Fortunately, "hard" is not the same as "impossible" (unless you have erectile dysfunction, in which case you need a penis pump and not a piece of sex furniture). At any rate, it certainly helps to get a few suggestions from someone who's been there and done that.
Candid reviews are a terrific source of honest information about a product. While some consumers may think they're a waste of time, reviews can paint a vivid picture of how a product works (or doesn't work) while describing features or flaws that weren't mentioned in its clever advertising campaign. If you're looking for some legitimately awesome sex furniture that's been rigorously tested by people just like you, start there.
While you're at it, be sure to keep an eye open for sales, discounts and incentives offered by sex furniture manufacturers. The industry is heating up and the demand for high-quality products is steadily increasing, so merchants are always offering something to lure buyers in. If you've carefully selected your ideal product using this guide, it should be easy to find a sale from a reputable brand.
Speaking of reputable brands, do you realize that some brand names are more popular than others for a good reason? Certain brands offer product warranties and/or satisfaction guarantees to customers who buy specific pieces of sex furniture. Although you may have to register for it online or via mail, the added confidence is definitely a perk to diligent purchasing.
Last but never least, try to have patience when shopping for this stuff. Good deals come and go often, so don't jump on the first product you see simply because it has a pretty price tag. If you insist on rushing things, buy your sex furniture through a trusted affiliate to gain instant access to special discounts.
Despite the fact that John James is quite the character, there is one thing he has in common with everyone else: he likes a high quality sex toy just as much as the next guy.
Noticing that there were no legitimate websites out there reviewing all the amazing synthetic vaginas on the market, John James set out to do something about it.
After all, it is painfully obvious that today's men really need to know more about their options.