Knowing how to select the best sex sofa requires some basic knowledge about what they are and aren't. Sure, that La-Z-Boy in your living room can suffice in a pinch but your friends and family have to sit on that thing the next time they come over. Make everyone feel more comfortable about being your guest. Only have sex or masturbate on specially made pieces of furniture that you can tuck under the bed when you're done.
A sex couch is a relatively simple contraption made to support the weight(s) of you and/or your partner(s) during intercourse, foreplay or roleplaying games. They're made from a wide variety of materials, feature various shapes and come in a range of sizes. Some are rigid, some are flexible and many are extremely versatile in what they can do when used right. However, the one thing they all have in common is that they can promote healthier, more satisfying sessions whether those sessions be by yourself or with a lover.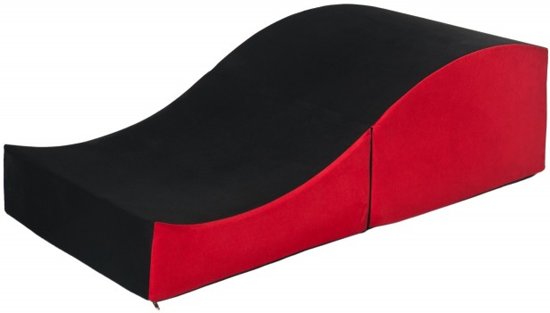 In general, the most popular contemporary models are found in the following seven basic forms:
The chaise – better known as the couch or sofa

The chair – better for impromptu sessions

The pillow – better than using your bedding

The wedge – better for difficult positions

The ramp – better for mobility problems

The cushion – better for sex toy lovers

The combo – better for everybody
Keep in mind that sex slings and swings are not considered sex seats in any way, even if they feature a spot for your bum. Legit chaises, chairs and cushions for the pushin' don't ever get suspended from the doorway and they're always made to support the weight of both partners simultaneously. "Anything less than the best is a felony." – The Prophet Vanilla Ice.
The Good, the Bad and the Ugly
Similar to that hit song of the '90s, there's some good and bad to consider. The pros and cons associated with buying and/or owning a new piece of erotica furniture are real, unlike Vanilla Ice's musical talent. Here are the main things you can expect to gain (and lose) when you enter the big leagues of bumpin' uglies:
PROS:
Increased Creativity in the Heat of the Moment
Remind your partner why they fell in love or lust with you in the first place by pulling out all the stops and letting your inhibitions fly out the window.
Improved Sex Position Safety
Stop refusing to try things because you're afraid of getting hurt, especially when you have a thick, durable piece of furniture holding both your bodies in place.
Never become a statistic by showing up at your local emergency room as one of the 2.2 million reported cases of sex-related boo-boos.
Interesting Dungeon Decoration
Keep your torture chamber looking fly while increasing its functionality with a piece (or two) of some high-quality erotica seating made by a company that understands your sexual desires.
Easily include much of this stuff into your existing sex life (and your home décor too) by selecting an option that requires little to no assembly or explanation.
CONS:
Get your credit cards ready because the best options out there can cost a pretty penny and probably shouldn't be doubled as regular seating.
Don't pick the wrong design because it could make or break the lock on your secret garden, letting everyone within eyesight know that you're a damn dirty freak.
Brush up on your housekeeping skills because some of these things require specialty procedures to get them thoroughly clean and sanitized, especially if you use lube of any kind.
Feeling confident about what you're getting yourself into here? Good, because now comes the hard part – putting it all together to start locating that perfect product. It's out there; believe me. You just don't know how to find it yet.
The Top 7 Things to Look For In a Top Sex Couch
Well-made products like this tend to outlast the hastily slapped together knock-offs that plague today's adult industry but being able to tell the difference between the two can be hard when you don't know what to look for. Advertisements are carefully stitched together for maximum appeal, marketing dollars are freely spent to launch attractive campaigns, and your hard-earned money is ripped from your hands in the process.
So instead of letting someone else's opinion or agenda sway your purchasing decisions, why not take the appropriate steps to determine those things for yourself? Since self-pleasure is such a subjective artform, selecting the best sex sofa should always be anchored by you and/or your partner's unique tastes, not by the bottom lines of the manufacturers who sell them. Cut through the hype by looking at or considering the following 7 things about every model you're interested in:
Always, I repeat, always pay close attention to size when shopping for something in the adult industry. The overall appearance of a product can be initially alluring, but its dimensions usually play a much bigger role in how much pleasure you derive from it, how safe it is to use and how discreet storage can be when you're done. Check the height, width, depth and heaviness to get a better understanding of what's in your shopping cart. Be sure to find out if there's a user weight limit listed by the manufacturer, and always choose sex furniture that's rated for at least 30 lbs. above you/your partner's total mass.
Today's top options come in several different shapes, from home décor structures that resemble everyday furniture to curvy, artistic pieces that look like functional art. And while the form is most important when discretion is an absolute must, versatile shapes are more useful for obvious reasons. Check to see whether the overall shape is conducive with the kinds of sex acts you have in mind. Can the sofa change its shape in any way or is it a "What You See Is What You Get" type of product? Will that form work for you or do you think you'll need something else?
Finding an extremely versatile sex couch isn't hard, especially not these days. In fact, most of them are designed explicitly to support as many positions and practices as humanly possible. However, some of the more rigid, less versatile designs are made for one or two specific purposes only, like BDSM or anal play. Determining whether any product in your shopping cart offers the versatility you need is simply a matter of knowing yourself better than the manufacturers do. If all else fails, buy more than one version and have the proper tools on deck no matter what predicament you find yourself in.
As with all pieces of furniture, the upholstery is a crucial component that demonstrates the quality, durability, craftsmanship and appearance thereof. Erotica sofas are no exception, as the totality of their features is often overshadowed by the fabrics and materials used. For example, a heavy-duty couch with an ugly or difficult to clean exterior may not be as appealing as a less robust piece that has soft, washable materials covering it. On the other hand, some people prefer certain fabrics to others, meaning this is a consideration you simply can't ignore.
FACT: Some of today's best products are still made or covered with materials that contain potential allergens and/or skin irritants (latex, parabens, phthalates, etc.). Furthermore, certain types of personal lubricant cannot or should not be used on all fabrics, as they can permanently stain or damage the material. Study a lube buyer's guide for more information.
Just like on Thanksgiving, the quality of the stuffing can make or break the occasion. And while we're obviously talking about erotica furniture instead of turkeys here, the same rule still applies: It's what's on the inside that counts. Stuffing thickness is vital, especially when it comes to using items that are made to withstand the slams of sex. That super soft sofa in your den may serve its purpose on game day, but you'll probably want something a little more durable for the dirty deeds you do. The difference between a regular couch and a sex couch is usually the stuffing – a component that's often comprised of a high-density foam or similar material.
Today's manufacturers are always trying to come up with the next best thing. Meanwhile, consumers are constantly begging for more convenient features. The compromise has been made in the form of adding things like removeable covers, foldable appendages, and wipe-clean materials such as nylon, leather and polyester to the design. Contemporary models are now more user-friendly than ever, but there are still a few stragglers keeping it old school. Depending on the details of your lifestyle and your ability to maintain healthy hygiene habits (or not), this consideration may be one of the most important ones you'll make here.
Do you realize that even the most durable, luxury-grade piece won't work for every user? The compatibility of that furniture with your chosen sex toys and lubes is a consideration that too many people overlook (and then later regret). Make sure the model you're looking at plays well with others. And by that, I mean: Ensure it has the proper elements for the kinds of kink you're into. Whether that be O-rings for BDSM restraints or a universal hole for your favorite dildo doesn't matter. What matters is that this thing is well-suited to your current sex life (and hopefully your future one too).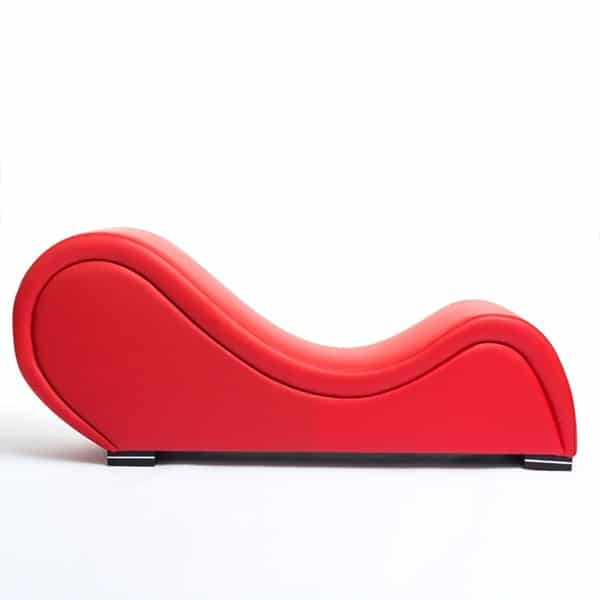 Those considerations should get you closer to the perfect product than you've ever been before, or at least they'll give you a road map to the ideal piece. Sorting through the options on today's adult market is tough, even for an old pro like me. However, we all need to learn that some things never change – like the top seven ways to tell if that sex sofa is worth it or not. Meanwhile, a few of the best turds have started to float to the top of the water and I've been waiting on the shore with my net for this very moment.
10 Crucial Things to Ask Yourself Before Buying a Special Couch For Sex
Before stepping up onto the shores of great sex with professional pervs like me, let's make sure you do, in fact, "know thyself" the way your mama taught you. Remember, there is no right or wrong answer for any of the following questions which, by the way, you need to ask yourself before proceeding any further:
What do I want to do with this thing?
Do I have a specific kind of sex or position I'm wanting to try?
Do I need to keep it put away or can it be left out on display in my home?
What kinds of lubes do I like to use?
Will my lube preference limit my selection in any way?
Do me or my partner have any skin sensitivities or allergies
Is there a certain kind of product or material I need to stay away from?
Is there a certain material I'm looking for?
Is there a certain kind of material I absolutely love or require for my intended purposes, skin type and lube preference?
Does this thing need to be a specific color?
Do I plan to display it openly or use it with other adult products as part of a themed scene or session?
Will I be using sex toys with it?
How many marital aids do I want to experiment with and what kinds of toys are they? Also, do I need a specific kind of furniture to make it happen?
Do I weigh too much or too little for a certain type of physical erotica support product?
How much does my partner weigh?
Does your partner weigh too much or too little for any certain type of physical erotica support product?
What are our weights combined?
How much weight will this piece of furniture have to hold up so you both can bust a nut?
TIP: Be honest here, because it's your safety and reputation that's at stake. And ask that your partner keep the fibs to a minimum too because there's a decision coming up and you both want to be properly prepared with accurate information. In other words, leave the fantasies in the bedroom and always bring your humility on the shopping trip.
The Cream of the Crop: Today's Top 5 Best Sex Sofas/Couches
Do a quick search on the internet and you'll probably find hundreds of different options to choose from. There's no shortage of choice, that's for sure. The quality thereof is what seems to be lacking. So, while dozens of manufacturers make it their sole mission to churn out products that could technically qualify as "useful" in the bedroom, only a handful of the available models stand out with any real ferocity.
You could spend hours trying to compare products, but let's not subject ourselves to any more waiting when there's so much good sex to have. Check out these top 5 sofas for yourself and discover what all the fuss is about:
#1. The Liberator Esse II Black Label Chaise
BEST OVERALL
It doesn't get any fancier than this. The trusted Liberator brand has once again lived up to their lofty reputation with the sleek and sophisticated Esse II Black Label Chaise. This thing is available in 10 different colors and can be customized with four distinct cuff accessory kit options. It features a modern, décor-friendly look with sculpted contours and a swanky eco-friendly cover with a smooth, soft feel. Stuffed with a single piece of thick, high-density foam and covered in either lab-created lambskin or a woven leatherette textile, this bad boy even comes with a headrest and a 5-inch mini-scoop accessory for additional support.
PROS
Can be tailored to suit almost any body type, position or activity

Designed for Kamasutra-inspired angles

Stylish looking and ergonomic

Elevated off the floor to support BDSM restraints

12 reinforced bondage clips under the base

Made from skin-safe materials

Antimicrobial, stain-resistant cover

Moisture-proof liner
CONS
Some initial assembly required

Expensive price tag
# 2. The Bondage Boutique Sex Position Enhancer Chair
BEST FOR BEGINNERS
Make those impossible positions possible with the Bondage Boutique's helpful hot seat – the Sex Position Enhancer Chair. This thing features a cut-out slot where your ass sits and you can probably guess what that's for – a component made naturally by the overall elastic-based design of the bouncy seat itself. Durable, sturdy, body-friendly and practical, it's also one of the most luxurious pieces of erotica furniture to come out of the BB brand's lineup. On top of that, it's super easy to clean, damn near invisible when stored, and supported by a strong metal frame that's covered in a squishy foam too.
PROS
Four layers of lab-strengthened elastic for optimal support and bounce

Flatpack design

Easy assembly and dismantling

Size appropriate for almost all body types

Made from skin safe materials

Great investment for discreet users, travelers and beginners
CONS
Requires a two-person assembly to stretch the elastic over the metal frame

Can only hold up to 330 pounds total

Can't accommodate all positions in the Kamasutra
#3. The Liberator Black Label Queen Prelude Bench
BEST FOR DECORATIVE DEBAUCHERY
Ten color options and four different cuff kits only scratch the surface of this sofa's sophisticated contribution to your sex life. As part of the Liberator brand's Luxe Collection, the swanky Black Label Queen Prelude Bench is sleek, sexy, slathered in lab-created lambskin and perched slightly higher for enhanced positioning. With an internal wooden base, four solid maple feet, and a set of bondage clips running beneath the base, this silky-smooth piece of functional art assimilates seamlessly into your existing décor and uses a backless design for improved versatility. Plus, the whole thing is stuffed with a high-density foam core that withstands almost any amount of extreme pressure.
PROS
Dimensions fit any queen-sized bed

Can double as traditional seating in any room

Stylish looking and ergonomic

Elevated off the floor for enhanced body control and BDSM

Features 12 bondage clips underneath

Made from skin-safe materials

Antimicrobial, wipe clean cover

Moisture-proof liner
CONS
Some initial assembly required

Somewhat expensive

Backless design not ideal for everybody
#4. The Liberator Talea Spreader Bar Cushion and Cuffs
BEST FOR BDSM
Is it a couch? Is it a chair? No, it's the Liberator Talea Spreader Bar and it's coming to save the day. Ok, so it can only save your sex life, but still. With a customizable design that's suitable for all body types, this washable wonder uses a solid foam core to support two different bodies in action and even features cushioned cuffs for extra restraint-based position enhancement. The cuffs fasten via conveniently comfy yet secure Velcro strips, plus the removeable water-wicking cover makes it one of the easier pieces of sex furniture to use and maintain. Did I mention that it arrives at your door vacuum sealed in an unmarked box like the Clark Kent of kink furniture?
PROS
Ideal for discretionary deliciousness

Spreader bar compatible with most standard cuffs you already own

Made out of skin-safe materials

Affordable pricing for all budgets

Non-painful adjustable restraint plus tailored body positioning

Luxurious wipe-clean materials and removeable cover
CONS
Not ideal for all positions and activities

Can be difficult to use for the first time
#5. The Liberator Sex Position Wedge/Ramp Combo
BEST FOR VERSATILITY
With its responsive high-density foam core and a buttery soft outer shell, the Liberator Sex Position Wedge-Ramp Combo is what all other sex pillows aspire to be. Ergonomically designed to support both you and your partner's bodies in a wide range of positions, this fully adjustable item features a 27-degree wedge-like shape that converts into different forms as you see it. Use each of the cushions independently or pair them up for ultimate control. And the non-stick microfiber cover draped over it all is not only removeable, washable and stain-resistant but it also feels amazing on bare skin and can be used with any water-based lube in your stash.
PROS
Ideal for all experience levels

Good for almost all body types and activities

Comes with two separate pillows for customizable positioning

Made from skin-safe materials

Has a moisture-wicking lining

Microfiber casing is machine washable
CONS
Only available in one color

Somewhat difficult to store in tight places
Final Thoughts
My last partner wanted to try to Wheelbarrow from the Kamasutra, but I couldn't hack it and that was an extremely embarrassing situation (because I tried even though I knew better). "Do you even lift, bro?" took on a whole new meaning that fateful and painful night. No, I do not lift, thank you for asking. Please play again. I never thought I'd be saying this, but I'm getting too old for this kinky, position experimentation shit. But I'm not ready for the missionary life either. Woe is the person who feels the same way but doesn't know about sex sofas. I'll pray for you.
I mean, I may not be able to make love on anything but my bed or sex couch anymore, but at least I'm still getting some ass and that's got to count for something. Meanwhile, most of my erotic furniture is so well made that I can pass it off as a regular, non-sexual piece until I feel comfortable enough with my partner to let the cat out of the bag. No matter how you look at it, though, sex couches/sofas have the innate power to make masturbation and intercourse better for everyone by a measurable margin (especially when those measureable margins come in the form of pain killers and apology roses).
Despite the fact that John James is quite the character, there is one thing he has in common with everyone else: he likes a high quality sex toy just as much as the next guy.
Noticing that there were no legitimate websites out there reviewing all the amazing synthetic vaginas on the market, John James set out to do something about it.
After all, it is painfully obvious that today's men really need to know more about their options.