OUR TOP 3 RECOMMENDED BATHMATE HYDROXTREME WATERPUMPS: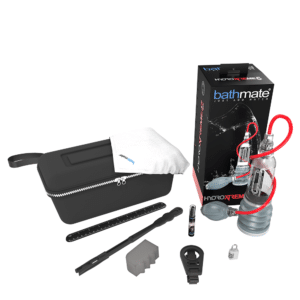 Bathmate HydroXtreme5

Most Powerful Penis Pump For Those Measuring Up to 5 Inches

Perfect either for beginner or advanced users

Advanced Handball Pump

Guaranteed results, or full refund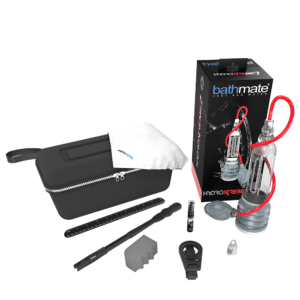 Bathmate HydroXtreme7

Maximises Power For Those Between 5 and 7 Inches

Increases length & girth of your penis

Harder, stronger erections

Guaranteed results, or full refund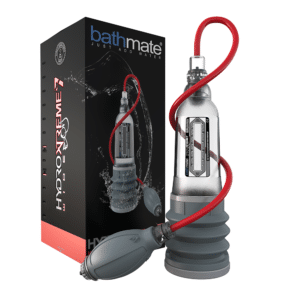 Bathmate HydroXtreme Wide Boy

For Those With a Girth Over 6.5 Inches & a Length of 7 Inches or Less

Increases length & girth

2 year waranty

Guaranteed results, or full refund
I still don't understand why every man on the planet doesn't own a good penis pump.


I mean, having one isn't an admission that your junk is small or broken. Instead, it's a commitment to excellence. At least that's how I see it.
So, since I'll always have a penis pump by my bedside, it's important for the device to of top quality. Not everyone feels the same way I do about this, so in the event my pump gets discovered by a nay-sayer, I want to the thing to have enough features and effectiveness to convince them otherwise. What can I say? I'm out to change the world.
One of the highest-rated penis pump systems on the market is the HydroXtreme Series by the well-known Bathmate brand. Not only does the lineup exude quality at first glance but apparently it also serves as a case specimen for the industry's leading penis pump manufacturers. And although imitation is the sincerest form of flattery, there's still nothing quite like this revolutionary, user-friendly series.
What Is the HydroXtreme by Bathmate Series?
The HydroXtreme Series by Bathmate is a collection of various sized penis pumps that all work in basically the same way.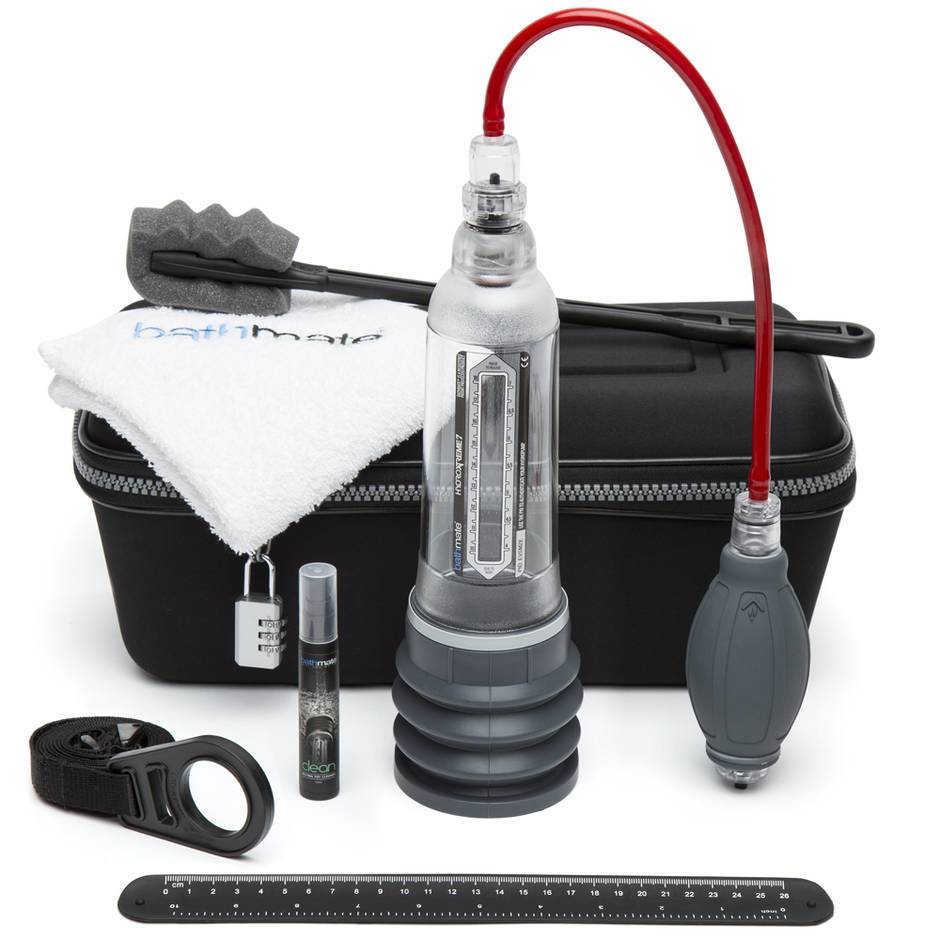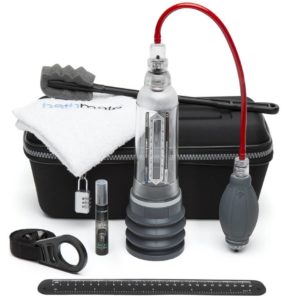 Designed to enlarge the penis by promoting better blood flow and thus stronger erections, the devices in this series use the innate power of water to generate powerful suction on the shaft, rendering significant results in a very short time. The manufacturer suggests using one of the pumps in the HydroXtreme Series for at least 15-20 minutes per day, broken down into three 5-minute sessions with ample rest in between. In many cases, the user's penis is positively affected immediately.
Although the device is made to function best in water, it can still be used in the open air. All products in the HydroXtreme Series have been rigorously tested and approved as safe and effective as well. In fact, the entire contraption is made from medical-grade materials that pose no serious threat to any skin type. The Series itself has 5 different models in total, each of which is equally as impressive as the one before it. The ideal model depends on several factors, including the user's starting point, goals, and willingness to utilize the device as directed.
CLICK HERE TO VISIT THE OFFICIAL BATHMATE WEBSITE
The Main Features Of The Bathmate HydroXtreme Hydropumps
Each device in the HydroXtreme Series is slightly different, but the main features are all the same.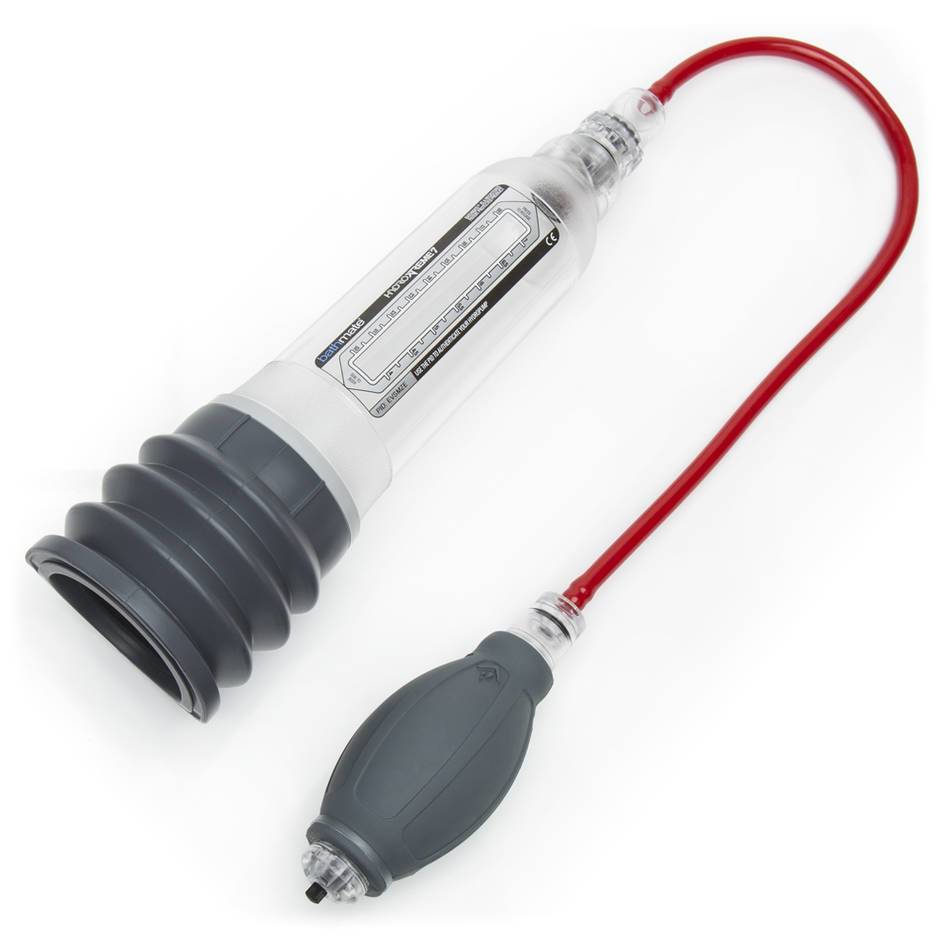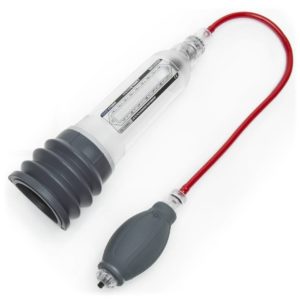 None of them contain phthalates and they've all been custom designed for men by the renowned Aspen Clinical Research team. Buyers also get a 2-year warrant with their device plus a money back guarantee if the product doesn't work. In my experience, it's rare to find a manufacturer with that kind of confidence.
Prices on HyrdoXtreme Series devices are quite shocking, but the site offers a Size Calculator to ensure men get the perfect model from the five options available and thus never have to return their device. All five models feature the brand's patented HydroPump design which uses an updated valve and detachable handball (included). Oh yeah, and they each come with a model-specific accessories bag too.
Here are how the differences break down based on model type:
This is the base model and is thus the least expensive in the series. With the smallest measurements, the HX5 is ideal for penises 5.5 inches long or shorter.
On deck is the HX7, a model identical in every way to the HydroXtreme 5 minus one glaring thing: it accommodates larger penises (7.5 inches long or shorter to be exact).
The HydroXtreme 7 Wide Boy
Perhaps the best-selling model of them all is the HX7 Wide Boy, mid-ranged in price and suitable for girthy 7.5-inch or shorter penises.
This model was made with above-average sized penises in mind – more specifically, the 9.5-inch and shorter variety.
Largest of them all is the HydroXtreme 11, a behemoth of a device. This bad boy is the most expensive model, ideal for men with extra-long, extra-thick penises.
Considering the fact that the HydroXtreme Series is scientifically proven to work, you can bet it's not cheap. Obviously, the bigger your dick the more money you're going to spend. However, all models (regardless of their size) come with the same bag of swag, so at least there's that. Comparatively speaking, this series is competitive with most other brands in the industry.
CLICK HERE TO VISIT THE OFFICIAL BATHMATE WEBSITE
What Comes in the Box?
The packaging of the HydroXtreme Series isn't nearly as attention-getting as the product itself. Rather commercial-looking and flimsy (it even has that little hole for being hung on a rack), the box is surprisingly full for its relatively compact size. Note: the box has a huge picture of the device right on the front, so you can throw discretion out the door.
Everything is contained within the zip-up carrying case, but have fun fitting it all back in there once you get it out. Certainly not suitable as a secondary storage source, unfortunately, the otherwise throw-away box contains the following items: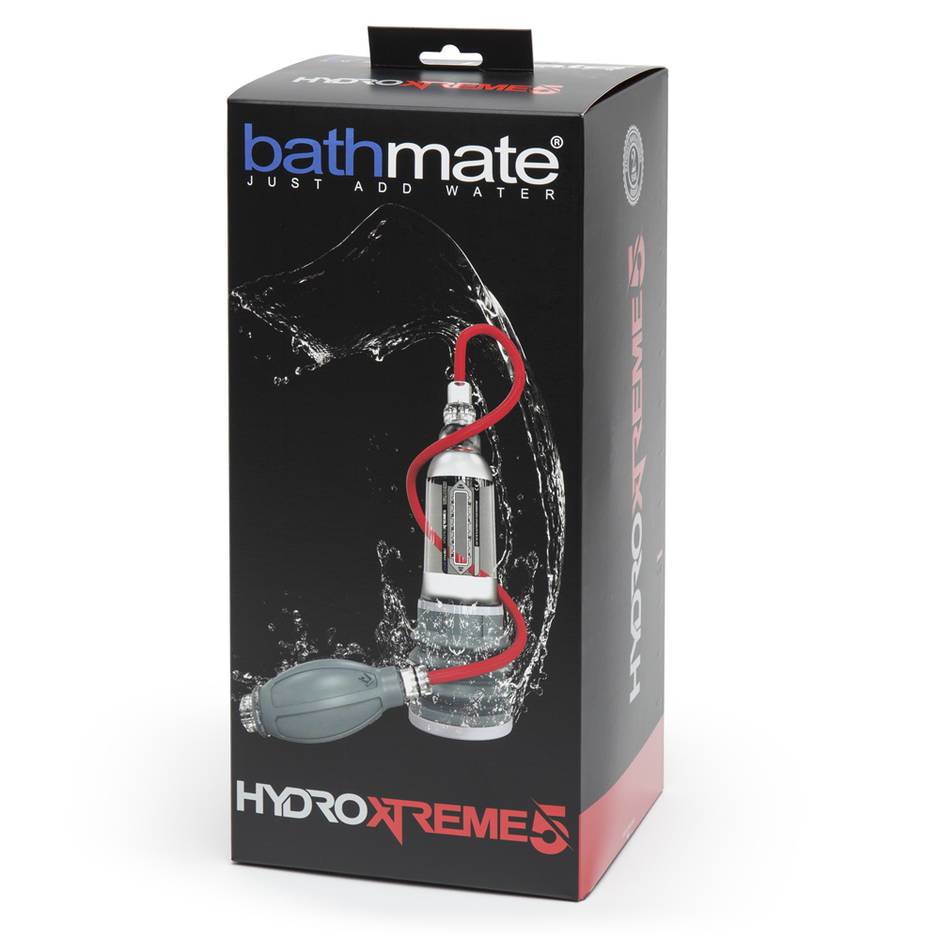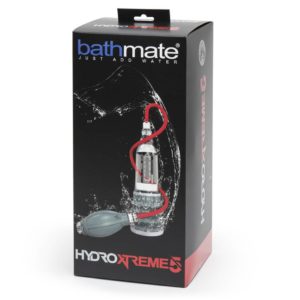 The HydroXtreme HydroPump (model type depends on you, of course)
Measuring gauges
Cleaning sponges
A traditional handball pump
A hose attachment
An insert pad for comfort
A carrying case
Bathmate brand cleaning solution
A security lock
A water-resistant shower strap
An instruction manual
A warranty registration card
Unfortunately, you won't get any lube samples with your purchase, but apparently the manufacturer felt like they included plenty of extras as it is. I'd have to agree.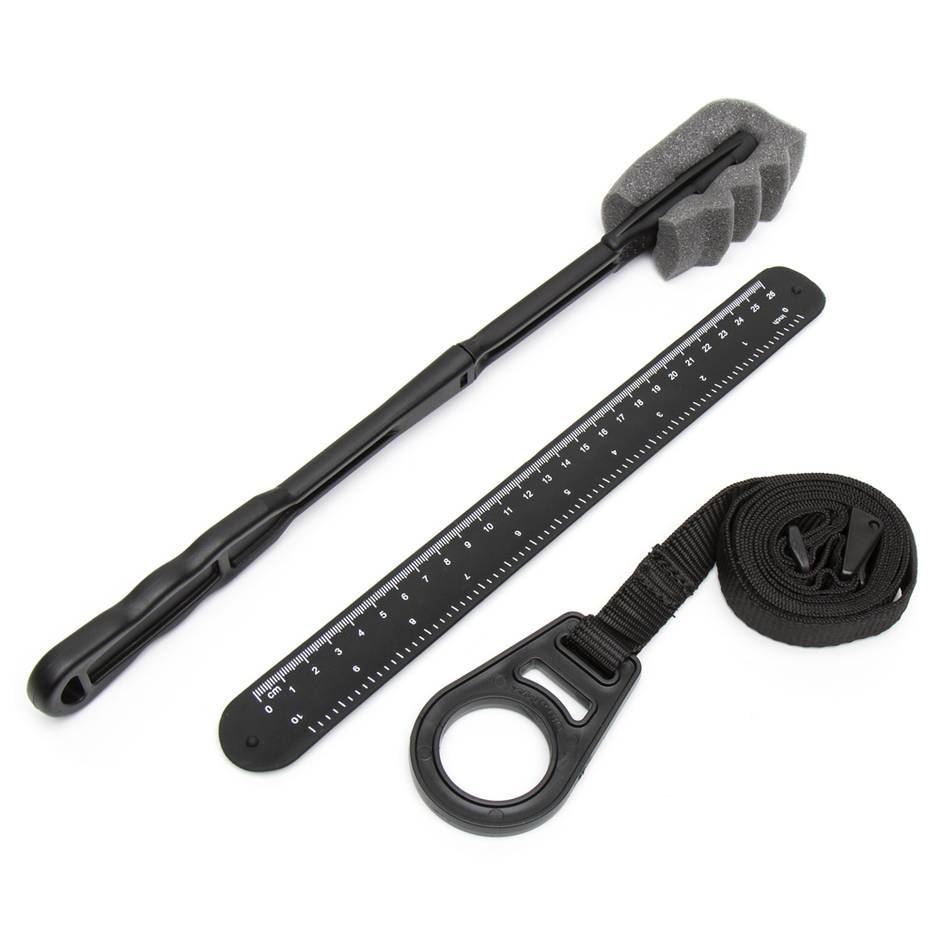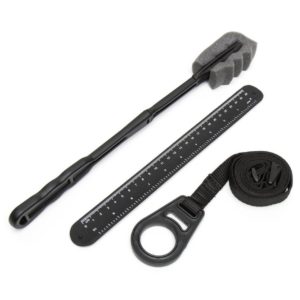 The shower strap alone is such a valuable accessory, not to mention the measuring gauges and the cleaning sponges. I can't think of any other penis pump manufacturer that provides buyers with things like that. I don't know, maybe that's why the HydroXtreme Series is such a hot seller.
SIDE NOTE: The globally recognized Bathmate folks sell more than a quarter million pumps every year to men in over 70 countries. They couldn't do that if their product was junk. In fact, their brand has received numerous industry awards for innovation and design, meaning their devices are truly a diamond in the rough.
I want to add that the accessories are all contained within the carrying case that's included but storing your bells and whistles in it leaves little room for the device itself. In other words, you may have to get creative about where you keep yours. The fact that the devices are so well made and durable certainly helps. I keep mine stored in my nightstand and it's doing just fine in there (so far).
The Cheers and Jeers
I may be a bit partial to certain products or brands because I've been consistently surprised by the quality stuff they churn out, but that doesn't mean I'm unable to discern the pros and cons when I get my hands on a new item. For example, the HydroXtreme Series is a top seller and rightfully so, but I'm still able to find flaws in all the Bathmate brand's products. I call it a gift; my mother calls it a bad attitude. Toe-may-toe, Toe-mah-toe, I suppose.
Either way, the Bathmate HydroXtreme Series isn't the perfect specimen by any stretch of the imagination. I mean, it's definitely effective and I can't say anything bad about its durability, but it's not the most comfortable penis pump I've ever worn and it's a bit on the heavy side. Apart from that, the HydroXtreme Series has far more PROS than CONS and I'll be the first to admit it.
PROS
Fitting in Is FUNdamental –

There are few things worse than spending money on an expensive penis pump only to find out it won't fit. This Series comes in so many different sizes that it's almost impossible not to find a good one.

Bitch Better Have My Money –

If you just so happen to buy the wrong size penis pump from the 5-part HydroXtreme Series, or you find that the device isn't working as expected, you have 60 days to get your money back in full.

Broke as a Joke –

In the event that your device breaks or malfunctions in the first 2 years you own it, the manufacturer offers a warranty for that. You'll have to read the fine print to find out what all is covered; I haven't made it that far yet.

Rough and Tumble –

The way these devices are made, with medical-grade, tempered materials, it's difficult to damage their integrity (even if you just throw your device in a dirty drawer like I do).

Gimme Some Skin –

Speaking of the materials, you're always going to pay more and get more with the medical-grade, skin-safe stuff. The HydoXtreme Series is no exception.

Wet and Wild –

Since it harnesses the natural power of water to create a uniquely powerful vacuum inside the chamber, plus it uses zero electronic components, this series is the most water-friendly device on the market.

Brains and Brawn –

The innovative functionality of the series is smart and effective, creating a super strong suction action every time without fail.

Feel Like a Natural

Wo

man –

Because none of the devices in the HydroXtreme Series use electricity, batteries, or motors of any kind, ownership is easier and more affordable than most.

Silent but Deadly –

These devices make zero noise when in use and I, for one, really appreciate that kind of thing.

Clean and Clear –

As a whole, the series is simple to maintain with few detachable parts. It certainly doesn't hurt that the manufacturer includes a brand name cleaning solution and some sponges, eh?

The Third Degree –

You don't need a degree in engineering (with a bachelor's in patience) to operate a HydroXtreme device. The mechanisms are pretty basic and the instructions are very clear.

It Works If You Work It –

This isn't a 12-step program; it's just a short routine you need to add into your day for maximum results which, by the way, are definitely noticeable.

Locked Down –

Each device comes with a custom fitted security lock so, you know, there isn't an unfortunate accident.

The More the Merrier –

Between the security lock, comfort insert pad, cleaning sponges, and measuring gauge, I feel like a straight-up penis pump pimp.

CONS
Mo' Money, Mo' Problems –

Like everything else that's worth its weight, the devices in this Bathmate brand series may put a tiny dent in your bank account, just sayin'.

Dude, Where's My Customer Service? –

I had a question for the manufacturer's customer service team but it was difficult to get in touch with anyone. I really can't stand that shit. It makes me feel like I'm being ripped off.

Waterboarding –

The HydroXtreme pump will work just fine in the open air, but it tends to do a much better job in water. Unfortunately, that basically forces you to take a bath/shower/or swim three times a day.

Bigger Is (Almost) ALWAYS Better –

The sizes of the devices are great, but that storage case. For the love of everything holy, I'm still trying to figure out how to get all my little parts and pieces back inside that thing. I'll keep you posted if I ever succeed.

Muscle Man –

One of the most glaring downfalls of the design is the fact that it's 100% manually powered. I suggest doing some stretches before tackling the arm-numbing workout that is each session.
WHERE TO BUY BATHMATE HYDROXTREME ONLINE:
LOVEHONEY.COM (15% DISCOUNT CODE)
CLICK THE BUTTON TO REVEAL A SPECIAL 15% BATHMATE HYDROXTREME DISCOUNT CODE:
The Final Verdict
All in all, the Bathmate brand's HydroXtreme Series (which, by the way, used to go by the name "HydroMax Extreme") is a strong contender in the penis pump arena.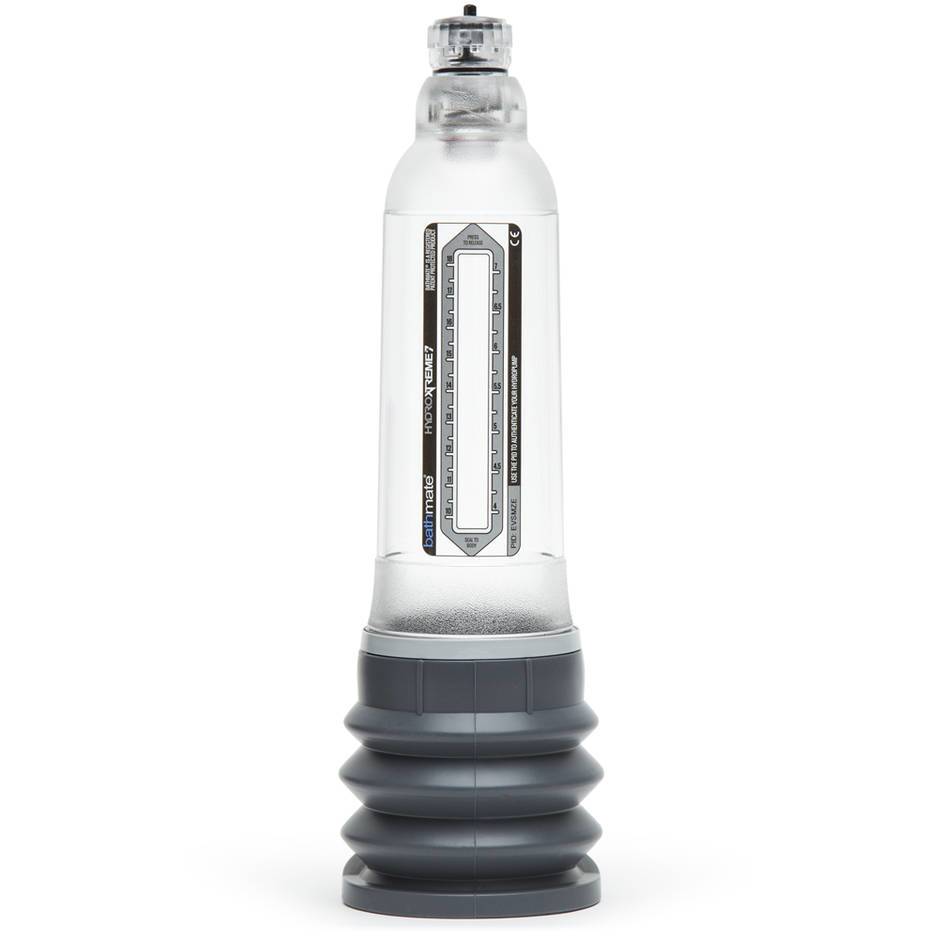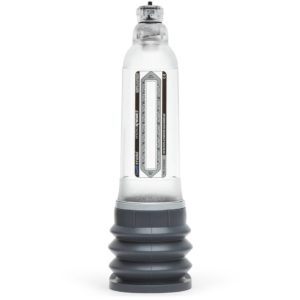 The price tag may be somewhat hard to swallow and the contraption might require you to put a little effort into your penis enhancement routine, but it's certainly one of the most effective systems on the market. You don't need to tell you that you get what you pay for, do you?
It hasn't been easy to schedule adequate bath/shower time for this thing, so I've learned to appreciate its open-air capacity instead of becoming a walking fish. With that method, I experienced noticeable results within the first couple sessions, and things only improved from there until I plateaued (and you will too, by the way). With the reasonable warranty and money-back guarantee at my disposal, I can afford to say the HydroXtreme Series is a smart buy.
You can find more information or buy Bathmate HydroXtreme at the official bathmate website.
Despite the fact that John James is quite the character, there is one thing he has in common with everyone else: he likes a high quality sex toy just as much as the next guy.
Noticing that there were no legitimate websites out there reviewing all the amazing synthetic vaginas on the market, John James set out to do something about it.
After all, it is painfully obvious that today's men really need to know more about their options.