At A Glance: Our Quick Top 5 Picks for Virtual Reality Sex Toys
IMAGE
PRODUCT

Our Top Pick

Our Top Pick

Autoblow Artificial Intelligence

Hands free robotic blowjob toy
Does not need batteries
Uses interchangeable sleeves

Fleshlight/Kiiroo Launch Stamina Training Pack

Super realistic sex simulation with 20+ different sensations to choose from
Automatic, handsfree, portable device
Sleek, discreet design

Use coupon code:

MensToyshub

for 10% discount

Designed to boost your stamina and maximize your endurance in the bedroom
Super-quiet, for when discretion is needed
Connects to interactive content

Use coupon code:

MensToyshub

for 10% discount

Use your smartphone as a remote control
Vibrates and contracts
Very silent & discreet

Compact Handsfree Automatic Masturbation Device
Enhanced by a Video Chat platform and Virtual Reality Porn
Discreet & Easy to Hide

Use coupon code:

menstoyshub15

for 15% discount
People get frustrated when they begin shopping for a new sex toy, but what many of them don't realize is that our forefathers used to go through hell for an orgasm. Having paved the way for us through the trials and tribulations of dangerous sex and masturbation, our ancestors made it easier than ever to bust a nut as quickly and as often as humanly possible. It didn't always work that way though.
Thanks to advancements in technology and the eventual abduction of those technologies by the "mischievous" sex toy industry, today's man (and woman) can now create (or recreate) their wettest and wildest sexual fantasies right from the comfort of their own home. The magic is performed through virtual reality, or VR, and it's coming quick to a bedroom near you.
What is a Virtual Reality Sex Toy?
VR may seem intimidating to some people, but it's just an acronym that stands for "virtual reality." Sex toys with VR capabilities are generally referred to as interactive masturbation devices, although the term "interactive" suggests that all virtual reality devices are appropriate for couples. Unfortunately, that's not always the case. A handful of VR compatible toys are designed for solo stimulation only, so it's important to be careful when you go shopping for one. As for male-focused products, all you need to know is that they concentrate their efforts primarily on the penis.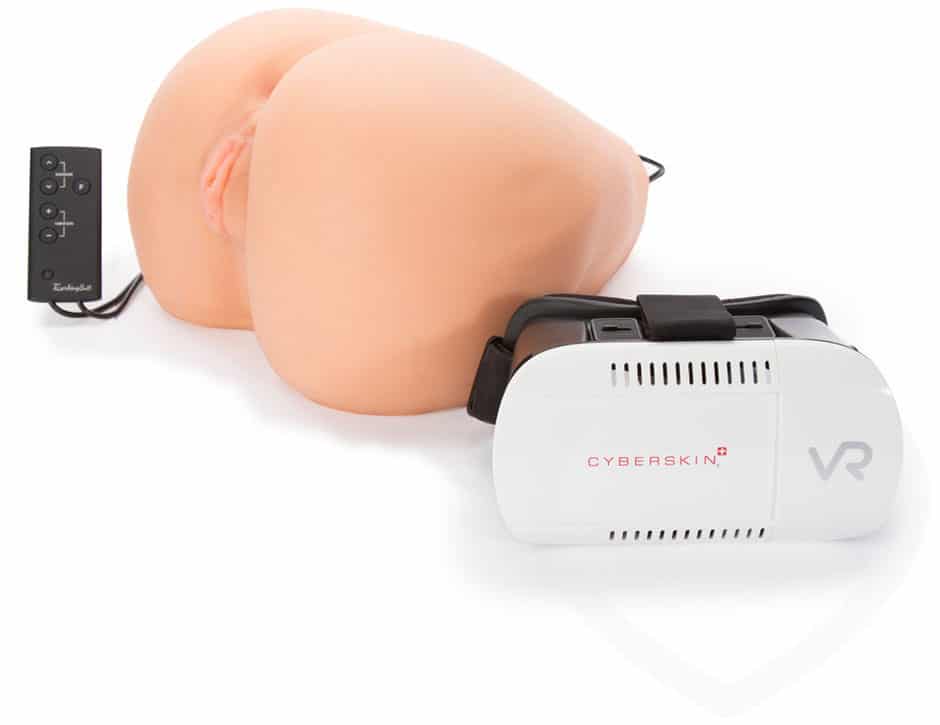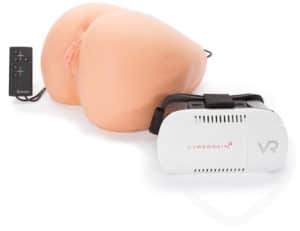 Furthermore, most high-tech VR sex toys for men include real-time programming and specialized textures, orifices or detailing to increase the amount of precision stimulation sent to the penis. These robotic and often automatic devices are usually made to quickly and easily hook up to an online porn video platform via Bluetooth and 3D imaging equipment like glasses or goggles. High-definition images and sounds are then delivered to the wearer's perception, while compatible components work in unison to create a hyper-realistic experience that mimics sex and/or masturbation with a live human partner.
Toys with virtual capabilities come in all shapes and sizes these days, plus they're not all made specifically for men instead of women. Couples toys abound, and many of the male-focused devices can sync to a female device with the touch of a button. Generally speaking, however, VR toys for men have the same basic design features in order to provide the user with the most satisfying sensation.
The Most Common Features
Your list of VR sex toy options is probably a lot longer than you initially anticipated because the category has experienced tremendous growth since its introduction to the pleasure product market just a few years back. Technologies and manufacturing methods have changed over the years for all products, everybody knows that, yet our marital aids and accessories have been getting the hook-up in countless ways and men everywhere are very thankful for it.
Having said that, these are the top 5 most common features you can expect to find on a modern-day VR sex toy for men:
Bluetooth
Bluetooth is an easy to use technology created to link one or more devices with one another for direct interactions. Apps for movies, music and networking often use this tech-savvy system to transmit information in real-time. Most VR compatible pleasure products utilize Bluetooth (or BT) because of its wireless capabilities and user-friendly applications.
Motion Sensors
Motion sensing technology is extremely handy when it comes to making virtual reality sex toys. Motion-sensitive components allow users to experience the movements of a partner and/or performer as it happens, thereby drastically increasing the realism of their masturbation experience and creating a seamless integration between compatible devices.
Intuitive Remote Controls
Life-like experiences usually call for a quick and intuitive manipulation of the device's controls – something that a wired remote just can't deliver. Instead, most VR sex toys for men are fitted with built-in and/or wireless control systems. This not only makes customization easier but it also enhances the realism of a virtual scene.
Specialized Sleeve Textures
What's virtual reality in your line of sight when the sensations you're feeling on your body don't match up? It's worthless, that's what. Good VR sex toys for men always feature specialized masturbations sleeve textures, some of which are molded to look and feel exactly like real people's privates (including your favorite partner and/or a variety of famous porn stars).
Online Porn Content Access
If you know anything about virtual reality then you know that it has to be used with high-resolution video and audio programming to work properly. Most manufacturers understand this, meaning their toys are linked up with high-density porn content libraries and accessible to anyone who purchases the right device or membership. The content, which generally includes a variety of X-rated 2D and 3D movies, clips, webcam sessions and games, is designed to enhance the quality of the experience and provide inspiration for all kinds of sex toy use.
There are a few other features that you'll find frequently on VR compatible pleasure products, but these features are also present on many non-VR compatible devices so they didn't make it onto the top five list above. For a more comprehensive view of your options, look for additional things like:
Determine how loose or tight the inside of your masturbation canal feels by simply squeezing or releasing a pressure pad on the outside of the device.
Visuals and motion sensing technologies are further enhanced by integrated vibrating motors which jiggle the cock and balls at varying speeds and intensity levels.
Enjoy a fully customized experience with a relatively rare component which allows the linked device to function at the same tempo as your favorite tunes via Bluetooth.
Pre-Programmed Stroke Settings
When paired with other technologies pre-programmed and/or automatic stroke settings can instantly change the game by supporting hands-free fun.
Masturbation sessions are dramatically improved by the presence of realistic, fleshy materials that are made out of skin-safe ingredients.
To determine whether a male-based VR sex toy has the features that you and/or your partner truly need, it's important to look closely at the product as a whole, taking into consideration the pros and cons of owning it in the meaning. Interestingly, there are still a few drawbacks associated with virtual reality use due to its relative newness.
The Benefits and Drawbacks
VR as a whole is not on trial here but using virtual reality sex toys requires a slight amount of skill and knowledge to prevent accident or injury. Knowledgeable people always have the most enjoyable sessions, by the way. In other words, here are the things you need to think about before stepping your sex toy game up to the virtual level:
PROS
Generally made from skin-safe materials

Usually covered by a warranty

Compatible with numerous devices

Highly versatile experiences possible

Ideal for solo and/or couple's play

Promotes better intimacy in long-distance relationships

Integrated settings for enhanced realism

Customizable sessions available
CONS
Requires additional device and/or equipment purchases

May be too complex for some users

Relatively expensive compared to other types of toys

Not always compatible with water or other devices
There's a lot to consider before you spend money on a high-tech sex toy. Make a more informed decision by carefully examining how each of the pros and cons affect your love life. For some people, a toy that's incompatible with other devices is no big deal. For others, it's a deal breaker. Basically, try to understand that there's no such thing as a perfect pleasure product but that there IS a perfect one for you.
Tips for Finding the Right VR Sex Toy
With so many options out there, it can seem impossible to track down the right one. Here are the things you need to know or find out about yourself and/or your partner before using a virtual reality device:
The type of sex toy you buy should depend heavily on the kinds of sexual experiences you want to have. Not all VR devices are made to do the same thing, so find out what you're looking for and then hunt down a machine that's designed for that specific purpose.
A person's skin type determines which materials can be used. For example, people with allergies should stay away from latex, but parabens and phthalates are dangerous for everyone. To avoid preventable irritation, make sure the toy's skin is compatible with yours.
Make sure the lube you use is compatible with the materials on the toy. In general, silicone toys cannot be used with silicone-based lubricants and water-based lubes are considered the safest. Choose wisely and make sure the lube is also gentle on the skin.
VR sex toys for men often require special equipment such virtual reality glasses/goggles, mobile data networks, internet connections, smart devices with Bluetooth, and so on. Get the most bang for your buck by showing up for the party prepared.
Come up with a ballpark figure of what you want to spend, keeping in mind the extra cost of ownership, operation and maintenance. Don't forget to look for manufacturer's warranties, discount codes and coupons so you can save a little money on the essentials.
If you have all your ducks in a row before going shopping, then it's much easier to pinpoint the perfect toy and get it on your dick ASAP. Unfortunately, even guidelines like the ones listed above can't help everybody. Some men need straight-up recommendations or road maps and that's okay too. After all, shopping for sex products is always more fun when you've got few tricks up your sleeve.
The Top 5 Best VR Sex Toys for Men In 2021:
Done getting your informal education on virtual reality love machines? Ready to take a gander at what's out there? Well, you're in luck because these devices are considered the top 5 best VR sex toys for men and it's pretty darn easy to see why:
#1 The Autoblow A.I.
BEST FOR ORAL SEX SIMULATION
---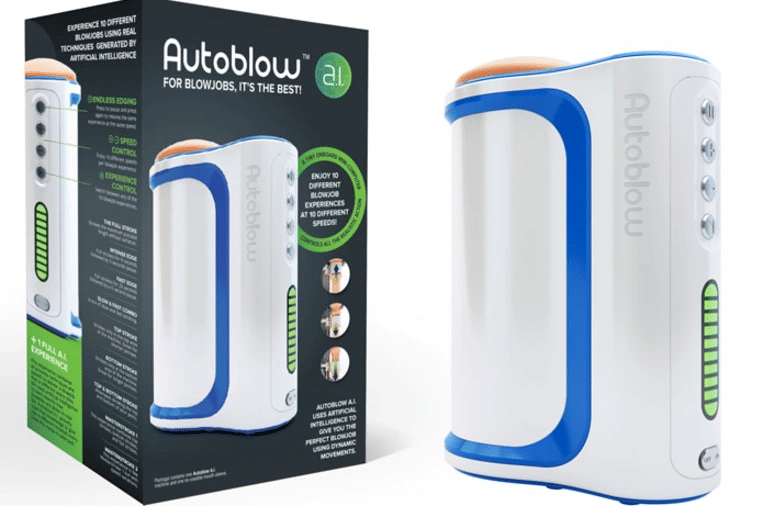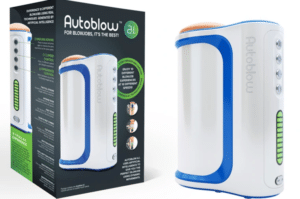 Made by an innovative company that got its start on a super successful IndieGoGo campaign just a few years back, the hot-selling Autoblow A.I. is the maker's second-generation masturbation device and it's designed specifically to mimic the sensations of natural oral sex. While already possessing a patented penis gripper and 10 different tailored stroke settings, the developers also gave it a powerful, precision-guided drivetrain and then equipped it with the world's very first artificial intelligence interface that learns the user's performance preferences as it goes. It features an industry-leading Edging functions too, improving the stamina and skillset of men from all over the world.
PRO: It can accommodate any penis size and features interchangeable sleeves.
CON: It plugs directly into a wall outlet with no other option for power.


#2 The Fleshlight Launch
BEST FOR VIRTUAL REALITY FANS

---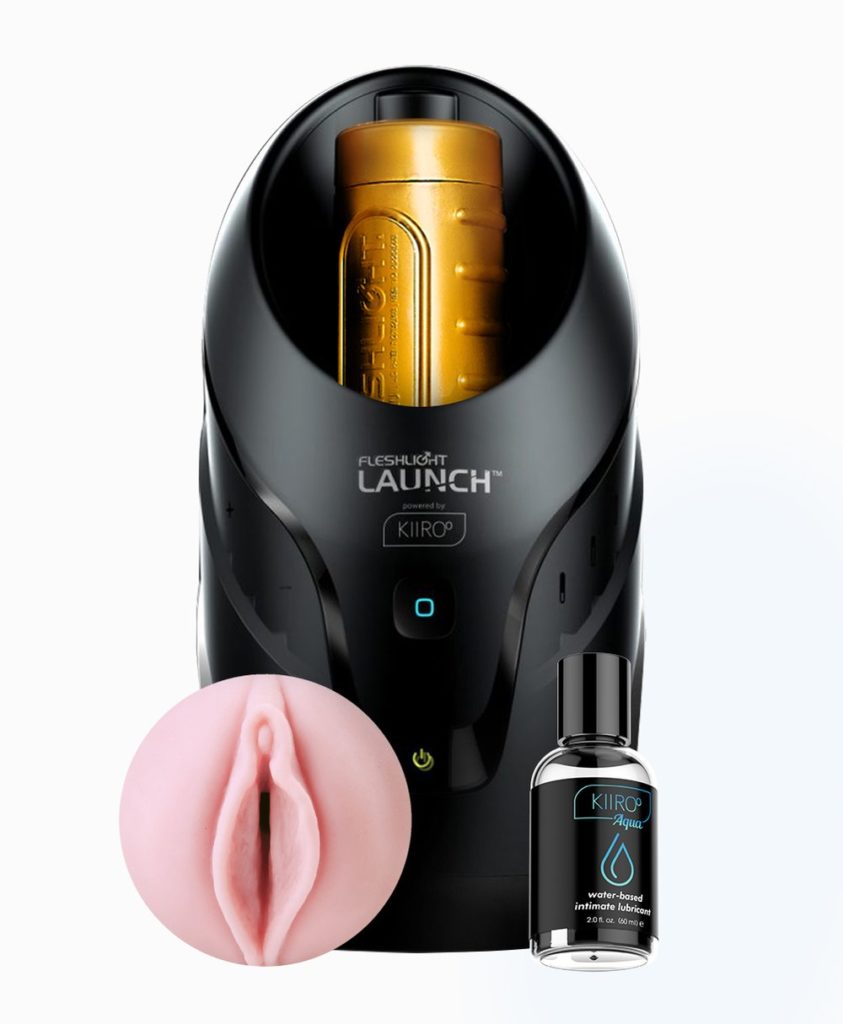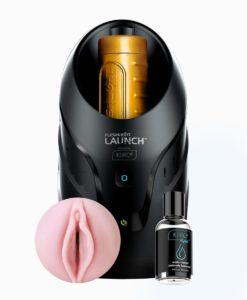 Crafted by one of the most beloved names in the sex toy industry, the Fleshlight Launch is the automatic male masturbation machine that revolutionized the market when it was first introduced. With a powerful motor ran by a fully rechargeable battery, this thing strokes the penis at speeds of up to 180 pumps per minute. Each movement can be tailored with pre-programmed pleasure settings or hooked up to the brand's massive online porn library for 3D virtual reality fun. Use any standard-sized FL case/sleeve combo with it (and even enjoy it with a few of your Kiiroo devices as well).
PRO: You can still use this thing while it's being recharged and it comes with a manufacturer's warranty.
CON: It's rather large and requires the separate purchase of a masturbation unit to use as intended.

#3 The Kiiroo TITAN
BEST FOR SOLO PLAY
---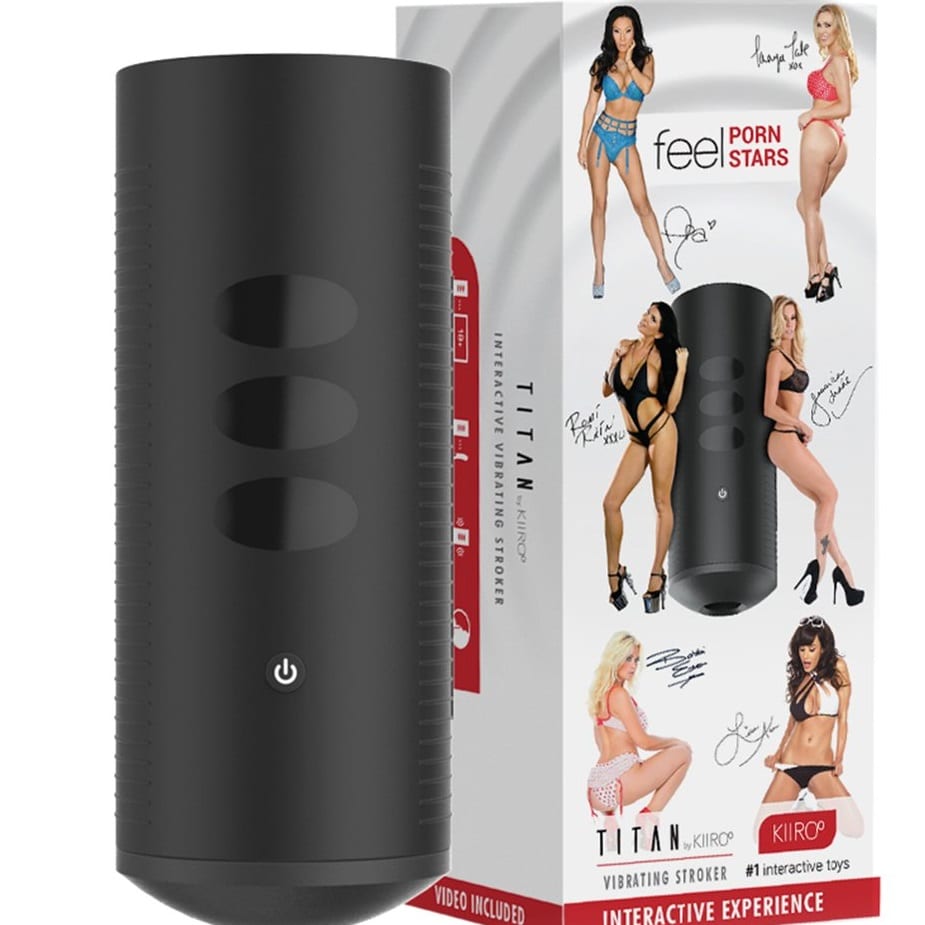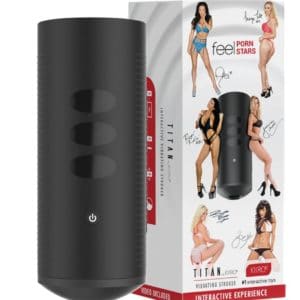 Ideal for men who want to push themselves to the limit without involving a partner or playmate, the Kiiroo TITAN offers a variety of intense pleasure settings including vibrations, strokes, and suction. With six distinct training modes controlled by a touch-sensitive interface on the side, users can explore the sensations delivered by the 9 vibe bullets integrated into the silky-smooth "Real Feel" masturbation sleeve. Connect it to over 4,000 X-rated porn videos or sync it up to another Kiiroo brand toy for maximum erotic exposure using one of the most lightweight and sophisticated models on the market currently.
PRO: It features a discreet design and is compatible with all products within the mother brand's inventory.
CON: It won't accommodate all penis sizes and the sleeve you get is the only one it has.


#4 The Lovense Max 2
BEST FOR BEGINNERS
---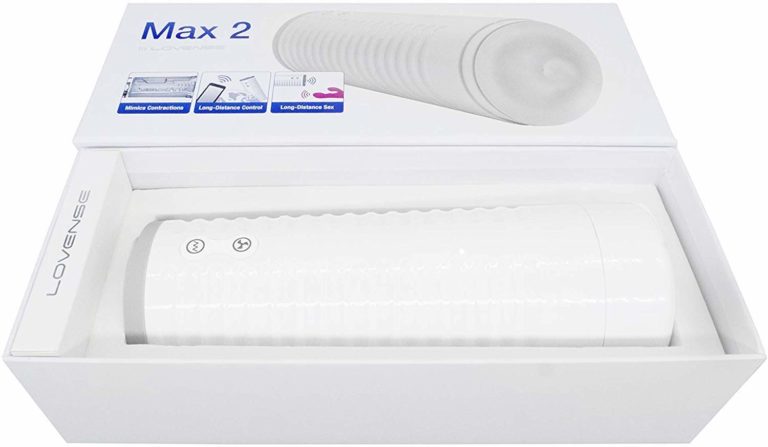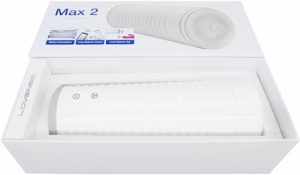 As the world's very first high-tech masturbator for men, the Lovense Max 2 is a new and improved version of the almost equally amazing predecessor that brought millions of men to a successful climax. The chamber uses a patent-pending air pump mechanism that oscillates as it undulates up and down your penis without the need for manual power. Created to mimic the sensations of oral sex, the LM2 also features manual pressure pads on the side for customizable suction, plus it's fully rechargeable with a standard USB and made to be compatible with another Max or Nora from the same brand.
PRO: It allows for kinky remote play with a partner and features a sleek, sophisticated design.
CON: It has a relatively short battery life and offers no interchangeable sleeve or texture.


#5 The Kiiroo Onyx 2
BEST FOR COUPLES
---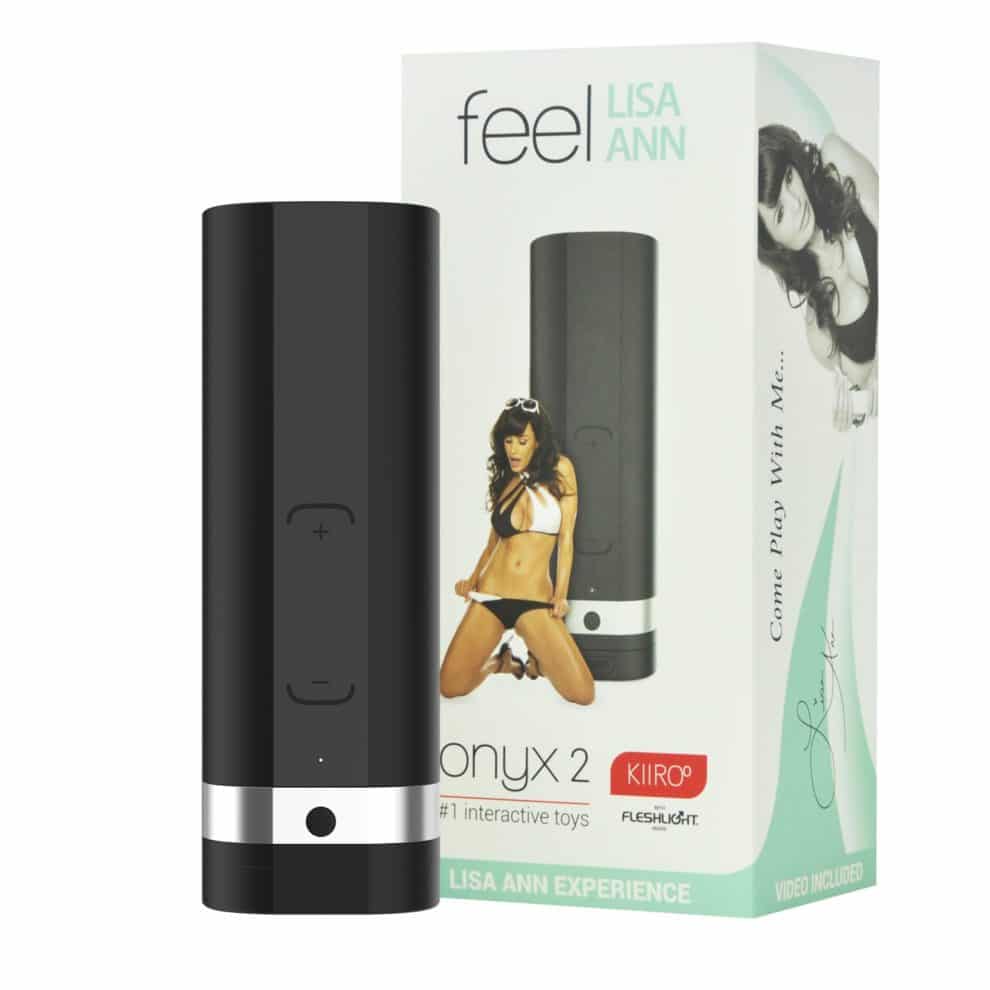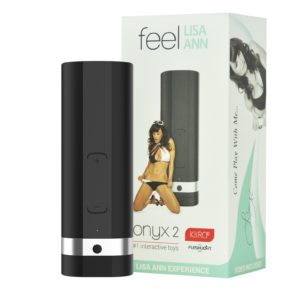 Made by a trusted industry name, the Kiiroo Onyx 2 is not only compatible with all other Kiiroo brand products but it also works with the Fleshlight Launch as well. Ideal for couples and solo artists alike, the KO2 features user-friendly ergonomics like a touch-sensitive control panel and a sleek outer shell, plus it utilizes 10 contracting rings to stimulate the penis as it transmits real-time porn content through an easy to use Bluetooth connection. Best of all, the canal is wrapped in the same SuperSkin material that put Fleshlight on the map so you know it feels like a dream inside.
PRO: It can be used manually or in automatic mode alongside online porn content, making it second only to the Launch in versatility.
CON: Its canal size and texture can never be changed.


Virtual Reality Sex Device FAQ
Q: How do I take proper care of a high-tech sex toy like this?
A: High-tech devices often require special attention in terms of upkeep and maintenance. Always read the owner's manual for full care instructions and don't forget to register any warranties offered by the manufacturer within 30 days of opening the box. In general, however, a high-quality lubricant and sex toy cleaning solution should do the trick. Never use water on your device unless expressly permitted by the maker.
Q: Where/How do I store it?
A: Some of these devices come with a storage container but that's not always the case. To keep your product intact for as long as possible, only store it in a cool, cry place that's kept out of direct sunlight and away from extreme hot or cold temperatures. For most people, storing their device under the bed, in the closet or inside their nightstand is typical.
Q: Are there any special skills and/or equipment required to use these things?
A: As mentioned in the guide above, most VR sex toys for men require a few separate pieces of equipment to make them work properly. Things like virtual reality glasses/goggles, mobile data services, internet connections, smart devices, and online porn library memberships are the norm. Extra gear like personal lubrication, device cleaning supplies and accessories are common as well. Be prepared to spend extra money on compatible devices, power sources and/or batteries too.
Q: I heard that using machines like this can make my dick stop working. Is that true?
A: While it's well documented that excessive masturbation and exposure to pornographic imagery can have a negative effect on someone's sexuality, moderate use is considered generally safe and is thus not a cause for concern for most men. Devices with extreme sleeve textures and/or intense pleasure settings should be used in moderation to prevent things like erectile dysfunction and lacking intimacy between partners. However, certain sleeve textures are purposely made to deliver intense sensations for the purposes of stamina training. Moral of the story: Use your toys responsibly.
Q: Can I use a device like this if I have a monogamous partner?
A: Yes, many VR pleasure machines for guys are designed for couples play as well as solo stimulation. Between the interactive functionality and remote controllability, even people engaged in a long-distance relationship can benefit from using a virtual reality toy.
Q: What happens if my expensive virtual device decides to break after I buy it?
A: Fortunately, most of today's reputable sex toy manufacturers provide limited warranties on their products as long as the consumer purchases it from the right supplier (a local adult entertainment store, an online affiliate, etc.). As long as you register the equipment within the allotted window, any breaks or malfunctions should be covered. In any event, many sex toy makers also sell spare parts for their machines.
Q: What's typically covered in a manufacturer's warranty?
A: The coverages offered by manufacturers will vary widely depending on numerous factors. However, most sex toy makers don't cover acts of negligence so be sure to read your owner's manual for usage instructions and warnings.
Q: Why would I use one of these things if I have no problem getting laid by a live partner?
A: Virtual reality sex toys are popular because they give people the opportunity to try out new things and/or fulfill their wildest fantasies in the comfort of their own home while never having to worry about performance anxiety or judgement. VR is a groundbreaking technology that's changing the way people have sex and masturbate, meaning it's inevitably going to find its way into everyday bedrooms. To remain current and alluring, it may be necessary at some point for us all to have an understanding of the technology.
Despite the fact that John James is quite the character, there is one thing he has in common with everyone else: he likes a high quality sex toy just as much as the next guy.
Noticing that there were no legitimate websites out there reviewing all the amazing synthetic vaginas on the market, John James set out to do something about it.
After all, it is painfully obvious that today's men really need to know more about their options.