Having sex is already a lot of fun but imagine doing it with a little support behind your back. A good sex pillow can drastically enhance your pleasure by increasing your mobility. In fact, the best types of sexual support can improve your stamina as well.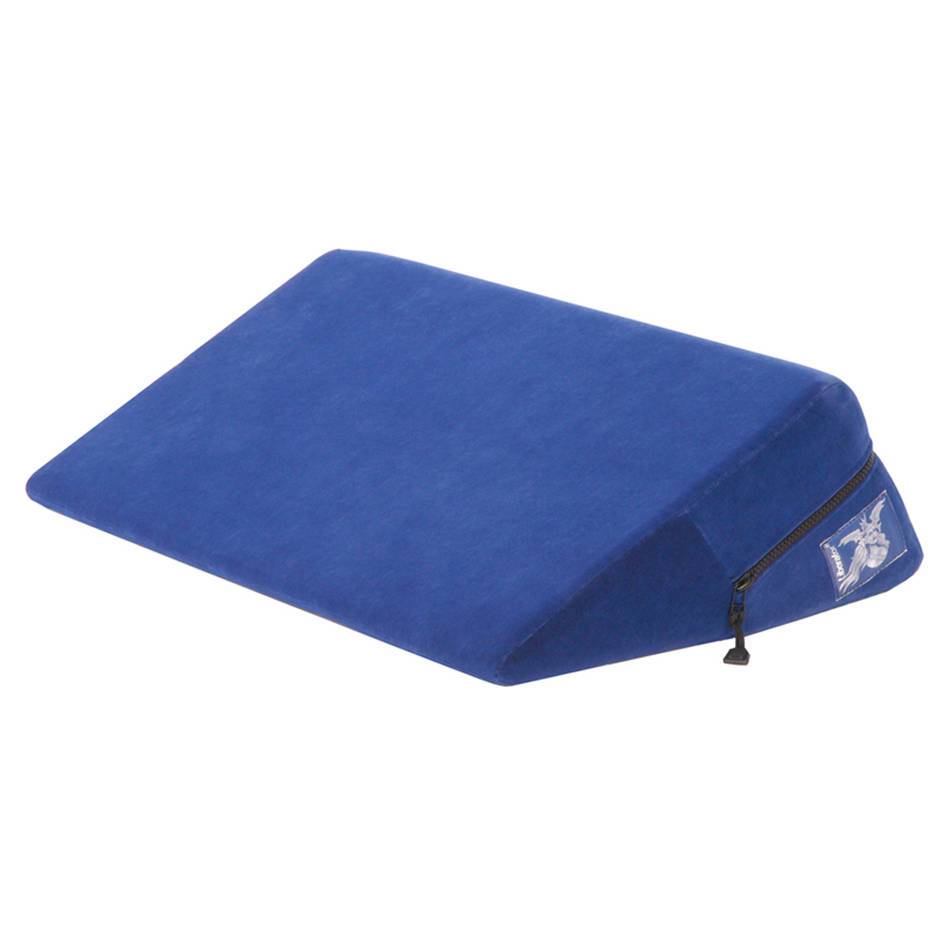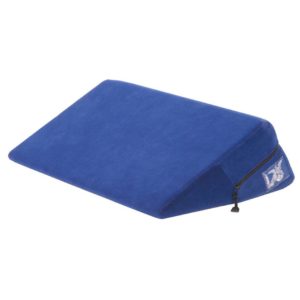 Think about it this way: when neither you nor your partner have to hold yourself up the entire time, it's much easier to perform for longer because you feel stronger. 
Not only that, but excellent support during sex helps both of you reach and hold difficult positions without suffering from fatigue. Raise your expectations in the bedroom by simply raising your ass off the mattress. Whether you're on top or on bottom, a high-quality sex pillow can transform your love-making skills like you wouldn't believe, making you perform like a pro without the need for special toys, stamina enhancement products, or potentially dangerous drugs. Perhaps that's what makes them so popular.


At A Glance: Our Top 4 Picks for Best Rated Sex Pillows
Unfortunately, there are so many sex pillows, wedges, ramps, and mounts out there that it can be a headache finding what works best for you and your lover. While a little trial and error is always an option, such discovery processes usually do more harm than good – i.e. physical pain, humiliation, wasted money, and so on. So, why not just quickly skim through a buying guide like this one to narrow down your search?
IMAGE
PRODUCT

Our Top Pick

Our Top Pick

Moisture-resistant liner protects inner cushion
Each cushion can be used separately or together for a variety of play options
Wedge and Ramp both feature a 27 degree angle for comfortable support, deep penetration and maximum satisfaction

Moisture-resistant liner protects inner cushion
Non-slip microfiber case is removable and machine washable for easy cleaning
Made from high density foam and features a responsive core

Champagne foam to support both your bodies in motion
A must-have for oral enthusiasts
Unzippable washable covers that get softer with every wash

Sex pillow toy mount for hands-free penetrative play
Pre-made toy holder is suitable for dildos, vibrators and wands with or without a flared base
Twin-pocket in pillow case is suitable for a clitoral stimulator
FEATURED RECOMMENDATIONS
Many people skip this part of the purchasing process because they think all sex pillows are made the same. Others are in too big of a hurry to bust a nut, and thus they ignore what's important. Quality is and always will be a more vital factor than quantity, and that's precisely why you should always do your homework. The following are the most essential components of any sex pillow on the market. By understanding and appreciated each one, your chances of buying the best product are increased tremendously.

The Top # Things to Look for in a Good Sex Wedge Pillow
It's true that many of the sex pillows on the market are very similar. However, it's also true that they're not all created equally. Some are obviously better than others and buyers can tell that just by looking at them. Still, a few products are misleading and thus, consumers must either try the pillow or wedge before they buy it (which is usually not even possible) or simply deal with their decision once they open the box.
CLICK HERE TO FIND THE BEST PRICES ON THE INTERNET
Our Recommended Top 5 Best Sex Pillows In 2019:
#1 – The Liberator Sex Position Hipster
BEST OVERALL
---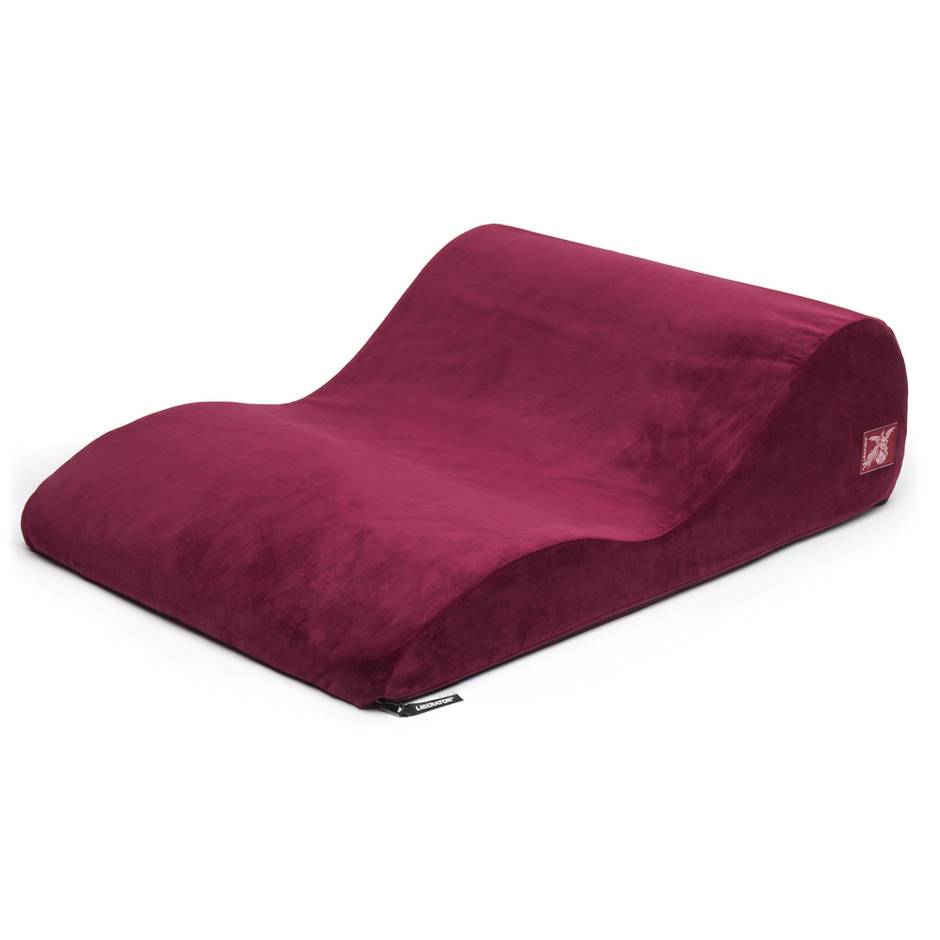 As perhaps the most well-rounded option out there, the Sex Position Hipster by the Liberator brand exudes high-quality craftsmanship, with an ergonomically sculpted exterior that's perfectly shaped to accommodate the natural curves of the human body and a high-density foam interior that adequately supports almost any body type. This sturdy, durable and silky-soft sex positioner provides the lift while deleting the drag by using state-of-the-art manufacturing and a whole host of user-friendly features (including a removeable, washable cover).
Speaking of which, this sleek and sexy little number is slathered in a velvety material that's gentle to the skin, washing machine safe and, surprisingly, compatible with every water-based personal lubricant on the market. Also, it measures 33 inches in total length with a 9.5-inch height at its tallest point – the perfect sized accessory for sex of all kinds, and a discreet one at that. By the way, the entire thing is protected by a water-resistant nylon liner too, so you never have to worry about replacing the foam insert or placing limits on your love making.
PROS
Made from skin-safe, lube-friendly materials

Secure zip closure for effortless cover removal and replacement

Ideal for all types of sex, especially oral

Contoured for comfort

Fits under most beds

Machine washable

Attractive, luxurious appearance
CONS
Rather large

Not compatible with sex toys
#2 – The Liberator Humphrey
BEST FOR SEX TOY ENTHUSIASTS
---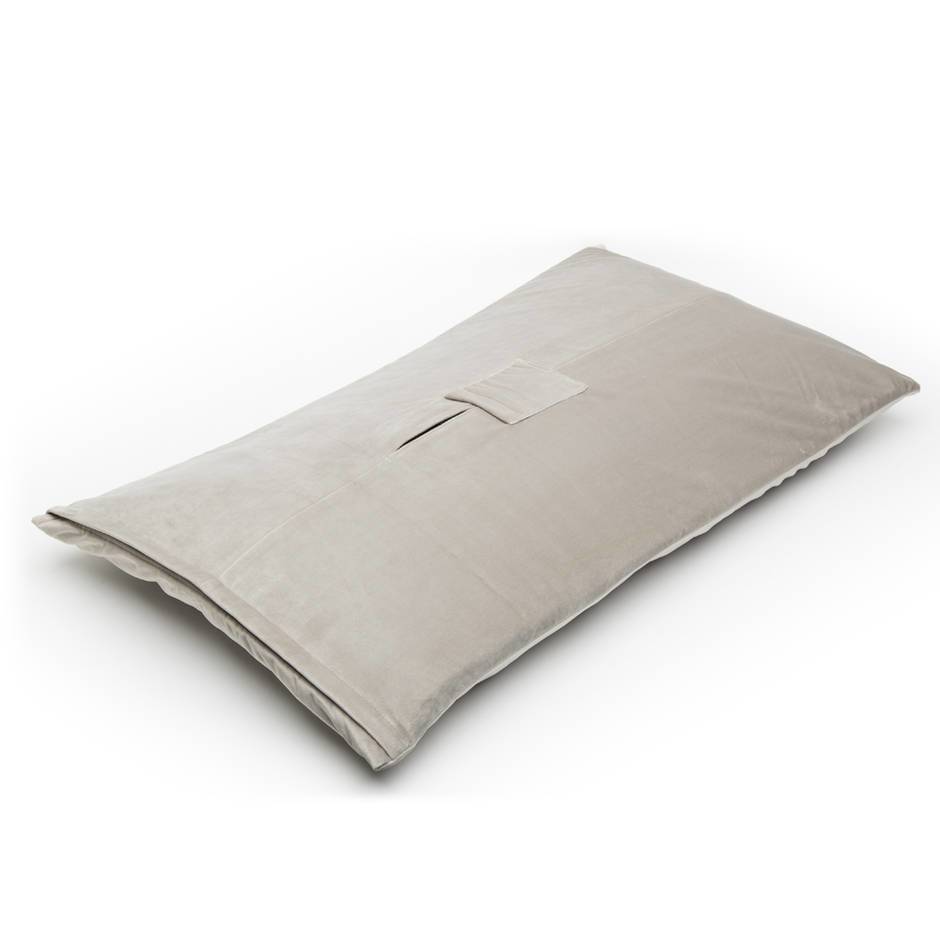 The Liberator Humphrey is aptly named, mostly because it's the ideal product for people who like to hump their favorite sex toy. Gone are the days of trying to wedge your dildos in between two objects on your bed or floor to enjoy some hands-free fun. This amazing invention is just what the dirty doctor ordered, with a quasi-universal sex toy mount built right into its otherwise extremely discreet design. And with a silky-smooth, velvet-finished exterior, you'll feel like you're in the lap of luxury with every thrust.
The hypoallergenic composure is only the beginning though. Word on the streets is that the new and improved version features an enhanced design to make it compatible with suction cup toys and modern-day massage wands too. The entire thing is protected by the brand's patented water-wicking nylon liner and is stuffed with the same high-density foam you've come to know and love in your favorite wedges and ramps. On top of that, it's got what the maker calls an "inception pocket," which is just a fancy name for the two-fold slot that can accommodate your pick of bullet vibes for even more pleasure.
PROS
Looks like a regular bed pillow

Made from skin-safe, lube-friendly materials

Compatible with a wide variety of sex toys

Velcro closure for easy cover removal and replacement

Machine washable

Dual pocket design for improved versatility

Easy to store and hide
CONS
Too flat for body/positioning support

Unattractive cover color, no other colors available

Can only be used with unflared marital aids
#3 – The Liberator Wedge
BEST FOR TOUGH POSITIONS
---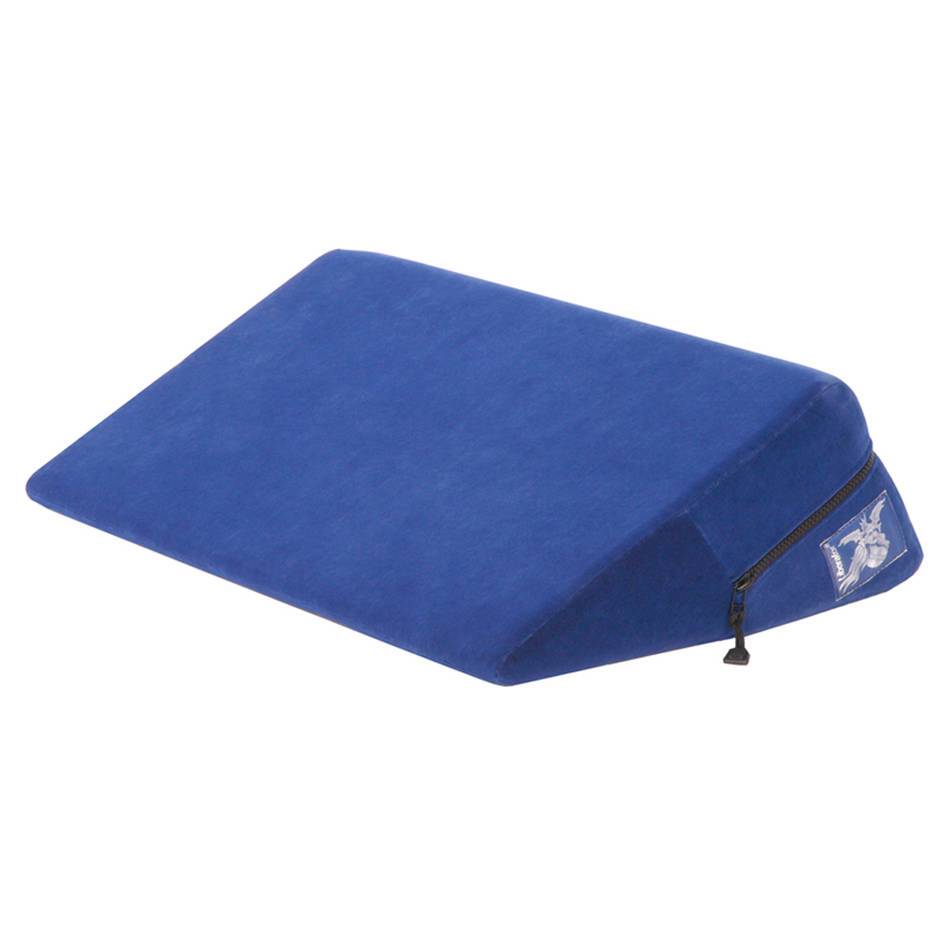 Ideal for people who enjoy experimenting with the Kamasutra, this budget-friendly option features a 27-degree angle that's perfect for elevating the body to pleasurable heights in more ways than one. Enjoy precision contact with your partner's erogenous zones while exploring your own range of motion without pushing anything but your imagination to the limit. The wild and wonderful Wedge by the trusted Liberator brand helps to magnify the sensations of your sex life by providing the soft, silky support you both need in the heat of the moment.
This bad boy isn't just a must-have for the Oral Olympics, it's the kind of companion required to achieve tough positions like the Moon Walker and the Alley Oop. On top of that, it's easy to take care of, complements any skin type or tone, and measures a quaint but substantial 14 inches in length and 7 inches in height – large enough for almost all weights yet small enough to be hidden away from nosey roommates.
PROS
Stuffed with Champagne foam for enhanced motions

Secure zip closure for effortless cover removal and replacement

Made from skin-safe, lube-friendly materials

Easy to store and hide

Angled design for deeper penetration

Comes with a gear bag for storage

Water-resistant nylon liner beneath microfiber cover
CONS
Not as versatile or comfortable as some options

Champagne foam can reduce position stability
#4 – The Liberator Wedge/Ramp Combo
BEST FOR VERSATILITY
---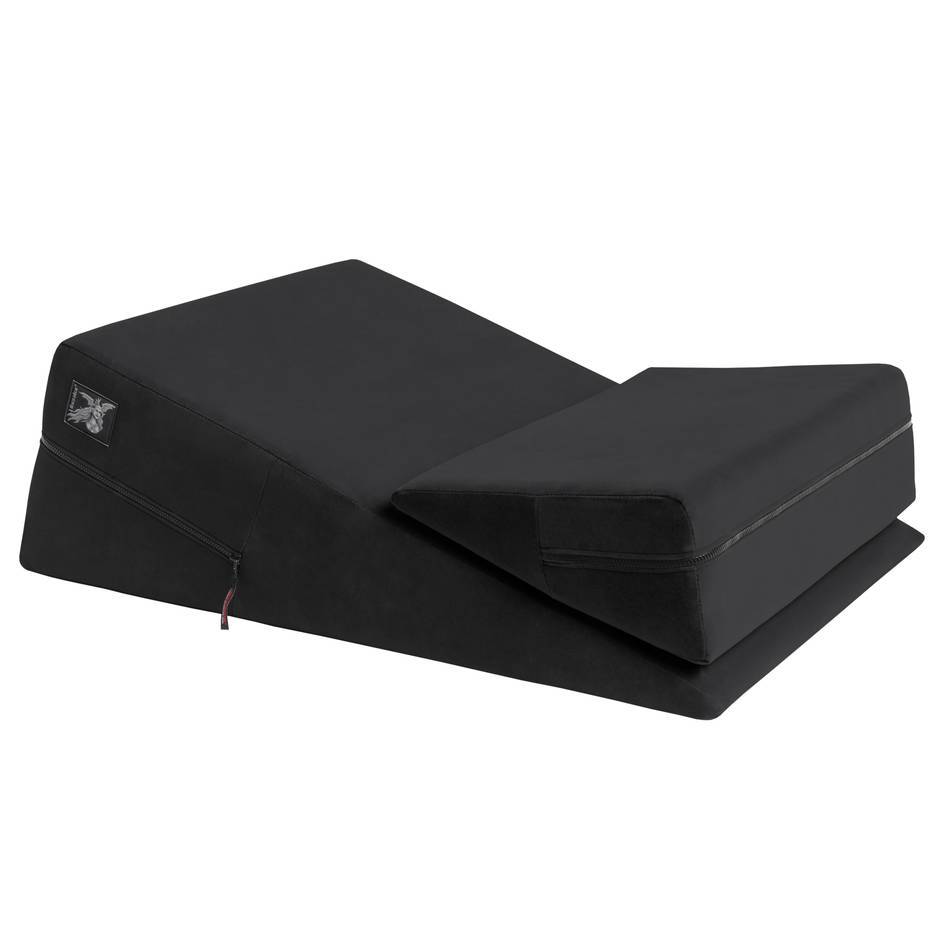 Can't decide on what you want to do with your partner tonight but in need of something that will support the creations of your vivid imagination? Look no further than the world's most versatile sex pillow – the Liberator Wedge/Ramp Combo. This unique product not only supports two bodies in passionate motion but it also flips and folds to accommodate the physical needs of any position you dare to try. Ideal for traditional intercourse and anal play as well, the W/R Combo is also good for oral stimulation and experimentation with sex toys, BDSM and everything in between.
This product's overall design is what makes it so amazing – a 27-degree wedge angle for optimal penetration, a removeable non-stick microfiber cover for easy cleaning, and a luxury-grade stuffing of high-density foam for maximum support during sex and/or foreplay. There's even a waterproof liner underneath just waiting for you and your partner to bust a nut all over it. The 2-pillow structure can remain stuck together or be separated to give you a wider variety of play options, making this one the most versatile positioning products in the entire industry.
PROS
Responsive Core interior for superior body support

Made from skin-safe, lube-friendly materials

Essentially three products in one

Angled for deeper penetration

Secure zip closure for effortless cover removal and replacement

Unisex appearance

Ideal for all types of sexual activities
CONS
Somewhat expensive by comparison

Can be difficult to store and hide
#5 – The Liberator Jaz
BEST FOR BUDGETS
---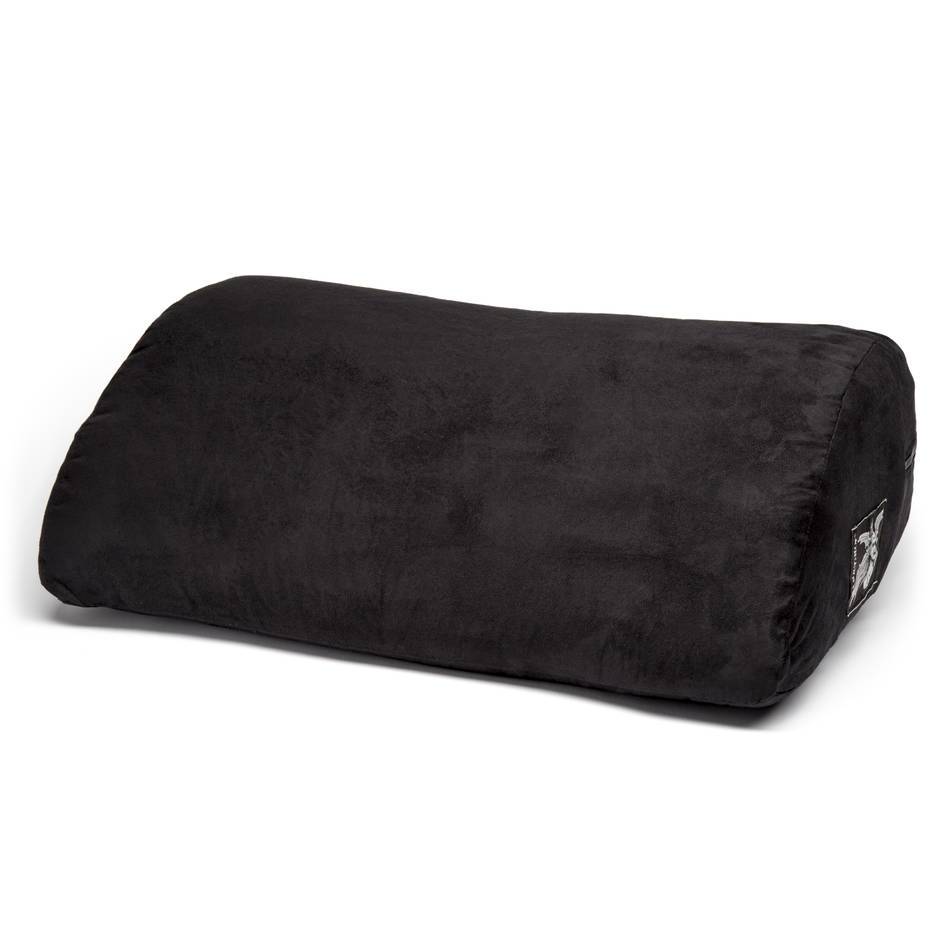 If you're in the mood (or the market) for something a little different (and more affordable), then the Liberator Jaz might just be the perfect pillow for you. Not only is it ideal for beginners yet still appropriate for pros, but it's also budget-friendly and sized appropriately for virtually all body types in your Rolodex. As an added bonus, the unique shape provides a fun and convenient see-saw motion during foreplay and sex, allowing you and/or your partner to quickly adjust the angle of your positions without ever stopping.
Literally, you can rock and roll your way to the best orgasm of your life with this proprietary product, plus you'll have no trouble taking care of it in the meantime. The moisture-wicking liner beneath the silky-soft velvet-finish material adequately covers the high-density, responsive foam core within, plus the body-friendly 19 by 13 by 6-inch dimensions are compact and convenient enough for all lifestyles. Truly a versatile and voluptuous option, this bad boy is made to give you the support you need without breaking the bank.
PROS
Made from skin-safe, lube-friendly materials

Features two different surfaces for increased position versatility

Secure zip closure for effortless cover removal and replacement

Inexpensive

Unisex appearance

Easy to store and hide

Machine washable
CONS
May be too small for some users

Material attracts debris easily
NOTE OF CAUTION WHEN SELECTING YOUR NEXT SEX PILLOW: Never choose a product based solely on its price or brand affiliation. If cost is a major concern for you, simply look for discount codes and coupons from the manufacturer or a licensed merchant. Do not buy your products from disreputable dealers regardless of what's on the price tag, and always be on the lookout for imitators so you don't get ripped off.
Most sex pillow manufacturers and sellers don't allow for returns once the product is exposed. There's a very good reason for that, but it doesn't make buying one any easier. Fortunately, there's a much better way to do this. Below are the things you should look for before forking over your hard-earned cash:
The Sex Position Pillow's Shape
The shape of any sex pillow is the number one most important factor that most customers consider when they're picking out the perfect one. In general, these types of pillows are found made in the following shapes:
Round – Curved for comfort
Triangular – Known as "wedges" and made to transform into numerous shapes


Square – Typically used for only one or two positions
Abstract – A combination of round, square, or triangular shapes
To figure out which shape will work best for you and your lover, carefully consider your intended uses. If you two don't plan on getting too freaky, then a square pillow should do fine. If one or both of you has mobility issues or physical impairments, rounded pillows help keep you comfortable. However, if your plans are to break a record or complete the Kama Sutra, choose instead a wedge or abstract shaped pillow for best results.
TIP: The shape of the pillow should be illustrated on the box that it's packaged in. However, be sure to read the label, as pictures can sometimes be misleading.

The Relative Size
Shape is not the only determining factor one should consider before buying a sex pillow. The size of the product matters quite a bit, especially when compared to the size of you and/or your partner. While many sex pillows are made to suit all body types, none of them are the same size.
Think about how you're going to use the pillow, how much support you need, and how you plan to store it when you're all done. Because these pillows are made to support you during sex, most people want to store them in a closet or under the bed when they're not in use. Although that's a very wise idea, the larger pillows are difficult to hide.
Still, small pillows may not suffice for the purposes you intend, especially if you're looking to get buck wild on it. Slipping is a real possibility, and that can cause injury and embarrassment. Try to find a pillow that gives you the best of both worlds: plenty of room to do your dirty work but compact enough to stow away when company comes over.
TIP: Look for a sex pillow that folds up or comes with a discreet carrying case. This will help you enjoy a larger pillow without having to explain what it is to your friends and family.

Its Durability
Because your sex pillow is likely going to sustain a lot of abuse, it's important that its durable enough to withstand the activity. While many pillows look nice and sturdy on the box, false advertising gets the best of some people. To determine whether your favorite sex pillow is durable or not, look for the following four attributes:
The Stitching – A good pillow will either be carefully hand-stitched, or it will feature strong threads that are less prone to breaking.
The Weight – The best sex pillows are often weighty, although there are some exceptions. This is because a heavily weighted product can usually withstand more pressure and tussling than a lightweight option.
The Stuffing – A high-quality sex pillow will be adequately stuffed with dense materials like foam, cotton, or gel. HINT: The best pillows are filled with strong memory foam or gel.
The Covering – Your best bet is to buy a pillow with a robust outer covering that's made from a mixture of sturdy materials such as cotton, synthetic polyester, nylon, or a combination thereof.
To get a good sex pillow that's well worth your money, and to prevent you from having to replace it too often, simply refuse to buy anything that looks or feels flimsy. Many manufacturers will use some of the above attributes but not all. However, only the best pillows will feature strong stitches, adequate weight distribution, ample stuffing, and a durable yet comfortable coating.
TIP: Velvet is often used as the outer covering of many sex pillows, but many people believe that material is not durable enough. While velvet is susceptible to staining and streaking, it happens to be one of the strongest materials on the modern market. Do not let a velvet outer covering sway you from buying a pillow because you believe the hype.

The Weight Capacity
Aside from the quality of the stitching and the density of the stuffing, the product's weight capacity matters quite a bit. Think about it: the weight of both you and your partner will be laying on the sex pillow you choose. So, if the pillow can't hold you both up when nothing is happening, then it certainly won't suffice when the huffing and puffing begin.
Most of the time, a high-quality sex pillow will mention its weight capacity on the label or box. However, that's not always the case. It's important that you know what you're getting your hands on before it's too late. After all, a pillow that becomes easily deflated when you lay down on it will be virtually worthless because it won't support your body whatsoever.
Typically, smaller pillows can't hold much weight and larger pillows can support bigger bodies. However, other factors must be considered besides the relative size of the product. Even smaller pillows can hold up bigger bodies if they're made correctly, and large pillows don't always perform as expected if they're filled with flimsy material. Because these pillows are made specifically to provide adequate support during sex, it makes perfect sense to be super picky about the weight capacity.
TIP: Many sex pillows can hold between 100 and 250 pounds, but some of them can sustain more or less. Be sure to check out what kind of surface your favorite pillows needs to rest on for maximum support, as this may determine its overall weight capacity.

Its Versatility
A highly versatile sex pillow will bring you lots more pleasure, flexibility, mobility, and stamina than one that has only one or two possible positions that it can be manipulated into. Although many people don't need numerous positions, it's always a good idea to have several possibilities just in case things get wilder than expected. The best pillows will twist and fold into three or more shapes.
Furthermore, multipurpose pillows often come with toy holders and other types of convenient mounts for playtime. However, sex pillows with mounts are sometimes limited to the positions they can be twisted or folded into. It's important that you consider this fact, as buying the wrong pillow may restrict you in many ways.
Unfortunately, this frustrating restriction is par for the course when it comes to sex pillows with toy mounts because the mount cannot be placed on all sides and still function as intended. Still, owning a pillow that can hold your favorite toy may bring a new type of versatility to playtime that you've yet to consider.
TIP: Buy more than one type of sex pillow so you can change things up as the mood dictates. Many manufacturers offer special discounts to customers who buy numerous pillows. Take advantage and have a well-rounded good time for less money.

The Materials Used
As mentioned above, the type of material used to cover the pillow and encase the stuffing is rather important. While comfort is often the customer's first concern, it shouldn't always be. Keep in mind that your pillow can easily be covered by a blanket or sheet to make it cozier, so choosing a sex pillow based solely on the softness of the outer material isn't wise.
Additionally, you should consider any allergies that you or your partner may have before buying anything. Some pillows use materials that are potentially harmful to certain people: wool, polyester, etc. There's nothing worse than being in the middle of some great sex only to find out that your rash is caused by the pillow you're using. While the pillow can be covered with another material easily, those with sensitive allergies may discover that such a method won't do the trick.
TIP: The materials list should be listed on the product's label, so pay close attention before spending any of your money. If the list is not present, be sure to contact the manufacturer for more information, especially if allergies are a concern for you or your lover.

The Cost
Your last concern should be the cost of the sex pillow you like. After all, it's probably going to pay for itself in many ways. However, the price tag is still very important to many people and that's understandable. Just remember, you usually get what you pay for (a.k.a. cheaper isn't always better).
Opting for a super cheap sex pillow simply because it costs less than the others is a really bad idea. Keep in mind that some sellers will give you a discount if you buy several pillows or a sex toy, lube, or other products with your purchase. Moreover, certain manufacturers host sales throughout the year. So, if all else fails, wait until then to buy a pillow so you can get what you want without breaking the bank.
TIP: Buying your sex pillow directly from the manufacturer or through an official affiliate will help you save even more money.
Sex Pillow FAQ

Q: What is a sex pillow?
A: These are specially designed body support products made to elevate one or two bodies in motion during intercourse or foreplay. They can be used solo or with a partner and take on numerous shapes and sizes, each of which is made to do a specific thing for the user(s). In many cases, difficult sex positions could never be achieved without one unless the participants are willing to put themselves in harm's way. As such, modern-day SPs are typically crafted using carefully selected ergonomics and stuffed with sturdy, durable, and/or responsive materials.
Q: What do sexologists and experts say about these kinds of products?
A: Well-known sexologists and sexual behavior experts agree that body supporting erotica products are ideal for safely participating in all kinds of sexual activities. In fact, their general opinion is that the overall shape, size and construction of today's best sex pillows allow participants to enjoy sex the way it was intended, even and especially if the user has mobility or anatomical limitations. Ergonomic models enable new positions, better penetration and increased range of motion, resulting in more satisfying sexual experiences and fewer sex-related injuries.
Q: What do sexologists and experts say about using pillows to enhance sex?
A: For many people (women especially), lying down in the missionary position during sex can be unenjoyable or even painful. By placing support under the pelvis, users are able to manually change the angle of penetration and experiment without experiencing discomfort. Moreover, sexologists promote the use of these kinds of products because of their ability to increase arousal and physical safety at the same time. For example, a good SP can help you see your partner's oral performance without pulling a muscle in your neck to do it.
Q: Which size pillow is right for me and my partner?
A: All bodies are different sizes and weights, so finding the model that suits you/your partner's physical dimensions can be difficult if you don't have a few guidelines to follow. Keep in mind that most of these products are somewhat adjustable, if not fully versatile, in their overall design. Either way, here's what you need to know:
WIDTH – For most people, a standard 24-inch pillow is the perfect fit for all sorts of fun. Large-bodied lovers should opt for the bigger 30-inch versions when they're available because they offer more support. However, larger pillows aren't always good for straddling.
HEIGHT – Many models are available in two or three different heights. Some are even fully adjustable or made as combination pieces. Total height is important, but it doesn't matter nearly as much as the inseam on the product itself. Measure the distance from your groin to your heel and then use the following guidelines to find the right one:
Inseam = 28-29 inches or less, 10-inch ramp

Inseam = 35 inches or less, 12-inch ramp

Inseam = 36 inches or more, 14-inch ramp
If you're seriously confused about which size to choose, contact customer service of the manufacturer in question. If they can't help you figure out the ideal dimensions, they can at least show you what your option are.
Q: Are there any products made specifically for Plus Size people or couples?
A: Yes, today's top manufacturers offer a wide variety of extra-large pillows for Plus Sized individuals and couples. Either way, you can always choose a sex chair or chaise if you want extra durability and stability.
Q: Does the angle of penetration increase a female's chances of having an orgasm?
A: Usually, the angle at which a penis or sex toy is inserted into the vagina and/or anus has a tremendous effect on how pleasurable the experience is. For many women, however, g-spot and p-spot orgasms are rather elusive. Properly proportioned pillows can help ladies achieve explosive internal climaxes quickly, easily and safely by allowing direct pressure to the front wall of the vagina through strategic angular positioning. In other words, yes, they make a difference.
Q: Does the angle of penetration increase a male's chances of having an orgasm?
A: Again, body positioning during sex is everything, even for a man. Whether on top or on bottom, the angle at which the penis and/or sex toy is inserted can increase pleasure instantly. In fact, those who enjoy direct p-spot stimulation will find properly proportioned sex pillows a welcomed game-changer.
Q: What is the best position for sex?
A: Missionary? Doggy Style? The Wheelbarrow? Nobody has a monopoly on the best sex position and the debate could go on for days, which is precisely why most couples need a well-made pillow to have their back (literally) during erotic experimentation. It doesn't really matter what position you enjoy. What matters is that you try a variety of different positions over the course of your lifetime to benefit from having a well-rounded love life that's never unsatisfying or boring.
Q: Can a sex positioning device help females who experience pain during intercourse?
A: Deep, healthy sexual intimacy is never limited to one position in the bedroom. Couples need to explore the pros and cons of numerous bodily arrangements before deciding on what works best. This is especially true for people who experience pain during penetration. By placing a structurally stable, adequately angled pillow underneath the woman's body, she can more easily enjoy the long, deep strokes it takes to get you off properly.
Q: Can these products improve sex for males with smaller penises?
A: It's not the size of the ship, it's the motion in the ocean. But select the right positioning device and you'll have more dick to offer up in no time, plus you'll have moves like Jagger in a jiffy. Enjoy an instant increase without ever swallowing the first enhancement pill or strapping on the first penis extender or pump. Proportionate pillows create the perfect angle for smaller penises to get in deep, making you feel bigger to your partner while increasing pleasure for both of you. As an added bonus, your partner will most likely feel tighter due to the unnatural angle created. Everyone wins.
Q: Can using the right sex pillow affect our chances of becoming pregnant?
A: It's true that certain positions and angles can increase your chances of getting knocked up, so use reliable, skin-safe protection if you're against starting a family. Sexual health experts from all over the world agree that angled sex can positively affect your chances of reproducing if the right factors are at play. Here's what some of them have to say:
"

Women who want to conceive are advised to stay in bed with their hips elevated by a pillow for 15 minutes after intercourse." – Dr. Albert Deckir, M.D.

"

The best position for pregnancy-inducing intercourse may be with the woman on her back, with hips supported and elevated by a pillow." – Robert Hatcher, M.D.; James Trussel, Ph.D.; Felicia Stewart, M.D.

"

The so-called missionary sexual position reduces the risk of sperm leaking…you might want to tip your hips back, slip a pillow or two under your hips." -Winifred Conkling, Author of "Getting Pregnant Naturally."
So, while there's no guarantee that a sex pillow of any size or shape can boost fertility, certain habits can. Moreover, many of those habits need sexual support furniture to be done safely and correctly. Talk to your doctor for more information or to get tips on ways to increase/decrease your chances of becoming someone's mom or dad.
Q: What are these kinds of products usually made of?
A: All models are made differently, some with zipper closures and others with Velcro, buttons or ties. However, the clasps are usually the least important part of the whole shebang. The best options are usually composed of high caliber stuffing such as dense polyurethane foam (or a patented blend) and most are covered in a soft, non-stick microfiber or velvety material that's removeable, machine washable and equipped with a water-resistant liner, not to mention compatible with most personal lubricants, lotions, and bodily fluids.
Q: Are the typical construction and stuffing materials safe for all skin types?
A: For the most part, today's best sex pillows are stuffed with and covered by hypoallergenic materials that are guaranteed to never cause a rash or an allergic reaction. Check yourself before you wreck yourself though, because manufacturers are always coming out with new things that may not always fall into the "skin-safe" category.
Q: Can my SP be used with massage lotions and lubricants?
A: High-quality, luxury-grade sex pillows are usually made using a clean and convenient dual cover design, meaning there's one layer on the outside and another layer to repel moisture on the inside. These oft-nylon lined products are designed to wick away water-based lotions and lubes to protect the dense foam beneath. Many times, the outer layer (AKA, the cover) is stain-proof, removeable and machine washable as well.
Q: Will my new pillow be easy to store and hide?
A: Your ability to keep this purchase a secret depends on several factors, including but not limited to the following:
The dimensions of the product itself

The inclusion of a storage container (or not)

The conditions of your living situation

The height of your bed

Or the space available in your closet

The intentions you have for it
Usually, you can simply stuff your SP somewhere out of sight and out of mind. However, remember that extra-large pieces may be more difficult to store and explain if they're not designed to assimilate seamlessly into the surroundings.
Q: How do I clean and maintain this thing?
A: All high-end sex pillows are covered by a stain-resistant material that's removeable and machine washable. The inner liners can typically be wiped clean using a damp cloth or sponge, but that's seldom needed unless large amounts of lube, lotion or love juice are spilled on it. When you're done using yours, always keep it put up somewhere safe. If it comes with a storage bag, be sure to use it. If it doesn't, simply stash your pillow in a cool, dry place away from routine traffic and casual use to keep it free from dust and debris.
Despite the fact that John James is quite the character, there is one thing he has in common with everyone else: he likes a high quality sex toy just as much as the next guy.
Noticing that there were no legitimate websites out there reviewing all the amazing synthetic vaginas on the market, John James set out to do something about it.
After all, it is painfully obvious that today's men really need to know more about their options.