There's no shame in our game. When we found out that the famous Tera Patrick was making pussy molds for the Fleshlight brand, we quickly got our wallets out. It's not that we were unfamiliar with what a Fleshlight felt like. In fact, we've fucked more of those bad boys than we can count. Our curiosity was piqued by the simple fact that these Fleshlight Girls toys were expertly molded to look and feel exactly like the sexy porn star who inspired them.
EXPERIENCE INTERACTIVE PLEASURE WITH YOUR FAVOURITE ADULT STARS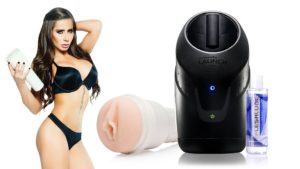 Interactive Sex With Madison Ivy

Experience Madison Ivy's tantric titillating tender touch!

Madison Ivy's personalized pussy mold + Fleshlight Launch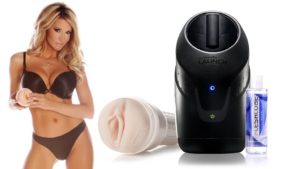 Interactive Sex With Jessica Drake

Make it rain on Jessica Drake

Jessica Drake's personalized pussy mold + Fleshlight Launch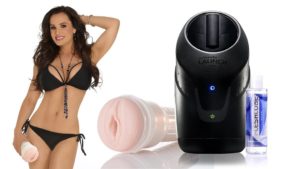 Interactive Sex With Lisa Ann

Get nudged you over the edge into a maelstrom of orgasmic ecstasy

Lisa Ann's personalized pussy mold + Fleshlight Launch
For quite some time, Tera Patrick has been one of the most sought-after adult entertainers in the industry. Her tight ass has become legendary for all the right reasons. Until now though, the closest anyone could get to actually fucking her was watching her many, many porn movies. Thanks to the fabulous Fleshlight freaks, however, her primed pussy is available for everyone with a few bucks to spare.
What Makes the Twista Different?
Among the numerous masturbator sleeves created by the brand, the Twista is the only one that looks and feels the way it does. Molded to be the exact replica of Tera Patrick's most famous orifices, the Twista comes in three models: her pussy, her ass, or her mouth. Each has its own unique texture, and each provides its own exclusive sensations.
What Does It Feel Like?
It's hard to describe what it feels like to fuck a mold of one of the hottest names in porn, but we will give it a college effort anyway. Imagine finally getting in the pants of that hot nerd on campus who always walks around with her nose in the air. Since Ms. Patrick is the proud owner of a degree in microbiology, it's safe to say she would play that part well. We assumed her pussy would be more difficult to resist than cheating on an exam we didn't study for, and we were right.
The Pros and Cons
Every man has his own taste in women, and his own unique desires in the bedroom. We're guessing that's why there are over a dozen different Fleshlight Girls to choose from. There isn't much we could complain about with the Twista, but comparatively speaking:
PROS
Twisted Sister – The internal texture of the sleeve is unique in that it twists and turns from top to bottom, stimulating the entire shaft in a way that is nothing short of mind-blowing.
The Real Deal – Ms. Patrick's pussy curves aren't the only thing realistic about this toy; the brand's patented SuperSkin material is used once again, giving the Fleshlight Girls sleeves a remarkably human feel.
Arm Candy – Just like Tera, this toy is exceptionally attractive, with great manufacturing and superbly designed ergonomics all around.
CONS
Too Twisted – Some of us thought the twisted internal texture was a bit too much for our overly sensitive dicks. You'll have to judge for yourself, but that quality makes this toy a terrific tool for stamina control.
Sticky Situation – Although the SuperSkin material is surprisingly realistic, it's still sort of sticky before the lube goes on. Perhaps that adds to the ambience for some dudes, but we sure as hell didn't like it.
Large and In Charge – Fleshlights are known to be big but discrete, and that's certainly the case with the Tera Patrick mold. However, we had no idea where to store the thing after we were done with it because the cheap bastards at Fleshlight don't include a carrying case.
We suppose the variety offered in the Fleshlight Girls lineup is part of the appeal. It means each model can have its own unique features without too much being taken from the overall quality of the brand. It's like a smorgasbord of high-end hind-ends, and we love that shit.
Our Final Verdict
It's become increasingly obvious that the Fleshlight brand continually works hard to bring its customers the best of the best. It wasn't enough for them to have the most popular masturbator on the market; they had to go and involve our favorite porn stars into the mix like a bunch of assholes. We don't wish to pick favorites among our favorite adult performers, so we won't. However, we will say that this new toy lineup is bringing a new meaning to cunt-command #1: "Go fuck yourself!"
Despite the fact that John James is quite the character, there is one thing he has in common with everyone else: he likes a high quality sex toy just as much as the next guy.
Noticing that there were no legitimate websites out there reviewing all the amazing synthetic vaginas on the market, John James set out to do something about it.
After all, it is painfully obvious that today's men really need to know more about their options.