Every once in a while, we get excited about a new review.


It's not every day we get to try something that rivals one of our favorite toys, but we did when our boss brought in the ElectraStim Bi-Polar Jack Socket Stroker. It reminded us of the Fleshlight in several ways, but at the end of our review we will reveal why it doesn't hold a candle to the one true God of Cocks.
What Is the ElectraStim Bi-Polar Jack Socket Stroker?
The ElectraStim Jack Socket is a dick stroker designed for men who enjoy a little electro-shock therapy.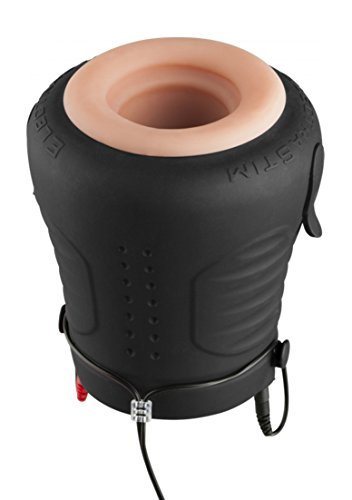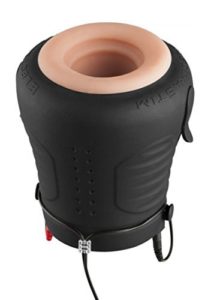 That is to say, they want to feel more than just a skin-deep orgasm. When used properly, these particular toys are kind of neat, but you do run the risk of desensitizing your junk. The Jack Socket works by stimulating the nerve endings in your penis using patented TENs technology, and uses a real-feel inner sleeve to mimic the sensations of sex.
ElectraStim Jack Socket Electro Stroker Promotional Video

CLICK HERE FOR THE BEST PRICE ON THE INTERNET
The Main Features
This machine is relatively high tech, and well designed for its intended purposes if we're being honest.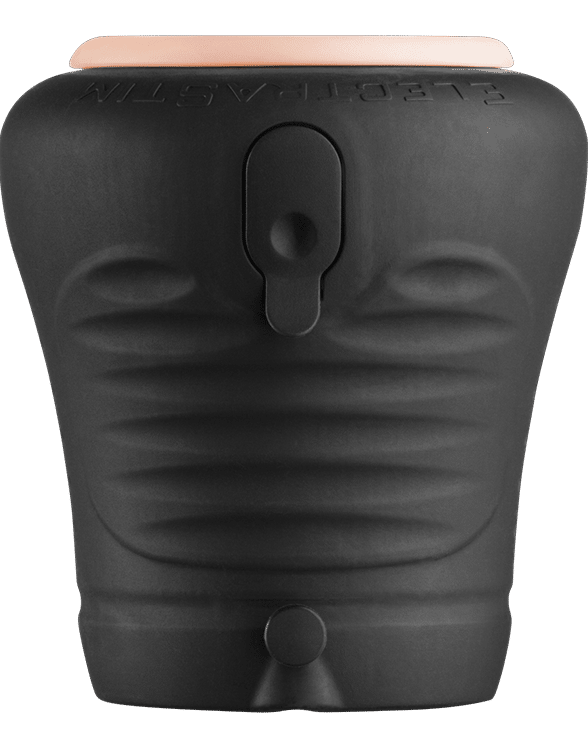 This soft, pliable silicone loop (more or less) is lined with a textured material that's supposed to feel like real skin. Using the inlets on the side, users can insert lube or conductivity gel as they see fit – a nice touch if you ask us.
Once the two dust caps on the ends are removed and the toy's open-ended design is revealed, the main features are made more obvious. The Jack Socket, which was developed to provide "targeted stimulation," has 4 inches to play with and 1.25 inches of diameter, creating an average tightness which we thought was a nice gesture from the manufacturer. At least they assume we all have fat cocks.
What Comes in the Box?
Apparently, the manufacturer was hoping that flattery would distract customers from the reality of the situation – that although this toy is relatively high tech, it's not exactly the most user-friendly item on the shelves, nor is it 100% safe for people who are unfamiliar with electrostimulation. What comes in the box demonstrates this: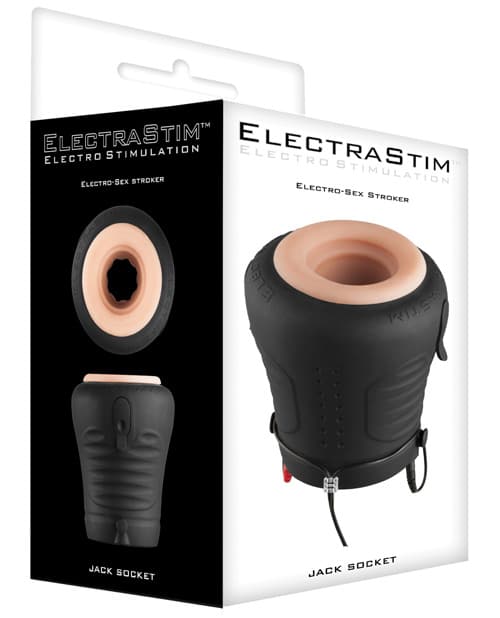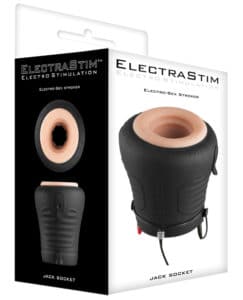 The ElectraStim Jack Socket Stroker

An instruction manual
A 60ml bottle of conductivity gel
A little sample packet of water-based lube
We noticed a charging port, or what looked like one, but we didn't find any wires or even a remote inside the corny-looking box. After a little research, we discovered that the bi-polar electro-sex power unit with the necessary 2mm pins to operate the thing was sold separately. Talk about major blue balls. To top it off, the box it came in must double as storage, and we threw ours away in a fit of anger. No warranty either? Shit!
What It Feels Like
Although we were a little disappointed upon opening the box, the toy redeemed itself once we used it.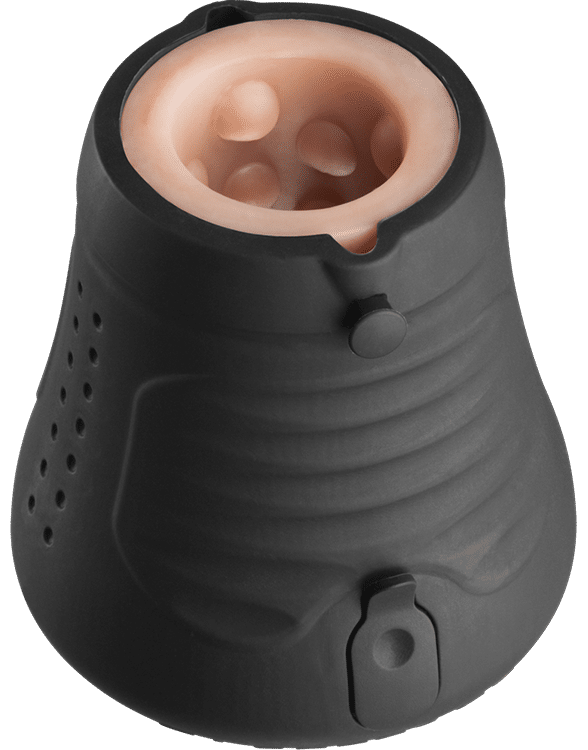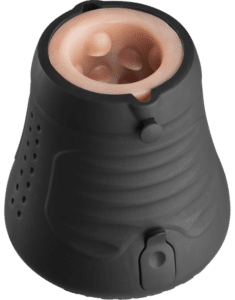 The soft and flexible silicone case was easy to use because of the ergonomic ridges on the outside that make it easy to hold and keep the wires in check during use. The inner nodules are certainly appreciated, but using the Jack Socket requires just a little skill. What do we mean? Try ejecting your dick out of the loop before it's turned off and you'll understand. If you've never had your balls violently cattle prodded before, now's your chance.
Our Cheers and Jeers
If you can afford to buy all the necessary parts to this thing, and also earn your PhD in electrical engineering, then you might get the type of orgasm the Jack Socket promises. Otherwise, you'll probably have the same experience we did.
PROS
Erase, Replace – The Jack Stroker can be used with any of the ElectraStim power packs.
Wrap It Up – The Cable-Tidy System helps keep all those 2mm pin cords out of the way.
Bipolar Disorder – Because of its bipolarity, this toy likes solitude sometimes and can be used on its own.
Bits and Pieces – It comes apart into 8 separate sections for easier cleaning.
Splash Mountain – The inlet points for the gel keep the sleeve nice and wet the whole time.
Doctor's Orders – The Jack Stroker is safe, made from 100% silicone and contains 0% latex.

CONS
Higher Education – Unless you have a degree, both operating and reassembling this thing is a bitch.
Stick to It – The "real-feel" material isn't as "real" as we "feel" it should be.
Quite a Shock – We cannot stress this enough: never remove your dick from this thing while it's still on or you will be sorry.
Dollar Dollar Bill, Ya'll – If you want this piece of shit to work you've got to spend more money on the pins and power pack, so keep your wallet open.
One and Done – The juice runs out pretty quickly, so you better get your orgasm while it's hot.
Capped Out – The caps are supposed to shield the toy's inner sleeve from dust, but they fall off so easily we ended up sticking them back in the box for safe keeping.
The Final Verdict
For a sex toy that costs about $120, we just assumed we would get all the parts needed to use it immediately. Even our kids' toys come with the basics. The ElectraStim Bi-Polar Jack Socket Stroker is certainly the first of its kind in many regards, and some of them are kind of embarrassing. We understand that the ElectraStim series is designed to work in unison thus requiring some universal parts, but does the manufacturer have to make it so complicated and expensive? We won't even get into how tiny that bottle of conductor gel was; we don't have all day.
The bottom line is this: we won't be recommending the Jack Socket Stroker anytime soon, and in the meantime, we will hold on to our favorite toys until sometime better comes along. On our infamous scale of 1 to 10, we give this thing a 7 and hope the manufacturer fixes the bugs before coming out with a new design. There's still a lot of work to do, guys. Keep up the good work, or whatever it is you're doing.
Despite the fact that John James is quite the character, there is one thing he has in common with everyone else: he likes a high quality sex toy just as much as the next guy.
Noticing that there were no legitimate websites out there reviewing all the amazing synthetic vaginas on the market, John James set out to do something about it.
After all, it is painfully obvious that today's men really need to know more about their options.