In an attempt to make us review every sex toy under the sun, our boss knows no bounds, which became blatantly obvious when he dropped the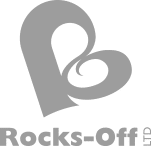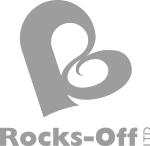 Rocks Off Big Boy prostate massager on our desks last week as though he had a vengeance. Unbeknownst to us, there was a good reason for his rancorous reaction. Apparently, he knew we would never be the same after our encounter with the Big Boy. He was right.
What Is the Rocks Off Big Boy?
This thing is a massive contender on the self-pleasure market, and by that we mean it's enormous.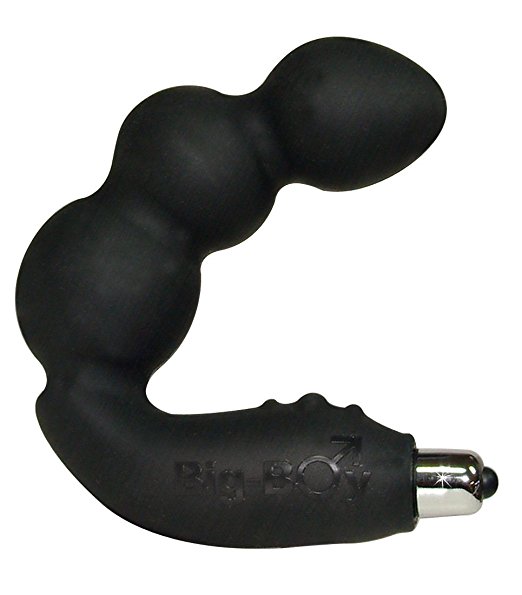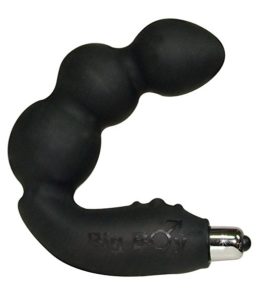 Definitely not for beginners, the Rocks Off Big Boy is a multi-function vibrating prostate massager that leaves no room to spare, even in veteran assholes. It is designed to stimulate the anal canal and prostate gland as well as the perineum, providing large-scale pleasure like we've not seen in years.
It functions by using a bulbous outer sleeve which holds a powerfully vibrating bullet – both of which are completely waterproof and hypoallergenic. The unique ergonomic shape and flexible material are what caught our attention the most though, especially as we twisted and turned the toy around in our ass, or when needed that extra little bit of support for our buckling knees.
Rocks Off Big Boy Promotional Video
CLICK HERE TO FIND THE BEST PRICE ON THE INTERNET
The Main Features
Getting to know the Big Boy isn't as intimidating as we've made it sound. Okay, yes, it is.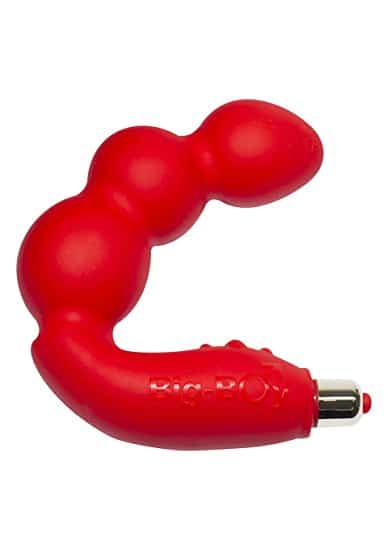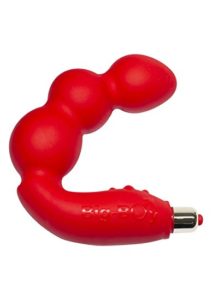 This toy features seven different vibration functions, each powered by a commanding RO-80mm motor found within the bullet and controlled by a single button. While the bulbous sleeve's proportions are impressive, the contraption doesn't work without both parts in unison. So, if you forget to change the batteries in the bullet you'll be left with something like a lumpy, flaccid condom.
And you'll have a huge flaccid condom on your hands as well, since the Rocks Off Big Boy measures 12.5 inches long and has 5 inches of girth. Don't worry, its features make it insertable to only 5 inches, which may or may not be good news for some people. On the bright side, it's ideal for hands-free play and can be used while penetrating, so there's that. It also comes in red or black, in case that shit matters to you.
What Comes in the Box?
There wasn't much in the box once we opened it, and that's probably because nothing else would fit after the Big Boy went in. Either way, we were a little disappointed by the lack of bells and whistles on both the toy and in the box. Here is what we got: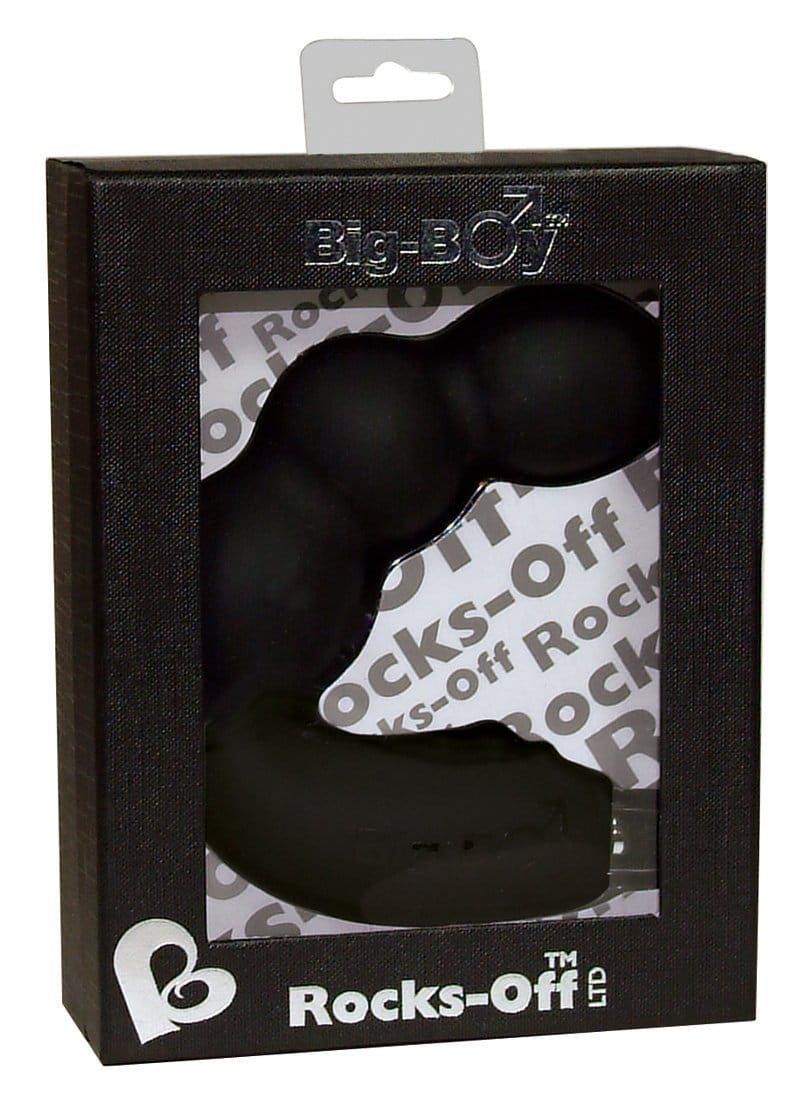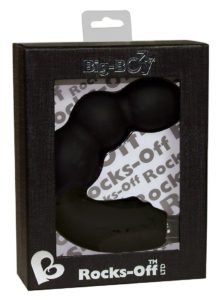 The Rocks Off Big Boy bulbous sleeve
The Rocks Off Big Boy vibrating bullet
One (1) N battery
An instruction manual
The manufacturer suggests using a water-based anal lube, but they didn't even include a sample packet. Furthermore, there is no warranty so you're spending $65 and still need to keep your fingers crossed.
What It Feels Like
For the money, it's not a bad little toy to keep around the house for a rainy day. And maybe "little" isn't the best word to use here, especially since we didn't find a storage container in the box.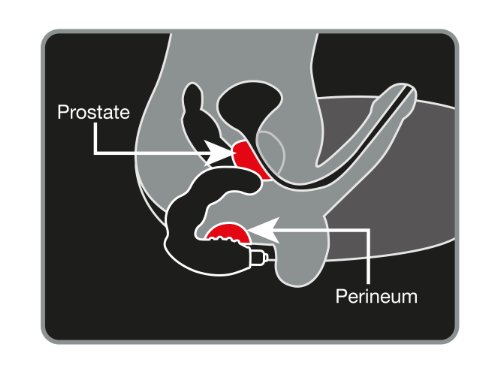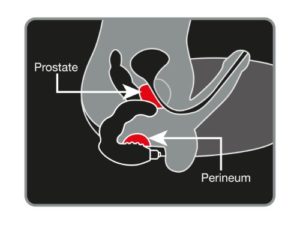 Still, the only thing that feels fuller than the Rocks Off Big Boy is an actual stiff cock, but those things don't have bulbous ridges and they sure as hell don't vibrate. (NOTE: If your lover's dick is lumpy or vibrates, have him consult with a doctor immediately.)
We ended up being big fans of its firm yet flexible body of the toy, especially when the bullet was inserted. The silicone material wasn't too shabby either, although can't say it was the highest quality thing we've ever touched. On full blast, the vibrations gave us pleasurable sensations, but we felt as though the sheer size and bulbous ridges did all the work – with the vibes there only to complete the package.
Our Cheers and Jeers
Excuse us for a moment while we catch our breath. The Rocks Off Big Boy is no joke, and that can be good or bad depending on who you're asking. If you ask us (and you are), we'd say this toy has a lot of redeeming qualities even though we found quite a few flaws (like usual).
PROS
Safe Sex – It is very big but also very respectful to your butthole, being made from 100% body-safe silicone that is latex and phthalate free.

Slippery When Wet – The silicone material stays wet with lube for a long time, and it doesn't crack when it dries after cleaning.

Drop the Charges – With a battery-powered motor, there's no need to wait around for hours as the toy charges.

Pool Party – Even the bullet is completely waterproof, so you can take this toy with you anywhere.

You Call That a Vibrator? – Whip this bad boy out and make the pros blush.

Shut the Fuck Up – The Big Boy is as quiet as a church mouse, even on its highest setting.

CONS
Bastard Batteries – The N-type battery, albeit included and relatively inexpensive to replace, runs out of juice quickly.
Hard to Handle – The push-button control interface is somewhat difficult to manipulate in the heat of the moment, especially if you're playing Hans Solo.
Beginners Beware – This thing is NOT for newbies in the anal game. Don't be a hero.
Ejection Malfunction – Getting the Big Boy out of your ass is a task in and of itself.
WHERE TO BUY ROCKS OFF BIG BOY ONLINE:
LOVEHONEY (BEST PRICE & FASTEST DELIVERY)
CLICK THE BUTTON TO REVEAL A SPECIAL 15% ROCKS OFF BIG BOY DISCOUNT CODE:
The Final Verdict
For a sex toy with such a massive presence and impressive array of tantalizing features, the price tag really surprised us. That cheapness certainly helped with the overall rating of course, which we are making an 8 out of 10. Our reasoning behind this is simple: The Rocks Off Big Boy had just about everything you'd want in an inexpensive vibrating prostate massager – shapeliness, firmness, power, and size. What it lacked in usability or accessory, it made up for in girth and effectiveness. Our boss was right. We won't ever be the same again. You can get more information or purchase Rocks Off Big Boy at the official lovehoney website. Do not forget your special 10% off promo code!
Despite the fact that John James is quite the character, there is one thing he has in common with everyone else: he likes a high quality sex toy just as much as the next guy.
Noticing that there were no legitimate websites out there reviewing all the amazing synthetic vaginas on the market, John James set out to do something about it.
After all, it is painfully obvious that today's men really need to know more about their options.