When we say that we've seen just about everything on the modern sex toy market, we're not lying. As a group of professional reviewers we take our job seriously, and that means we even try out the bisexual toys – you know, the ones that are made for both men and women.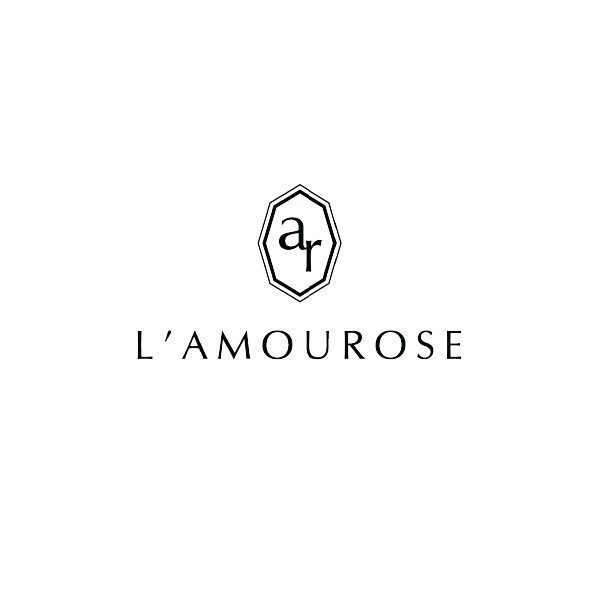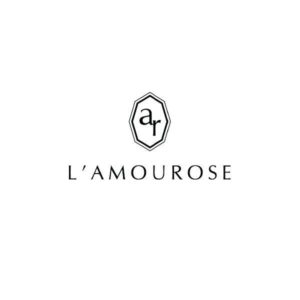 After all, we think going both ways is kind of hot.
So, we put the L'Amourose Rosa rechargeable prostate and g-spot vibrator to the test in our rigorous 2-week review process because we felt like it. Okay, it was because our boss told us to, but either way we learned quite a bit about this little number, and now we're going to share our discoveries with you. You're welcome.
What Is the L'Amourose Rosa?
As far as the primary function is concerned, the Rosa vibrates at variable speeds to provide both internal and external stimulation – for the prostate and g-spot or for the clitoris and perineum.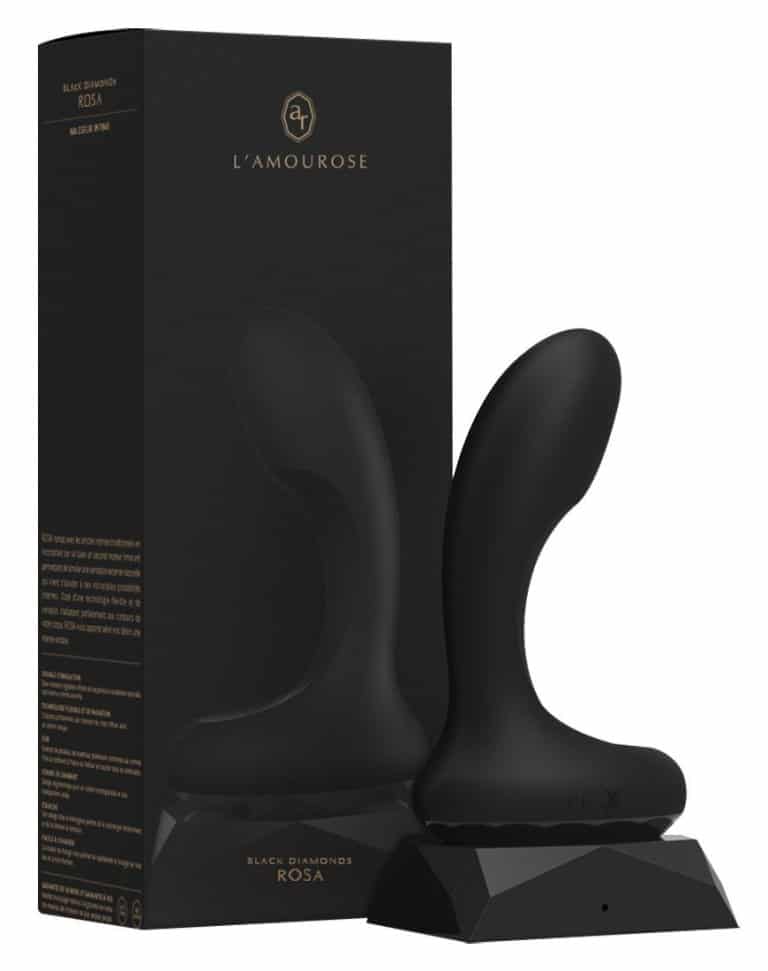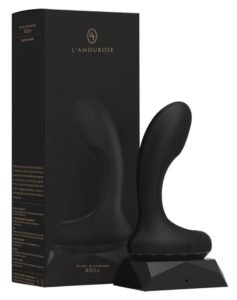 Put simply, it is nothing more than an ergonomically developed handheld fuck stick created for couples play. It has minimal features but the diamond-faceted design on the toy and charging dock give it this ultra-high-tech appearance that's reminiscent of an old-school video game controller. At first glance it looks like a lot of fun, but it's probably not the most discrete thing on the market.
The Main Features Of L'Amourose Rosa
The L'Amourose Rosa is advertised as being "extra quiet," which may or may not be the main selling point that makes up for the otherwise big and bulky design of the toy and charging dock. It features this technology the manufacturer is calling "Flex and Shift" – a unique feature that allows the body-safe silicone shaft of the toy to adjust to body movements. In other words, it's designed so that you don't feel like you've got a broomstick shoved up your ass.
On the side of the base of the toy, there are these three little buttons: a plus sign, a minus sign, and a dot. The middle dot button is used as the on/off, mode, and lock control switch, but the plus and minus buttons are really what bring the toy to life. There are 7 different vibratory modes, each being powered by dual motors and adjusted up or down with the respective plus or minus buttons. And while that may seem like a lot of variety, we found that the modes were very similar in the way they felt and functioned.
What Comes in the Box?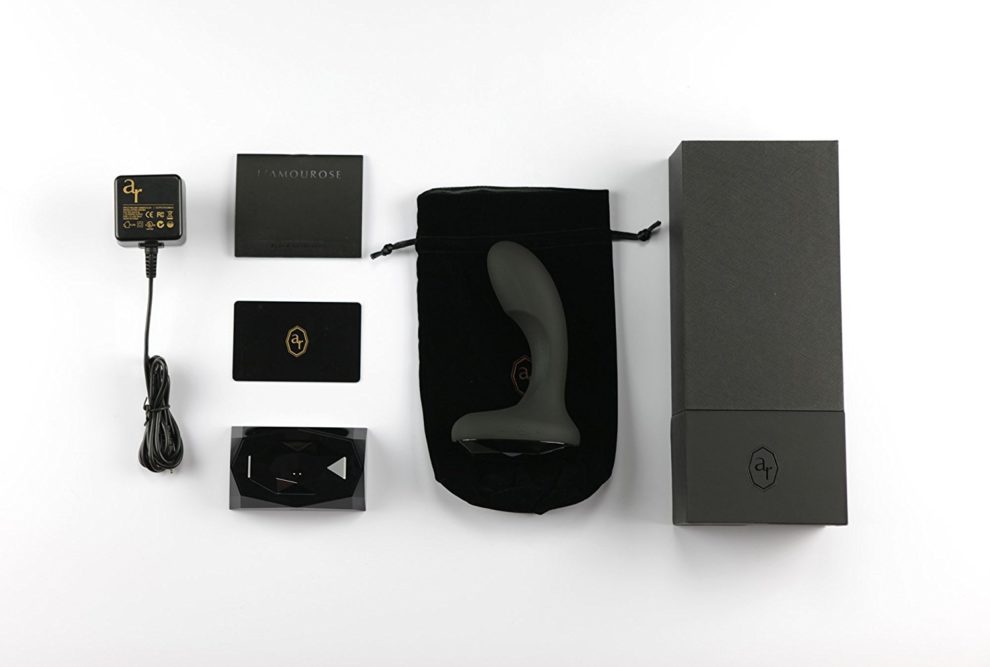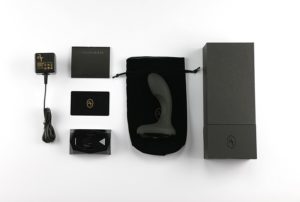 Because of how disappointed we were in the lack of bells and whistles on the L'Amourose Rosa, we had hoped to find some buried treasures inside the swanky, modern box. To our dismay, all we found were the following items:
The L'Amourose Rosa (of course)
A charging dock
A velvet storage pouch
An instruction manual
The ultra-sturdy packaging can double as a storage box, but what's there to store besides the toy and charger? We found no lube, no toy cleaner, no adapter – and we needed one because the Rosa only comes with a UK plug.
L'Amourose Rosa Promotional Video
CLICK HERE FOR THE BEST PRICE ON THE INTERNET
What It Feels Like
Well, the L'Amourose Rosa is 6 inches long, with 5.5 inches of that insertable. It is 4.6 inches in circumference and could be described as having the same consistency as a partially flaccid cock.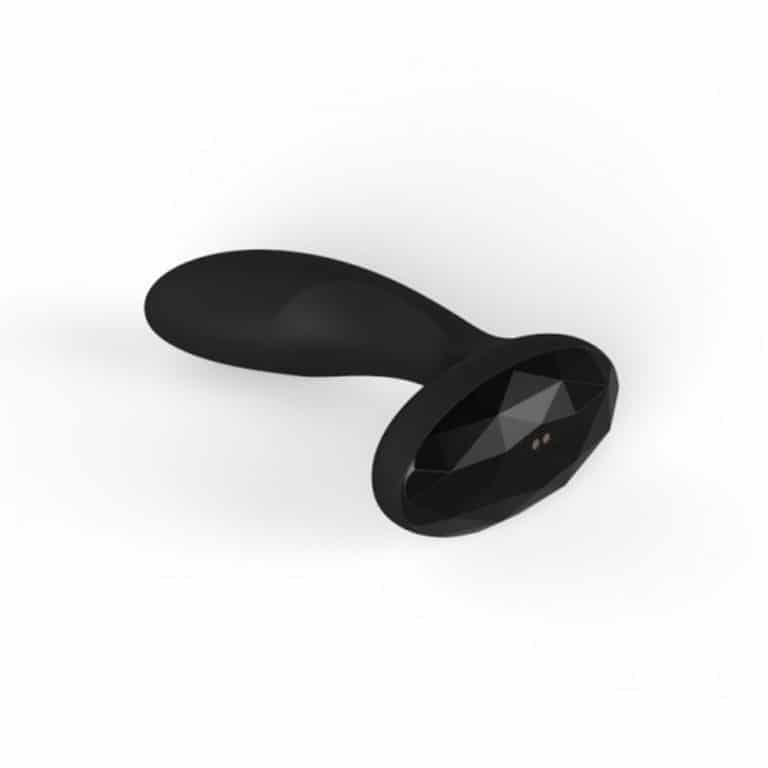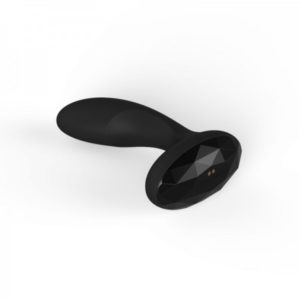 It feels like a First Date hard-on, where you're totally into it but you're still insecure and your dick won't get over itself. It may not feel as hardcore as some people like, but then again, it's designed to twist and turn until it makes you squirt, not to be crammed into your orifice until it punctures a lung.
Our Cheers and Jeers
We don't like anything 100% percent of the time, not even ourselves. And while the L'Amourose Rosa didn't exactly pass our test with flying colors, it did have some redeeming qualities.
PROS
Hush Little Baby – It's about the quietest thing we've ever fucked, and we've fucked blow up dolls.
Fun for Everyone – The Rosa is a unisex toy, need we say more?
Dip and Dive – It can be taken under water without damaging the internal components. Thanks, silicone!
Safe and Sexy – No latex or phthalates were used in the making of this fuck wand.
Double the Pleasure – The dual motors work together or separately, and that's a blast.
Lock It Down – It has a lock feature so you don't accidently start a fuck fest in the middle of church.
Ace of Base – The ergonomically designed flat base is made to stimulate the clitoris and perineum while the toy is inserted.

CONS
The Bare Essentials – For a toy that's designed to go in just about every orifice of the human body, we're surprised it didn't come with some antibacterial sex toy cleaner.
Give Me More – Sure it has a bunch of modes and dual motors, but it's not exactly the most powerful thing we've ever felt (even when turned up full blast).
The Show Stopper – Discretion was not the first thing on the minds of the manufacturers. Then again, you might be able to pass it off as a price scanner.
Out in the Open – Unless you want to throw everything into the included drawstring bag or stuff it all back into the package, there is nowhere to store this bulky son of a bitch.
Live Long and Prosper – While the battery is fully rechargeable, the bastard dies after about an hour and that's just when we get started.
WHERE TO BUY L'AMOUROSE ROSA ONLINE:
LOVEHONEY.COM (BEST PRICE & FASTEST DELIVERY)
CLICK THE BUTTON TO REVEAL A SPECIAL 15% L'AMOUROSE ROSA DISCOUNT CODE:
The Final Verdict
We're not going to say we hated the L'Amourose Rosa prostate and g-spot vibrator, but we're not going to say we loved it either. By the looks of things, we're pretty 50/50 on it at this point. It's like the makers used all the things we love in a sex toy but forgot to get rid of the things we hate. We all agree that it's ideal for those whose sensitivity level is little touchier. But, on a scale of 1 to 10 we'd give it a solid 8.
Despite the fact that John James is quite the character, there is one thing he has in common with everyone else: he likes a high quality sex toy just as much as the next guy.
Noticing that there were no legitimate websites out there reviewing all the amazing synthetic vaginas on the market, John James set out to do something about it.
After all, it is painfully obvious that today's men really need to know more about their options.